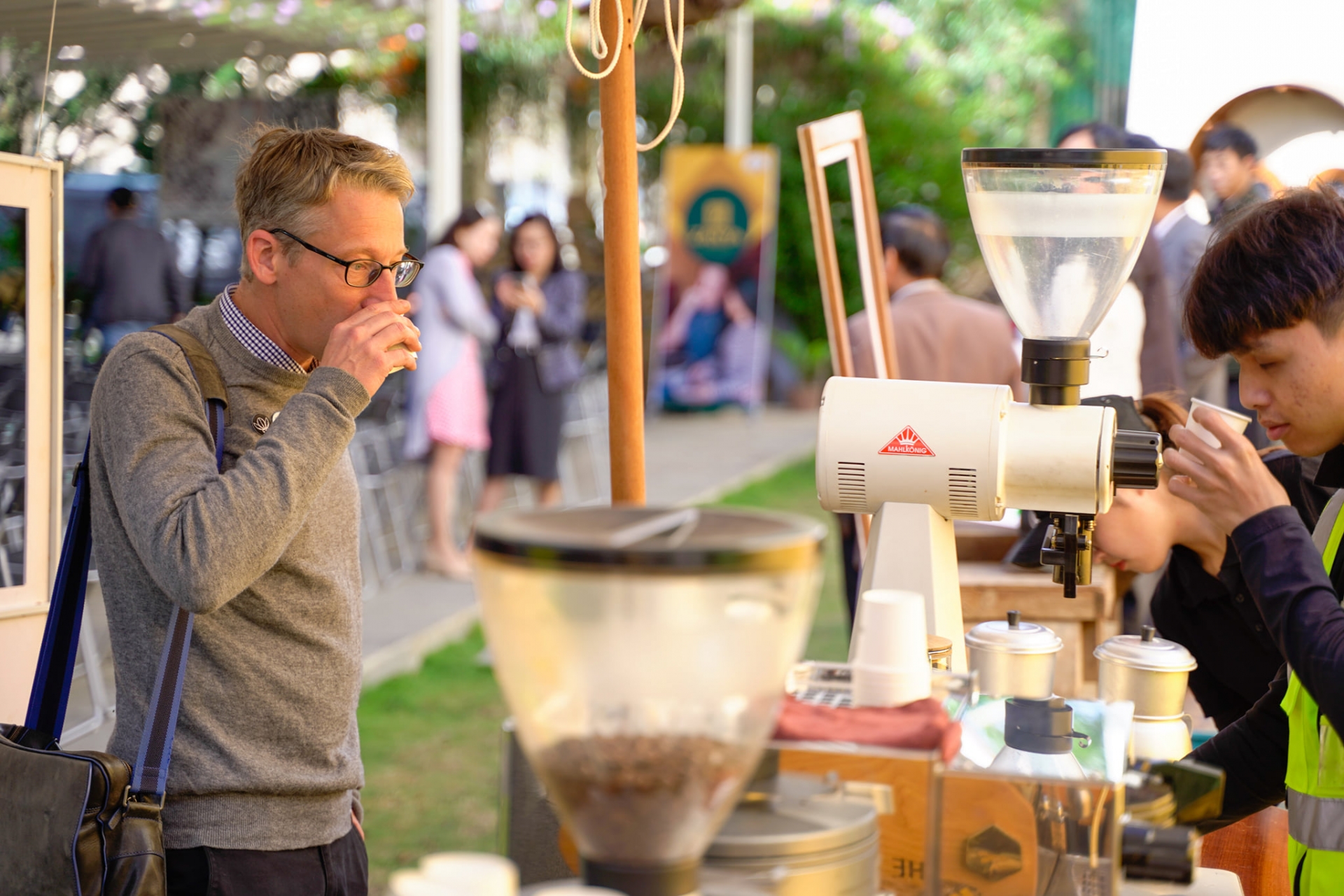 Coffee quality assessment of cooperation groups and cooperatives participating in the project. Source: SNV Vietnam
The event aims to promote the Arabica Lac Duong coffee brand. Seminars where stakeholders on the development of the linkage of the sustainable coffee chain in Lam Dong.'
The event aims to promote the Arabica Lac Duong coffee brand, with over 200 guests discussed to find out the difficulties, obstacles and directions, cooperation plans between the parties to achieve the common goal of "building a brand of high quality Lac Duong coffee"; in which, all participants will benefit, the landscape is built sustainably, without deforestation.
Accordingly, the Coffee Agroforestry and Forest Enhancement for REDD+ (CAFÉ-REDD) aims to reduce deforestation and forest degradation by addressing the conversion of forest to agriculture in a priority conservation landscape – The Lang Biang landscape (comprising Bi Doup Nui Ba National Park and Buffer Zone).
CAFE-REDD is funded by the German Ministry for the Environment, Nature Conservationand Nuclear Safety (BMU) and will run from 2018 to end 2021, with the total funding budget of approximately EUR 1.8 million.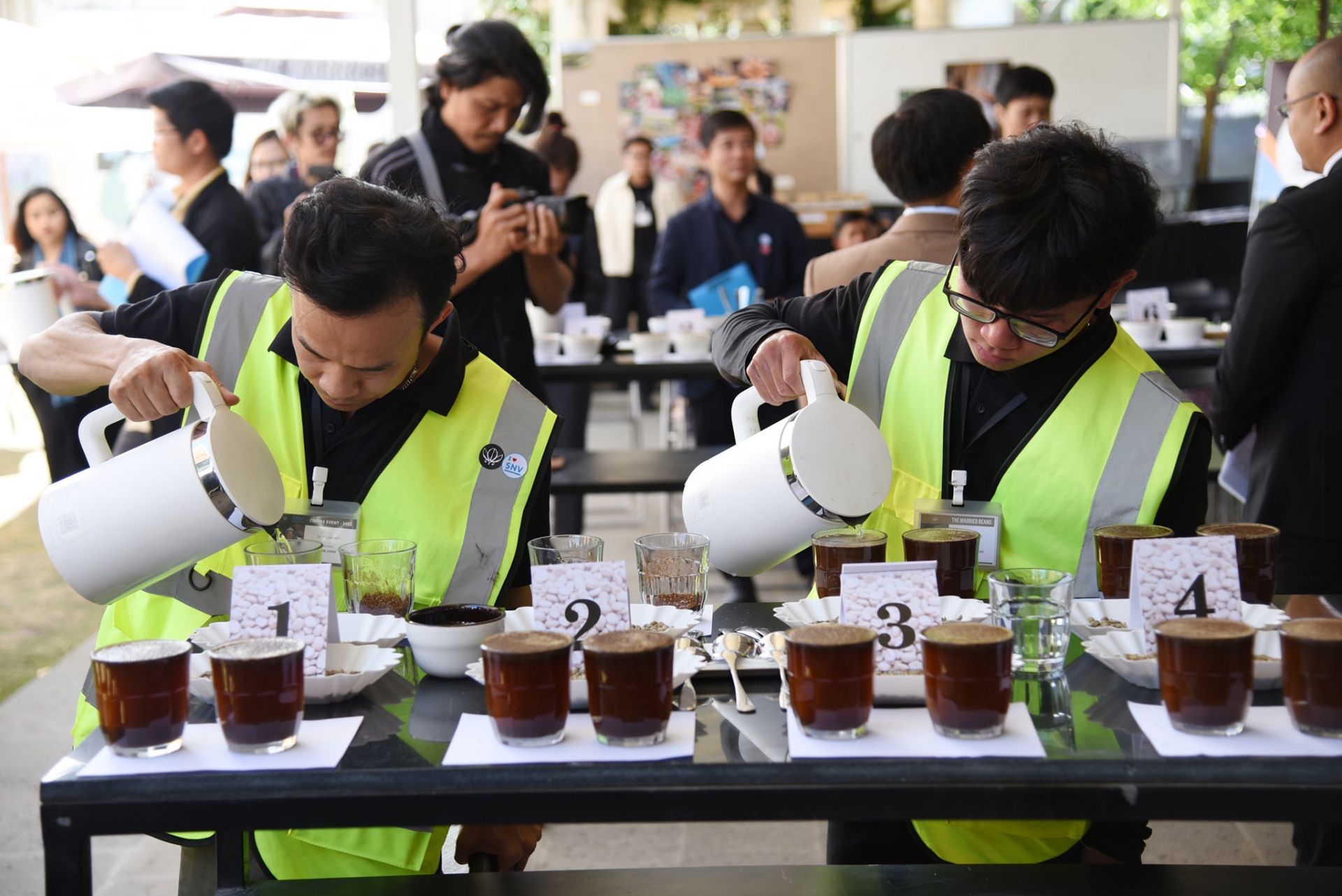 Coffee quality assessment of cooperation groups and cooperatives participating in the project. Source: SNV Vietnam
Over the past two years, CAFE-REDD has carried out activities to build and develop coffee value chains through the establishment of cooperative production and business linkages. Coffee companies such as Tam Trinh, The Married Beans, Chappi Coffee Cooperative, K'Ho Coffee, ACOM, Yumonang, etc., have been the leading units in coordinating with the project to provide technical support and consumption of coffee products for the people.
The project has provided hundreds of thousands of coffee seedlings and intercropping (macadamia, persimmon) to thousands of farmers to practice the agroforestry coffee model, providing training courses on sustainable coffee production, traceability as well as machines and equipment for cooperative groups. Up to now, 15 sustainable coffee cooperation groups have been established and one coffee cooperative with hundreds of households participating.
Traceability system integrating advanced information and digital technologies is being applied with five companies participating in the project, allowing consumers to access information from the farm to the final product.
Through chain links, the economic value of coffee beans has increased from 17.5% to 171.4% compared to the market, helping farmers improve their income. The companies have worked side by side with groups for cooperation, training, technical assistance and product purchasing from all registered households. However, the volume purchased through the chain is still low while the quality of coffee has not met the expectations of the buying companies.
According to Le Chi Quang Minh - Vice Chairman of People's Committee of Lac Duong district, the project has contributed to changing the production habits of ethnic minorities, improving the value of Arabica coffee beans in Lac Duong and most importantly, sustainable development without losing forest value, protecting and developing forests./.
Hannah Nguyen