Old-style "racket coffee" with ceramic pots in Saigon
Cafe Ba Lu - one of the most well-known cafe in Saigon, with traditional brewing style delivering the best and tasty coffee in tiny ceramic pots that can fit into your palm.
At Ba Lu Cafe, owned by Trung Nghia, 62, customers enjoy coffee served in a tiny ceramic pot. The owner's daughter came up with the idea 10 months ago, based on the Chinese traditional medicine decoction.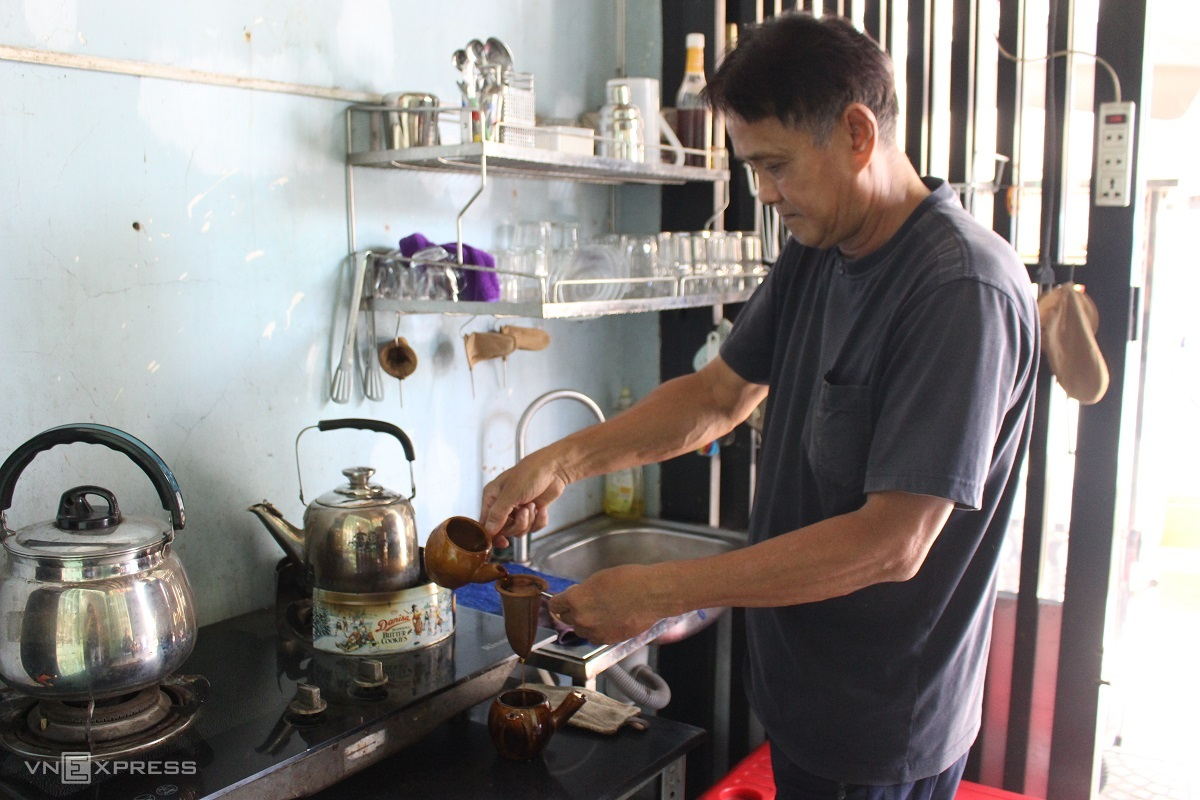 Cafe owner Trung Nghia uses two pots to make coffee for customers, but only serves from one. Photo by VnExpress/Huynh Nhi.
Buried within District 5's Phung Hung Market, Cafe Ba Lu has been brewing a distinct, traditional style of coffee in the same storefront for nearly 7 decades. Their coffee is first roasted in-house over charcoal and firewood before salt and butter are added. It's then brewed in a method from a bygone era known as 'racket brewing.' This involves a using a filtering mechanism in the shape of a butterfly net placed over a pot, dutifully stirred before being steeped, a process older than even the mighty 'phin' filter.
The 'racket coffee' here is typically hand-roasted with salt, butter and rice wine, then brewed and filtered with strainers that resemble small butterfly nets made of cotton or muslin. Both owners confirmed their coffee is "clean, with no chemicals, nor flavoring.", VnExpress reported.
Tiny pots are left to settle for 10 minutes before each single serving. The procedure boosts both taste and fragrance by allowing the coffee powder to spread evenly.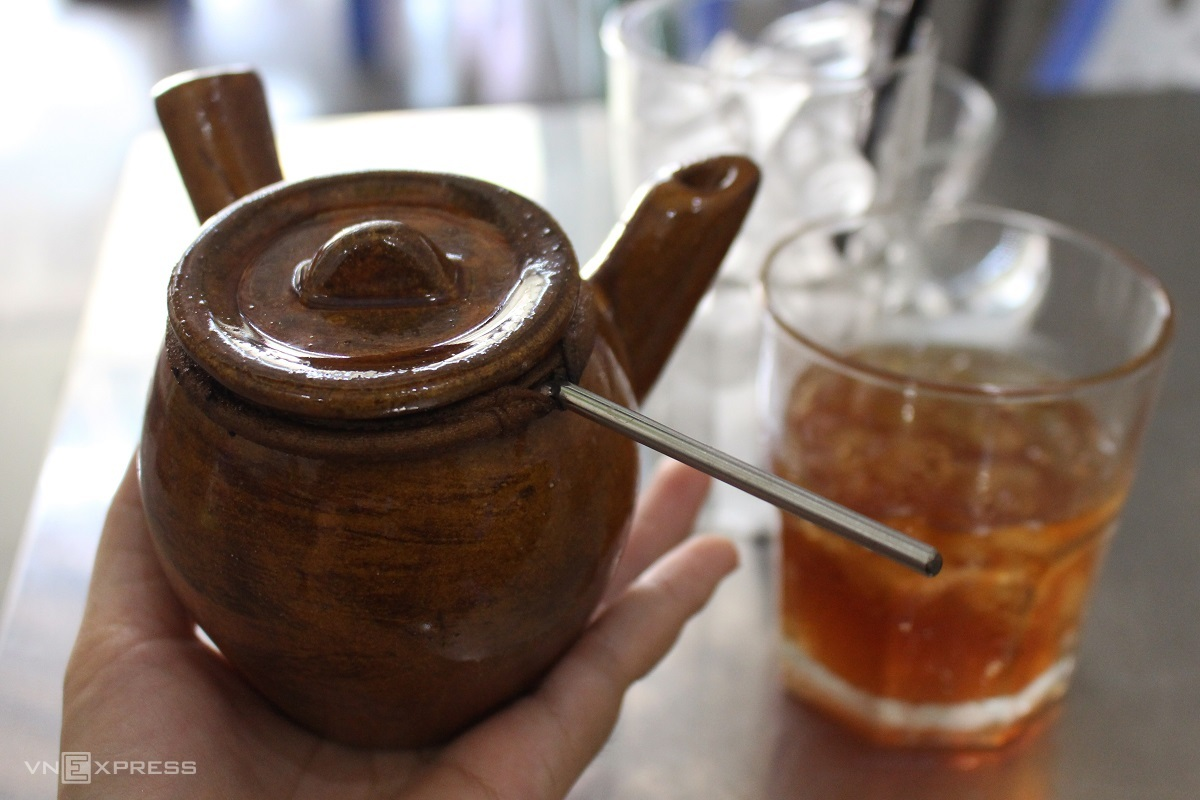 Beside a VND20,000 ($0.87) pot of coffee, iced black tea with sugar is also available. Photo by VnExpress/Huynh Nhi.
The ceramic pots used by the coffee shop are one fifth of normal medicinal equivalents and are specially ordered from select craftsmen in Binh Duong Province.
At first, producers were reluctant to help Nghia, who now receives about 50 tiny pots each week to serve coffee and sell.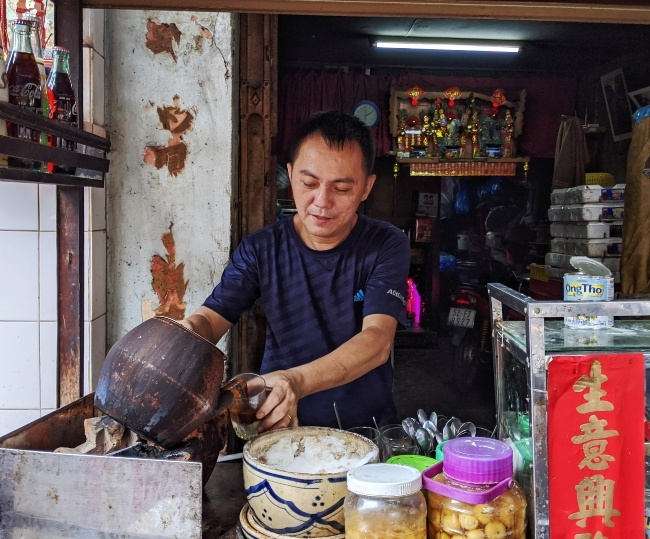 Photo: Streatery
Learning about the cafe from a social media site on Chinese culture, Thanh Dat from Tan Phu District decided to give it a try.
"In the past, my family made coffee with ceramic pots, but now switched to using filters. Looking at the cute little coffee pot reminds me of my childhood, so I often go to the shop. The atmosphere here is also peaceful, there's no hustle," Dat said.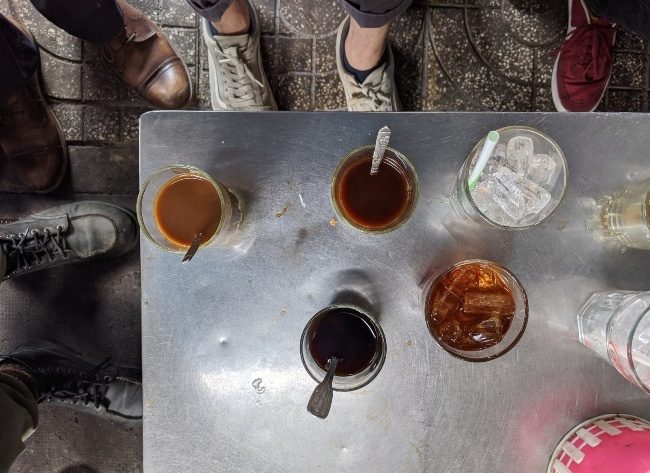 Photo: Streatery
A brief history of Vietnamese coffee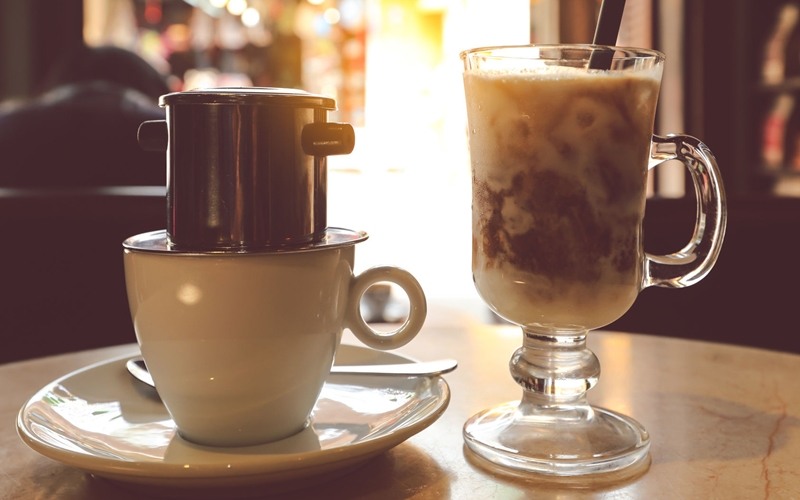 Photo: Shade of Vietnam
Introduced into Vietnam since 1857, coffee was planted by the French in the Central Highlands of Vietnam because of its suitable soil for economic gain rather than personal nutrition. The French also created a way to brew coffee with metal filters. Coffee is contained in a metal filter, submerged in hot water, and water extracted from the coffee slowly flows from the filter to the cup.
During the Vietnam War, while the North Vietnamese popularized state-owned cafes or family cafes, which were prepared and served by the owner and named themselves as coffee shops like Nhan cafe and Lam cafe. In the South of Vietnam, luxury cafes were formed to both evoke American culture and to contain the liberal spirit of the people in the South. In Buon Ma Thuot, where Vietnamese coffee was grown, was not affected by the war, people were deeply affected. The depopulation caused a significant stoppage in the production of Vietnamese coffee.
Even after the end of the war, coffee production was limited due to state restrictions that restricted private enterprise. It took until 1986 for private companies to be re-registered. In the beginning of the 21st century, Trung Nguyen coffee first appeared in Saigon in August 1998 – with Sologan "Originating creativity", shortly afterwards Trung Nguyen became a phenomenon of Vietnam's coffee industry. Since then, many other coffee brands run by Vietnamese people were born such as Vina Café and Highland Café.
In recent years, the young names emerged in the second decade of the century such as The Coffee House, Cong Café, Urban Coffee created a vibrant coffee consumption market in Vietnam.
Today Vietnam exports almost 1 million tons of coffee every year. Coffee is the second-largest agricultural product from Vietnam and rice is the first.
Some famous old-style cafe in Vietnam
Dinh Café, 13 Dinh Tien Hoang
Among the famous ancient cafes in Hanoi, we can not miss the 30 years old – Dinh Cafe. The shop's cupboard is egg coffee, still brewed in the traditional way. Egg Coffee is a specialty food of Hanoi that the world press has praised. Come to Dinh, enjoy a cup of fragrant egg coffee!
Thai Coffee, 27 Trieu Viet Vuong
Thai coffee has existed for 80 years. Their coffee bean is selected from three Vietnamese soil regions: Dien Bien, Phu Quy, and Buon Ho, and roasted according to traditional secrets. Therefore, if you drink a cup of coffee in Thai, you will feel the aroma of the Northwest mountains, the deep taste like the land and the people of Nghe An, the intoxicating yeast of the Central Highlands.
Racket Coffee, alley 330 Phan Dinh Phung
With "age" turning to more than 60, the racket cafe of Mrs. Pham Ngoc Tuyet and Mr. Dang Tran Con on the side of the roadside of 330 Phan Dinh Phung alley (Phu Nhuan, Saigon) has become a typical Saigonese cafe. The specialty of the restaurant is not only in the age but also in the way of making coffee with a racket instead of the regular filter. The coffee seller uses boiling water to clean the racquets and then put them in a certain amount of pureed coffee. Then, immerse the racket in the boiling water, stir well with the spoon a few times and then cover the lid, leave it for about 5 to 10 minutes for the coffee to gradually absorb and create delicious coffee batches with 60 years old flavor.
Racket Coffee, alley 313, district 11
Another popular racket cafe in Saigon is the café of Mr. Luu Nhan Thanh located in Alley 313 (Tan Phuoc, Ward 6, District 11, Saigon). More than half a century of operation with a simple and old restaurant has attracted many people. His secret to making coffee is never wash racquet with soap because it can easily lose the aroma of the coffee. At the same time, he used ceramic kettle to make coffee.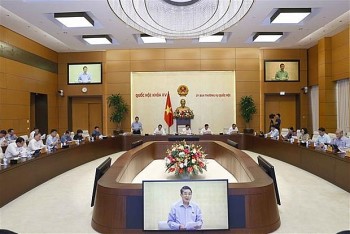 National
The National Assembly (NA) Standing Committee examined the draft revised Law on Protection of Consumer Rights on August 15 as part of its monthly session.