ASEAN Foreign Ministers To Meet for Addressing Challenges
ASEAN Foreign Ministers are to convene their 54th meeting (AMM) and related meetings with ASEAN dialogue partners via teleconference on August 2 to address rising challenges in the region.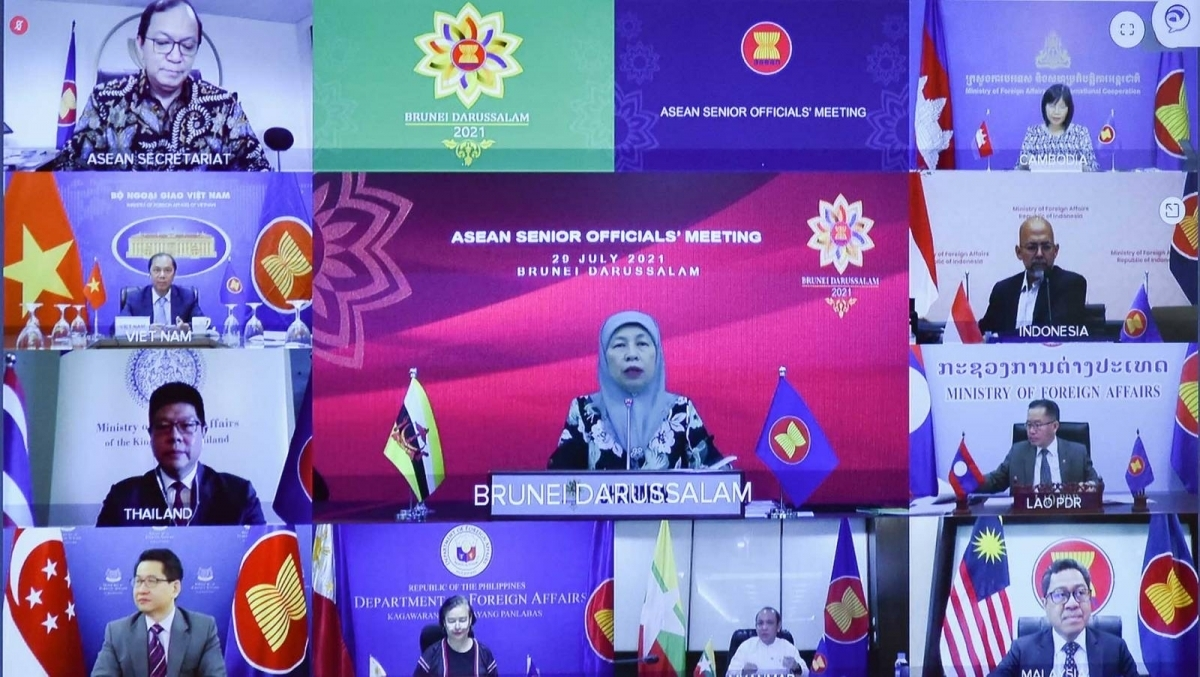 Senior ASEAN officials have met to prepare for the 54th ASEAN Foreign Ministers Meeting. Photo: VOV
Vietnamese Foreign Minister Bui Thanh Son will join other ministers to attend these meetings.
The 54th AMM hosted by Brunei takes place at a time when Southeast Asia is struggling to cope with the ravaging fresh COVID-19 outbreak, political complications in Myanmar and the increased competition of influence from great powers.
The meeting will review ASEAN's community building efforts, and examine ways to promote regional cooperation and the bloc's centrality. It will exchange views on ASEAN's COVID-19 response to set a course for the region's post-pandemic recovery, in line with Brunei's ASEAN Chairmanship theme of "We Care, We Prepare, We Prosper".
The ministers will also speed up the implementation of the Five-Point Consensus to end violence and stabilize the situation in Myanmar, which was reached at the ASEAN Leaders' Meeting in Jakarta in April 2021. A special ASEAN envoy to Myanmar is expected to be unveiled at the meeting.
Alongside the 54th AMM, the ASEAN Foreign Ministers will meet with ASEAN dialogue partners including Australia, Canada, China, the European Union, India, Japan, New Zealand, the Republic of Korea, Russia, and the United States at Post Ministerial Conferences (PMCs), the 22nd ASEAN Plus Three (APT) Foreign Ministers' Meeting (FMM), the 11th East Asia Summit (EAS) FMM, and the 28th ASEAN Regional Forum (ARF).
US Secretary of State Antony Blinken is anticipated to attend meetings with Southeast Asian partners to reaffirm the US's commitment to fortify its partnership with ASEAN.
Under the Biden administration, Southeast Asia is emerging as a priority in its foreign policy as evidenced in a series of recent visits by senior leaders, including Deputy Secretary of State Wendy Sherman's trips to Indonesia, Cambodia and Thailand in May and June, and Defense Minister Lloyd Austin's trip to Singapore, Vietnam and the Philippines last week. US Vice President Kamala Harris is scheduled to visit Singapore and Vietnam in August 2021.
VOV