Association to further promote Vietnamese students' movements in RoK
The Vietnamese Students' Association in the Republic of Korea (VSAK) held its seventh congress in Seoul on April 7 to review its work from 2017-2019 and set forth a plan for the next three years.
A 23-member executive board of the Vietnamese Students' Association in the Republic of Korea was elected during the congress. (Photo: VNA)
Addressing the event, Vietnamese Ambassador to the Republic of Korea (RoK) Nguyen Vu Tu lauded the association for its meaningful activities and expressed his hope that it will reap more achievements in the new tenure.
He urged Vietnamese students in the RoK to study harder and contribute more to maintaining and developing the fruitful relations between the two countries.
The diplomat pledged to create the best possible conditions for Vietnamese students to study in the country and further support the VSAK to fulfil its targets set for the 2019-2021 term.
Vu Duc Luong, President of the VSAK (sixth tenure), reviewed movements and activities relating to Vietnamese youths and students in particular in the country, especially community-based activities, communication work and external affairs.
The association aims to pay more attention to scientific research, along with sport and cultural movements to enhance exchanges between Vietnamese students and their international peers, he said.
An executive board for the 2019-2021 term was elected during the congress, gathering 23 members who represent more than 50,000 Vietnamese students across the RoK.
Tran Thien Quang was elected as new VSAK President.
VNF ( VNA )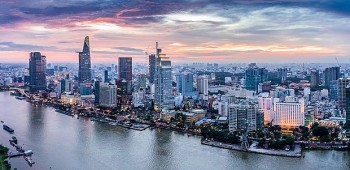 Economy
Japanese investors have been interested in the property market in Vietnam.