Australia suspends Chinese's CGTN and CCTV channels
Australian public broadcast, SBS, in Australia said on Friday that it would suspend Chinese state media channels, CGTN and CCTV.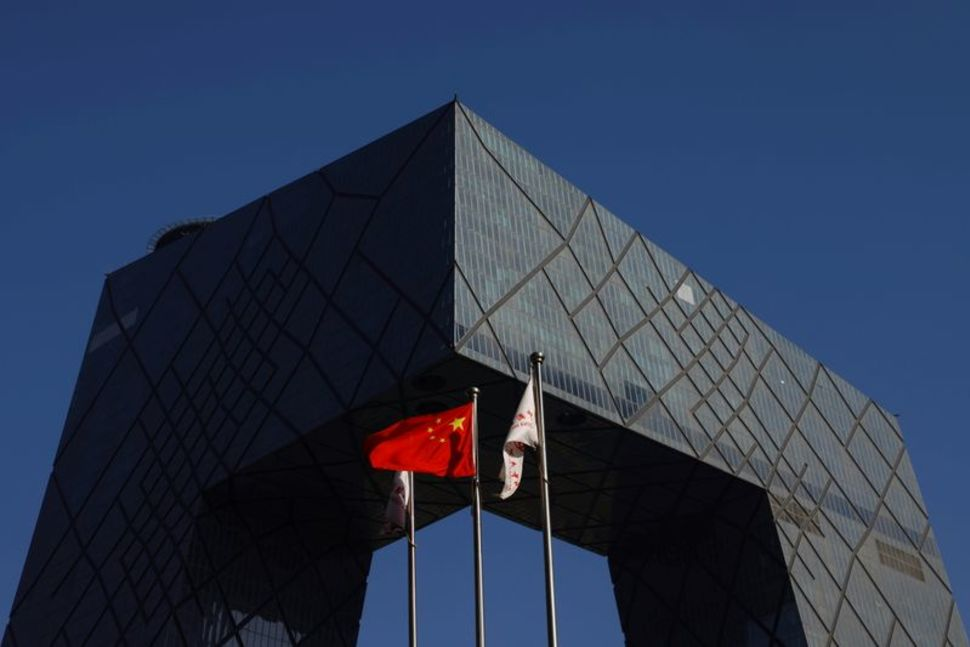 A Chinese flag flutters outside the CCTV headquarters, the home of Chinese state media outlet CCTV and its English-language sister channel CGTN, in Beijing, China February 5, 2021. REUTERS/Carlos Garcia Rawlins
SBS told the Guardian it was reviewing a complaint sent by human rights organisation Safeguard Defenders, which claimed CGTN and CCTV programs regularly shown on the multicultural broadcaster had in the past included dozens of forced confessions both domestically and internationally, in breach of the SBS code of conduct. It did not claim that SBS had aired any of the confessions.
According to The Guardian, SBS confirmed it had received a complaint from Safeguard Defenders, alerting it to "serious human rights concerns" surrounding its broadcast of Mandarin and English-language programs supplied by CGTN and CCTV.
"Given the serious concerns it raises, and the complexity of the material involved, we have made the decision to suspend the broadcast of the overseas-sourced CGTN and CCTV news bulletins while we undertake an assessment of these services," an SBS spokesman said.
CGTN is the English and other languages broadcaster for state media broadcaster CCTV.
Programs from both stations that aired on SBS as part of its "Great Wall package" were among those found to have broadcast forced confessions of at least 56 people between 2013 and 2020, Safeguard Defenders said.
"These broadcasts involved the extraction, packaging and airing of forced and false confessions of prisoners held under conditions of duress and torture," Safeguard Defenders said in its letter to SBS and Australian media regulator ACMA.
It said some subjects of the aired confessions were unable to consent to being filmed because they were arbitrarily detained. It said the lack of consent and the infringement of privacy breached SBS codes of conduct.
"In cases where the victim was aware that it may be released publicly, journalists from CCTV have themselves worked with police to extract and record the confessions, and not merely aired them, and CGTN has packaged them in English," the letter said.
"As this violation of SBS's code of conduct is not just an isolated occurrence but is systematic, intentional and widespread, in fact a deliberate policy, a complaint of a general character is being filed, with a request that SBS investigates CCTV-4 and CGTN's failure to comply with regulation."
The Guardian understands the letter was delivered to SBS on Thursday morning. By Friday, SBS had decided to suspend the broadcasts and initiate a review.
SBS's decision follows a ruling by UK regulator, Ofcom, in February to strip CGTN of its local broadcast license after finding that the network was ultimately controlled by the Chinese Communist Party and had no editorial independence. Safeguard Defenders had also lodged complaints and provided evidence of CGTN's practices to Ofcom.
In apparent retaliation, Chinese authorities subsequently banned broadcasts of BBC World News within mainland China and Hong Kong.
China-Australia tensions
Photo: ABC News
These recent events between Beijing and Canberra are just the latest in a series of developments that have come to mark the lowest point in bilateral ties in decades. The precipitous decline has been tied to the Australian government's backing of an international inquiry into the origins of COVID-19 in April 2020.
Australian politicians have condemned Beijing's stance vis-a-vis Hong Kong and its new national security legislation, warned against aggression toward Taiwan, and called for a boycott of the Beijing 2022 Winter Olympics. Legislators are reviewing the Customs Amendment (Banning Goods Produced By Uyghur Forced Labor) Bill 2020, a bill that would ban the importation of goods from Xinjiang and other parts of China produced using forced labor. These positions reflect a shift in Australia's willingness to speak out on human rights and politically sensitive issues for China.
At the close of 2020, Australia filed a complaint against China for its duty measures against barley at the World Trade Organization. This move is notable as Australia's pursuit of consultations with China was lodged at the WTO and not via remedies available through the China-Australia Free Trade Agreement, which entered into force in 2015. If the consultation process fails to produce a resolution on barley, a multilateral panel would be established to issue a ruling.
And yet, while Beijing's pressure and bans on specific Australian sectors have raised red flags about the potential for greater economic coercion, trade in the most lucrative commodities for the two partners – iron ore and natural gas – appears to be holding steady. Although government figures suggest that the combined impact of Chinese trade measures has not hurt the Australian economy overall, the importance of two-way trade for Australia's future growth is undeniable.
The economic dimension of the Australia-China relationship looms large as the trajectory of ties continues to deteriorate. China is by far Australia's most important trading partner, the destination for nearly 40 percent of the country's exported goods and more than 17 percent of service exports from 2019 to 2020, according to research firm Capital Economics. "This economic integration is so complex that, regardless of the country's own political cycles, Australia's growth and resilience relies upon its understanding of Beijing's planned economy," Katie Howe, a Canberra-based strategic consultant, wrote in The Diplomat.