Australian enterprises keen on agricultural technology in Vietnam
Many Australian businesses have been interested in the agricultural technology (agritech) field in Vietnam.
Many Australian enterprises in New South Wales foresee business opportunities and potential in Vietnam and aspires to join the market in the fields of agritech and food and beverages.
The information was made by Karla Lampe, who in charge of the global investment at the Investment Agency of New South Wales at the recent webinar on business opportunities of Australian enterprises in Vietnam.
Addressing the event, Karla said that the rapid and sustainable economic growth over the past years had made Vietnam an attractive destination for enterprises in New South Wales.
A good education system and a growing middle class are among factors opening up more trade and investment opportunities for Australian businesses.
New South Wales has beefed up cooperation with Vietnam during the past few years. It has recently signed a memorandum of understanding with Ho Chi Minh City aiming to foster trade and investment activities between the two localities.
Many Australian businesses have been interested in the agricultural technology (agritech) field in Vietnam. Illustrative photo: VNA
Earlier this year, New South Wales' investment agency established its presence in Vietnam by appointing a representative at the Australian Trade and Investment Commission office in the country.
Vietnam is currently the New South Wales' ninth-largest trading partner, said Karla, adding that the two sides hoped to lift the rank in the time ahead.
At a recent consultation with New South Wales' investment agency, the local businesses said that they had considered the fields of agritech and food and beverage as their top priorities when penetrating the Vietnamese market.
Rebecca Ball, Australian Deputy Consul General in Vietnam and Cambodia said that agriculture had played an important role in Vietnam's economic development and also been one of the pillars in the bilateral economic cooperation between the two countries. Vietnam and Australia have agricultural products with their own comparative advantages and are gradually lifting trade restrictions between the two sides.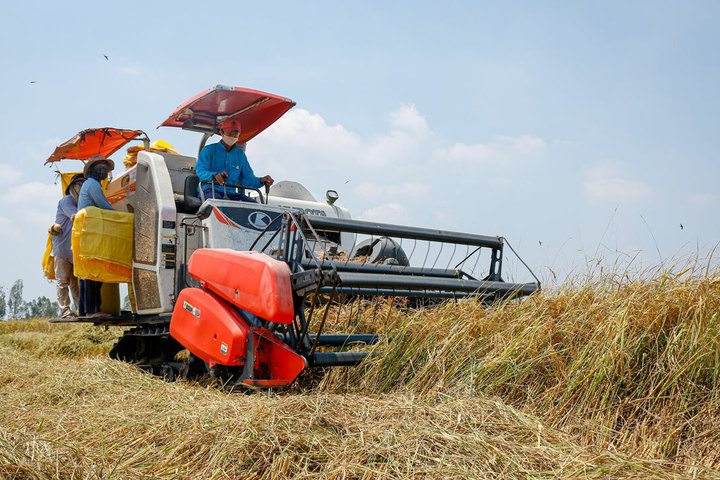 Farmers harvest rice in the southern province of Soc Trang on March 10, 2020. Photo: VnExpress
The fact that the Vietnamese government has focused on developing agricultural services and strengthening the application of technology in this area offers great opportunities for Australian businesses.
Ball added that in the first quarter of 2021, Australia's agricultural product exports to Vietnam enjoyed a 44% year-on-year increase. It is likely that Vietnam will become Australia's fifth-largest agricultural product export market in 2021, compared to the current eighth rank.
At the webinar, representatives of a number of Australian businesses and organizations such as Sunrice group and the Commonwealth Scientific and Industrial Research Organisation (CSIRO) shared secrets to do business successfully in Vietnam as well as answered questions from businesses looking to invest and do business in the Southeast Asian country in the fields of agritech and food and beverages.
During online talks with his Australian counterpart Scott Morrison on May 25, Prime Minister Pham Minh Chinh suggested Australia continue its technical support to Vietnam and further facilitate Vietnamese agricultural and aquatic products' access to the Australian market.
He also called on Australia to encourage its firms to step up investment in Vietnam, and funnel its official development assistance (ODA) into infrastructure projects, agricultural development, poverty reduction, climate change response and high-quality personnel training in the Southeast Asian nation.