Agriculture ministry proposes solutions to remove congestion of farm produce circulation
Vietnamese Minister of Agriculture and Rural Development Le Minh Hoan proposed a number of solutions to remove congestion in the circulation of farm produce in pandemic-hit areas.
Bac Giang 's lychees are in the main harvest season but the fruit's circulation is being congested due to the pandemic. Photo Nguoi Lao Dong
The minister made the proposal on Monday while having a working session with representatives of ministries of foreign affairs, transport, public security on how to create conditions for domestic farm produce consumption in the context of Covid-19.
According to Nguyen Quoc Toan, head of Department of Agro-​product Processing and Market Development under the agricultural ministry, the output of Vietnam's key fruits this year is estimated at 8.3 million tons. Many varieties including lychees, mangoes, longans, dragon fruits, watermelons are in the harvest season and have large outputs but face many difficulties in circulation.
Localities claimed that the most difficulty is to prove the farm produce is virus-free and safe to be moved out of the pandemic-hit areas for consumption, he said.
"Local Covid checkpoints apply too strict measures and do not allow fruit-carrying vehicles from other provinces to go through although the drivers and vehicles own safety certificates," Toan told the meeting.
Minister Le Minh Hoan said although the Prime Minister orders no bans on transport and trade, localities have different awareness about the pandemic and apply different restrictions in farm produce transport. Meanwhile, farm produce is seasonal and delay in shipment might result in higher costs, quality loss and value reduction.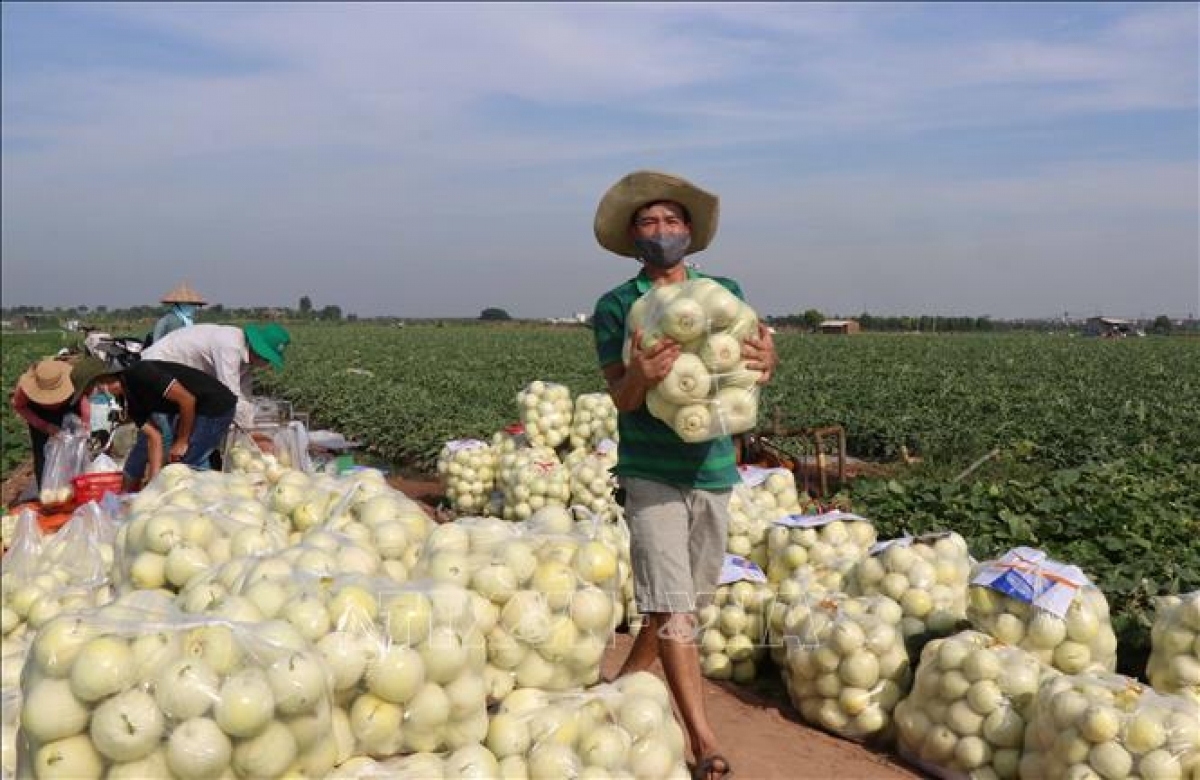 Traders buy pear-shaped melons to support farmers in Bac Ninh province, one of northern provinces seriously hit by Covid-19. Photo VNA
In Wuhan, China during the first days of outbreak, farm produce also stuck in pandemic-hit regions. China's authorities kicked off a 'green channel' in which trucks carrying farm produce from Covid areas are exempted from taxes and fees including expressway fee, he said.
The channel, which ran with the collaboration of healthcare, industry, trade, transport sectors and police, supported businesses and helped facilitate circulation of farm produce, he added.
Minister Hoan said China's solution was an effective way to remove the congestion of farm produce in the Covid areas in the context of the current complicated pandemic development. Bac Giang has applied Covid-19 safety certificates for farm-produce carrying trucks. But these certificates are issued by district-level leaders and not valid when the produce is transported to other areas outside Bac Giang.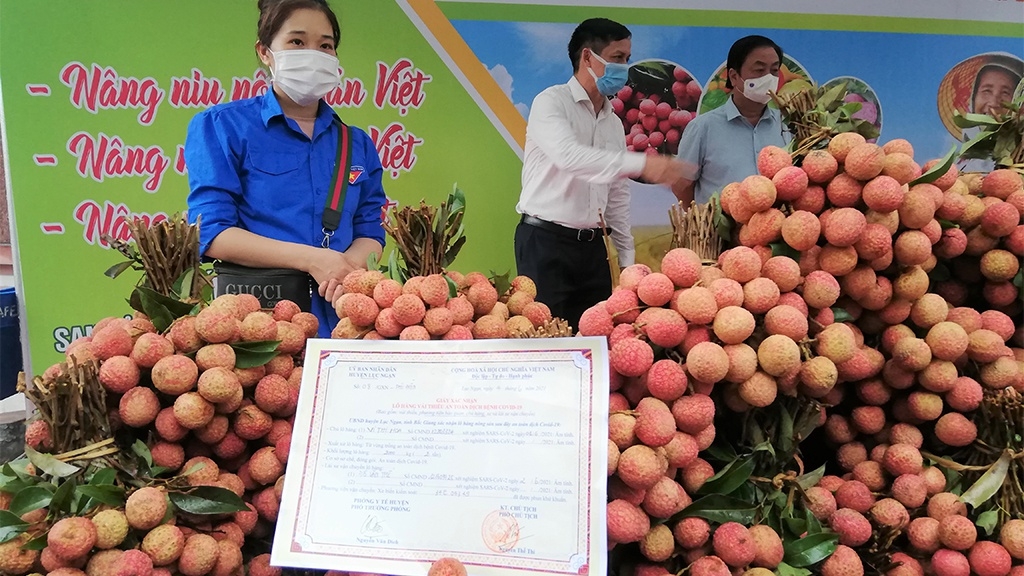 Bac Giang has issued safety certificates for lychees grown in pandemic-hit areas. Photo Thanh Nien
Deputy Minister of Agriculture and Rural Development Tran Thanh Nam said that the ministry would propose a coordination mechanism between the Ministry of Agriculture and Rural Development, the Ministry of Industry and Trade and the Ministry of Health to jointly supervise steps from harvesting farm produce, packaging at production areas to transporting and shippers.
The Ministry of Health will issue safety certificates for vehicles and shipments. Once this certificate has been obtained, other ministries will create favorable conditions for vehicles carrying agricultural products to run through checkpoints and bring farm produce to the market as quickly as possible, he said./.