Australian Frigate Visits Ho Chi Minh City
Royal Australian Navy HMAS Toowoomba arrived in Ho Chi Minh City as part of Indo-Pacific Endeavour 2023.
Helicopter frigate HMAS Toowoomba of Royal Australian Navy (RAN) docked at Ho Chi Minh City's Nha Rong wharf on October 12 on a goodwill visit to Vietnam, VOV reported.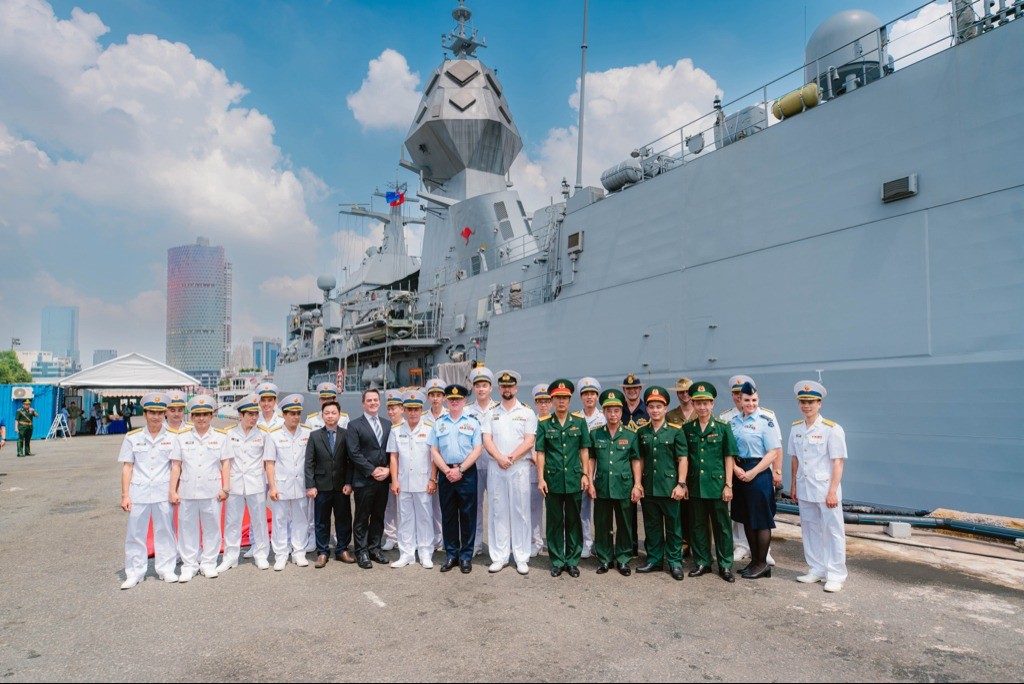 Representatives from Vietnam's Navy Region 2, Commander Indo Pacific Endeavour, Commanding Officer HMAS Toowoomba, and Australian Defence Staff stand alongside HMAS Toowoomba after arriving in Ho Chi Minh City
Deputy Chief of Staff Navy Region 2 Senior Captain Nguyen Viet Anh wished the delegation leader, Commander Tony McCormack, a successful business trip to Ho Chi Minh City, contributing to tightening the relationship between Vietnam and Australia.
During their six-day stay, 200 naval officers and crewmembers will have exchanges and share experiences with officers and sailors of the Vietnam People's Navy, in such fields as health care on naval ships and rescue work.
The Australian crew will also pay a courtesy visit to leaders of the Ho Chi Minh City People's Committee, the Military Region 7 High Command, and the Naval Region 2 High Command, and lay floral tributes at the monument to President Ho Chi Minh.
Besides Australian sailors will participate in friendly sports games with students of the Naval Technical Intermediate School.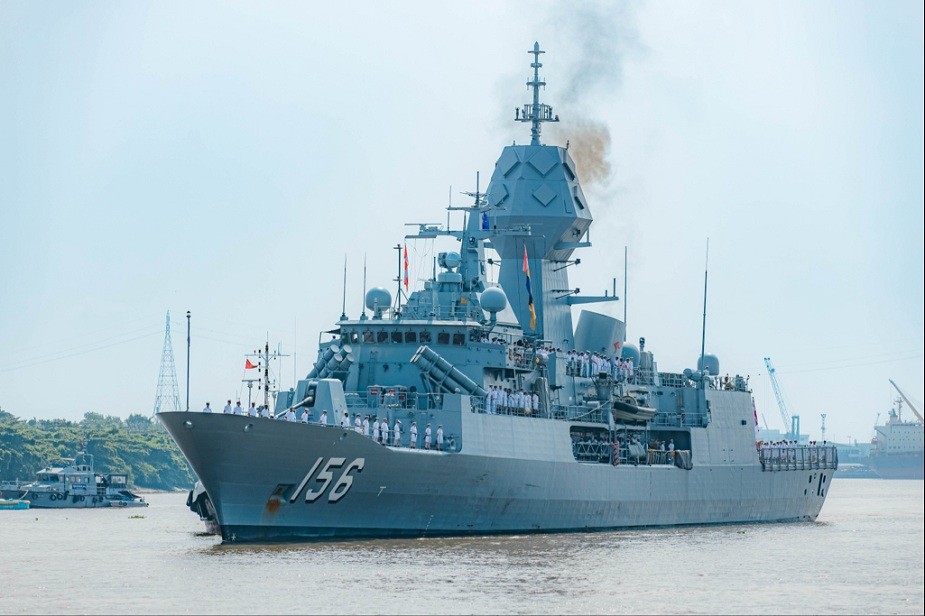 HMAS Toowoomba arrives in Ho Chi Minh City.
Commander Tony McCormack of Indo-Pacific Endeavor (IPE) said the visit, part of the IPE cooperation program, aims to promote friendship and mutual understanding, contributing to further strengthening cooperation between the two countries' navies and Vietnam-Australia defense cooperation.
The visit also demonstrates the strong strategic partnership between Vietnam and Australia in celebration of half a century of diplomatic relations between Vietnam and Australia (1973-2023).
The Brigadier General emphasized that Vietnam is an important regional partner for Australia and the friendship between the two countries has never been as stronger and fruitful as it is now. The pair share a mutual desire to contribute and maintain a peace, secure, and prosperous Indo-Pacific region where ASEAN plays a central role.
Defence cooperation between Vietnam and Australia, particularly in the fields of training and peacekeeping, is strong and both sides want to continue promoting cooperation in the coming time.
HMAS Toowoomba is the seventh of eight Anzac Class frigates built by Tenix Defence Systems at Williamstown, Victoria for the Royal Australian Navy. The design is based on the German Meko 200 frigate.
Commander Indo Pacific Endeavour, Air Commodore Tony McCormack, is welcomed by Deputy Chief of Staff Navy Region 2 Senior Captain Nguyen Viet Anh on the wharf in Ho Chi Minh City.
The warship features a "combined diesel or gas" (CODOG) propulsion plant which enables the ship to sustain sprint speeds of greater than 27 knots and allows an operational range in excess of 6,000 nautical miles at 18 knots.
The ship can embark Navy's latest multi-role Sikorsky/Lockheed Martin MH-60R Seahawk helicopter which has enhanced anti-submarine, anti-surface warfare, and Search and Rescue capabilities. Embarkation of a helicopter also provides the ship with the capability to deliver air-launched missiles and torpedoes, according to the Royal Australian Navy (RAN).
In early April 2013, the warship joined the US Navy's Aircraft Carrier Strike Group No. 5 in the East Sea.
In April 2018, the HMAS Toowoomba along with the HMAS Anzac and HMAS Success visited HCM City port after passing through the East Sea.