Australian Website Suggests 10 Must-try Dishes and Drinks in Vietnam
The Australian website delicious.com.au, top 10 street dishes and drinks in Vietnam
When it comes to street food, Vietnam delivers big on flavor. Here are the best 10 things to eat and drink in Vietnam, according to the Australian website delicious.com.au.
First of the list, of course, is Banh mi. The French may have introduced baguettes to Vietnam, but the country's famed banh mi is a uniquely Vietnamese creation.
Roasted Pork Bánh Mì.
"Different vendors have their own take on this globally loved sanga, but the general concept includes a fresh baguette, an influence of earlier French colonisation. This is stuffed with pate, pork floss, pork belly, cucumber and pickled vegetables. Crunchy, soft, and unforgettably tasty," the an article published on the website wrote.
Second, 'Pho' (rice noodle soup with beef or chicken) is another must-try. Pho was developed in the north of the country during the late 19th and early 20th centuries. The pho obsession spread to the south in the 1950s, when the country was divided and millions of north Vietnamese brought their soup recipe with them to the south.
December 12 has been marked as the Day of Pho in celebration of the nation's most well-known dish.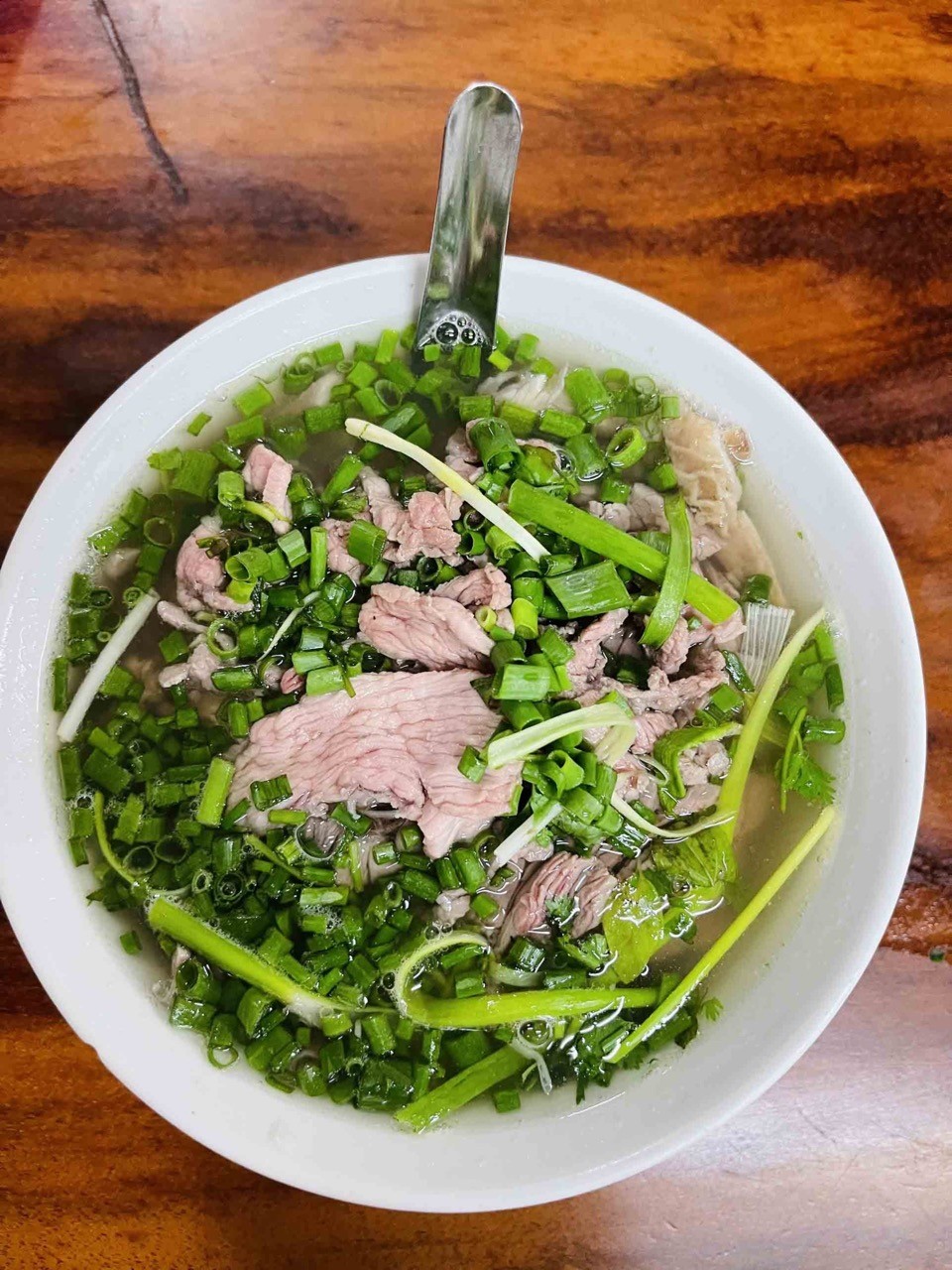 A bowl of beef Pho. Photo: Hoang Khanh Duy
The article posted on the web calls Pho is a dish that again needs no introduction. Pho can be found all over Vietnam, but each region puts their own spin on the noodle soup. Born in the north of the country, phở is commonly a mouth-watering concoction of flat rice noodles, thinly sliced beef, zesty herbs, swimming in a spice-rich beef broth.
Third dish in the list is Bánh Xèo (Vietnamese rice pancake).
It affirmed the crispy pancake is a favourite among Vietnamese and visitors alike. This savoury pancake is like a crepe in its weight and texture – a lightly fried mixture of rice flour, water, and turmeric (and potentially coconut cream). It's stuffed with most often prawns and bean sprouts, and eaten wrapped in lettuce or rice paper with a sweetened fish sauce.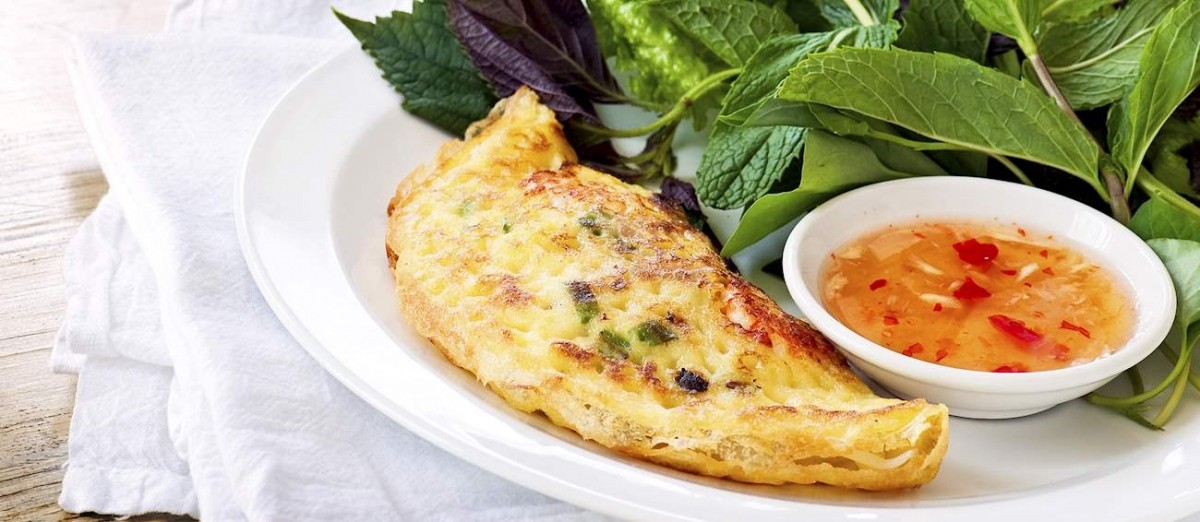 Crispy Vietnamese pancake (Bánh xèo) tops the list of 10 most popular Southeast Asian pancakes as compiled by TasteAtlas. Photo courtesy of TasteAtlas
The word xèo depicts the sizzling sound when pouring the rice batter into the hot skillet. Though some people might prefer to use chopsticks to directly eat bánh xèo, the best way to enjoy it is eating with your hands.
The fourth place is Cơm Gà (Chicken rice), specialty of the riverside district of Hoi An town, a picturesque place devoted to street food. Picture turmeric rice and succulent shredded chicken, topped with fish sauce, pickled shallots, and herbs like coriander and mint. Locals often like a spoonful of chilli jam on top.
The fifth spot in the list is for our first drink - Vietnamese iced coffee.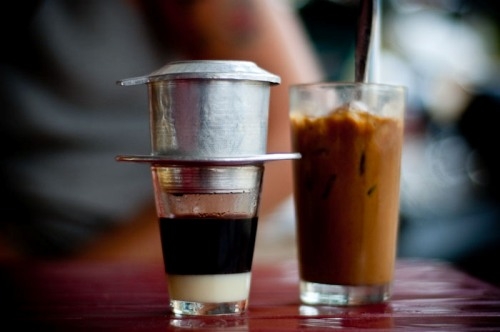 Vietnam's distinctive iced coffee has been praised as one of the highest-rated coffees in the world.
Considering Vietnam is the world's second largest bean producer, it's no surprise this country is crazy about its coffee, wrote the article. Its famous condensed milk iced coffee is an afternoon favourite for locals, made by pouring hot water through coffee grounds into a cup already containing a decent dash of condensed milk. Pick-me-up is an understatement.
Vietnamese iced coffee came into being in Ho Chi Minh City where it was traditionally available on street corners. Now it is present all around the country, including in five-star hotels and even abroad in Vietnamese-style coffee shops.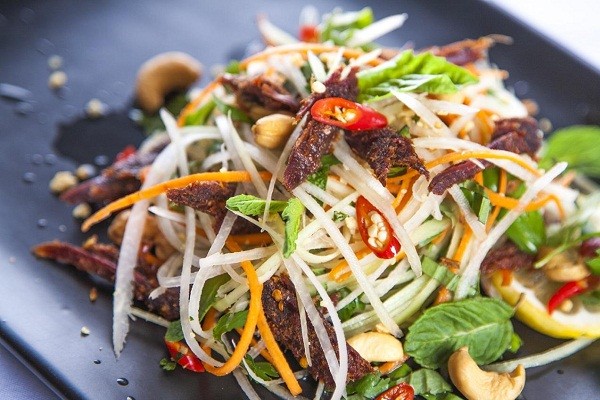 Green papaya salad is consumed in Thailand as Som Tam, where as in Cambodia it becomes bok l'hong and in Vietnam it is Gỏi đu đủ.
Next is Gỏi Đu Đủ (green papaya salad).Even though, there are plenty of SouthEast Asian nation's which claim their own version of this dish. According to the article, the Vietnamese take is spicy, and sees shredded unripe papaya tossed with carrots, coriander, Thai basil, peanuts, chilli, shallots, and a sweet and sour sauce. Traditionally it's sprinkled with Vietnamese beef jerky or dried squid – don't knock it till you try it.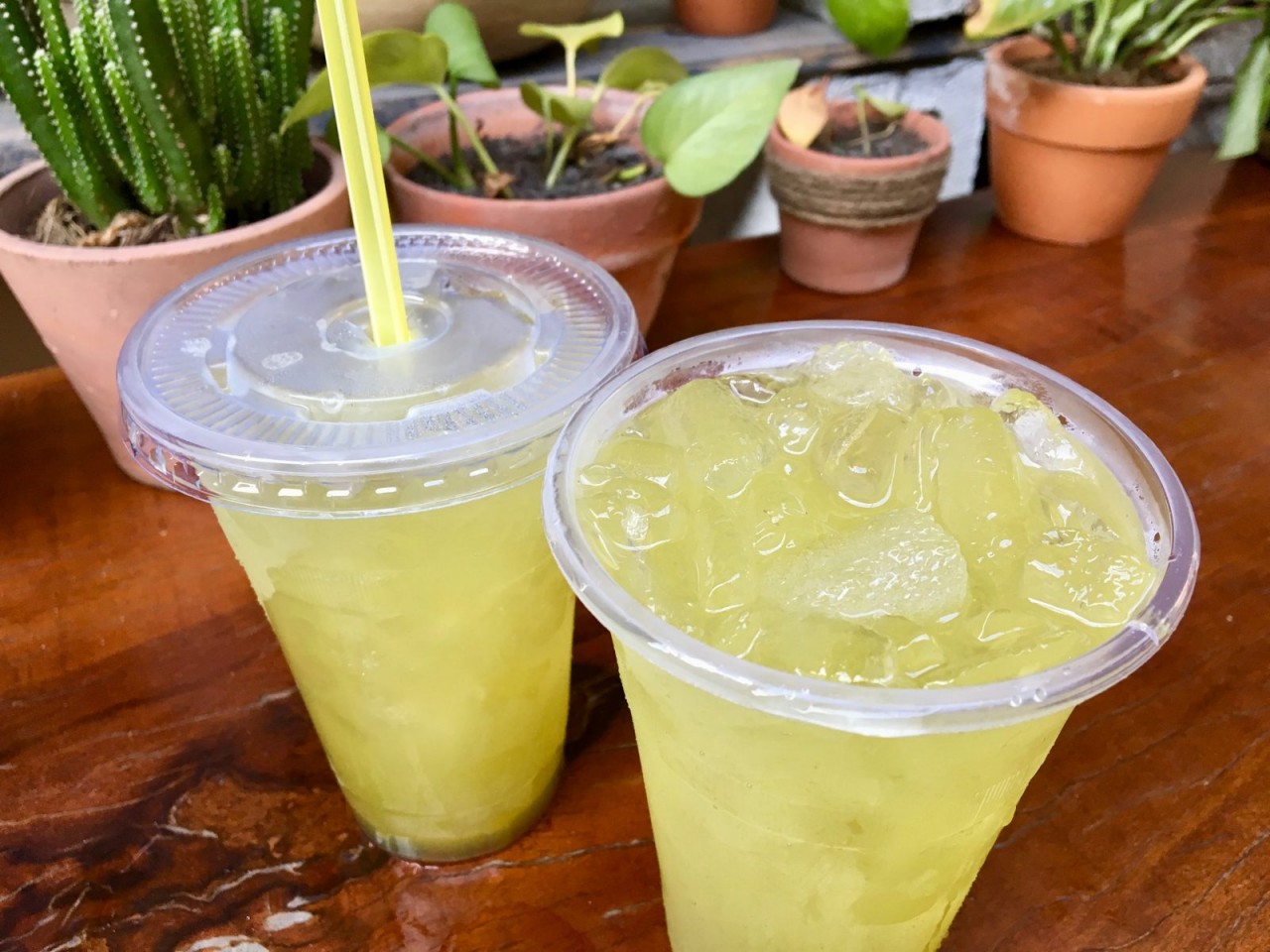 Vietnam is one of the main sugar cane producers in the world. This is why sugarcane juice is such a popular drink in Vietnam, especially on tough summer days. Photo: Delicious Vietnam
The seventh place is another common drink - nước mía (sugarcane juice). Icy cold and sugary sweet, Nước Mía is a much loved Vietnamese refreshment that can be found on nearly every street corner. As its name suggests, it's mainly juice squeezed out of sugarcane, but kumquat is sometimes thrown in for good measure, alongside Vietnamese pickled lime.
Recently, on August 25 the northern mountainous province of Hoa Binh has shipped a batch of 17.3 tonnes of fresh sugarcane to the US.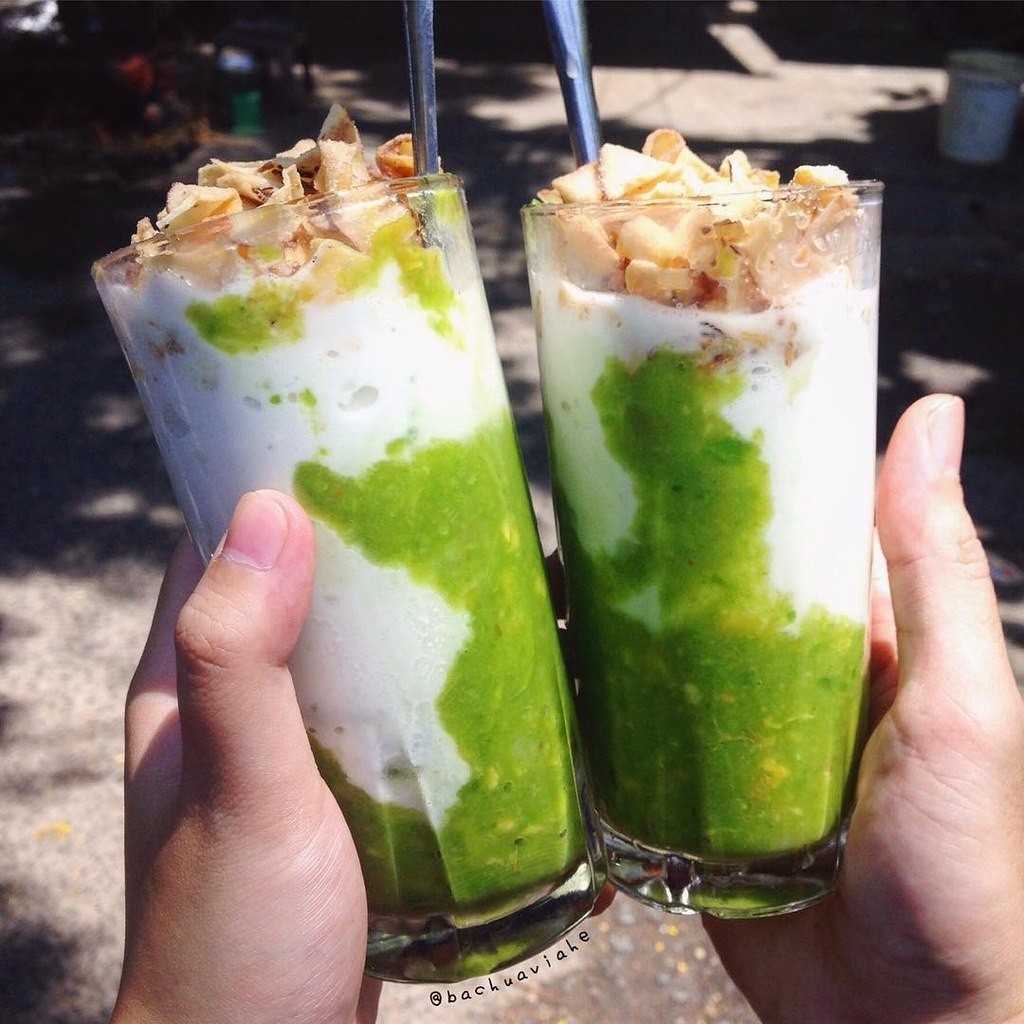 Avocado Ice Cream. Source: bachuaviahe
Another dessert on the list is avocado ice cream. The article highlights that this super fruit isn't for toast in Vietnam, but for dessert. The fruit makes for a creamy post-dinner sundae of sorts that was first dreamt up in Da Nang city. It's a layered dish with smashed avo on the bottom, topped with a scoop of coconut ice cream, sweetened coconut milk, and toasted coconut flakes.
Vietnamese Avocado Mousse Ice Cream is also a signature dish of Da Lat, a famous tourist destination in the Central Highlands. It is a rich and creamy dessert which is super easy to put together.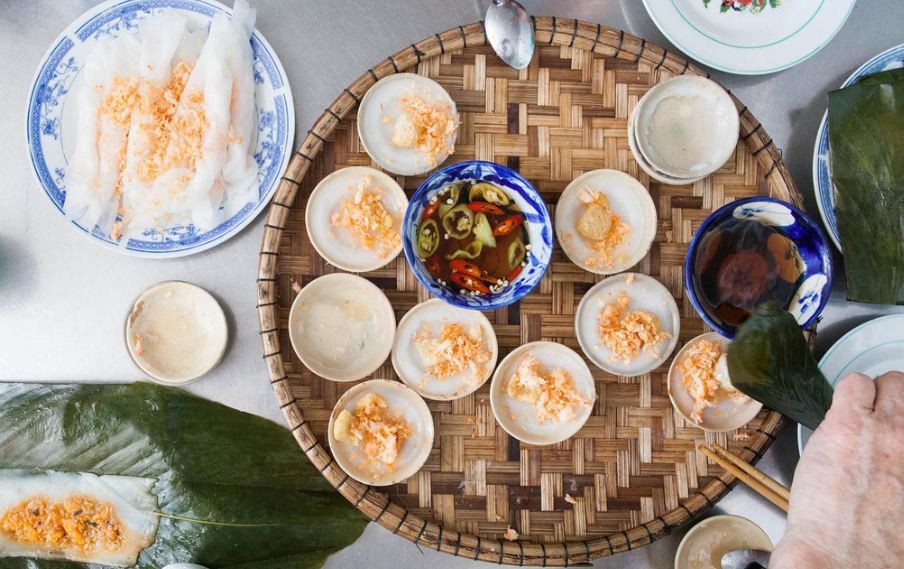 Banh beo in Hue is steamed in small, flat bowls. On top of banh beo in Hue are toasted shrimp flakes, pork cracklings and fried shallots. Photo: Liz Phung
The next dish is Bánh bèo (steamed rice cake) - a sweet or savoury snack, bánh bèo are loved by all ages, and for good reason. The thin steamed rice cake are served in bite-size bowls and layered with a filling that depends on the region you're in. Hoi An favours minced shrimp or pork with crispy shallots.
A country with tropical agriculture, Vietnam is home to thousands of unique farm produce that serve as ingredients for a myriad of cakes. However, in Vietnamese cuisine, there is hardly something like Banh beo. From the appearance to the methods of preparation and taste, there are no versions of banh beo in any regions across Vietnam that are completely alike.
The last on the list is Gỏi Cuốn (rice paper rolls). The article says wherever you go in Vietnam you'll find these rolls called something different – spring rolls, summer rolls, or rice paper among them. Despite the many names such as Goi Cuon, salad roll, summer roll, fresh spring roll, spring roll, or rice paper roll, these healthy snacks follow the same concept – strips of pork, prawn, cucumber, carrot, rice vermicelli and herbs wrapped in Vietnamese rice paper. Ingredients tend to differ between regions as do the accompanying dipping sauces.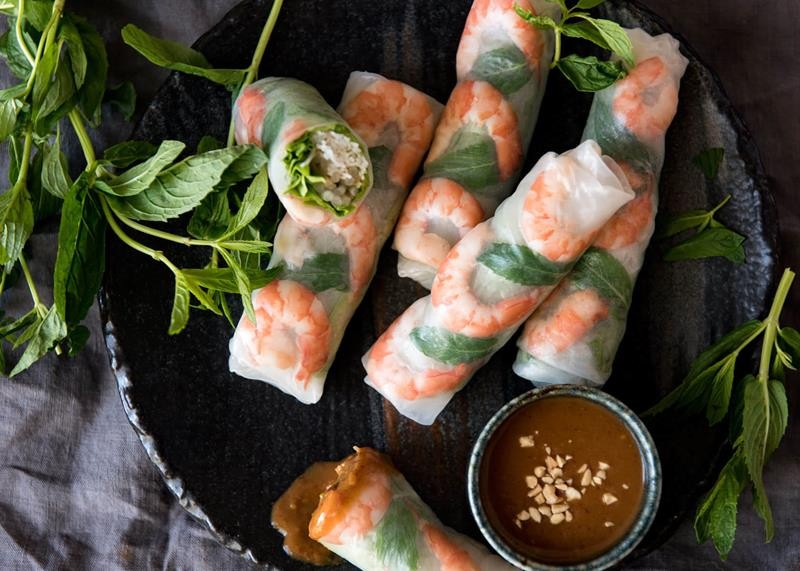 Fresh, light, healthy, and summery Vietnamese salad rolls are packed with vermicelli noodles, shrimp, fresh vegetables and herbs and dipped in a homemade peanut dipping sauce. Photo: Netspace
Goi Cuon is served fresh at room temperature (or cooled) and are not deep-fried or cooked on the outside. These rolls are considered to be a very popular appetizer with customers in Vietnamese restaurants.
These spring rolls are a refreshing change from the usual fried variety and have become a family favorite. They are great as a cool summertime appetizer, and are delicious dipped in one or both of the sauces.
The fillings can vary from the standard pork slices, pork sausage slices, and shrimp; fish, pan-fried seafood (such as squid), beef poached in a lemongrass broth, tofu (for vegetarians), grilled sausages, braised pork, and egg are among some of the other popular spring roll variations.