Bach Long Recognised by Guinness as World's Longest Glass-Bottomed Bridge
The Guinness World Records has confirmed the 632-meter-long Bach Long pedestrian bridge in Moc Chau, a popular tourist destination in northern Vietnam, as the longest glass-bottomed bridge in the world.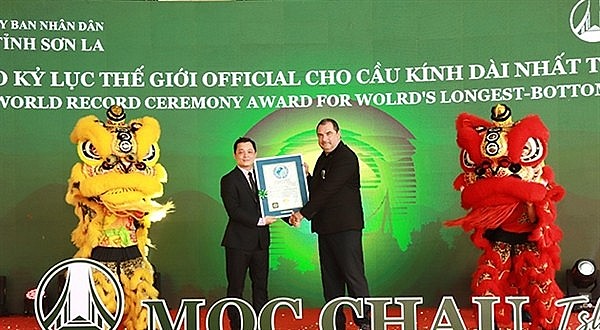 A representative from 26 Moc Chau Tourism JSC (L), the investor of Bach Long (White Dragon) glass bridge, on May 28 received a certificate from Guinness World Records. Photo: baovanhoa.vn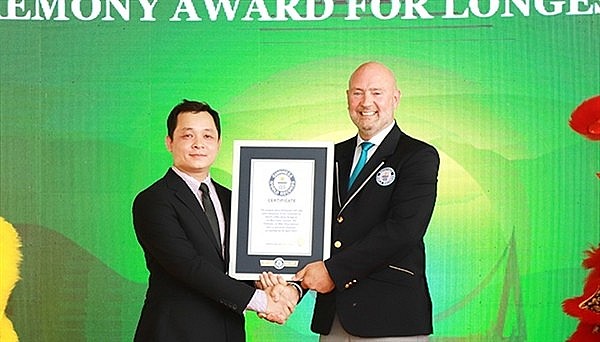 The Bach Long bridge's glass-bottom cliff side path, measuring 327 metre in length, also won the Guinness world record. Photo: baovanhoa.vn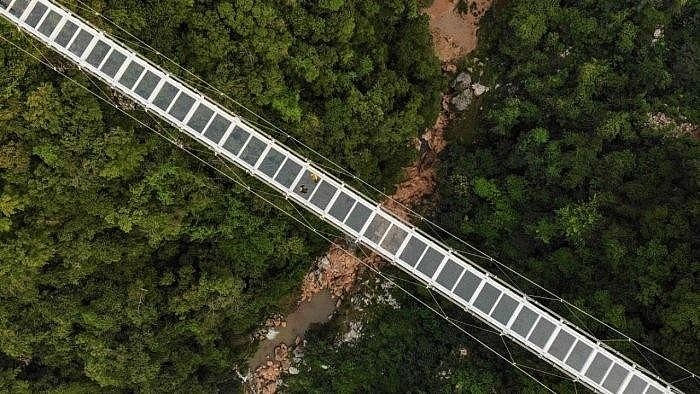 Located in Muong Sang commune, Moc Chau district, Son La province, Bach Long is Vietnam's third glass bridge. Photo: AFP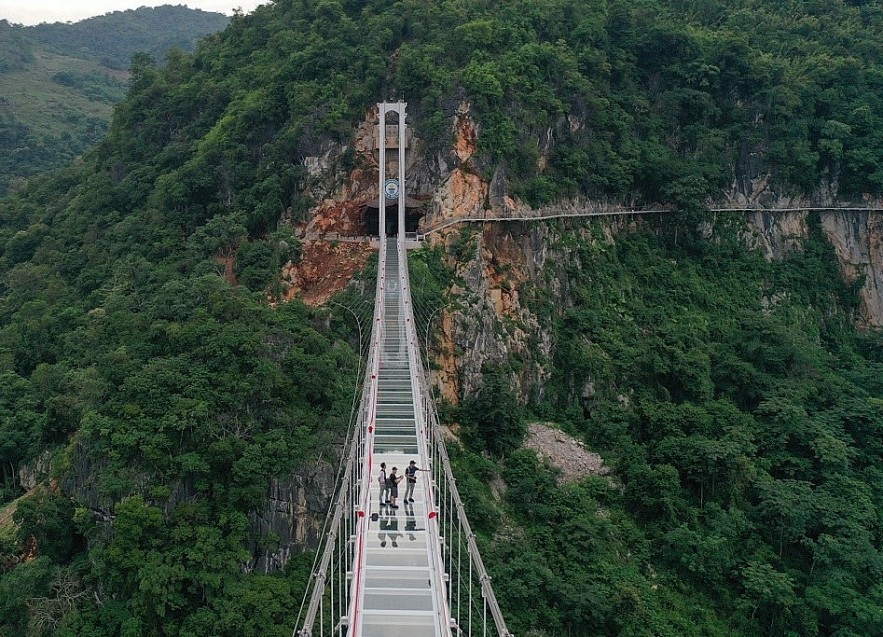 The Bach Long pedestrian bridge – whose name translates to "white dragon" — is 632m long — and is 150m above a huge jungle. Photo: congluan.vn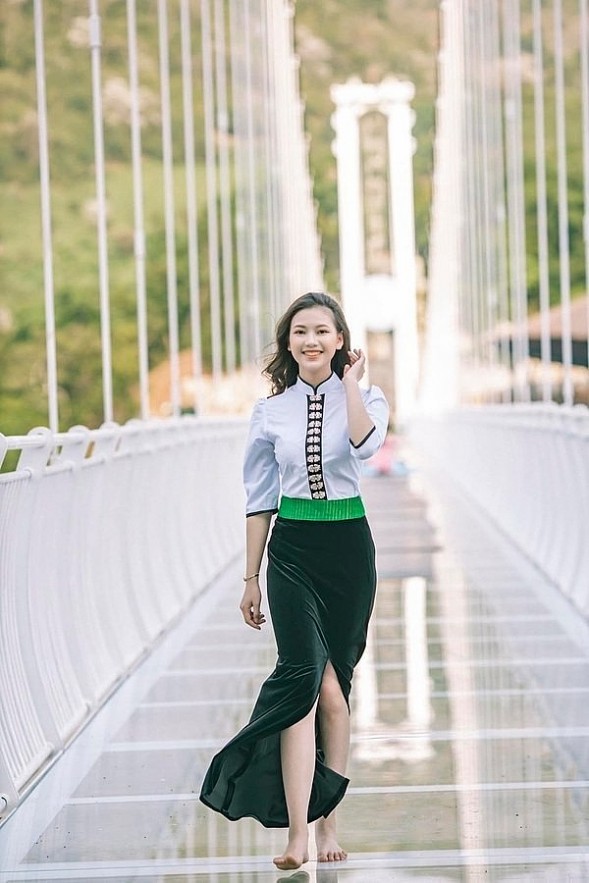 Construction on the bridge started in early 2021 with total investment of VND773 billion ($33.2 million). Photo: congluan.vn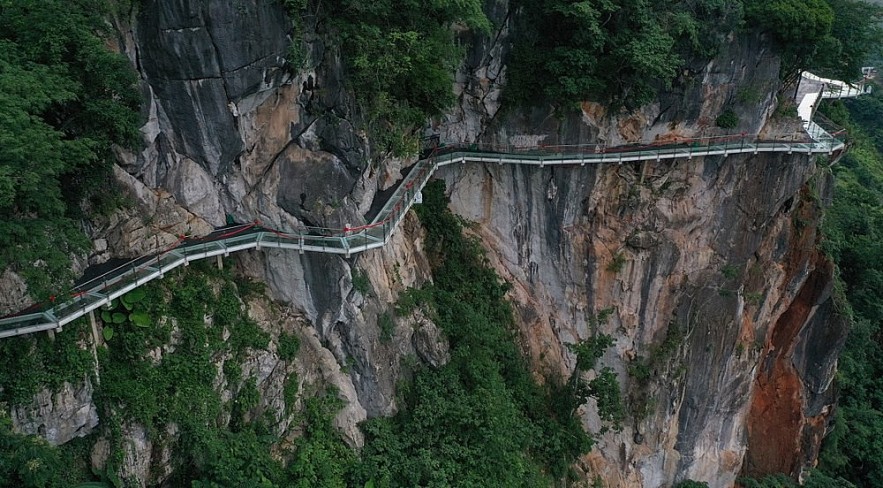 The bridge deck is 2.4 meters wide. Photo: congluan.vn.
The floor of the bridge is made from French-produced tempered glass, making it strong enough to support up to 450 people at a time. Photo: Baodantoc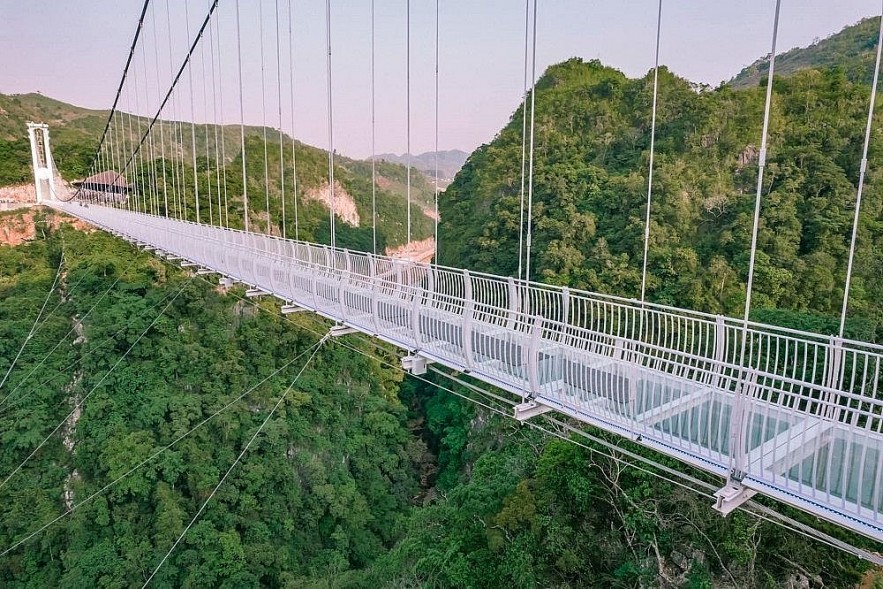 Bach Long bridge has 3 layers of 40mm thick glass. If a glass is broken, it is still capable of withstanding a force of 5 tons. Photo: Baotainguyenmoitruong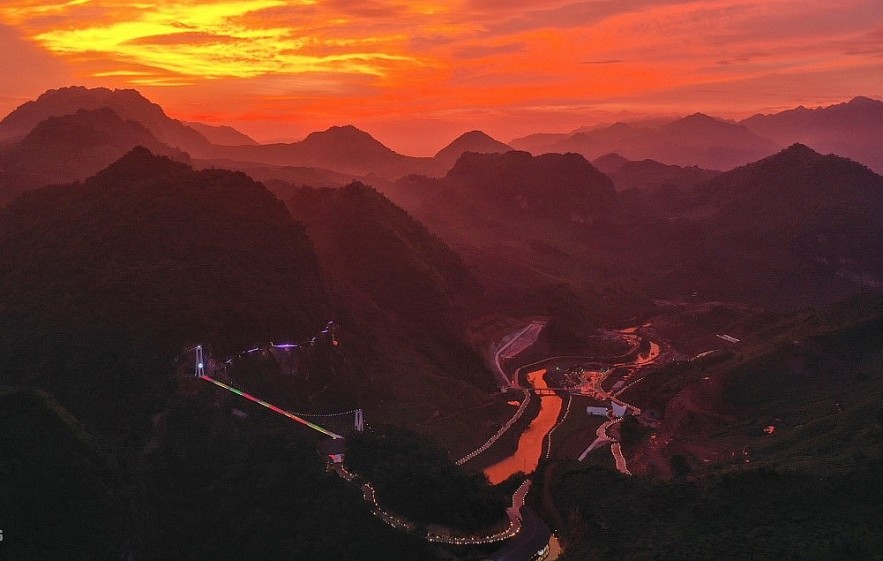 Bach Long bridge at night. Photo: congluan.vn
The glass floor also means tourists can get amazing views of the scenery while braving the scary walk.
The entire cable car system was also imported from the Republic of Korea (RoK). The investor says the bridge was tested by having heavy cars and trucks drive over it.
At the foot of the bridge is Muong Mooc Cave, also known as Chim Than Cave, with natural stalactites and stone sculptures that reflect the daily lives of the ancient Thai ethnic minority group.
The bridge, along with the natural scenery and landscape of the Northwest mountains and forests, draws in the most aspiring photographers to capture this beautiful spot.
It is hoped the landmark will encourage more people to visit Moc Chau and Son La as well. Entry tickets on normal days cost VND550,000 ($23.71) per person and VND650,000 on weekends or national holidays./.
Travel
The story of the young man's journey through Vietnam below has received a lot of admiration and admiration from everyone. This is really a valuable one-in-a-lifetime experience for this young man.