Bamboo Airways ready to bring Korean citizens back home country
On July 19, Bamboo Airways (BBA) will open a special flight to transport Korean passengers back to home country on the Ho Chi Minh City - Incheon route, scheduled to depart at 22h20' at Tan Son Nhat airport.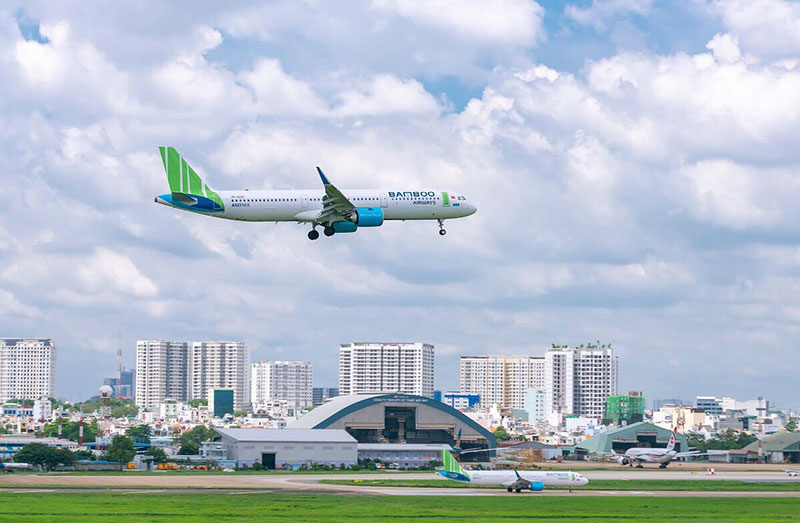 Bamboo Airways will open a special flight to transport Korean passengers.
More repatriation opportunities for Korean citizens
BBA, accordingly, cooperates with the Korean Embassy in Vietnam to operate a special flight to transport Korean nationals living and working in Vietnam wishing to return to their country on the Ho Chi Minh City - Incheon (South Korea) route. The flight is scheduled to land at 6 am (local time) at Incheon International Airport, South Korea.
Operating this flight is the modern wide-body Boeing 787-9 Dreamliner of BBA fleet, which met Korean nationals' desires to repatriate in the context of limited international routes because of Covid-19, leaving Korean citizens, tourists, businessmen, etc. in Viet Nam.
Previously, BBA had successfully transported nearly 1,000 EU, African and Asian national passengers repatriating on flights from Vietnam to the Czech Republic, Lithuania, the United Kingdom, Italy, Kuwait, Egypt and Qatar by airplanes wide-body Boeing 787-9 Dreamliner; as well as transporting nearly 200 Vietnamese citizens living in the Philippines safely to the country.
Before the Covid-19 outbreak, Korea was one of the key markets of BBA in Northeast Asia. The airline has officially launched three direct flights to South Korea, including from Da Nang / Cam Ranh / Hanoi to Incheon, which are expected to be re-exploited when the epidemic situation in this country has been controlled and matches the firm's situation.
A representative of BBA said that the reception and service for passengers and goods from the ground to the air would strictly comply with the regulations on disease prevention and control. All cabin crew members are equipped with a full-body protective set including protective clothing, gloves, goggles, face masks, alcohol-based medical towels and antiseptic solution.
BBA will measure the body temperature, declare passengers' health before the flight, and ensure the standard distance among passengers. Passengers are all required to use face masks during the flight.
The aircraft will be disinfected in accordance with the regulations, and the flight crew will also be isolated when returning from the epidemic area before the flight departure and right after returning from Korea.
Covering domestic flight network after the pandemic
The movement of repatriating Korean citizens is actually a part of BBA's plan to transport passengers and goods to/from Vietnam to other areas of the world.
During the second half of this year, BBA expects to expand its fleet and domestic network with the 5-star orientation service for its passengers.
This July, the airline continued to open many new routes such as Hai Phong - Nha Trang / Da Nang / Phu Quoc / Da Lat, Da Nang - Phu Quoc ... with the frequency of one round trip/day for each flight path, continuing the process of linking all parts of the country.
Especially, BBA is researching to establish flight routes from Hanoi, Ho Chi Minh City, Da Nang, Can Tho to Con Dao right from the beginning of August, expecting to bring more transportation options for passengers to Con Dao Island - a favorite destination of numerous tourists in recent times.
It is expected that in July, BBA will operate about 150 flights/day, covering the domestic flight network.
For the international market, depending on the situation of overcoming the pandemic in each country, the company will restore operations on established routes such as Korea, Taiwan (China), Czech; re-promoting, building and connecting new routes to East Asia, Europe, America and Oceania that are being temporarily postponed; study and consider other potential new international routes.
In addition to restoring and opening new routes, the airline has also reinstated a 5-star flight service from July 1, including reopening Business Class Lounge, serving meals, drinks and magazines on the plane.