Bamboo Airways to Launch First US Route This Month
Startup airline Bamboo Airways has completed necessary procedures to begin its first direct flight to the US on September 23, also the first Vietnamese airline to do so.
An aircraft of Bamboo Airways. Photo courtesy of the carrier
Local carrier Bamboo Airways said it has been granted a license by the US Transportation Security Administration (TSA) to operate 12 direct flights to the US starting September, VOV reported.
It will connect Hanoi and Da Nang City with San Francisco, Los Angeles and Seattle-Tacoma.
Moving forward, Bamboo Airways will conduct its first demonstration direct flight on September 23, thereby paving the way for a series of activities to take place in the US.
This includes the signing of a memorandum of understanding (MoU) with San Francisco and Los Angeles International Airports, along with the debut of the local airline's official representative office in the US.
The carrier is also anticipated to work alongside aircraft manufacturer Boeing and other partners in the US market.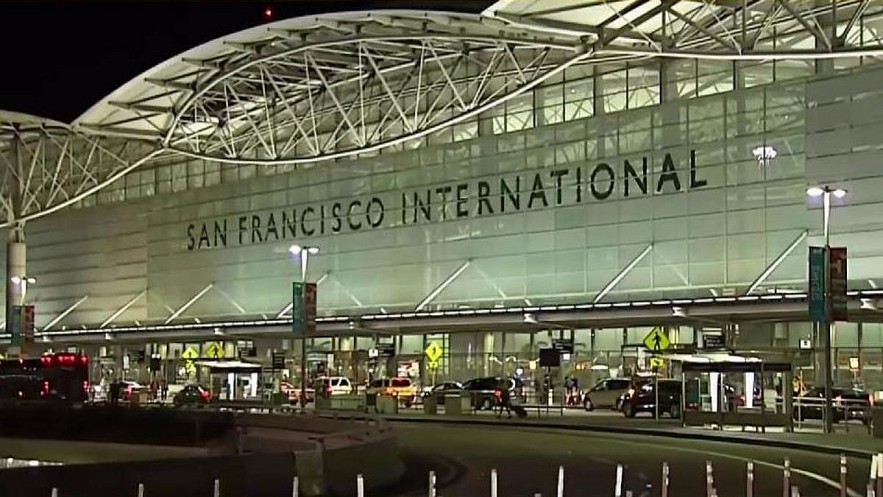 San Francisco International Airport. Photo: Vietnam Airlines
Previously in May, Bamboo Airways was officially designated to operate charter flights to the US, with the airline being granted slots to operate regular direct flights from Ho Chi Minh City to San Francisco and Los Angeles.
The US is widely considered to be the most demanding aviation market in the world. Bamboo Airways has basically completed the most important steps to put into operation regular commercial direct flights, which will connect the nation with the US from the end of this year and early next year.
Currently, Bamboo Airways is co-operating with the International Aviation Association (IATA) in order to put the IATA Travel Pass vaccine passport into practice on a trial basis from the fourth quarter of the year. This will be part of the plan to reopen the international flight network in the coming time.
IATA Travel Pass is a digital health wallet where passengers can upload and share their COVID-19 tests and vaccinations certificates for travel. Health information is an essential factor for both governments and carriers to conduct safe flights during and after the pandemic. The IATA Travel Pass is considered a safer and more effective solution compared to current paper-based procedures, especially when it comes to a multitude of test and vaccination data needed to be secured.
Fulfilling dream of nearly two decades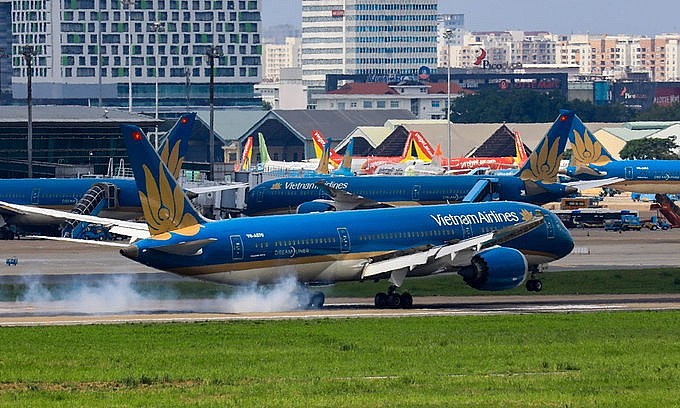 A Vietnam Airlines aircraft lands at Tan Son Nhat International Airport in Ho Chi Minh City, June 15, 2020. Photo: VnExpress
Bamboo Airways is the second Vietnamese airline to have acquired permits from the TSA, with the first being Vietnam Airlines which is set to start its first US route next month, according to VnExpress.
The state-owned carrier will use either Boeing 787 or Airbus SE A350 aircraft for its inaugural US route from HCM City to San Francisco with one refueling stop, CEO Le Hong Ha told Bloomberg.
Since last year, the airline has been operating irregular charter flights to repatriate Vietnamese from the US during the Covid-19 pandemic.
The airline will rely on transporting cargo to offset initial low passenger demand, Ha said.
Vietnamese authorities first wanted to open direct services to the US 18 years ago. However, concerns about profitability have kept airlines from realizing the goal.
Vietnam-US relations
Twenty-five years after the establishment of bilateral relations in 1995, US and Vietnam are trusted partners with a friendship grounded in mutual respect, according to the US Department of State.
US-Vietnam relations have become increasingly cooperative and comprehensive, evolving into a flourishing partnership that spans political, economic, security, and people-to-people ties.
The US supports a strong, prosperous, and independent Vietnam that contributes to international security; engages in mutually beneficial trade relations; and respects human rights and the rule of law.
Relations are guided by the 2013 US-Vietnam Comprehensive Partnership, an overarching framework for advancing the bilateral relationship, and Joint Statements issued by our two countries' leaders in 2015, 2016, and in May and November 2017.
In 2020, Vietnam and the US commemorated 25 years of diplomatic relations between the two countries, renewing their commitment to strengthened cooperation.
The already-robust and growing partnership between our peoples has resulted in nearly 30,000 Vietnamese studying in the US, contributing nearly $1 billion to the US economy, and the opening of a Peace Corps office in Hanoi, the White House said./.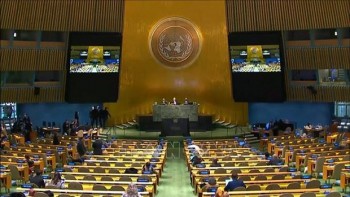 National
Vietnamese Ambassador Dang Hoang Giang underlined the historic significance of the 1982 United Nations Convention on the Law of the Sea (UNCLOS) to all humankind, while representing more than 40 member states of the UNCLOS Group of Friends at a meeting in New York on December 8.