Ban Gioc Waterfall (Vietnam's Cao Bang Province) - A Masterpiece of Nature
Ban Gioc waterfall in the northern mountainous province of Cao Bang, is the fourth largest waterfall, lying on the border between countries in the world.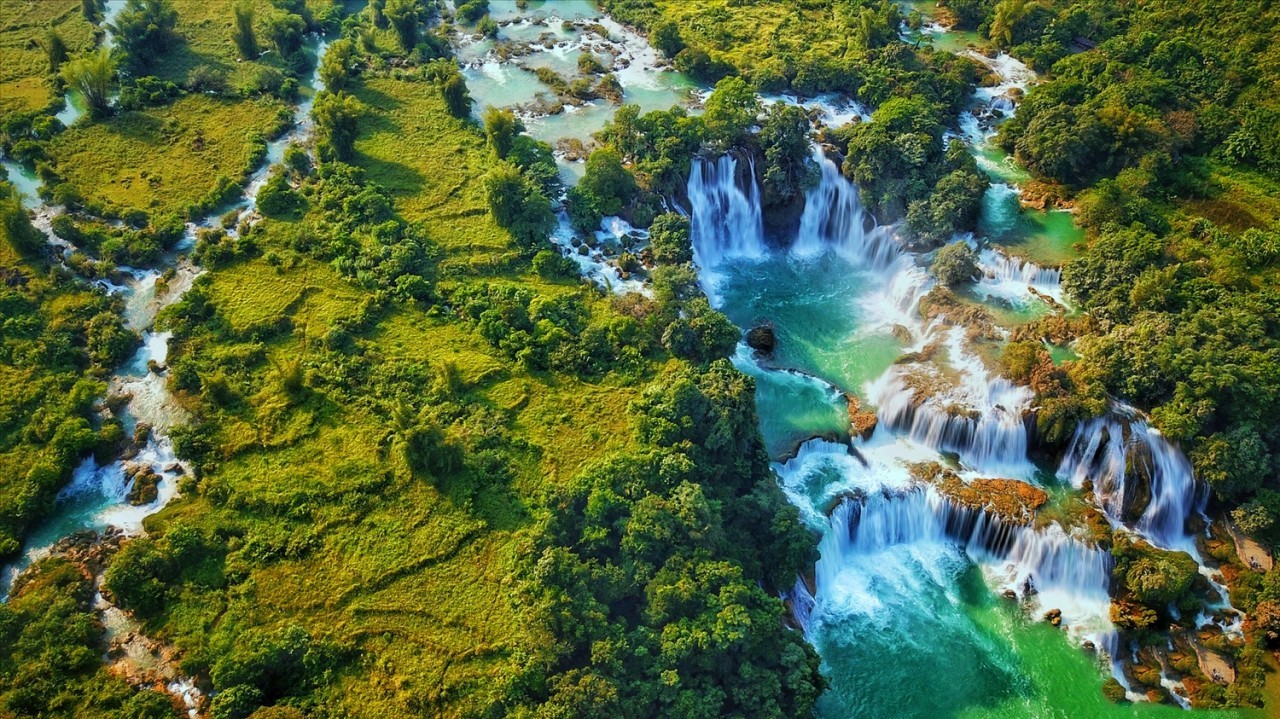 Located on the Quay Sơn River at Dam Thuy commune, Trung Khanh district, Ban Gioc Waterfall is the fourth largest waterfall in the world at an international border, after Iguazu Falls between Brazil and Argentina, Victoria Falls between Zambia and Zimbabwe, and Niagara Falls between the US and Canada. Photo: Internet
Located in Dam Thuy Commune (Cao Bang City) which is 335km away from Hanoi, Ban Gioc Waterfall shares part of its border with Quang Tay Province (China) – the western side belongs to Vietnam, while China affirms their ownership of the eastern side. The Ban Gioc Waterfall area achieves a rich diversity of cultural patterns from indigenous ethnic minorities.
Both countries are committed to deriving substantial benefits from the site in terms of tourism and economic profits. Therefore, Ban Gioc still keep its beauty intact thanks to the low number of tourists coming here so Ban Gioc is still considered an 'off-the-beaten-track' in north Vietnam.
Ban Gioc Waterfall is one of Vietnam's most impressive natural sights. The falls are 30 metres high and 300 metres across, making Ban Gioc the widest (but not the highest) waterfall in the country.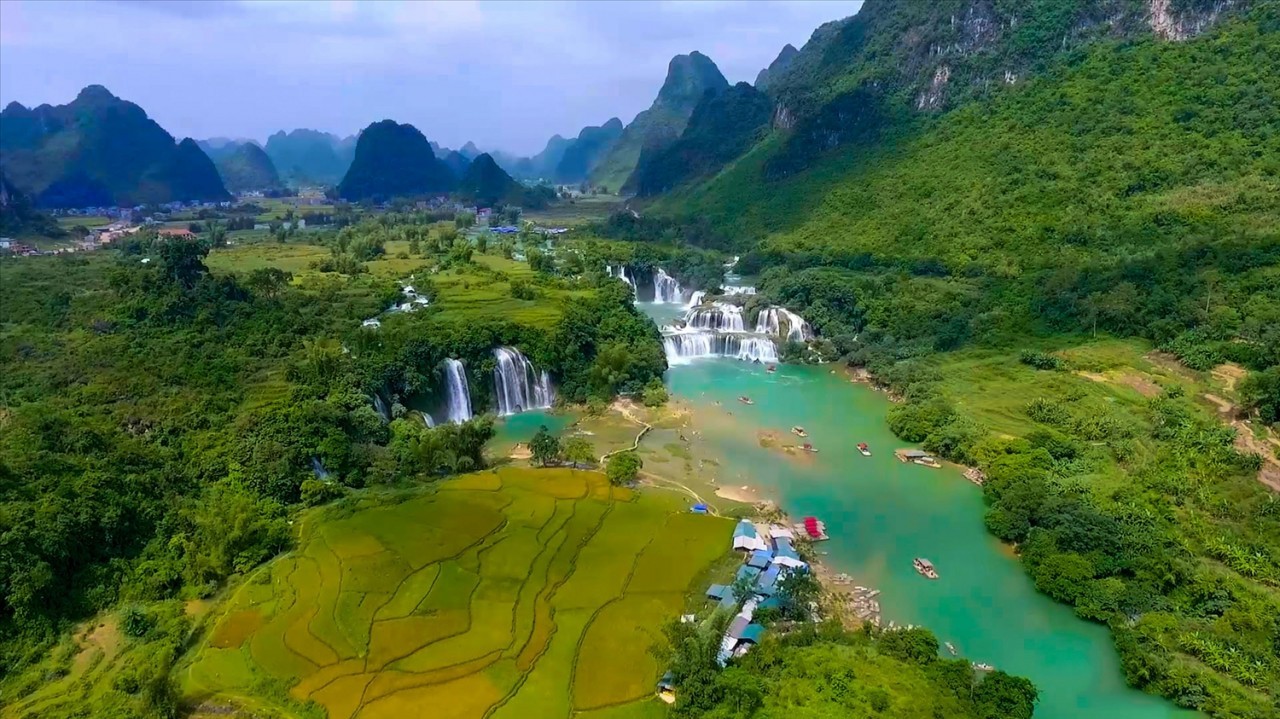 Ban Gioc Fall is approximately 300 wide and 35m high, with three cascades. Photo: Internet
The falls occur on the Quay Son River, a beautiful jade-blue body of water flowing from China through a pastoral landscape of rice fields and bamboo groves surrounded by limestone pinnacles.
Despite improved road access and public transportation connections, and the popularity of several recent viral drone videos showcasing the majesty of the falls, Ban Gioc is still a relatively off-the-beaten-path sight.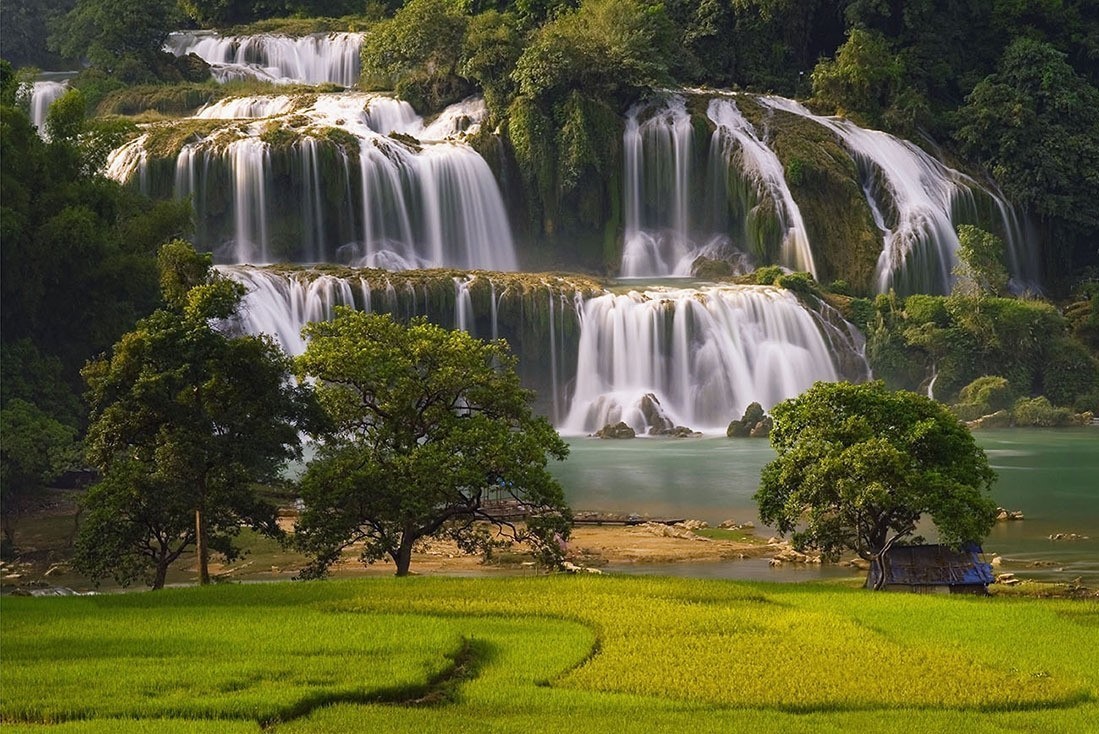 The waterfall has one higher drop-off and one lower on the hillside. Photo: Internet
Ban Gioc waterfall also is associated with a love story about a Tay ethnic minority couple.
Once upon a time, a prince fell in love with the most beautiful Tay lady in a village called Ban Gioc, who loved a Tay man from a neighboring village. Rejected, the prince grew so angry that he ordered the lady arrested and imprisoned in his palace.
The Tay man defied all dangers and successfully rescued his true love. Rain helped cover their escape.
When it stopped raining, the couple saw a waterfall spraying white foam and pouring water into a crystal clear river. The waterfall is now called "Ban Gioc" to commemorate story.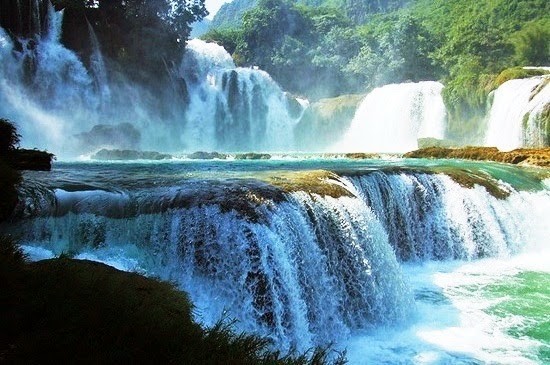 In the dry season, it is pided into three levels obviously by rocks and trees. However, the three levels become one in the rainy season, thus making the fall more glorious. Photo: Internet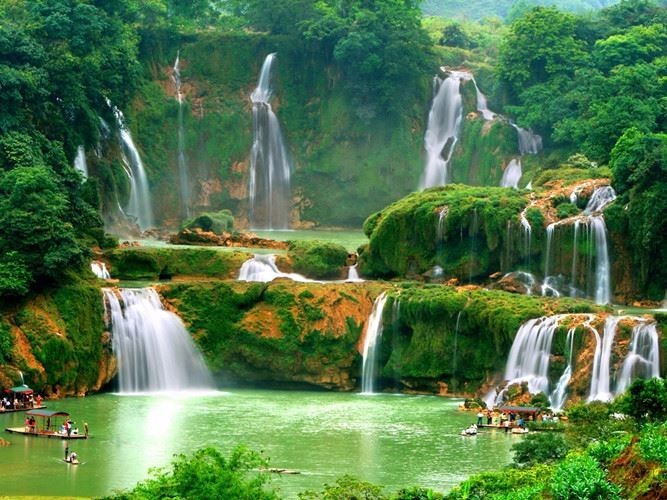 Ban Gioc waterfall in the dry season. Photo: Internet
In 1997, Ban Gioc waterfall was officially recognised as a national scenic spot. Ban Gioc waterfall is the world's fourth largest border waterfall. World renowned travel magazines have honored Ban Gioc as one of top ten most majestic waterfall on earth.
Mass tourism has yet to arrive and, outside of weekends and public holidays, there's rarely more than a trickle of foreign and domestic visitors.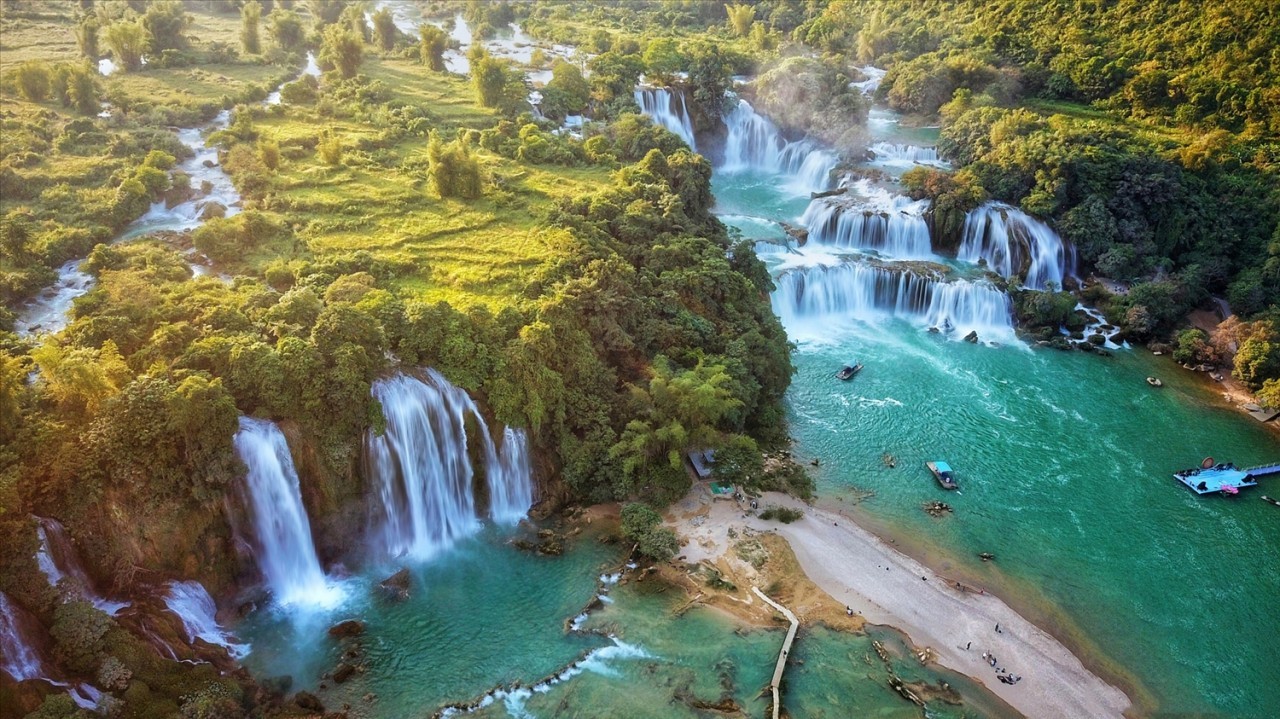 What makes Ban Gioc Waterfall scene captivating is its extraordinary flow of water running dazzlingly along stair-like moulds, which looks like a giant doorstep of mother nature. Photo: Internet
The ideal time to visit Ban Gioc Waterfall and Cao Bang is between September and October. In this time, the rain is less frequent and it's also the time for harvest season when the paddy fields in Phong Nam become golden.
If you visit the waterfall during December and April – the dry season, you will see a green river under the gentle waterfall.
With three major tourism routes, the northern border province of Cao Bang is giving visitors opportunities to explore all landscapes and cultures of the Non Nuoc Cao Bang Global Geopark, one of the most impressive attractions of the province, which has been recognised as a UNESCO global geopark, the second of its kind in Vietnam.
Besides the waterfall's beautiful scenery, there are also many attractive sights including Phat Tich Truc Lam Ban Gioc Pagoda, Thang Hen Lake, Pac Bo Revolutionary Monument, Lenin Stream, Nguom Ngao Cave, Phuc Sen Village, and Ma Phuc Pass.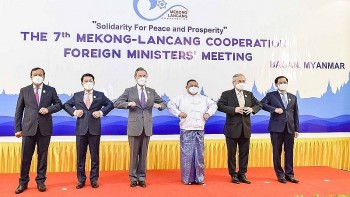 National
Foreign Minister Bui Thanh Son led a Vietnamese delegation to the seventh Mekong-Lancang Cooperation (MLC) Foreign Ministers' Meeting that was held in Bagan, Myanmar on July 4.