Banh mi xiu mai: A distinctive dish of Da Lat
If you come to Dalat without tasting Banh Mi (Vietnamese bread) with Vietnamese meatballs, you have missed a delicious and cheap dish of this central highlands town.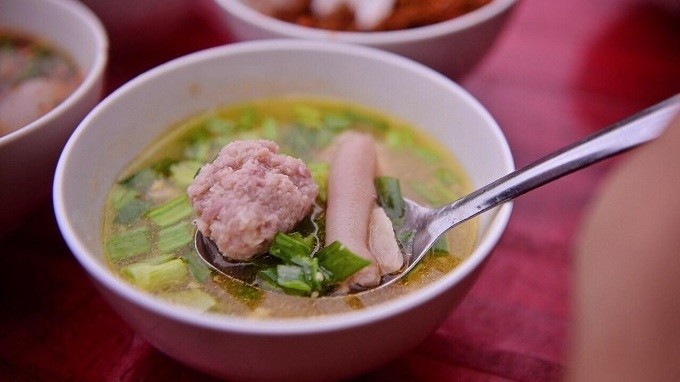 Pork meatball and pork skin in "banh mi xiu mai"
Dalat is always a tourist attraction by peaceful and romantic beauty. This place also has the cuisine which is sophisticated, simple but harmonious. If you have a chance to come to the land of fog on a cold winter day, remember not to skip bread with Vietnamese meatballs.
Each portion of Vietnamese meatballs is presented in a small deep bowl, filled with broth, with salads, pickles, grilled pork, and sprinkled stir-fried onions. The bread is also delicious, crispy and fragrant.
Enjoying the sweet taste of the bone broth, with the hot spicy chili in the broth with freshly baked bread with fatty and delicious meatballs make the morning Dalat become more perfect.
Though there are many places that offer this dish, Vi Nguyen, born and raised in Da Lat, refers to a small food stand on Hoang Dieu Street.
"Banh mi xiu mai here is served within seconds by a lovely local lady, the sauce is very greasy and savory. She also sells Vietnamese bread (banh mi) that many locals come by to pick up before work every day. The food stall only opens until noon."
You can find the small food stand, Banh mi 79, on the sidewalk every morning from 6.30am. A banh mi xiu mai costs VND15,000 (US$0.7).
Vietnam Tourism/Hanoi Local Food Tours