How to make 'bánh xèo' (Crispy Vietnamese Crepes)
Bánh xèo – also known as crispy Vietnamese pancake, crepe or sizzling cake – is a famous street food which is widely believed to originate from France during its occupation of Vietnam.
The word xèo depicts the sizzling sound when pouring the rice batter into the hot skillet. This "Vietnamese pancake" has a yellow outer layer and is filled with boiled pork strips, shrimp, bean sprouts and spring onion.
Ingredients
400 g rice flour (14oz)
2 tsp turmeric powder
500 ml water (2 ¼ cup)
250 ml beer (or coconut milk)
300 g pork belly thinly sliced
500 g small white shrimp tips and legs trimmed
300 g pork belly thinly sliced
1/2 tsp salt
pepper, Fresh vegetable platter: lettuce/mustard leaves, mint, cilantro, perilla etc.
For the dipping sauce
2 Tbsp Sugar
2 Tbsp Fish sauce
10 Tbsp Water/ coconut soda/ 7UP/ Sprite
1 Tsp Garlic Minced
1 Tsp Chili Minced
1 Tbsp Lime juice
Instruction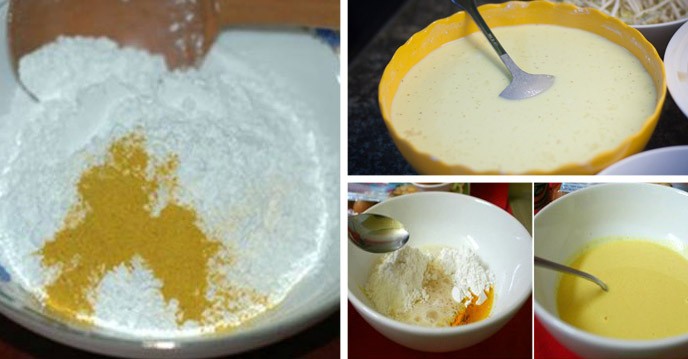 1. In a large mixing bowl, dissolve the rice flour, turmeric powder and salt in water. Add beer (or coconut milk) and chopped spring onion. Stir well and let the batter rest for 30 minutes.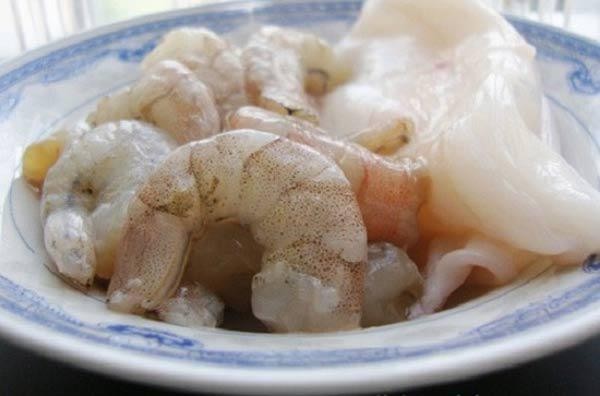 2. Season the pork belly and shrimp with salt and pepper. Set aside.
3. Heat a heavy- bottom skillet (20cm/8-inch diameter) on medium high heat. Add 1 tsp vegetable oil. Add 2 shrimps and a few pork slices and fry until the shrimps and pork change color on both sides. Ladle some of the batter (about 1/3 cup) and tilt the pan in a circular motion to spread the batter evenly. Cover and fry for 1 minute. Uncover and add some beansprouts, then cover again and fry for another 1 minute. Fold the crepe in half so that the 2 shrimps stay on opposite quarters. Fry for another 1 minute and transfer to a plate. Repeat until you finish the batter. If you can manage 2-3 pans at a time, it's faster.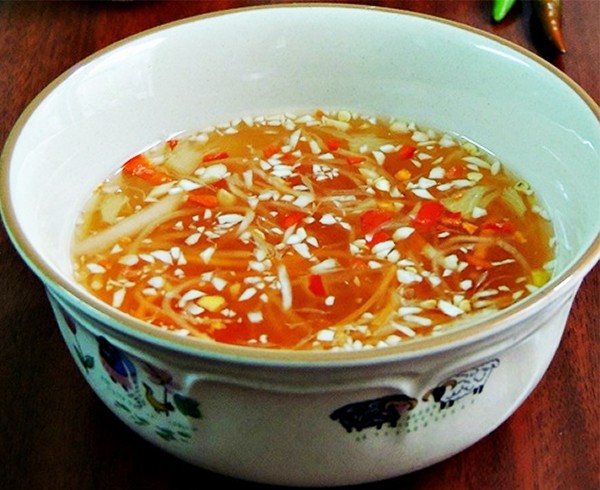 4. For the dipping sauce: In a bowl, combine sugar, water, fish sauce together and stir it well. (Remember the "magic ratio" 115 which means 1 sugar: 1 fish sauce: 5 water). Then add lime juice. For garnish, you can add some finely julienned carrots or tiny cells (juice follicle) of the lime. Add garlic and chilli at last.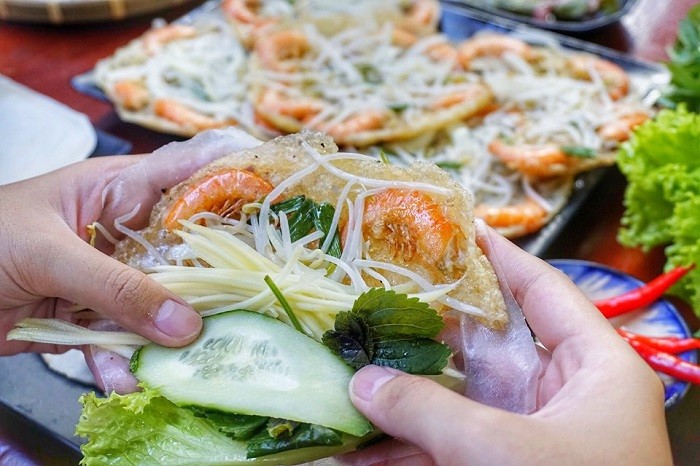 5. To serve, use scissors to cut the crepe in half. Take a large piece of lettuce or mustard leaf (rau cai) or softened rice paper, place some herbs and half a crepe on top. Roll it up, dip in the dipping fish sauce and serve.
Though some people might prefer to use chopsticks to directly eat bánh xèo, the best way to enjoy it is eating with your hands. First, take a piece of bánh xèo and put it on the rice paper. Add fresh vegetables that are always served with the dish (there're a lot of vegetables to choose, but lettuce, Vietnamese perilla, basil and bean sprouts are the most common) and roll them tightly. With each bite, don't forget to dip the roll into the sauce.