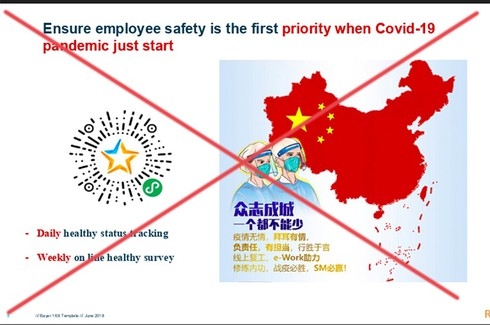 The nine-dash line map was incorporated into the attached file the Bayer Vietnam CEO had sent to her staff (Photo: VNE)
Accordingly, the decision was made following Yu Lin being summoned to the Ho Chi Minh City Department of Culture and Communication on May 15 where she admitted to sending an email containing an attached nine-page document detailing preventive measures against the novel coronavirus to her staff and managers.
One of the nine pages showed a map which featured China's illegal nine-dash line, an artificial boundary drummed up by China to claims 90 percent of the 3.5-million-square-kilometer East Sea, known internationally as South China Sea. The unilateral demarcation has been strongly opposed by the international community. Apart from violating Vietnam's sovereignty, it overlaps with claims by Brunei, Malaysia, the Philippines, and Taiwan.
Officials in HCM City decided to fine the CEO for using her personal email address to distribute information and images which directly violate Vietnam's national sovereignty.
As a result, she will be subject to a fine worth between VND25 million and VND35 million, equivalent to between USD 1,100 and USD 1,500, with the decision coming into effect after seven days.
In 2019, the Ministry of Industry and Trade (MoIT) has instructed enterprises to review contracts and legal documents to ensure imported goods do not violate Vietnam's sovereignty and territory with false images.
"Businesses that broke the law have been strictly handled with," the ministry said.
The ministry also asked businesses to strictly monitor all goods before importing, ensuring they are not installed with equipment, documents or images that infringed on Vietnam's border.
For high-risk items such as publications, maps, globes, display devices and software-based devices, businesses have been told to ask sellers for a written commitment not to attach, install or use equipment, documents or images that violated Vietnam's sovereignty and territory.
"Enterprises should immediately notify local customs and market watch agencies if they notice any such things," the ministry added.
The move comes after a number of enterprises imported goods included children's toys and imported cars which featured pictures of China's illegal nine-dash line in the East Sea.
An inspection team discovered a toy shop selling jigsaws with China's illegal nine-dash line in the East Sea.
Another violation related to a GPS map in a luxury car spotted by Vietnam Customs.
Hannah Nguyen