Beautiful Creatures Made From Straw Displayed in Japan's Wara Art Festival
From the straw left after the harvest, Japanese artists created the giant "wara" creatures and displayed them in the annual Wara Art Festival, which attracts many tourists each year.
If you visit Japan's Niigata Prefecture during the region's annual rice harvest, you're likely to find enormous tarantulas, eagles, and dinosaur-like creatures stalking the bucolic landscape. The towering sculptures are part of the Wara Art Festival, a summertime event that displays massive animals and mythical creations fashioned from the crop's leftover straw.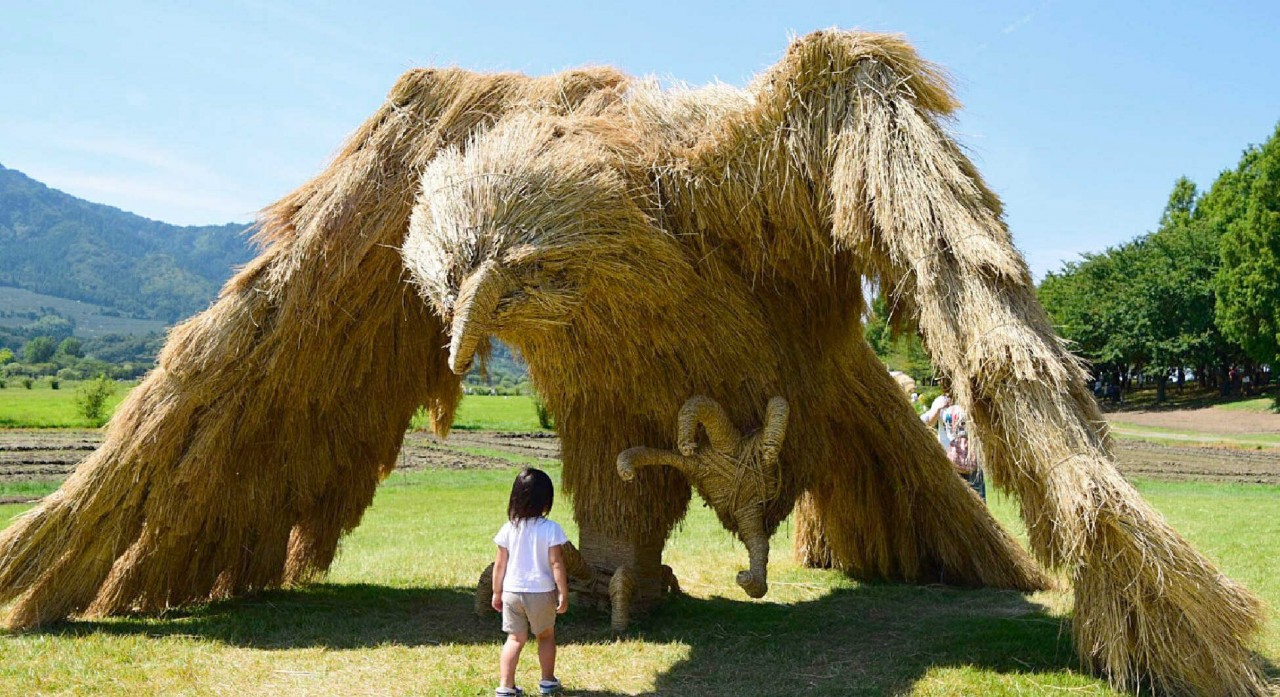 Photo: This is Colossal
Known as the Wara Art Festival, it is a unique event born out of people's interest in creatively using the discarded rice straw after the paddy is harvested. Beginning in 2008, the art festival was conceptualised by the local authorities and the Department of Science of Design in Tokyo's Musashino Art University. As the popularity of the festival grew, live performances and pop up stalls gave it a carnival look.
very year, a coastal region of Japan shows that you can make more with straw than just haybales. The Wara Art Festival in Niigita prefecture features colossal sculptures that are made from leftover rice-straw, known as "wara." While the festival took a hiatus in 2020 due to the ongoing COVID-19 pandemic, it has returned in time for its 13th anniversary and features a whole new collection of handmade creatures at Uwasekigata Park. Among them are an eagle, bear, walrus, and squid, to name a few.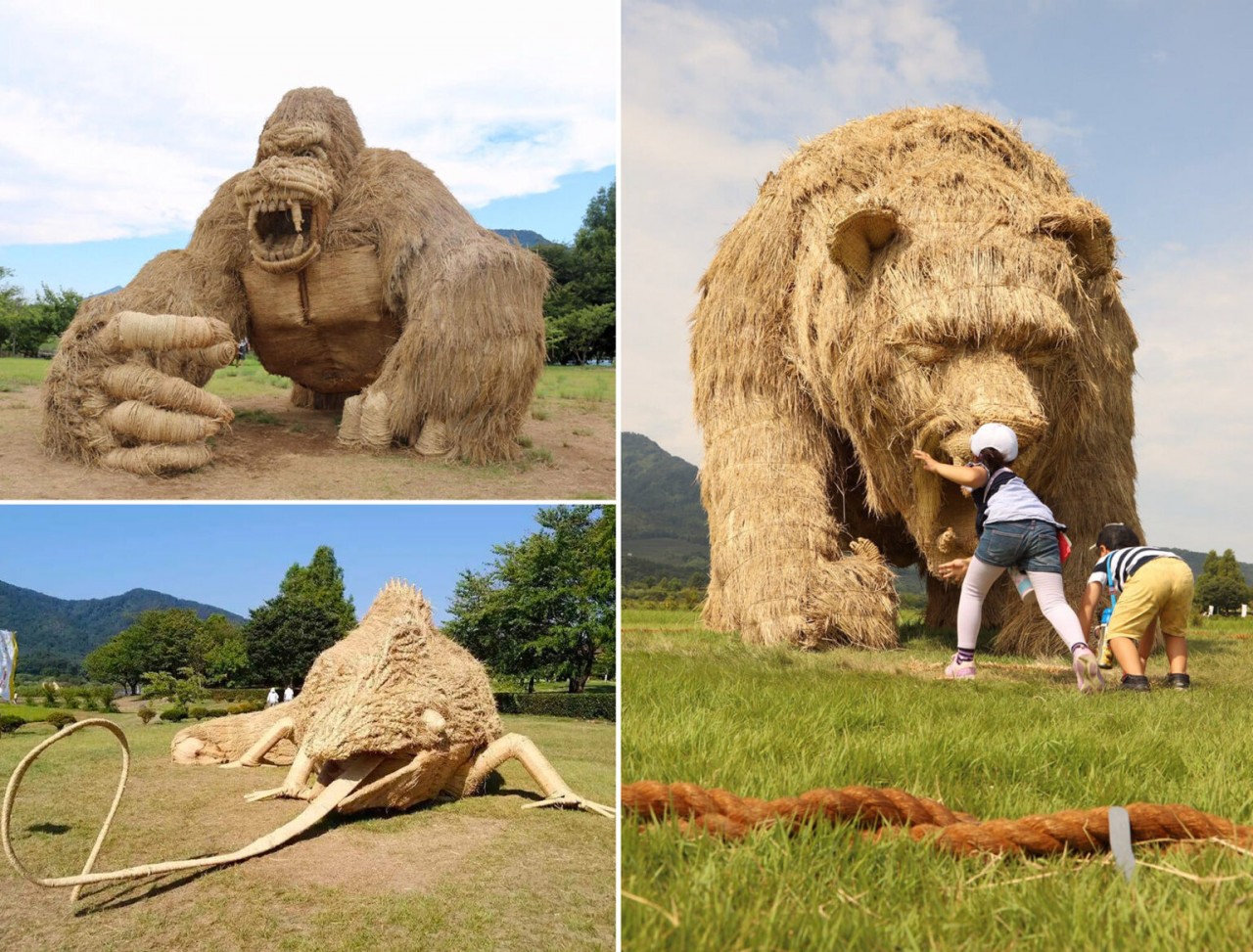 Photo: Thisiscolossal
This popular event originated several years ago when the farmers of Nishikan Ward (formerly Iwamuro village) were seeking a way to dispose of unused straw from the rice harvest. It ultimately led to a partnership with Musashino Art University which still thrives today. Students from the school design each work of art, and the crafters in Nishikan Ward bring it to life using complex wooden structures and a multitude of straw.
Take a leisurely afternoon and stroll through Uwasekigata Park – the weather is in the mid-20s in late August, and mostly dry – and spend several hours walking between the sculptures. There will also be festivities, like live performances and pop-up stalls.
The art festival began in 2008 when local authorities enlisted the university to help create art from discarded wara, and last year – its 10th anniversary – the students were challenged to build the creatures twice as large as usual, and supersized gorillas, rhinos, and dinosaurs filled the open field.
Tourists and locals alike mingle and take photographs of the wara sculptures, so be prepared with a wide angle lens – these monsters can be really huge, up to 5m tall, about the height of a pedestrian bridge.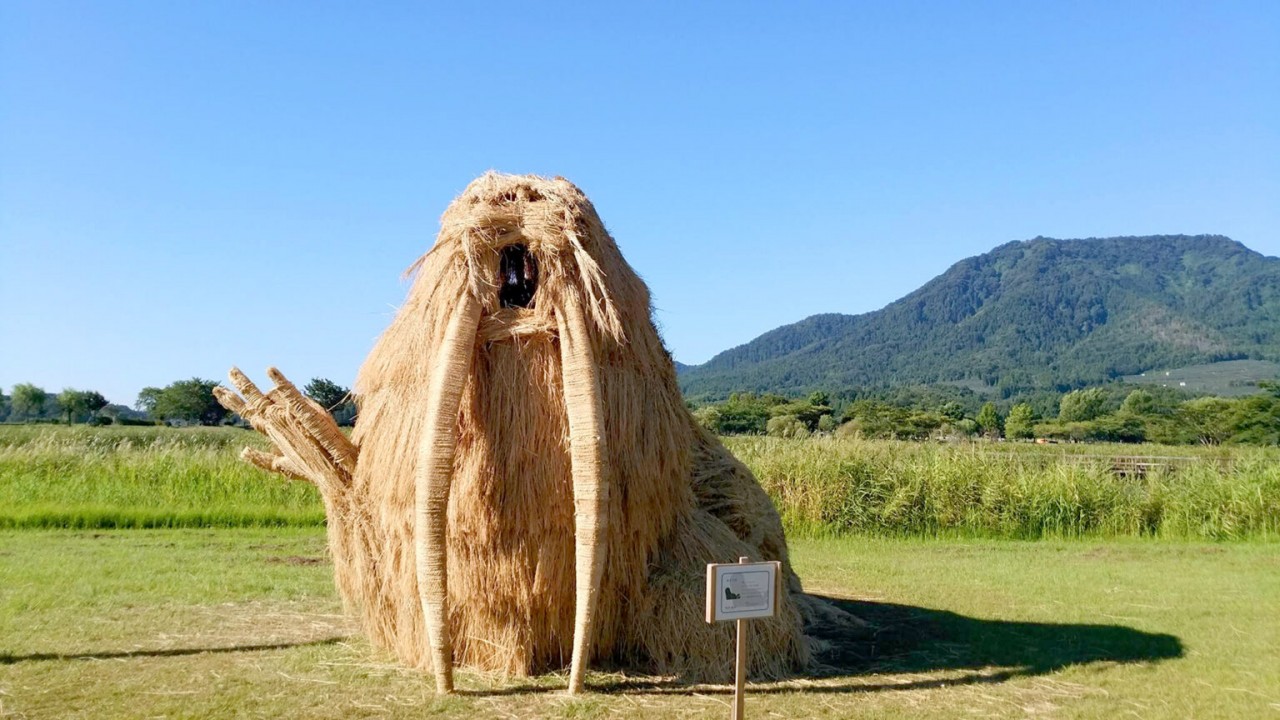 Photo: Thisiscolossal
Wara has traditionally been used for roofing in local villages, or woven into shoes, bags, and even as a blanket covering for the dead. For the festival, students and volunteers construct massive wooden frame skeletons, then add individual layers of wara over two weeks to complete the sculptures. Many techniques are used to create these straw behemoths, including the method for constructing thatched roofs and basket weaving.
As artists give free rein to their imagination, towering sculptures of animals ranging from mythical dragons to dinosaurs, from gorillas, rhinos, birds to crabs and spiders to abstract installations dot the landscape. Local artisans build the wooden frame based on the installation designed by the art students. The straw is fixed on the frame in layers according to the design.
Although the festival could not be held last year owing to the COVID-19 pandemic restrictions, it is being organised at the Uwasekigata Park in the Nishikan Ward of Niigata prefecture until October 31. The theme for this year's festival is 'lucky charms that give vitality to the person who sees it'.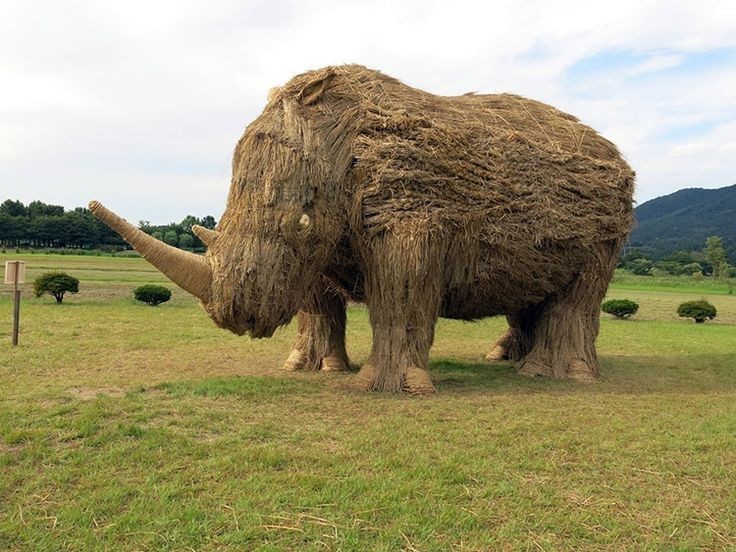 Photo: Pinterest
Local delicacies made with Niigata rice
Niigata is famous for its Koshihikari rice, sworn by many to be the best in Japan, so it's no surprise that the prefecture is known for its rice dishes and sake.
To many Japanese, the finest sake in Japan comes from Niigata, thanks to the high snowfall in the prefecture which creates pristine conditions for rice growing. Centuries-old sake making traditions are kept alive by the toji, or Sake Masters, of Niigata. Local sake from breweries in Niigata are revered nationwide for their dry, sharp finish and refreshingly crisp flavour.
Sake breweries large and small dot the prefecture – like Sasaiwai which is within walking distance of Uwasekigata Park – where you can visit, sample some sake, and tour the premises. Niigata also produces craft beer made from Koshihikari rice, including Echigo Beer and Niigata Beer.
When it comes to food, you can feast on Niigata's famed Koshihikari rice – rated A in annual taste rankings. The rice is served in almost all your meals in the prefecture, whether it's under a slice of raw fish, or in a donburi. As the rice belt of Japan, Niigata is also home to the most senbei (crunchy savoury rice crackers) manufacturers in the nation.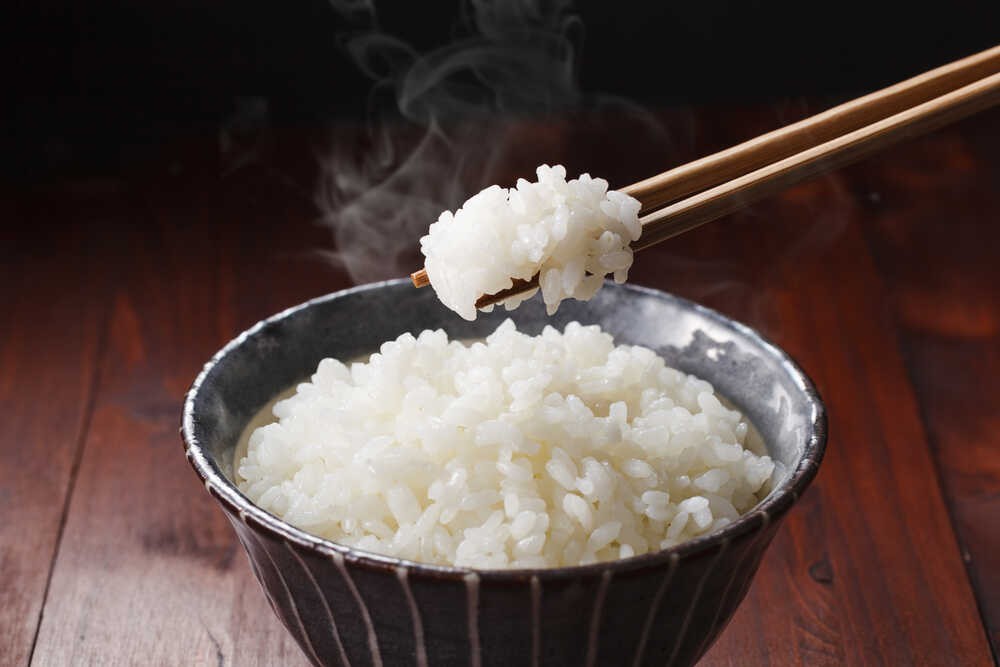 Photo: Shutterstock
Bamboo leaves play a big part in Niigata's rice dishes. A speciality in western Niigata is sasazushi (sasa means bamboo leaf), which is similar to the typical sushi with the exception of the bamboo leaf plates. The toppings are unusual as well, with mountain vegetables, mushrooms, egg omelettes laid out in a vivid feast of colour and taste.
Another bamboo-rice dish is a twist on mochi (sticky rice) – sasadango is stuffed with sweet red bean paste and wrapped tightly in aromatic bamboo leaves. You can find this treat in most street stalls in market districts.
Being close to the ocean, Niigata is also famous for its seafood, particularly the red snow crab which is popular between March and September. Pier Bandai in Niigata City – a sprawling trendy market complex with plenty of eateries – is an excellent area to start your foodie exploration, where you have your rice with some of Niigata's famous freshly-caught seafood.
Getting to the Wara Art Festival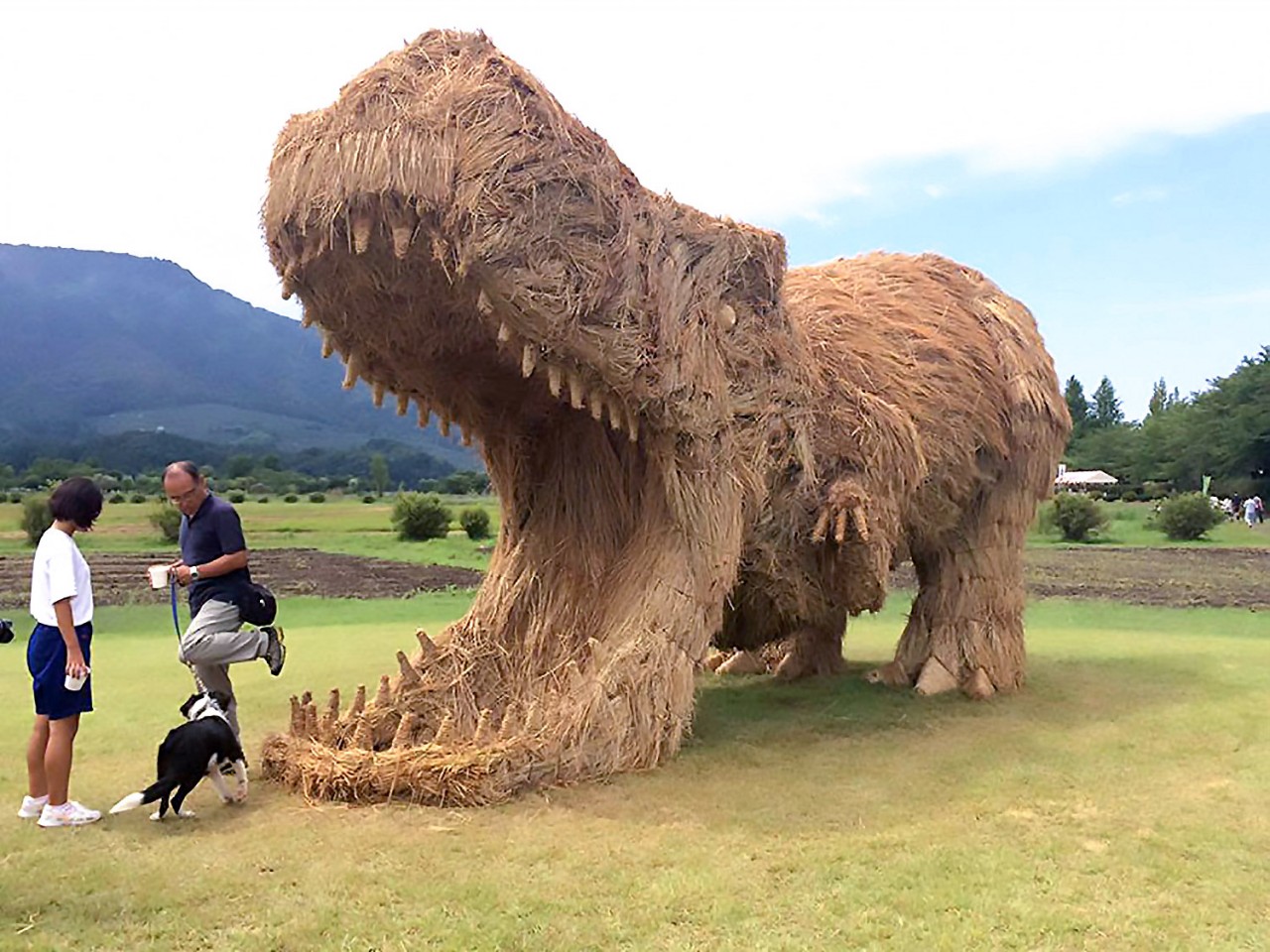 Photo: Thisiscolossal
The easiest way is to get to Uwasekigata Park is by rental car, which takes about 20 minutes to drive from Niigata City. Alternatively, you can take the JR Echigo Line from Niigata to Maki Station (40 minutes) and then take a 10-minute bus ride to Uwasekigata Park.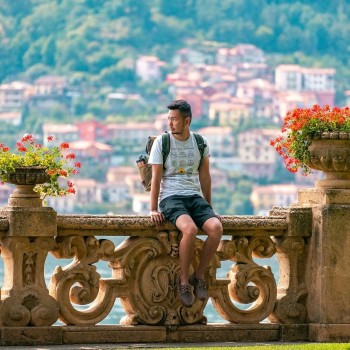 Travel
If you have the opportunity to visit Hoi An at the end of the year, these are some of the best recommendations for fun activities you can do from Peter R – a Thai travel blogger.