Beautiful Vietnamese lychees on online platforms worldwide
On occassion that Thieu lychees produced by Hai Duong farmers are first time launched on e-commerce floors, let us look at beautiful images of Vietnamese lychees on online platforms worldwide.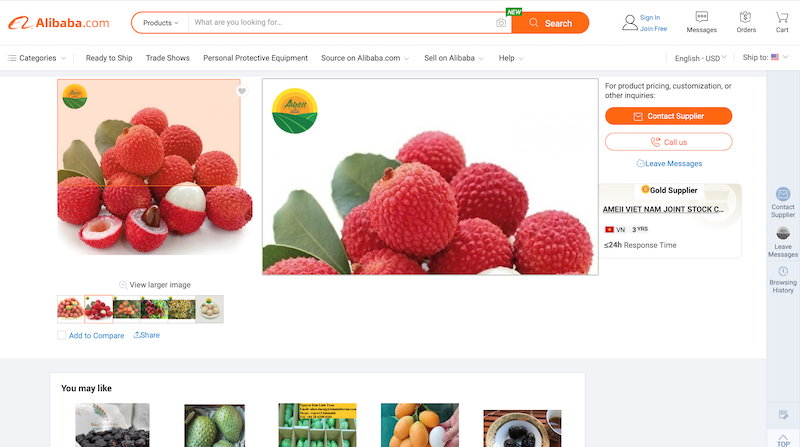 Vietnamese lychee are sold on Alibaba.com
Online trading floor is a booster for Vietnam's lychee consumption post COVID-19.
E-commerce is becoming very popular in many countries around the world thanks to its advantages in areas such as time savings, convenient transactions, and cost optimisation while the traditional ways of introducing products can take a long time to reach the desired market, leading to higher costs and reduced quality. Therefore, the application of e-commerce in business activities is an indispensable and practical trend in Vietnam. It can be seen that e-commerce platforms have brought positive results to many enterprises, especially for those of small and medium sizes. It allows them to reach customers outside of their own geographic region.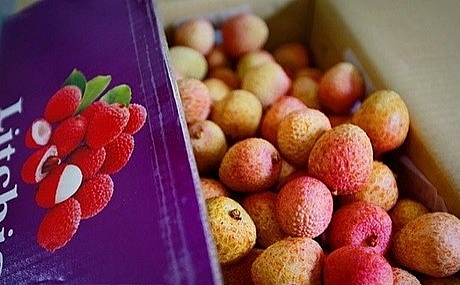 Vienamese lychees are delivered to customers after being bought online via e-commerce floors.
The potential for e-commerce development in Vietnam is undeniable. However, there is a real inequity in cross-border online transactions between imports and export with individual customers. Vietnamese customers are buying online goods and services from abroad more than foreign customers are buying online products from Vietnam. The majority of Vietnamese consumers, especially younger generations, are now fond of shopping on websites such as Amazon.com, eBay.com, etc.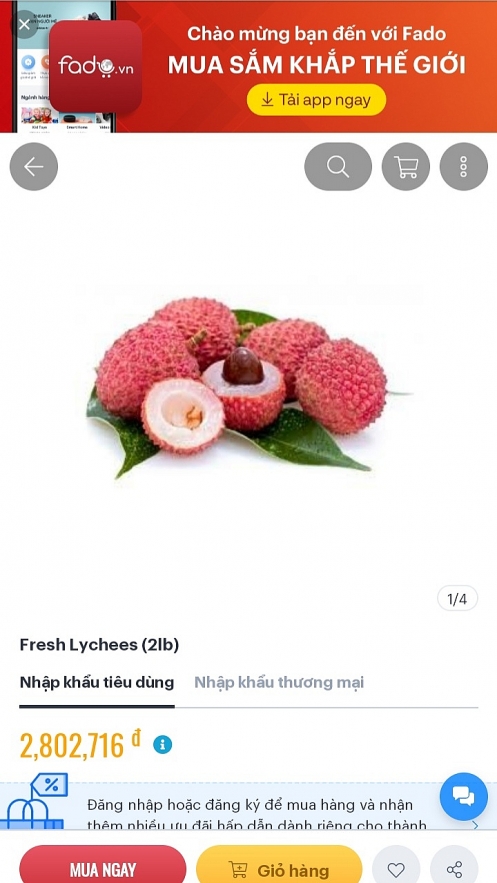 Vietnamese lychees are sold online on Fado platform, a platform connected to Amazon platform
Therefore, there are many efforts of Vietnamese planners and farmers to promote Vietnamese products on e-commerce and persuade costumers for the quality of Vietnamese products.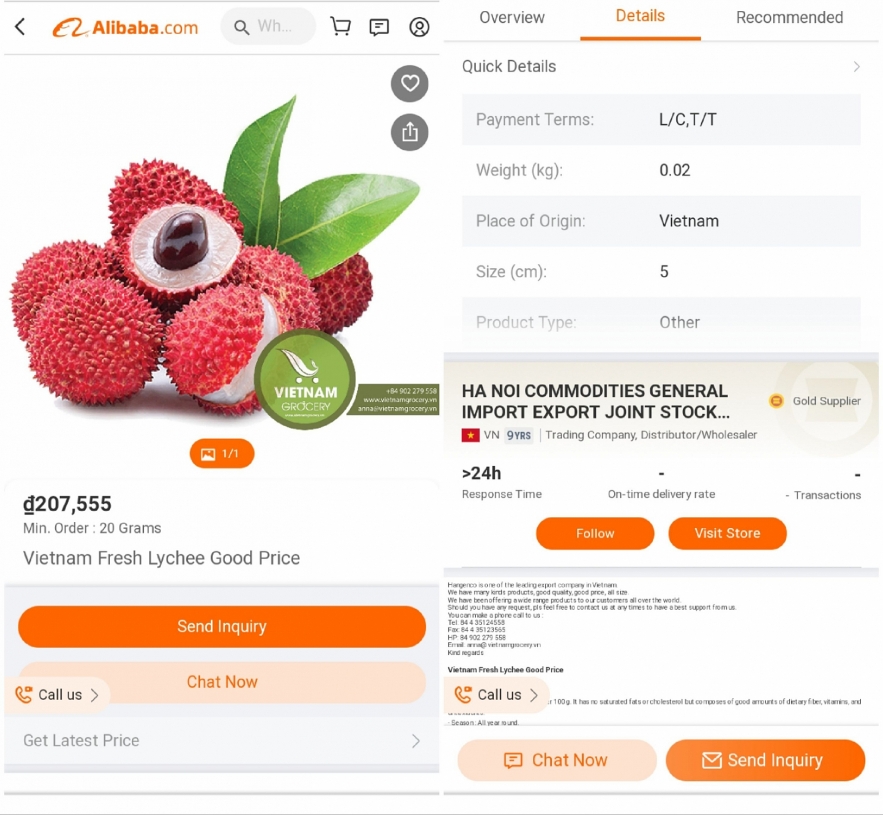 How to buy Vietnamese lychees on Alibaba
The Hai Duong Department of Agriculture and Rural Development are co-operating alongside the Vietnam Trade Promotion Agency in order to conduct procedures aimed at bringing Thieu lychees of Hai Duong farmers to four e-commerce platforms, including Alibaba. com, Voso.vn, Sendo.vn, and Lazada.vn.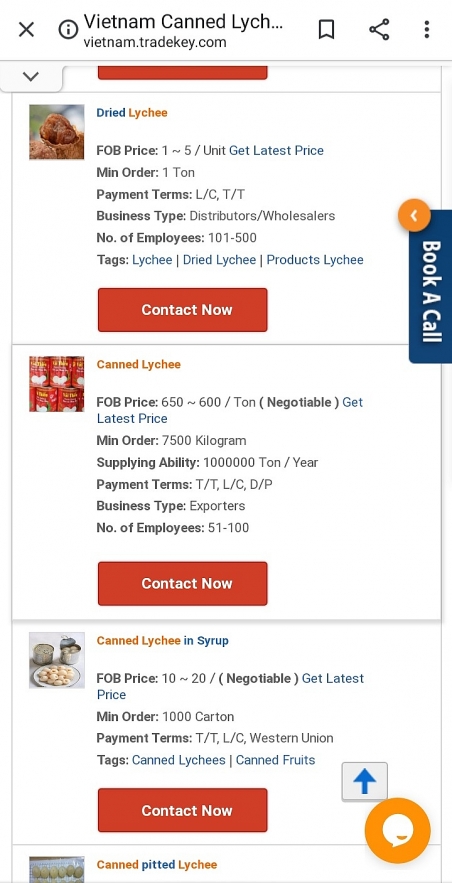 Other products of Vietnamese lychees on Vietnam Tradekey floor
Authorities of the northern province of Hai Duong are carrying out necessary procedures to offer from 5-10 products meeting standards in the "One Commune - One Product" (OCOP) programme, including Thieu litchi, for sales on e-commerce platforms before May 18.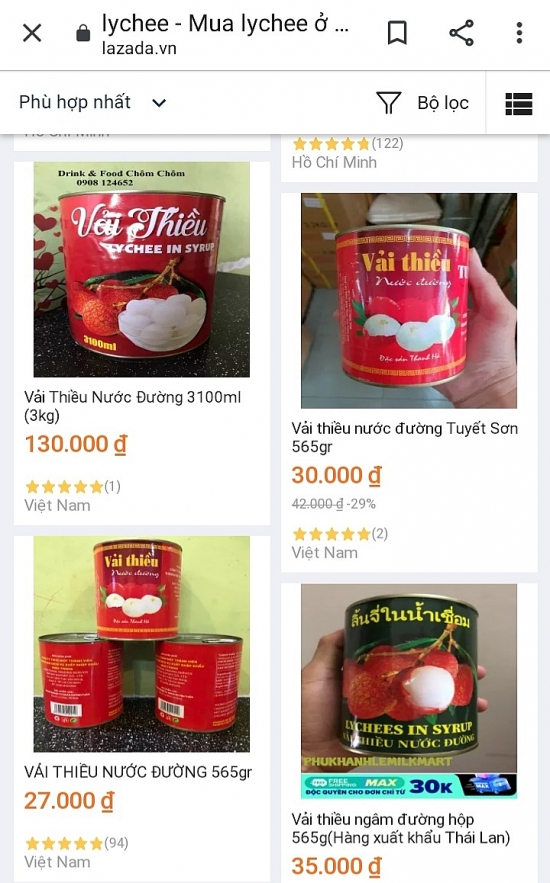 Other products of Vietnamese lychees on Lazada.
As part of activities to implement the plan, the provincial Department of Agriculture in conjunction with the Ministry of Industry and Trade's Trade Promotion Agency (Vietrade) held a training programme on traceability of origin and trade promotion on e-commercial floors in both the online and face-to-face forms on May 6.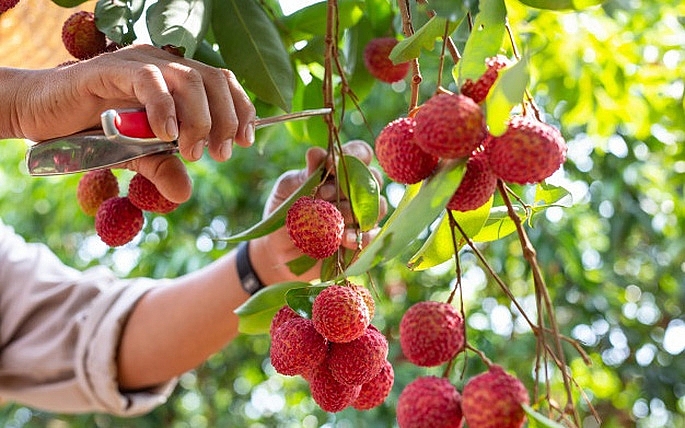 Thieu lychees by Hai Duong farmers