Beauty of Traditional Five-panel Ao Dai
The Vietnamese Ao Dai is not only a kind of national costume but also contains a rich history, cultural traditions, and national spirit of the Vietnamese people. It contains unique identities compared to the costumes of other ethnic groups.
According to researcher Nguyen Duc Binh, head of the Vietnamese Communal House: The predecessor of today's Ao Dai is the five-panel dress (five-panel Ao Dai) - this costume for women and men is quite similar, with only a few differences: women's dresses have lower collars, narrow sleeves and shorter flaps than men's. This costume was shaped from the time of Lord Nguyen Phuc Khoat.
It is called a five-panel Ao Dai because this costume is made up of 5 panels: 2 front and 2 rear panels, the 5th panel is located on the right front, in the first panel. "Hue people call it five-panel Ao Dai, with the traditional meaning that five panels represent the noble morality of people. The four front and back panels represent "parents and in-law parents", the inner panel represents the child. The five-body dress also has five buttons, symbolizing the five moral qualities "humanity - justice - respect - wisdom - credibility" and five relations in a human's life servant-king, child-father, husband-wife, brother and friend. Wearing a five-panel Ao Dai is to carry human morality, not to do immoral things," Binh said.
In diplomatic events such as the presentation of credentials, Ao Dai, and turban were chosen by many ambassadors of Vietnam. In 2018, when Vietnamese Ambassador to the United Kingdom Tran Ngoc An presented his credentials to Queen Elizabeth II, he wore a turban, a dark navy blue shirt with traditional patterns printed on it. In 2020, the Vietnamese Ambassador to the Netherlands Pham Viet Anh also chose to wear Ao Dai when presenting his credentials to Dutch King Willem-Alexander.
Vietnamese Ambassador to India Pham Sanh Chau also many times chose Vietnam's traditional Ao Dai when appearing in foreign activities. He said: I would like to introduce and promote Vietnamese culture. I want to tell everyone that I am Vietnamese and here, today, am representing a country named Vietnam. When I wear Ao Dai, more people want to come and talk to me, the opportunities for connection increase to help me promote the image of Vietnam.
Ao Dai is also an attraction when it comes to Vietnamese culture. In an exhibition of traditional costumes of ASEAN countries taking place in Hanoi in October 2020, amidst the colors of traditional costumes, Vietnam's five-panel Ao Dai still left a good impression on people. The Indonesian Ambassador to Vietnam at that time, Ibnu Hadi, said: The five-panel Ao Dai for men in Vietnam is beautiful and different, both exalting the wearer's elegance and bringing nostalgia.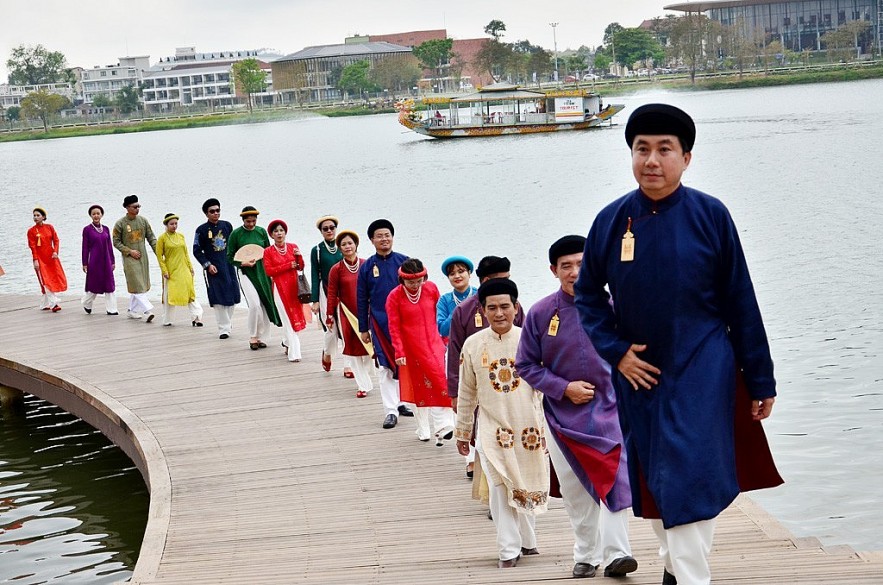 Ao Dai has always been a beautiful symbol of Vietnamese culture and the pride of Vietnamese people. (Photo: Duc Quang)
At the Heritage House (No. 87 Ma May Street, Hang Buom Ward, Hoan Kiem District) there is a special space for the five-panel Ao Dai. This is a practical action of those who love the men's five-panel Ao Dai, creating an opportunity for the public and tourists to admire and learn about the values of the traditional Ao Dai.
Nguyen Duc Binh, head of the Vietnamese Communal House says: "More young people are interested in the five-panel Ao Dai. They have the desire to spread the beauty of the traditional Ao Dai. In the context of Vietnam's strong integration with the world and increasing global cultural exchanges, it is even more necessary to affirm the uniqueness of the national costume. Artist Nguyen Tu Nghiem once said: "Go to the end of tradition, you will meet modernity, go to the end of the nation, you will meet humanity". With the Vietnamese Ao Dai, we find that saying is extremely appropriate."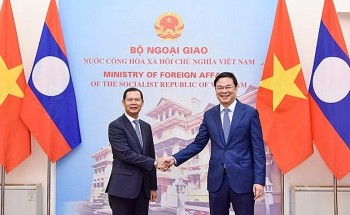 National
Vietnam News Today (Nov. 27): Additional 427 Covid-19 cases confirmed on November 26; Vietnam records boom in number of Japanese restaurants nationwide; Seventh Vietnam-Laos political consultation held in Hanoi; Conditions in place for Vietnam to boost wellness tourism.