Belgian government-funded wind powered desalination project in Ninh Thuan
The Vietnam's Ministry of Agriculture and Rural Development, Belgian Smart Universal Logistics and the central province of Ninh Thuan on September 10 signed a cooperation agreement on a desalination project driven by wind energy.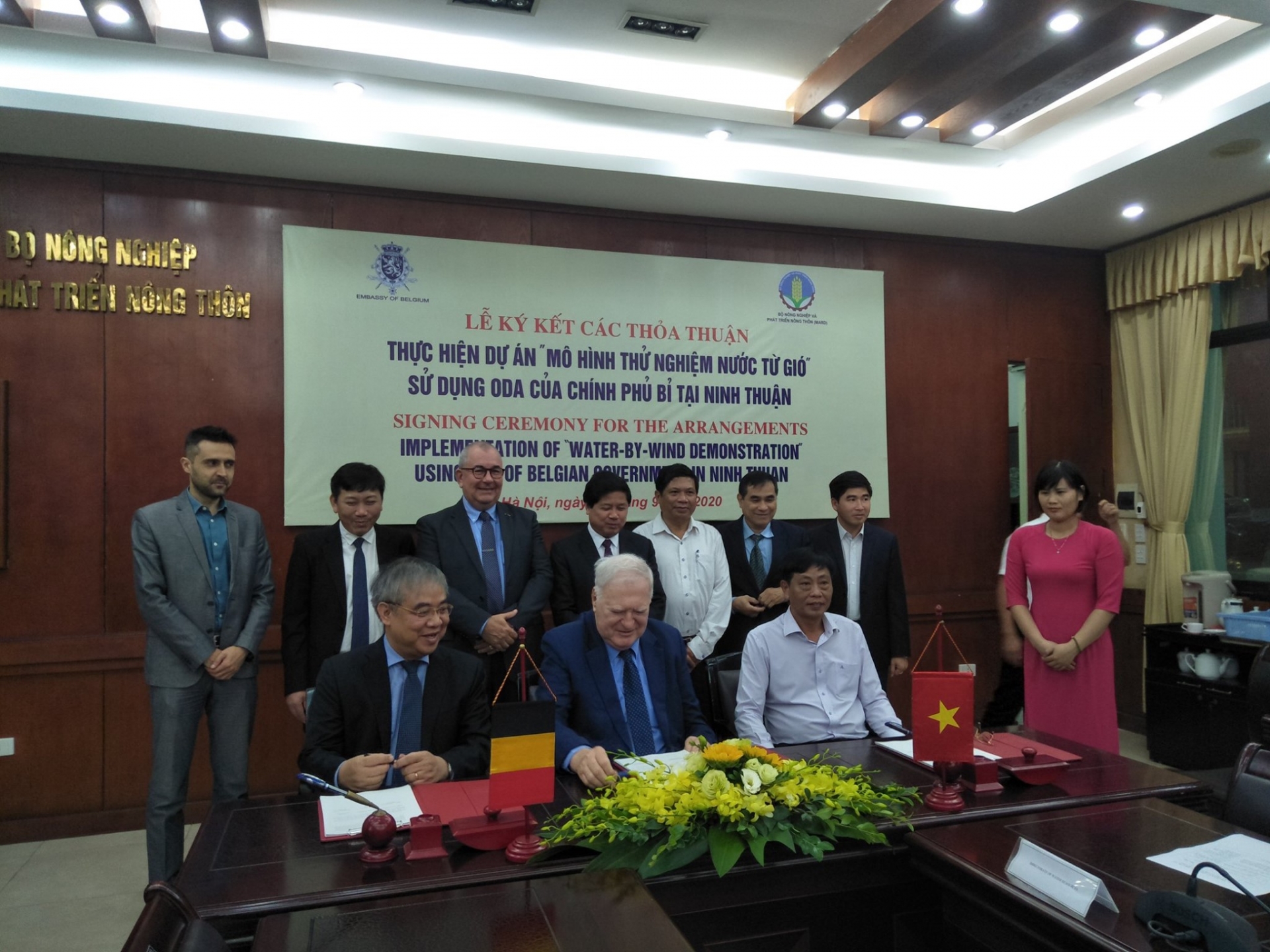 At the signing ceremony in Hanoi. Source: Belgian Embassy in Vietnam
Attending the signing ceremony were Deputy Minister of Ministry of Agriculture and Rural Development Le Quoc Doanh and Paul Janssen, Ambassador of Belgium to Vietnam. The agreement was signed between the Institute of Policy and Strategy for Agriculture and Rural, the Ninh Thuan Department of Agriculture and Rural Development, and Smart Universal Logistics.
Climate change worldwide affects the availability of fresh water for irrigation in developing. Declining inflows of fresh water and rising sea levels aggravate salt intrusion in river estuaries and coastal aquifers, which often host strategic agricultural resources.
Coastal and estuarine areas are often remote from adequate power grids, especially in developing countries. For such areas, Smart Universal Logistics has developed the wind powered desalination technology that combines a wind turbine and a mobile containerized freshwater production unit [pre-treatment and reverse osmosis). The system is self-sustained and can continuously produce water when commuting with the support of a battery energy storage system.
Due to climate change Vietnamese farmers are more and more confronted with saline or brackish water. People living in areas with water scarcity and saline intrusion use underground water for irrigation and for use in daily life. If there is no underground water, people have to buy clean water and change the crop structure.
This pilot project in An Hai commune, Ninh Phuoc district, Ninh Thuan province will test the potential of desalinating brackish water into fresh water in a climate neutral way by using wind energy. It is hoped that this technology can then be replicated on a larger scale to help the Vietnamese farmers hit by the consequences of climate change.
The Belgian government provided a grant of EUR 700.000 (USD 829) to support this promising project.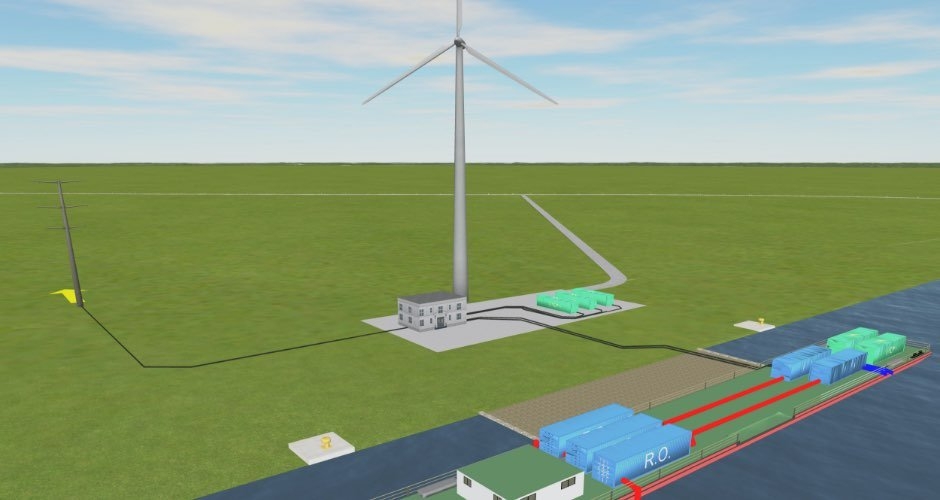 Reference on the field of renewable energy, meted analysis, foundations for wind farms and connectivity cables for renewable energy. Source: Smart Universal Logistics
The company Smart Universal Logistics has been the initiator of a number of important projects of Offshore wind parks, with a total power capacity of more than 1200 megawatt, such as C-Power, Rentel, SeaMade, etc.
The latest innovative initiative from Smart Universal Logistics is development of a mobile desalination system powered by wind energy. This invention has come as the apparent result of over 20 years of experience in the port and renewable energy sector. The development of these various (small and large) systems is meant to provide sound and cheap water in the poor remoted coastal areas.