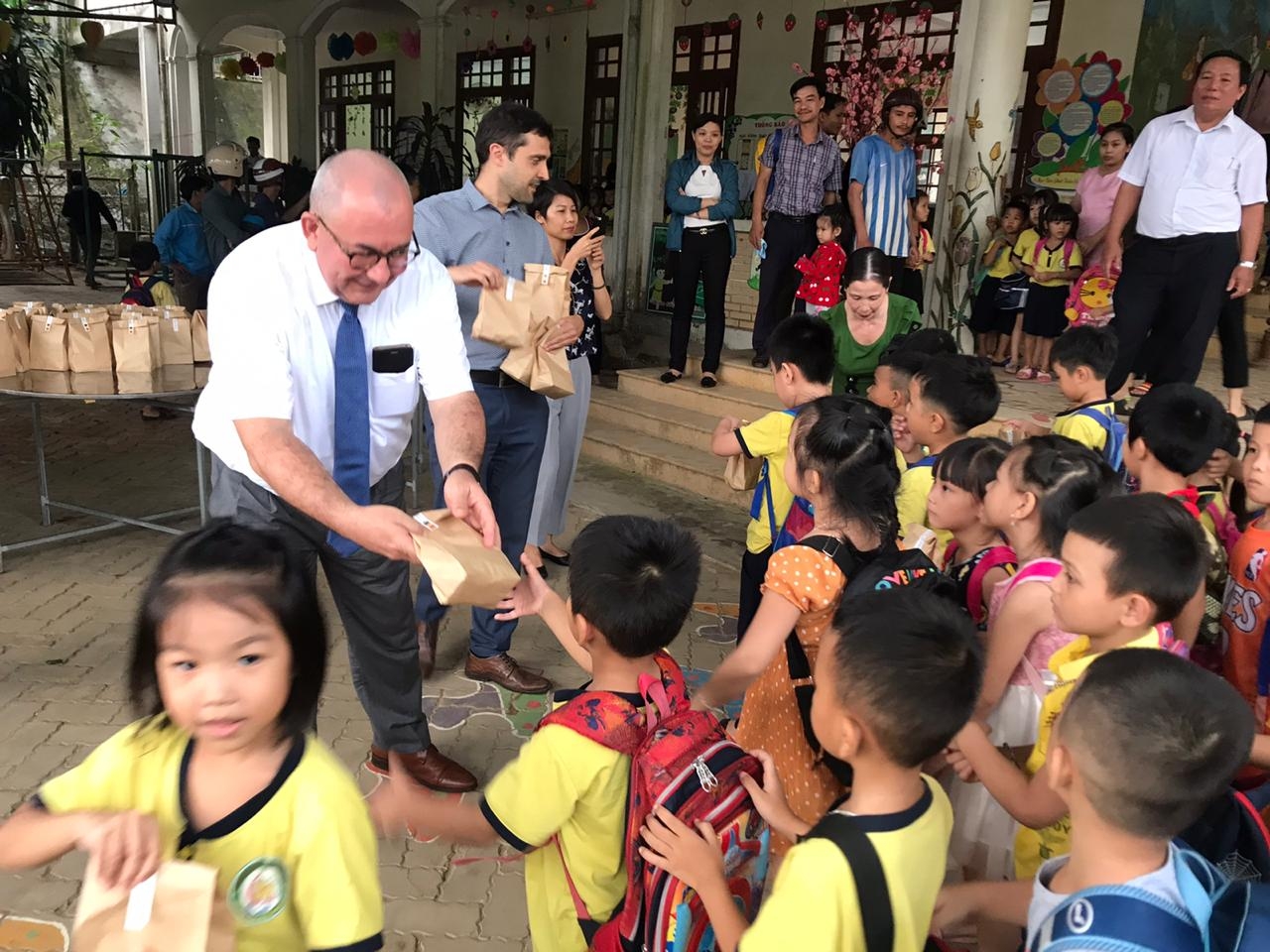 Belgian Ambassador to Vietnam Paul Jansen (white shirt) visits a kindergarten in Quang Nam province and hands over sanitary packages to children. Photo courtesy of Belgian Embassy
Belgian Ambassador to Vietnam Paul Jansen recently paid a visit to Belgian-funded projects in early childhood education in Quang Nam province. The delegation visited Hoa Mai preschool in Tra Mai commune, Nam Tra My district, Quang Nam province - one of the areas of the project "Mitigating Preschool Children's Barriers to Learning in Disadvantaged and Ethnically Diverse Districts (BaMi)" operated by VVOB.
In the context following the Government's permission to reopen schools in early May after the social distancing period to fight against the pandemic, school administers and parents share a similar concern about safety for the children and prioritize completion of education to end the school year.
Being aware of the serious impact of the COVID-19 pandemic on education, the children and their parents, the Belgian Embassy, with the support from VVOB Vietnam, took the opportunity to present sanitary packages (washable masks, soap and hand towels) to preschool children and families.
The same sanitary packages were offered to preschool children in Quang Nam, Quang Ngai and Kon Tum provinces. In total 6,200 children received this hygienic support. In this way the embassy hopes to contribute to the fight against the COVID-19 in Vietnam and to keep the virus out of the schools.
Over the last four decades, together with VVOB Vietnam and Plan International Vietnam, Belgian Development Cooperation contributes to an improved access to quality pre-school education for all children. Through child centered education we remove (ethnic diversity) barriers by placing the well-being of the children at the centre of the teaching approaches.
The BaMI project from 2017-2021, has a budget of EUR 4.142 million (USD 4.6 million). It centres on strengthening the professional development of preschool teachers and preschool leaders in early childhood education (ECE) in three provinces with disadvantaged and ethnically diverse districts in Central Vietnam.
The programme is built around three pillars: Improving preschool teachers' and school leaders' practice of process-oriented child monitoring; Strengthening preschool teachers' and school leaders' practice of addressing barriers to learning and participation, and ensuring deep level learning among all children and Enhancing needs-based/school-based teacher professional development (TPD) for preschool teachers on process-oriented child monitoring and addressing barriers to learning and participation./.
Hannah Nguyen