Vietnamese-French Woman Raises Fund to Assist Agent Orange Victims
A Vietnamese-French woman supported Agent Orange victims in the northern province of Ha Nam.
Vietnamese French woman Tran To Nga who sued US firms for manufacturing the toxic Agent Orange (AO) defoliant used by US forces during the war in Vietnam, recently presented wheelchairs to AO victims in Ha Nam province
Nga has just coordinated with the Central Association of Vietnam AO/Dioxin Victims and Ha Nam Provincial Association of AO/Dioxin Victims to hand over wheelchairs to 20 AO victims with movement disability.
The wheelchairs was supported by Tran To Nga along with her Vietnamese and French friends. The gift is not only meaningful in terms of spirit but also helps the victim to rise up in life and integrate into the community.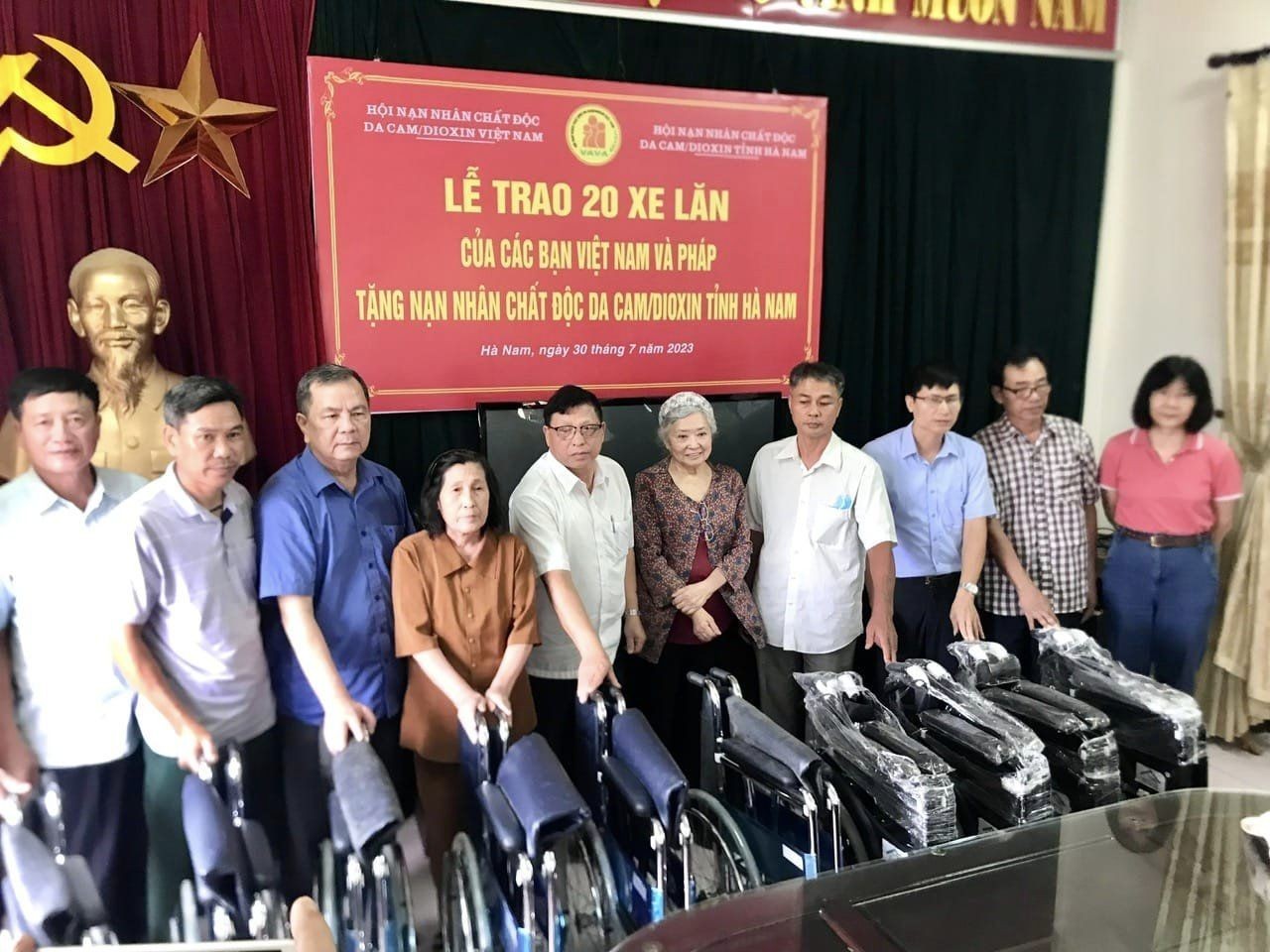 20 wheelchairs for Agent Orange victims in Ha Nam province supported by Tran To Nga and her Vietnamese and French friends.
In the past time, Nga has called to mobilize benefactors for resources to support vocational training projects, job creation, and income for AO victims in central provinces.
In June 2023, Nga gave Can Tho's Association of AO/Dioxin Victims VND 130 million (USD 5,400), including VND 75 million (USD 3,100) to support the organization of vocational training classes, and VND 50 million (USD 2,100) to the association to implement the 3-year interest-free loan program for 10 families, as well as three wheelchairs for AO victims.
In addition, Russia and her three comrades in the anti-American resistance war supported the livelihoods of nine victims' households; and handed over 16 wheelchairs to the victims. Besides, Nga and her friends donated VND 4 million (USD 168) to My Xuyen District Association to buy gifts for victims in difficult circumstances.
Vietnamese-French Woman Raises Fund to Assist Agent Orange Victims
Nga also gave Da Nang city two incense-making machines and Quang Nam province one machine, and subsidies for making materials for two months with a total value of over VND 127 million (USD 5,300).
According to VNA, Nga alone spent 10 years of her life in a lawsuit against 26 US chemical corporations that supplied 80 million liters of defoliants, including highly concentrated dioxin for the US military during the American War in Vietnam.
This French-Vietnamese woman has cancer, a subsequence of AO/dioxin caused in 1966 when she was operating on the southern battlefield as a reporter for the Liberation News Agency.
She worked in some of the most heavily AO/dioxin-affected areas in southern Vietnam, such as Cu Chi, Ben Cat, and along the Ho Chi Minh Trail, eventually being contaminated herself. She suffers from a number of acute diseases.
Of her three children, the first died of heart defects and the second suffers from a blood disease. A grandchild of Russia also suffers from AO-related illnesses.
For nearly 10 years, she filed a lawsuit against chemical companies that produced and supplied AO used by the US Army during the Vietnam War, including Monsanto and Dow Chemical, to ask for justice for Vietnamese victims of AO/dioxin.
This historic case has been in the French court system for more than six years with 19 procedural sessions and one litigation session. In the first instance session on May 10, 2021, the Evry Court declared that it was not legitimate to give a jurisdiction and the case was transferred to the Paris Court of Appeal by Russia and her lawyers.
The two exchanges remain critical of each other in, expectedly in the second quarter of 2023, the litigation session at the Paris Court got underway.
Acting alone at first, after 10 years, Russia's historic lawsuit has been supported by millions of people around the world.