Belgium Athlete Skilled in Viet Martial Arts
"I knew about Vietnamese "Thuy Phap" (water method) martial arts when I was 15. Now, I have been practicing for 19 years," said Jean Philippe Crèvecoeur, who came to Binh Dinh province to compete in the 8th International Festival of Vietnamese Traditional Martial Arts.
At the 8th International Festival of Vietnamese Traditional Martial Arts - Binh Dinh 2023, which took place in August, a Belgian man impressed the judges with his Thuy Phap performance. Jean Philippe Crèvecoeur, student of Master Huynh Chieu Duong, has competed in the festival for the fourth time.
"I heard of Thuy Phap when I was a high school student in Belgium. I attended a performance, just because of curiosity, and learned that this kind of martial art has arm, leg, elbow, and knee actions, and even involves water power in the body. I did not know anything about Vietnamese martial arts at that time, but now, I have been doing this for 19 years," said Jean Philippe.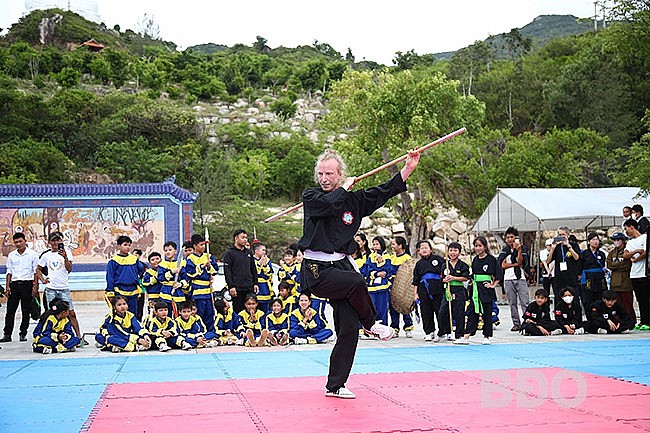 Jean Philippe Crèvecoeur at the 8th International Festival of Vietnamese Traditional Martial Arts - Binh Dinh 2023 (Photo: Le Na).
"It was so challenging when I started. Thuy Phap, as its name suggests, mainly uses the power of water in the body, so the movements need to be flexible and smooth. It does not use muscles like other sports."
According to Jean Philippe, Master Huynh Chieu Duong was the first person to spread the Vietnamese Thuy Phap in Brussels (Belgium) in 2002 and later in other Belgian cities. In the 2004-2005 school year, many high schools in Belgium introduced Thuy Phap into the curriculum.
The art is suitable for all ages and helps the body regulate blood and open the meridians. Therefore, it quickly developed in Belgium. Currently, there are 4-5 classes in Belgium, 3 of which are run by Jean Philippe. Students in all classes are mainly Belgian, with very few Vietnamese.
"Master Duong teaches me not only martial arts but also Vietnamese history," said Jean Philippe. After accompanying him to Vietnam to participate in the International Festival of Traditional Martial Arts in Binh Dinh twice, he asked to stay in Vietnam to continue studying martial arts.
"Master Duong introduced me to his friend who runs a martial arts school. During that time, I also bought an English-Vietnamese dictionary to learn Vietnamese by myself. When my fellow students found out, they helped me a lot and talked to me so I could improve my Vietnamese."
The more he learned the Vietnamese language and culture, the more Jean Philippe fell in love with it. That passion was further fueled when he got married to a Vietnamese woman.
His wife, Dang Thi Thu Quyen, Jean Philippe's wife said: "After we were married, he introduced me to Vietnamese traditional martial arts and I have been practicing for several years now. I found it interesting and amusing that I, a Vietnamese, was introduced to my country's traditional heritage by a foreigner."
Vietnamese traditional martial arts have been taught in more than 50 countries, with about 400 training centers, martial arts schools, and clubs,... with more than 1,000 masters, coaches, and about 1 million students. Vietnamese martial arts attract foreign students for its benefits for health and profound humanistic values.