BenarNews: Small islets show China's alleged new construction in South China Sea (Bien Dong Sea)
Satellite images show construction is ongoing on Drummond (Duy Mong), Tree (Cay) and West Sand (Con Cat Tay) islands of Vietnam's Hoang Sa (Paracel) archipelago.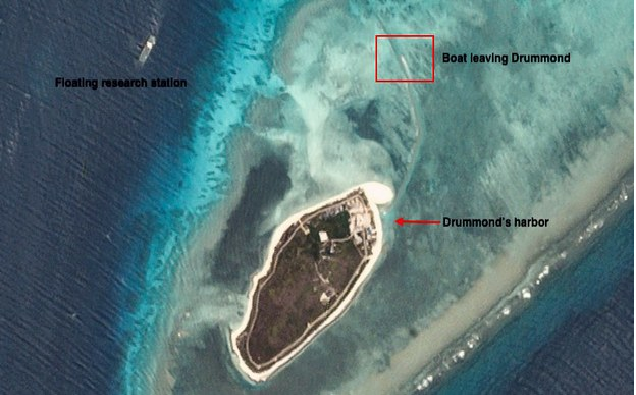 Drummond Island is seen on May 20, 2020. (Planet Labs Inc)
Satellite images show construction is ongoing on Drummond (Duy Mong), Tree (Cay) and West Sand (Con Cat Tay) islands of Vietnam's Hoang Sa (Paracel) archipelago.
The work pales in comparison to the binge in Chinese land reclamation and construction between 2014 and 2017, when Beijing established its major bases on features in Vietnam's Paracel and Spratly (Truong Sa) archipelagoes.
But the imagery reviewed by BenarNews of several small land features over the past six months shows signs of new housing, power supplies, cultivation and potentially a helipad.
Here's a look at three locations, where the construction suggests China is trying to solve persistent problems faced by some of its smallest holdings in the South China Sea: access, sustainability, and soil erosion.
Helipad appears to be being built on Drummond island
At Drummond island in the Paracel chain, where boats have to thread their way through a canal-like trench to reach the dock, a helipad appears to be being built.
Satellite imagery from Drummond shows that starting on May 20, a swathe of land was cleared just west of its harbor and is under construction.
Now, the square-shaped area appears to be in the process of being paved. Several structures have been built at the clearing's western edge, and the foundations for more appear to have been laid. As of October 3, construction was ongoing.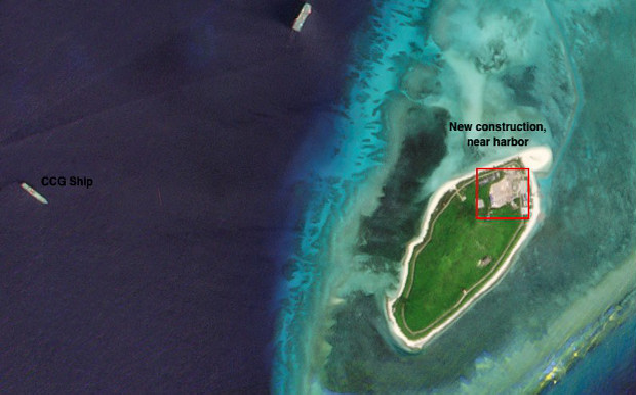 Drummond Island has had a swathe of land cleared and paved next to its port, Oct. 3, 2020. (Planet Labs Inc.)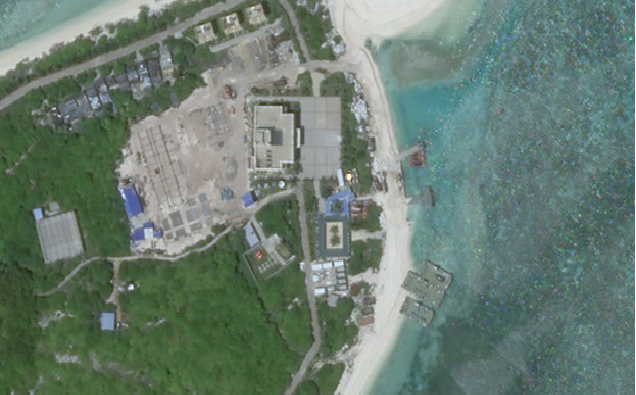 A zoomed-in shot of that same area shows blue roofed buildings, Sept. 22, 2020. (Planet Labs Inc.)
Tree island: more housing, more farming
Satellite imagery shows there have been visible improvements made between April 21 and Oct. 7 to support more habitation and farming on the Tree island.
A strip of land has been cleared next to a housing development northeast of the harbor and one building has been laid down that looks to be the first in a new row of houses or storage facilities. The farm area just north of the harbor looks more lush than before. Then north of that, what appears to be a wind turbine seen disassembled near a field of solar panels on April 21 is standing upright on October 7.
The biggest area of development is next to the harbor, in a triangle-shaped spot of land where temporary housing has slowly been replaced by more permanent structures throughout the summer. The greening of that patch over the past six months shows the progress of sand-to-soil practices, such as land reclamation, bringing soil from elsewhere to the area, or literally breaking sand down into soil using chemical compounds.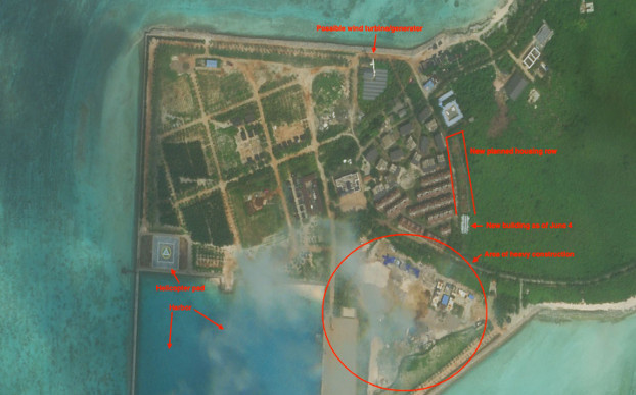 Tree Island's changes imply greater human settlement on the island over the last six months, Oct.7, 2020. (Planet Labs Inc.)
West Sand: planting trees to prevent soil erosion
West Sand, a sandbar far northeast of Drummond Island, illustrates another less-noticed way China is building up the tiny islets it occupies in the South China Sea (called Bien Dong Sea in Vietnam) – by planting trees.
Between May 14 and Oct. 6, a network of trees sprang up there. The islet is now notably greener, and the grid-like way the trees are arranged shows they weren't naturally occurring.
Photos from a South China Sea-watching hobbyist forum a in September also show many species of plants and trees being grown.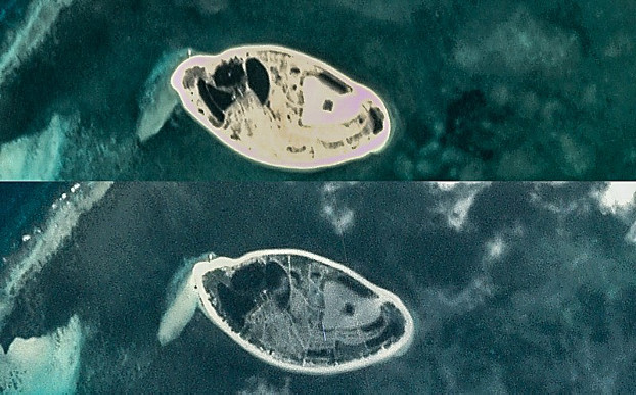 West Sand is seen on May 14, 2020, (above) and on Oct. 6, 2020 (below). (Planet Labs Inc.)
All activities undertaken without permission on Hoang Sa are violations of Vietnam's sovereignty: FM
In June, in response to inquiries regarding China apparently laying undersea cables between artificial features on the Paracel archipelago, Vietnamese foreign ministry spokesperson Le Thi Thu Hag said all activities undertaken without permission on Hoang Sa Islands, including the placement of undersea cables, are violations of Vietnam's sovereignty.
"All activities related to Vietnam's Hoang Sa and Truong Sa archipelagoes without its permission violate the country's sovereignty and hold no value," she was cited by VnExpress as saying.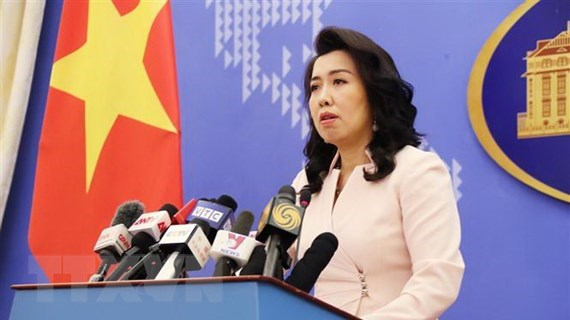 Foreign Ministry Spokeswoman Le Thi Thu Hang (Photo: VNA)
Chinese cable ship Tian Yi Hai Gong sailed from a shipyard in Shanghai in late May and reached the Paracel archipelago on May 28, according to satellite images and vessel tracking software, the Benar News reported on June 8.
The ship was "doing something related to undersea cables," which could be laying cables between the Tree Island, the North Island and the Woody Island, part of Vietnam's Paracel archipleago. The ship then sailed to other locations.
China laying undersea cables could be for military purposes and potentially strengthen its ability to detect submarines, the paper said, citing experts. It could signal another step by China to militarize the South China Sea, it added.
Vietnam has full legal basis and historical evidence to assert sovereignty over the Paracel and Spratly archipelagoes in accordance with international law, Hang reiterated.
"Countries need to act responsibly, avoid complicating the situation and contribute to maintaining peace and stability in the Bien Dong Sea," she noted./.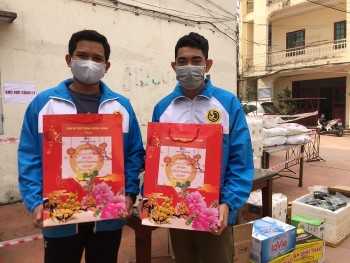 Expats in Vietnam
Vietnam is sending affection to Lao and Cambodian students who stay back in the country for Tet, the traditional New Year holiday which is an occasion for family reunion.