Vietnam supports peaceful settlement of maritime disputes. (Photo: VOV)
At a regular press conference on the afternoon of November 5, in response to a reporter's question on November 4 about China's announcement of a bill that would allow the country's coast guard to use weapons in Chinese-controlled waters, Deputy Spokesman of the Foreign Ministry Duong Hoai Nam said: "Vietnam has sufficient historical evidences and legal basis to assert sovereignty over the two archipelagos of Truong Sa and Hoang Sa. Vietnam always supports the peaceful settlement of territorial disputes on the basis of international law, including the 1982 United Nations Convention on the Law of the Sea (UNCLOS 1982) ".
On November 4, 2020, the ASEAN-China seminar on promoting cooperation, fair and human treatment of fishermen took place. The event gave a chance to Vietnam to convey a message to regional countries and other ASEAN member states which are seeking to protect the legitimate rights and interests of fishermen under the sovereignty and jurisdiction of their nations.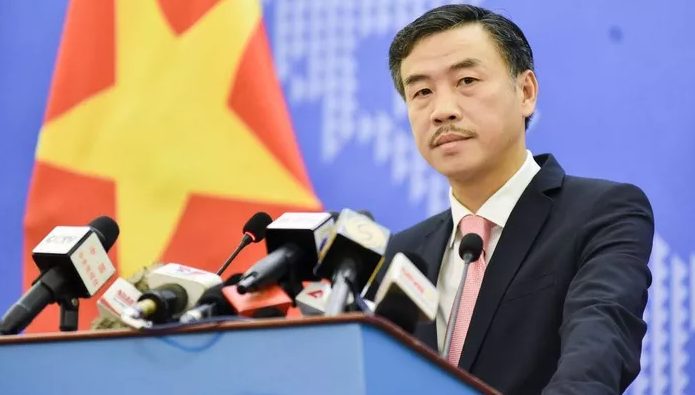 Deputy Spokesman of the Foreign Ministry Duong Hoai Nam. (Photo: The World and Vietnam Magazine)
China allowing its coast guard to use weapons against foreign ships involved in illegal activities in it-controlled waters failing to obey orders, such as to stop, a bill unveiled by a body of the country's parliament showed Wednesday.
As Beijing claims that the Senkaku/Diaoyu Islands, in the East China Sea are part of its territory, the envisioned law could target Japanese vessels navigating around the uninhabited islets called Diaoyu in China.
The Japanese government said earlier in the day that a Chinese ship was spotted in the so-called contiguous zone outside Japanese waters, adding Chinese vessels have now been observed near the isles for 285 days this year and also for the 59th day in a row.
Valerie Mai