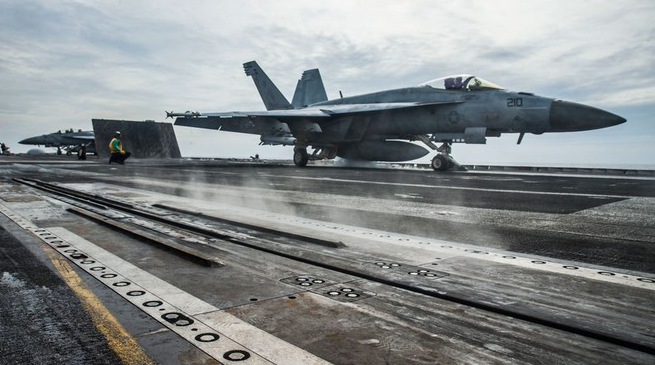 F/A-18E fighter took off from the aircraft carrier USS Ronald Reagan in the South China Sea on October 15. (Photo: US Army)
US keeps increasing presence
US 7th Fleet yesterday announced that the US Ronald Reagan carrier group had returned to the Bien Dong Sea to carry out maritime security activities, including sea attack drills and coordinated tactical training between units, according to the announcement posted on the website of 7th Fleet. This is the third time the aircraft carrier group has been deployed in the Bien Dong Sea, the first twice before in July and August.
The carrier strike group includes the aircraft carrier USS Ronald Reagan, 5th Air Squadron, the cruiser USS Antietam, two destroyers USS Mustin and USS John S. McCain. Among these, USS John S. McCain is planned to take part in joint exercises with two Japanese destroyers in the Bien Dong Sea on October 12-13. The joint exercise comes four days after Japan's Defense Minister Nobuo Kishi and Commander of US Forces in Japan Kevin Schneider shared concerns about Chinese behavior in the Bien Dong and East China Seas.
On October 13, Philippines military chief Gilbert Gapay also warned that the Bien Dong Sea situation "becomes tenser" because of China's increased aggressiveness, such as its launch of ballistic missiles to the waters on August 26, according to the Rappler.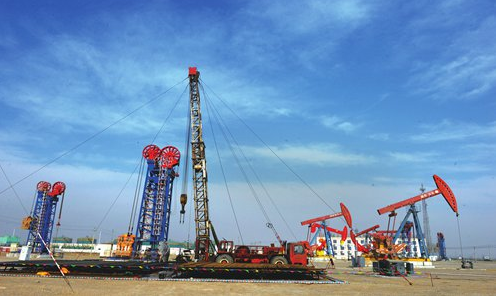 An oil and gas exploration site in North China's Hebei Province, run by the Philippines and China. (Photo: Global Times)
China taking advantage of "joint exploitation" in the South China Sea
Also yesterday, Chinese Foreign Ministry spokesman Zhao Lijian announced that the country hopes to work with the Philippines on joint energy exploitation in the Bien Dong Sea, according to Reuters. Zhao emphasized that China and the Philippines have reached a consensus on joint oil and gas exploitation in the Bien Dong Sea and have established a cooperation mechanism for related consultations.
The remarks came a day after Philippine Energy Minister Alfonso Cusi said that President Rodrigo Duterte approved the lifting of the suspension of oil and gas exploration in the Bien Dong Sea, which came to effect in 2014 as the Philippines sued China for its claims in the Bien Dong Sea.
Minister Alfonso Cusi stressed that the Philippine government has issued the decision to lift the ban on exploitation "in good faith and with full regard of the ongoing negotiations between the Philippines and China, and Forum Ltd and the China National Offshore Corp" (CNOOC)", Reuters quoted.
The Duterte administration's new move is concerned as an act to promote joint oil and gas exploration with China in the Bien Dong Sea, even though a number of Filipino and international experts warned of the unpredictable consequences for the Philippines and the region. They argued that Manila's nod would give Beijing more grounds to force other parties to accept bilateral negotiations, even in non-conflicted areas that were put under the unreasonable "nine-dash line".
Valerie Mai