Benin's President Hopes Vietnam Share Experience in Socio-Economic Development, Int'l Integration
The Benin's Presidentsaid he had been to Vietnam three times and was very impressed with Vietnam's achievements in socio-economic development and international integration.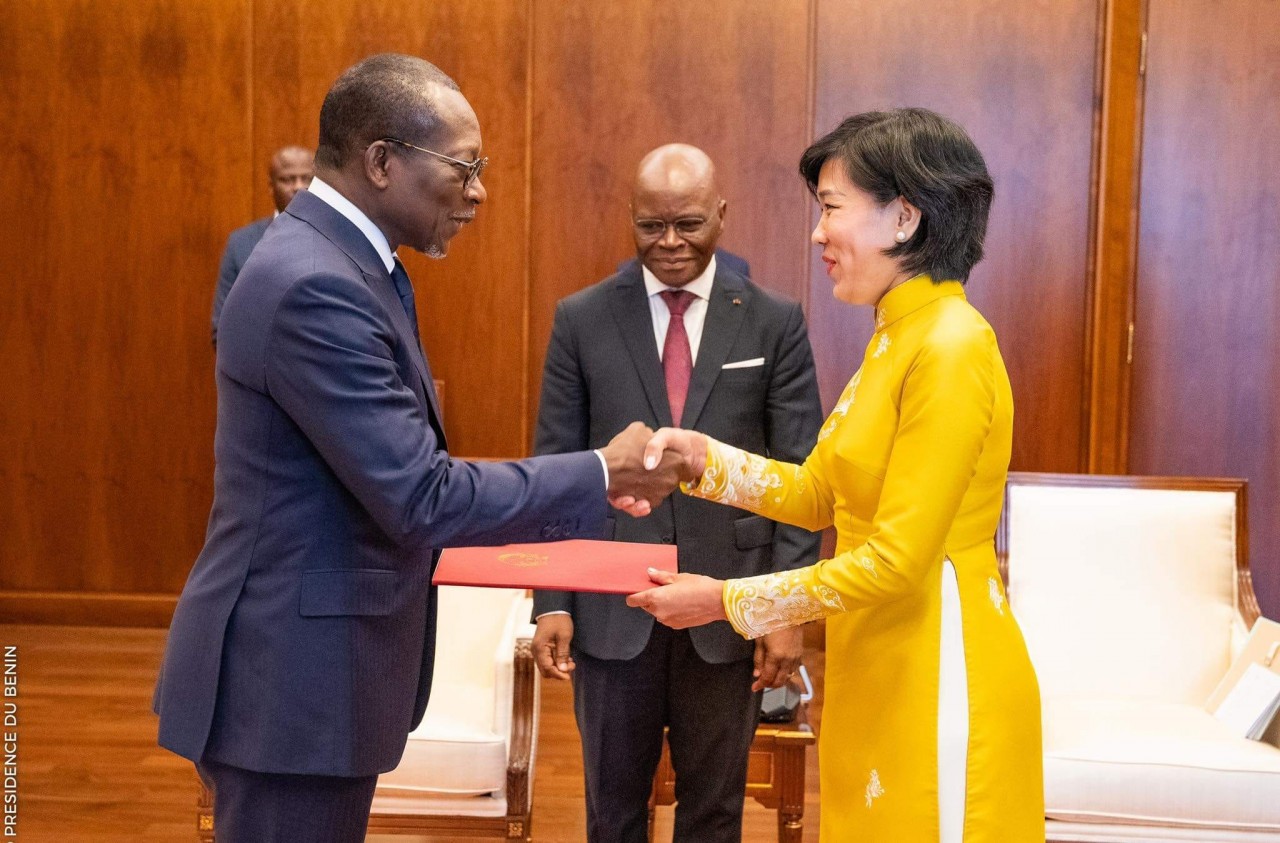 Vietnamese Ambassador to Morocco and Benin Dang Thi Thu Ha presents her credentials to Benin's President Patrice Talon. Photo: VNA
Benin's President Patrice Talon has expressed his admiration for Vietnam's achievements in socio-economic development and international integration, and expressed his wish that the Southeast Asian nation will share its experience with Benin in the fields.
At a recent reception for the Vietnamese Ambassador to Morocco and Benin Dang Thi Thu Ha, who came to present her credentials, Talon asked the diplomat to convey his wishes and regards to President Nguyen Xuan Phuc.
The host leader expressed his belief that the ambassador will significantly contribute to consolidating and enhancing relations between the two countries.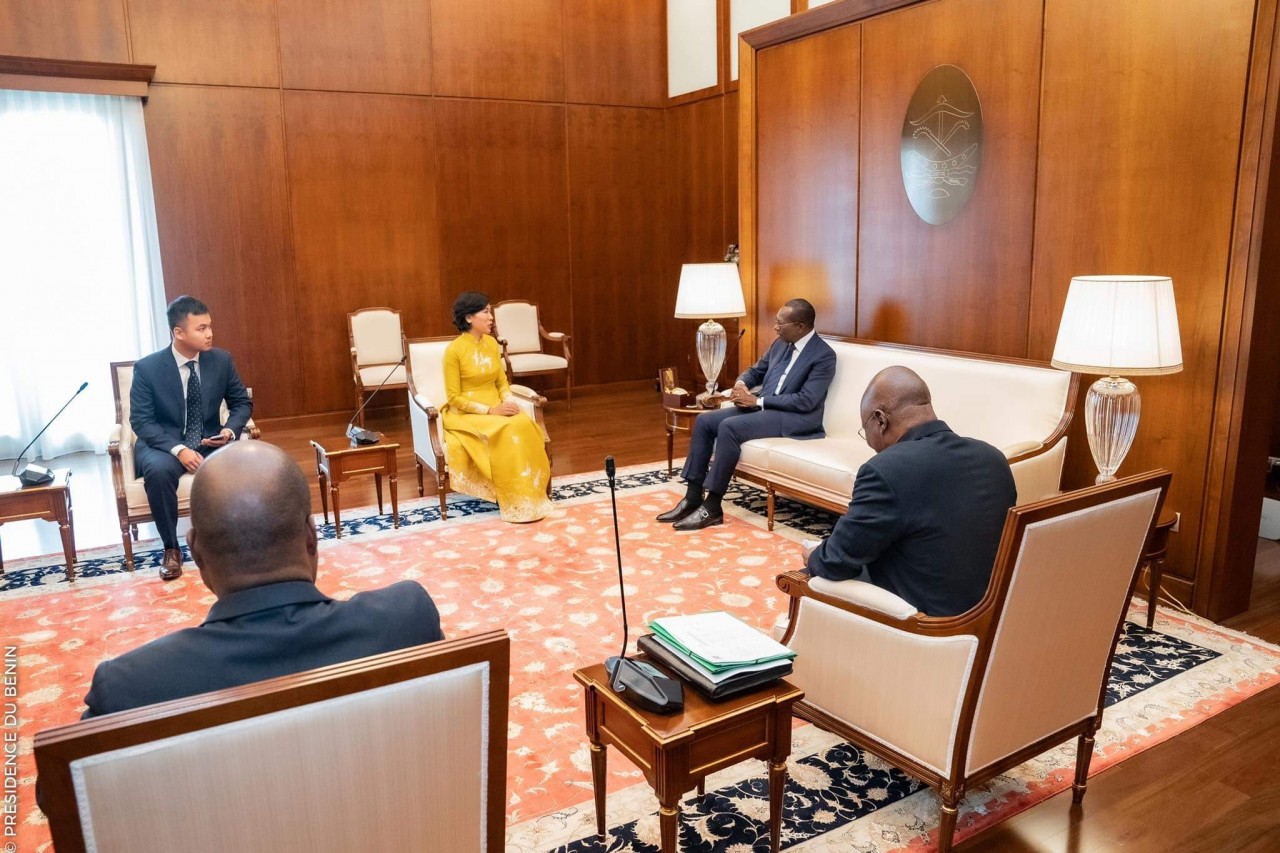 The Vietnamese diplomat pledged that she will work hard for a stronger traditional friendship between the two countries for the interest of the peoples of both sides. Photo: VNA
For her part, Ha congratulated the Benin President and people on the achievements they have recorded in national development and affirmed that Vietnam wants to bolster the friendship and cooperation with the African nation across all spheres.
The ambassador pledged to make all-out efforts to contribute to deepening the bilateral ties.
The two sides also compared notes on specific measures to step up cooperation in the time ahead, especially in agriculture and the trading of cashew nuts and other materials.
They agreed to accelerate the appointment of an Honorary Consul of Vietnam in Benin, and prepare for the celebration of the 50th anniversary of the bilateral diplomatic relations (March 14, 1973).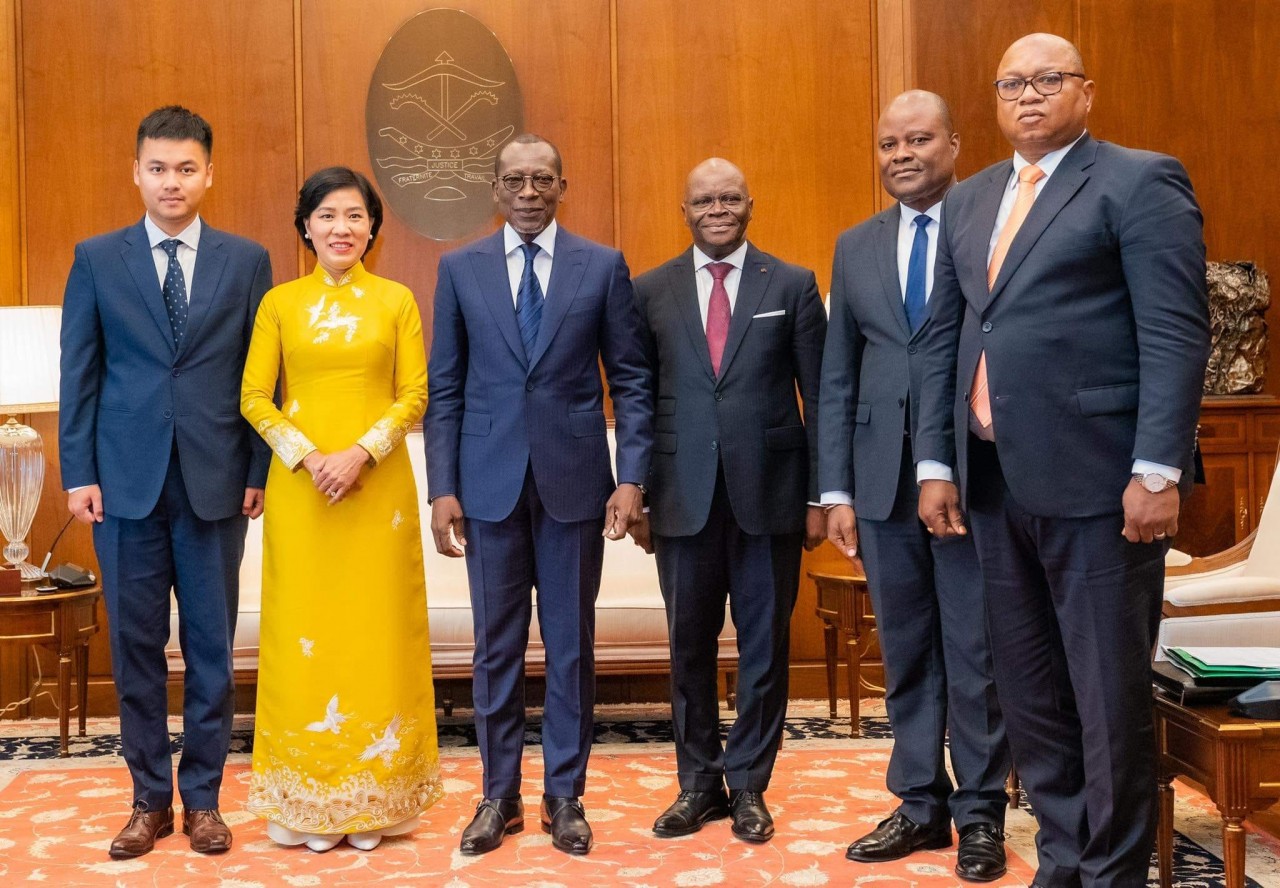 The ceremony was held solemnly in the presence of Minister of Foreign Affairs Aurélien Agbénonci and a number of high-ranking officials of Benin. Photo: VNA
In July, Ambassador Ha also presented her credentials to Beninese Foreign Minister Aurélien Agbenonci during which she gave some proposals to promote bilateral partnership in all fields, especially politics, economy, and trade as well as cooperation at multilateral forums.
After the presentation, Ambassador Ha paid courtesy calls to Beninese Minister of Agriculture Gaston Cossi Dossouhoui and Minister of Industry and Trade Alimatou Shadiya Assouman. She also had a meeting with leaders of the Benin Chamber of Commerce and Industry and leaders of the Council of Owners and a number of officials at Benin's Ministry of Foreign Affairs.
Both sides discussed specific measures in the bilateral relations, and agreed to support each other at multilateral forums. They also sought measures to bolster partnerships in promising areas such as agriculture, aquaculture, trade, investment, and cashew processing.
Ambassador Ha affirmed that Vietnam is willing to give technical support, share experience and cooperate with Benin in agriculture as well as areas of Vietnam's strength.
he two sides agreed to propose to authorized agencies of both sides the establishment of sub-committees for cooperation in particular areas, along with the increase of delegation exchange and the appointment of honourary consuls in each country. Initially, the two countries will organize online meetings to connect businesses of both sides, they said.
On the occasion, Ambassador Ha also had a meeting with the Vietnamese community in the West African country.
Benin, owning the Port of Cotonou, one of the largest in West Africa, and a modern transport infrastructure connected to big cities in the region, is a gateway for Vietnamese products to enter a market of over 390 million people.
Benin and West Africa are both having great demand for food and consumer products which are strengths of Vietnam.
According to the General Department of Vietnam Customs, trade between the two nations reached USD 121 million in 2019, up 8.2% on-year. Vietnam exported rice, textiles, motorcycle accessories and others to this market while importing cashew and cotton, among others.