Best Places To Enjoy Your Vacation in Cam Ranh, Vietnam
Cam Ranh, which is located about 45km from Nha Trang, is a wonderful destination with beautiful sandy beaches, lovely nature and many resorts for a relaxing holiday with your family.
Located 45km south of Nha Trang, Cam Ranh has been spared from the scourge of accelerated development that has hit some Vietnamese coastal cities in recent years.
The crystal-blue beaches, mountains and pagodas are just a few of the things that draw tourists to this area. The city is also full of interesting places to see, such as Bình Lập Island, Vĩnh Hy Bay, Hang Rái, Bãi Dài beach, and Ốc Từ Vân Pagoda.
The weather in Cam Ranh is seasonally temperate. For anyone who would like to spend their holiday outside enjoying the beaches and nature, the best months to visit are December through February. The rainy season lasts from September to December.
1. Binh Lap Island
Photo: Vina.com
Not to mention its most popular attractions, the coastal city Nha Trang boasts a lot of islands and beaches which are beautiful and still pristine. One of them is Binh Lap Island. Located in Tu Binh sea (Tử Bình) (including Binh Ba, Binh Lap, Binh Hung, Binh Tien), in Cam Ranh District, Binh Lap Island (Bình Lập) is less known to tourists because its location is almost separated from outside. It is called the "Maldives of Vietnam" because of the white sand beaches and clear blue waters. This island has sunny but cool and comfortable climate thanks to the sea wind that blows to the mainland.
Binh Lap is about 80 km away from the center of Nha Trang city and 50 km from Cam Ranh airport. Apart from breathe-taking landscape, this island also has resorts on the sea and beautiful coral reefs that are hidden under clear blue seawater.
Binh Lap Island is considered one of "Four female musicians" painting of Khanh Hoa (Khánh Hòa) province. It is commented as a quiet but charming girl. This feature is in contrast to the hustle and bustle of Nha Trang city. Coming to Binh Lap Island, visitors will surely be surprised at the nature's masterpiece. This island is untouched and not exploited significantly up to now. That is why you will feel like entering a totally different world upon visiting Binh Lap. Setting your feet on this island, you will be able to immerse yourself in the calm space with white sand, blue sea, and hospitable fishermen. All of them will make your vacation memorable.
2. Suoi Tien sheep farm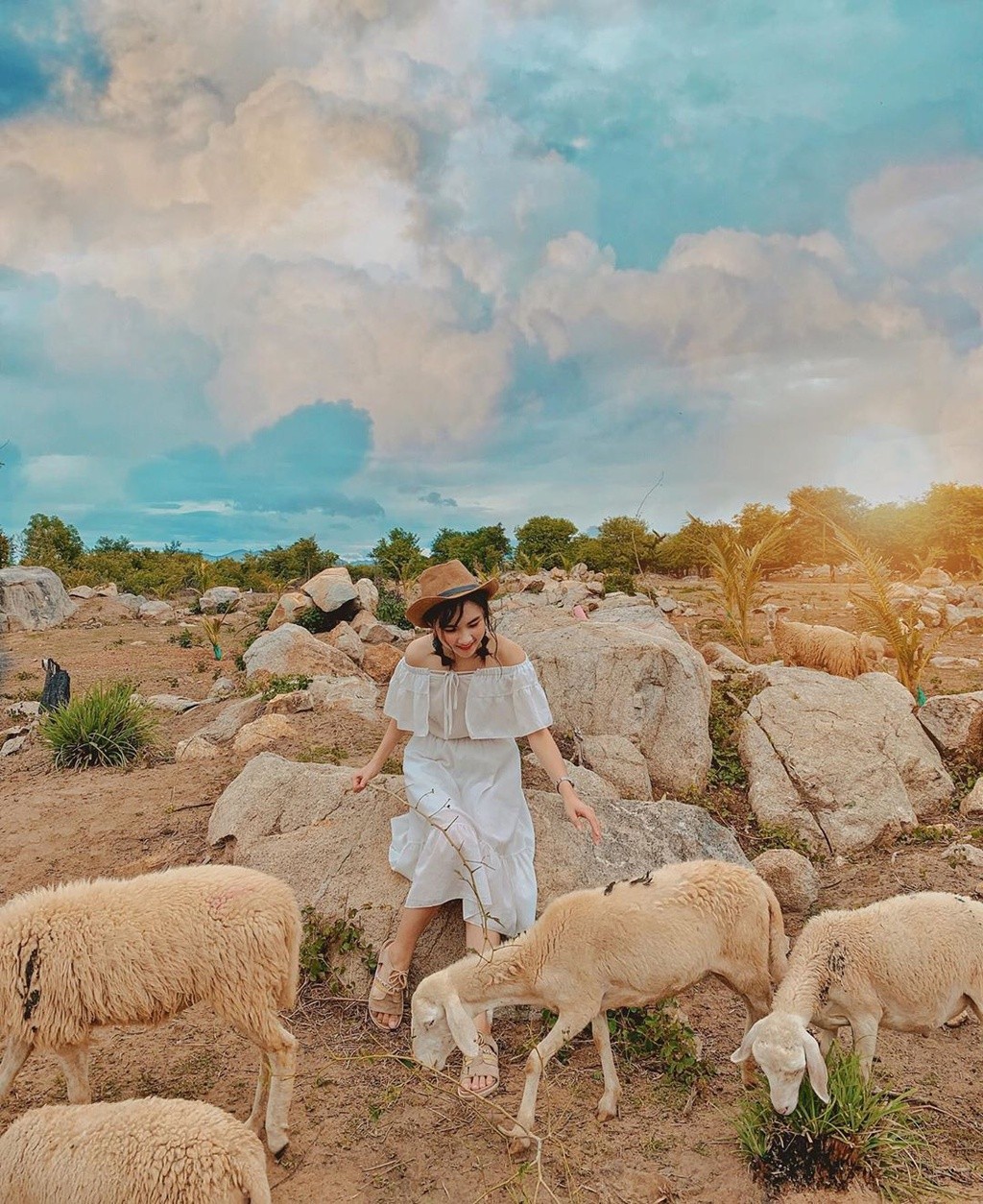 Photo: Hatrangngo
A new favorite destination for check-in is Suoi Tien Sheep Farm in Cam Thinh Dong Commune, Cam Ranh City. Just opening for one month, the sheep farm attracts a lot of young people who like to hunt beautiful photos.
Suoi Tien Sheep Farm covers a large area with good-looking landscape. Its highlight is a herd of 100 sheeps given good care for visitors to take photos.Ticket entrance is VND30,000.
Nguyen Ngoc Truc, the owner of the sheep farm said that in 2008, driving bus to tourist sites and seeing Cam Ranh have beautiful areas, he dreamed to build a wild tourist site raising sheeps and growing flowers. Then, he saved money and lent some from friends to invest in this place. The sheep farm opens to visitors from the lunar new year festival. He has more ideas for the projects but he hasn't enough money to do all.
According to Dang Van Thu, chairman of Cam Thinh Dong Commune People's Committee, Suoi Tien Sheep Farm is a strange tourist site, diversifying tourist products in Cam Ranh. If developed well, the site can be an ideal stop for people who travel to Vinh Hy or Binh Lap.
3. Vinh Hy Bay
Photo: Vietnam Online
Charming and peaceful bays are often unavoidable tourist draws but Vinh Hy Bay is thankfully still under-the-radar of mass tourism. Embraced by tree-clad mountains and blue sea, Vinh Hy Bay appears pristine, mesmerizing, and irresistible for tourists to wriggling their toes in the sand or even venture a little further.
Vinh Hy Bay is a small bay close to Ninh Chu Beach, northeast of Ninh Thuan Province. Its body of water on three sides is enclosed by Nui Chua National Park. With calm waters and jungle wilderness, Vinh Hy Bay becomes a natural harbor for various species to shelter as well as a fabulously peaceful location for many upscale resorts.
The bay is bestowed with pleasant and sunny weather all-year-round so tourists literally can visit the bay at any time of the year. However, for the best experiences, you should attempt to travel from May to August.
From Cam Ranh International Airport, renting a boat to Vinh Hy Bay is the optimal option. Upon arrival My Thanh Bridge, speedboats are available to transfer passengers to the bay.
Besides, adventurous travelers can also choose a motorbike for a scenic drive following 1A Highway to this tourist spot.
4. Binh Ba Island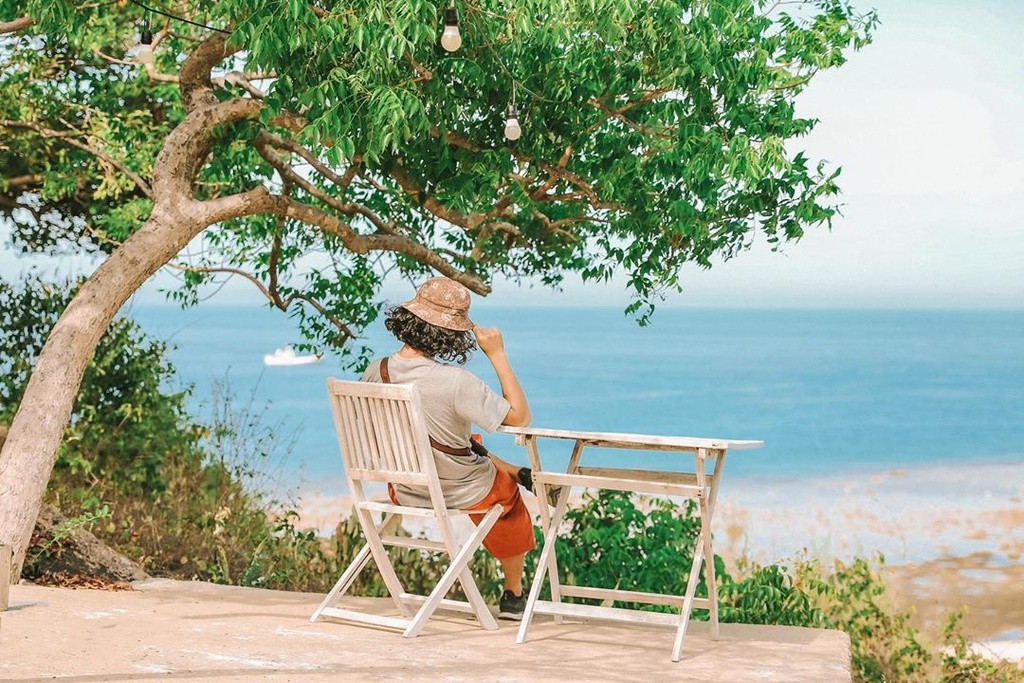 Photo: khan.xu
Binh Ba island is an unspoiled and isolated island owning many beautiful beaches and stunning natural landscape. It has just been known in some recent year, located far from Cam Ranh Bay about 15km and Nha Trang city about 60 km. Binh Ba is also known as the "Lobster island", a tourist destination should not be missed in your trip to Nha Trang with wild scenery, sunshine, smooth white sandy beaches.
From Ba Ngoi port in Cam Ranh, you can take a wooden boat or canoe to go to Binh Ba island. Wooden boat takes about 45-60 minutes and ticket is 30,000 VND per person while the canoe is 100,000 VND and takes only about 20 minutes to the island.
Binh Ba is a pristine island, there are not many facilities and services for travelers. You can choose to stay in homestay with the price of 50,000VND/person/night, the hostel – from 300,000 to 400,000VND/room with full facilities air conditioning, hot water, television.
Binh Ba island owns the pristine beauty, this is a peaceful place for you to take a rest and release from all stress after those hard-working days. Nature of the island brought us a sense of calmness which helps us keep away from bustling atmosphere of the bustling city of Nha Trang. Traveling to Binh Ba island, you will not only be immersed in the blue clear water at Bai Nom Beach, Nha Cu beach or explore the colorful coral reefs and countless beautiful beaches but also admire the beautiful scenery which you can only find it on Binh Ba island.
5. Binh Hung Island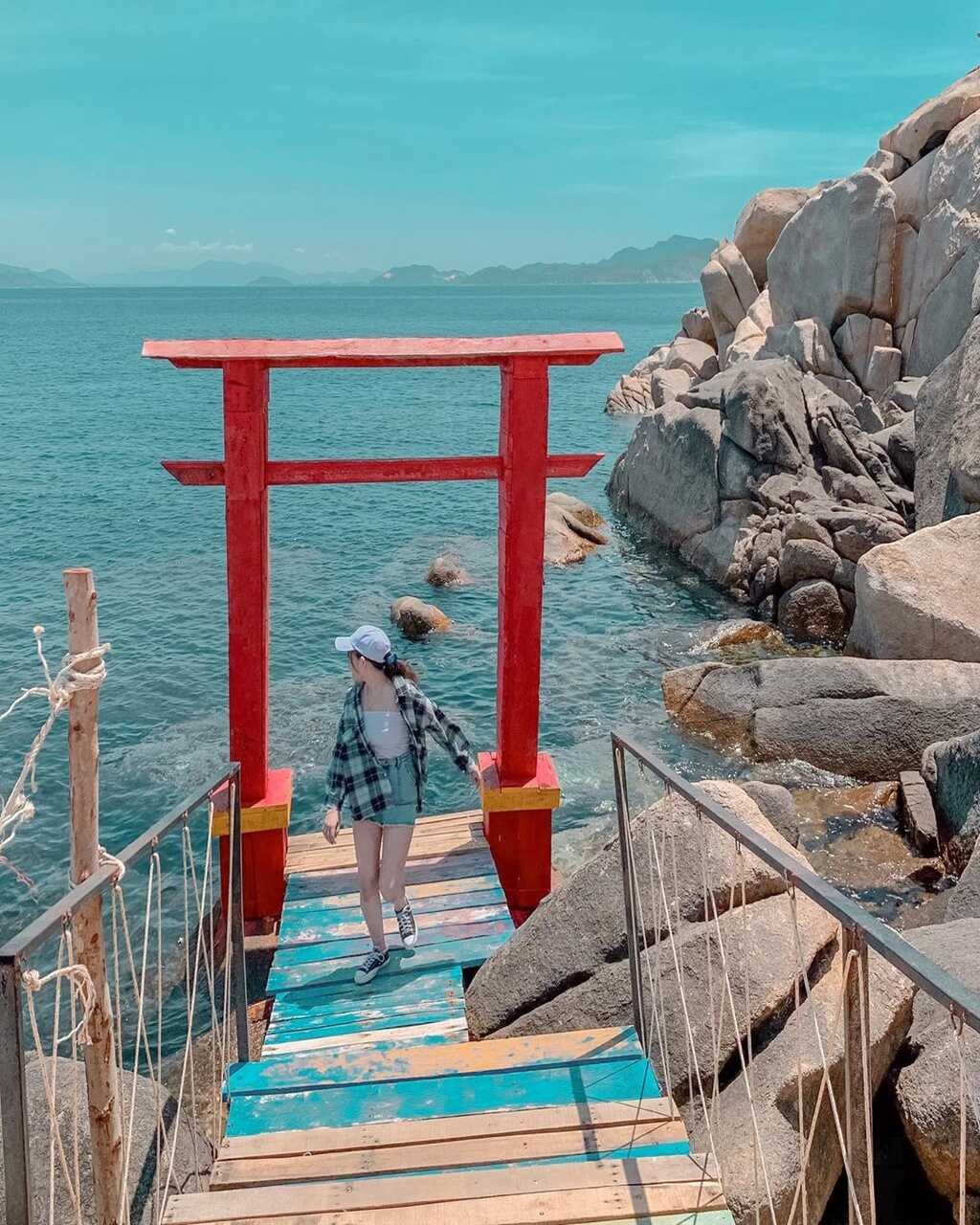 Photo: chidilang - Zing
Binh Hung Island is located quite near to Binh Ba island and known as a "hidden gem" of Khanh Hoa. Tourists often visit both island at one time. And like Binh Ba, Binh Hung's beauties remain intact from influences of tourism.
Summer is best time to visit this remote paradise while October and November are not suitable because of storms.
From land, you have to arrive in Kinh beach to move inside the island or you can sail from Binh Ba directly. Get to Binh Tien Beach to catch a boat. The boat ride from Binh Tien to Binh Hung Island takes only 10 minutes. You can spend some time on Binh Tien Beach since Binh Tien is one of the most beautiful beaches in Vietnam.
The wharf to Binh Hung is located in the middle of the Vinh Hy-Binh Tien pass, a 17 kilometre stretch of scenic coastal road in Ninh Thuan province. At the beach, negotiate for a fishermen boat tour to take you to the island and back.
6. Rai Cave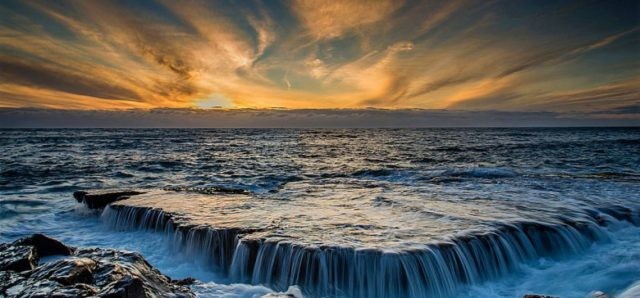 Photo: Vntrip
Rai cave is located inside Vinh Hy Bay, only about 40 kilometers from Phan Rang and accessible by car or motorbike. Located on the main North-South railway line, Phan Rang shares with the more famous Nha Trang the Cam Ranh International Airport. If your journey starts in Nha Trang, a bus to Phan Rang will serve you well. Vinh Hy offers a complete spectrum of accomodation, ranging from the luxury Amanoi Resort to $15 rooms or even cheaper at local hostels. Rai Cave is the most tourist destination in Ninh Thuan province.
Imposing natural scenery, waterfalls at sea and the rocky beach without human intervention are the highlights of Rai Cave - a popular tourism destination in the south central province of Ninh Thuan.
Rai cave being "awakened" as more and more tourists stop here given in Ninh Thuan tourist itinerary. Especially in rough sea season from 11 months to 2 is the ideal time to visit Ninh Thuan and a good opportunity to exploit the exclusive and beautiful pictures of the waves, the lush layers of moss on ancient coral reefs.
Enjoy the pictures full of hauntingly eerie blend of moss and in Rai cave waves, you'll have endless admiring nature's masterpiece before. The moss grows on the coral filled out under the clear waters, looking from afar like giant green jade boulders extremely unique.
Most impressively, at dawn, the sun reddened the distant horizon began to arouse the vitality of Rai cave overflowing. Green moss layer sleeping overnight as rising under the first rays. Ocean currents change color a wonderfully under the sun. Craggy cliffs stand out from the blue sky. Sun gets higher the more that the sea surface like floating clouds.
How to Get to Cam Ranh
The fastest way to get to Cam Ranh is by plane. A flight to the city's international airport will take you an hour and a half from Ho Chi Minh City, followed by a 30-minute taxi trip that will cost you around US$10.
If you are on a budget, you can check out private bus lines, such as Futa or Liên Hưng. Many of these operators have offices in Pham Ngu Lao. If you want to save time, travel by night in a sleeping bus. Another great way to discover Vietnam is by train. Even though the travel is slow, you can experience first-hand the beautiful Vietnamese coastlines on your way to Cam Ranh. For information about how to get a train ticket, click here.
The best way to get around and explore the city once you're there is to rent a motorbike for around US$7 a day.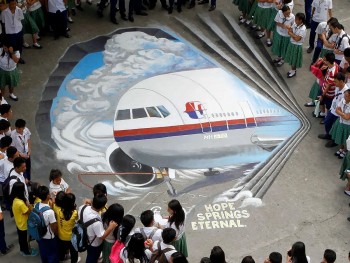 World
The world might never know what really happend when these planes went off the radar. Let's take a look at some of the unsolved mysteries of aircraft disappearances.