Top 5 Most Beautiful Destinations in Vung Tau To Enjoy Nature
Are you still wondering where to go after the Covid-19 pandemic? Then Vung Tau can be the perfect choice for you. Being famous for its landscape and sceneric destinations, here is 5 most beautiful destinations in Vung Tau to enjoy nature.
There are many tourist places and interesting activities when you visit Vung Tau. It is likely the first stop in the South of Vietnam if you want to have some Vitamin Sea. Whether you are a huge fan of the beach or not, you still have many amazing destinations to see and interesting things to do. It is hard sometimes to make a decision of where to go and what to do.
Vung Tau is best known as a coastal city with pleasant beaches within easy reach of Saigon. However, it can also offer more than that. As a local, I think Vung Tau can be ideal to visit if you are in search of quiet self-reflection, want to renew your link with nature, or just to take a deep breath of fresh air. With this in mind, check out these lesser known places in Vung Tau to indulge your inner self at no cost.
1. Pig Hill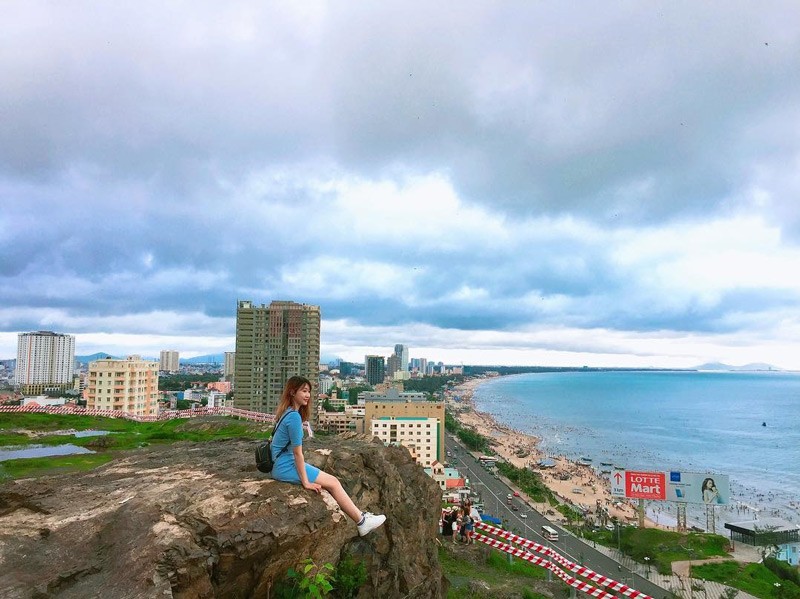 Image source: Foody.vn
For tourists coming to Vung Tau at least once, Pig Hill, the place that its name creates the curiosity, and interests to explore the nature at Bai Sau, District 2, Vung Tau. In addition to Ho Tram, and Ho Coc …, the Pig Hill is emerging as the tourism phenomenon in the hearts of young people, because this is the ideal destination to admire the most wild and beautiful scenes and discover a completely new, unique and strange beautiful side of Vung Tau.
At the first glance, tourists may be in a dilemma when the hill is just a bare hill. However, when approaching the edge of the hill, the scenery of long sandy beach bending to the sea and the blue sky in front of the eyes will not let them down. For that reason, Pig Hill is considered as the land lighthouse of the city. From the top of the hill, tourists will see a whole Thuy Van Road, a corner of Ha Long Road and Hon Ba Island in the middle of the sea. Standing on high hill, looking down to the cool breeze and enjoying the moment of peace, that is the unforgettable experience in here. The gravel road on the hill as a way for tourists to reach a real paradise.
Interestingly, the sides on the hills wear different beauty belonging to seasons. In the dry season, the pig hill is full of boulders, creating a wild and mysterious space for discovery. If tourists visit here on the rainy season, they will have the opportunity to see the natural green space with the beautiful vegetation gardens. This is also the ideal place to catch the magical image of sunrise or sunset on the land of Vung Tau.
2. Nghinh Phong Cape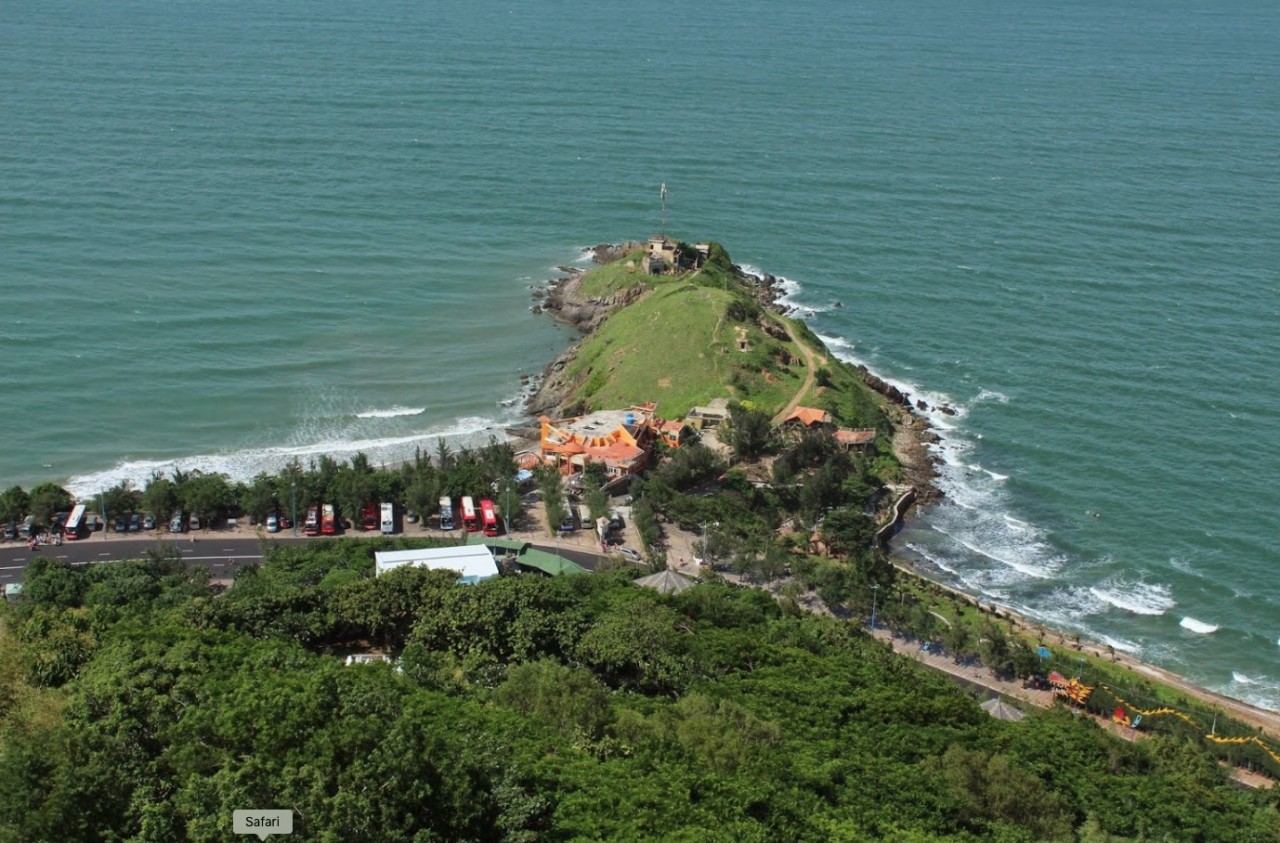 Photo by @Ng Ph Tài
Nghinh Phong Cape is located in the southern part of Vung Tau peninsula. It is called Nghinh Phong (Cape of greeting the wind) because this place welcomes the wind throughout the four seasons. This cape created two beaches, Huong Phong Beach and Vong Nguyet Beach, two large bays in the East and West. It is more sacred and unique with huge white Kito God statue, stretching out his arms to embrace the whole sea to his heart.
Not only brings the extremely attractive and peaceful beauty, Nghinh Phong Cape makes visitors unable to leave their feet because of its deep blue sea and magnificent mountains and forests. Behind the cape are shady trees, majestic mountains, bringing peace and fresh air for relaxation. With charming landscapes and unique quiet space, this cape becomes a must-visit tourist destination when you set foot on the coastal city of Vung Tau.
Nghinh Phong Cape is located at no. 1 Ha Long Street, Vung Tau City. The location of the cape is very easy to find because it is near the Kito God statue with stretched out arms and Vong Nguyet beach. From martyr's memorial in Vung Tau, visitors follow Le Hong Phong Street to reach Sau beach, then turn right to Thuy Van Street. Tourists continue to follow Thuy Van Street towards the Kito God statue to reach Nghinh Phong Cape.
Heaven Gate is located right at Nghinh Phong Cape. To reach the Heaven Gate, visitors will have to move through a trail. Although the road is quite difficult to go, every visitor wants to pass to see the Heaven Gate of the coastal city of Vung Tau.
Thuy Van Street is one of the two most beautiful coastal roads in Vung Tau, so tourists should choose a motorbike to travel to Nghinh Phong Cape. Tourists can also rent a motorbike to move to Nghinh Phong Cape with prices ranging from 100,000 to 200,000 VND per day.
Near Nghinh Phong Cape, there are also many entertainment places in Vung Tau, such as the Kito God statue, Vong Nguyet beach, Dua beach, Vung Tau lighthouse, etc.
3. Trails on Small Mountain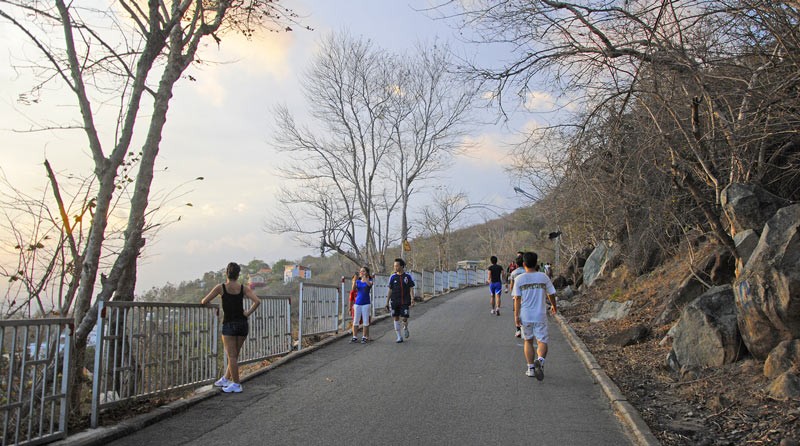 Image source: 12dulich.com
The Small Mountain or Tao Phùng Mountain is one of the most famous tourist attractions in Vung Tau. The slopes of this hill is 197 meters high and the area is 120 hectare, the south of the bay are carpeted in forests.
On top of the mountain, there are two historical places that attract a lot of tourists. These famous tourist spots are the Statue of Christ and a Lighthouse which are built during French colonization. At the foot of the mountain surrounded by restaurants, coffee shop, hotels, etc. which are always busy and bustle with tourists around the world.
There is a small and quiet trail leading to a spot covered with trees, which can make you feel that you are in a small jungle. Along the trail, you can stop by some Buddhist temples to contemplate the view of Bai Dứa or Mũi Nghinh Phong. If you want to exit the trail, you have to take the same route back.
Leaving the trail, there appears a well-paved road that leads you to another experience of connecting with nature. If you are lucky enough, birds will welcome you along the way with their beautiful songs. You can find a quiet spot to enjoy the sunset here. Like the former trail, the way to exit is to go back the same route.
4. Big Mountain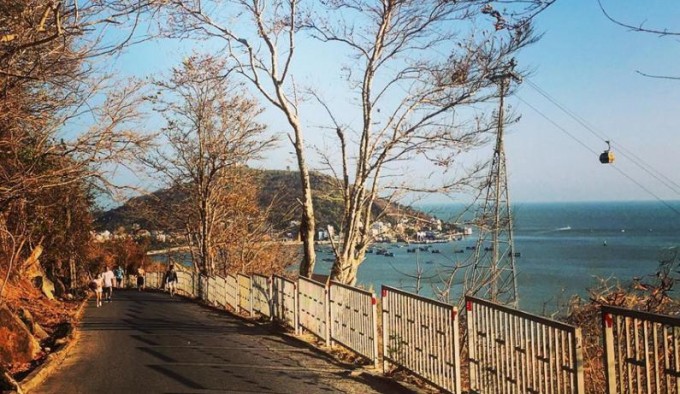 Photo: Phap Luat Plus
This iconic Vung Tau landmark is usually the first thing that travellers see when arriving by hydrofoil ferry from Ho Chi Minh City (Saigon). It's known as 'Big Mountain' not so much for its height, but the fact that its four peaks sprawl back from Front Beach for several kilometres along the west side of the Vung Tau peninsula.
There are many different trails to access the top, each with its own degree of difficulty. The asphalted bitumen road is the simplest – and used by locals for exercising every day. More challenging are the several "very steep" climbs up the side of the mountain, and the 600+ steps access further around towards the fishing village.
Views from Big Mountain are superb. On the southern side you can overlook Vung Tau Bay and the Front Beach area – as well as across to Small Mountain.
As you move around to the western side, the shipyards come into focus. Then along the ridge heading east, you have magnificent views of the residential part of Vung Tau City.
On top of the mountain is the old radar antenna (now disused) and the vast theme park accessed by cable car. Scattered around the hillside are local shops and houses, and many shrines and pagodas including the iconic "Goddess of Mercy" statue (sometimes mistaken by tourists for the Virgin Mary).
The battery of old French cannons is very popular with locals as it's not far from the main access road – the site also provides an interesting "water stop" for Hashers on the way to the top!
5. Con Dao Islands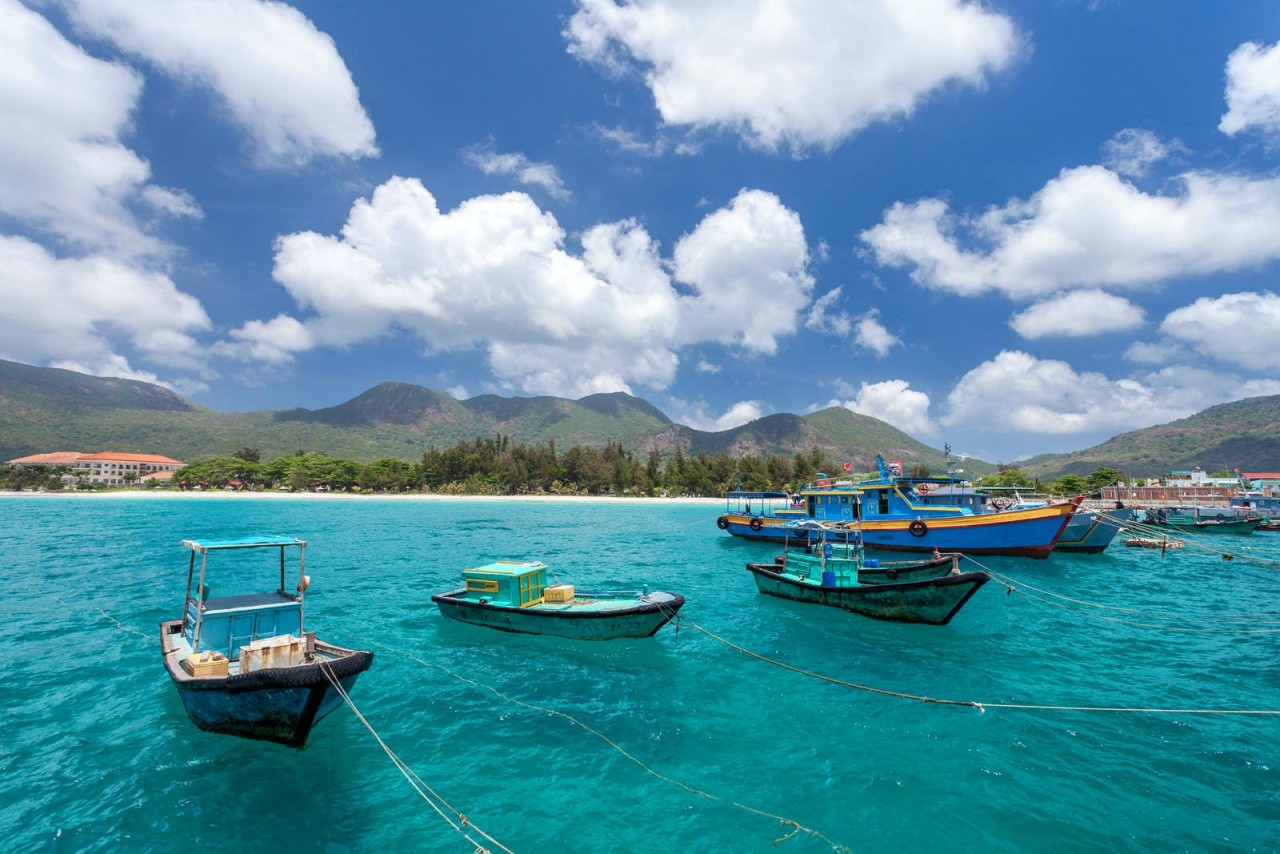 Photo: Getty Images
Con Dao Islands, also known as Con Dao National park, are an archipelago of 16 mostly uninhabited islets just off the southern coast of Vietnam, each of which offering expansive beaches shaded with evergreen trees. Great for savvy travellers looking to escape bustling city life, the main island also boasts miles of coastal roads, hiking trails and a wide range of outdoor activities.
The main (and only inhabited) island, Con Son was once the site of French-run prisons for Vietnamese involved in the independence movement. Most of the derelict prisons are located in Con Son Town, where you can visit the prison cells, and infamous tiger cages. Many locals visit Con Son to pay their respects to revolutionaries such as Vo Thi Sau, the first women on the island to have been executed by the French.
Aside from this rather bleak part of Con Son, the island has plenty of unspoilt beaches where you can enjoy a day of sunbathing, swimming, and dining on fresh seafood. Closest to the town is Bai An Hai Beach, which connects Ben Dam Harbour to several beachfront resorts and fishing villages. If you prefer privacy, rent a motorbike and make your way south towards Mui Ca Map (Shark Cape) and Nhat Beach to enjoy fine white sands and breathtaking views of the ocean.
Island-hopping and diving are popular activities on Con Dao Islands, where you can explore most of the uninhabited islets and spot various wildlife such as stingrays, barracudas, moray eels, and dugongs. Due to its status as a national park, you need to arrange your trip with Con Dao National Park Headquarters (29 Vo Thi Sau, Con Dao District, Ba Ria - Vung Tau Province). Hon Bay Canh Island is renowned for its turtle breeding grounds, so if you're visiting between June and September, you may even get a chance to watch turtles laying their eggs.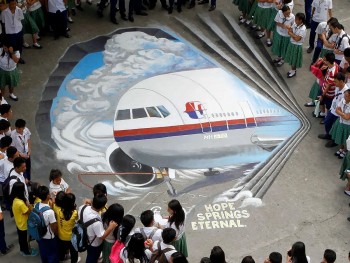 World
The world might never know what really happend when these planes went off the radar. Let's take a look at some of the unsolved mysteries of aircraft disappearances.