Biden's China policy: just as assertive as Trump's, but much more effective
Before the end of its term, the Trump administration tried to paint the incoming Biden administration as soft on China. The thing is, Trump's team and Biden's team agree that it's time to take a more aggressive posture on the competition with China.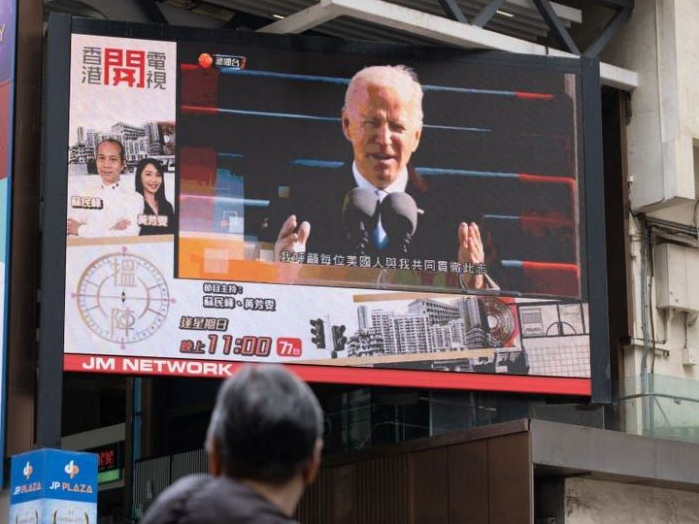 A Hong Kong man watches a news report about Biden's Inauguration. (Photo: Getty)
In Trump's final weeks in office, officials made it clear that they were trying to enact as many hardline China policies as possible. On January 9, for example, former Secretary of State Mike Pompeo terminated restrictions on contact between US and Taiwanese officials. Those restrictions had been in place since Beijing and Washington restarted relations 1970s. China considers Taiwan a part of its territory - making Taipei's leadership illegitimate in Beijing's eyes - and has said that any US interference with that is a "red line."
These moves were made, in part, as a way to force the incoming Biden administration's policy onto a more aggressive path. But that was likely unnecessary. Biden has already signaled that he will continue working with Taiwan by inviting Taiwan's envoy to the United States to his inauguration - the first time a Taiwanese envoy has been invited to the swearing-in since 1979, said Business Insider.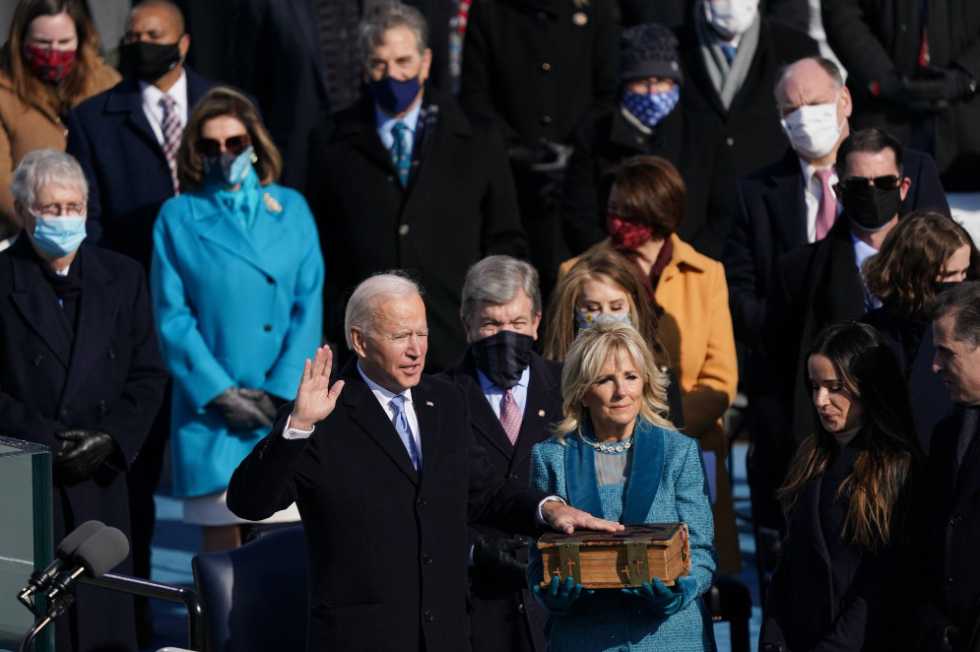 Joe Biden is sworn in as the 46th president of the United States in Washington on Jan. 20. (Photo: New York Times)
Learning from Trump's record
Biden may be able to reverse many of his predecessor's policies with the wave of a wand — in the form of executive orders as he has done in returning to the Paris climate accord on his first day in office — but dealing with China is an entirely different matter. It's a Herculean headache for leaders around the world, as it involves a delicate balancing act of upholding democratic values and competing economically and geopolitically, all the while seeking a path for cooperation on existential issues such as climate change and the pandemic, according to Japan Times.
A successful Biden administration will need to learn and adapt from former President Donald Trump's successes and failures. That point is evident with the secretary of state nominee Antony Blinken explicitly acknowledging at the Senate Foreign Relations Committee that "he also believed that President Trump was right in taking a tougher approach to China." There are no more China doves in Washington either. What once seemed impossible - a decoupling of the US and Chinese economies - is now discussed as something to be taken seriously.
The Biden administration also needs to approach the restructuring of its alliances through greater burden-sharing by diplomatic consultation instead of extortion, as we saw with Trump's approach toward South Korea and Japan. In contrast, Trump's unilateralism, his ideological and sometimes discriminatory approach to China, his lack of consistency and follow-through should be eschewed vigorously. Trump disenfranchised allies and potential partners with a lack of nuance, chaos within the White House, and ad hoc pronouncements that left allies out in the cold.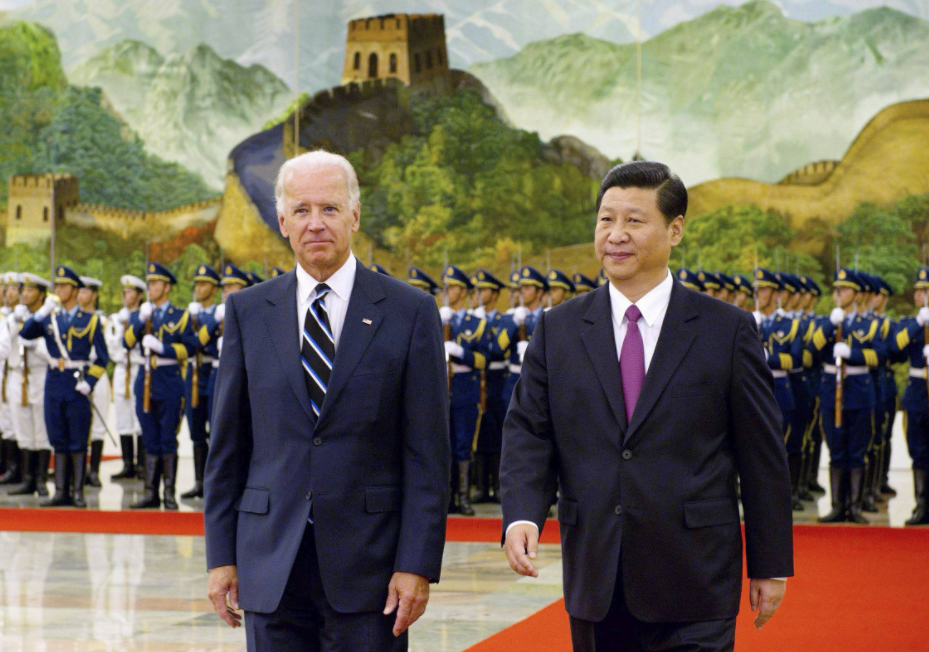 U.S. Vice President Joe Biden and his Chinese counterpart, Xi Jinping, attend a welcome ceremony in Beijing in August 2011. (Photo: Kyodo)
What to expect in Biden's China policy
So far, his tack consists of a more level-headed assessment of what the China challenge is and what it is not. Through critical appointments and a return to diplomatic relations and international commitments, Biden aims to re-calibrate the U.S.-China relationship into three areas: competition, cooperation, and "red lines," or rivalry. What is clear from Biden's appointments is that he values institutional experience, multilateralism, and a foreign policy that puts alliances front and center.
The selection of Antony Blinken as secretary of state nominee and Lauren Rosenberger, former National Security Council director for China and Korea in the Obama White House and former chief of staff for Blinken as then-deputy secretary of state, are equally important to Biden's message that his administration prioritizes alliances, multilateralism, and expertise.
Biden has constantly said that the US does not lead "by the example of its power, but by the power of its example." A good plan to revitalize America would make it hard. Biden on Friday laid out his plan to get emergency relief to American suffering in the coronavirus pandemic. After that, he explained, he will push Congress to pass another plan to invest in the American industry from technology to manufacturing. This kind of investment in the US economy and our people is the most important part of how the US takes aggressive, effective action to counter China.
Handbook
Yoga has recently become one of the best exercise methods that bring many health benefits to people, but it also requires a lot of technique and training to avoid injuries. There are several ways to practice it home, and will still help you achieve your goals.