European Scholars Discuss East Sea, Vietnam's Sovereignty over Seas and Islands
The "East Sea and the Sovereignty of Vietnam" conference was held recently in Paris, with the participation of many Vietnamese expats and foreign scholars.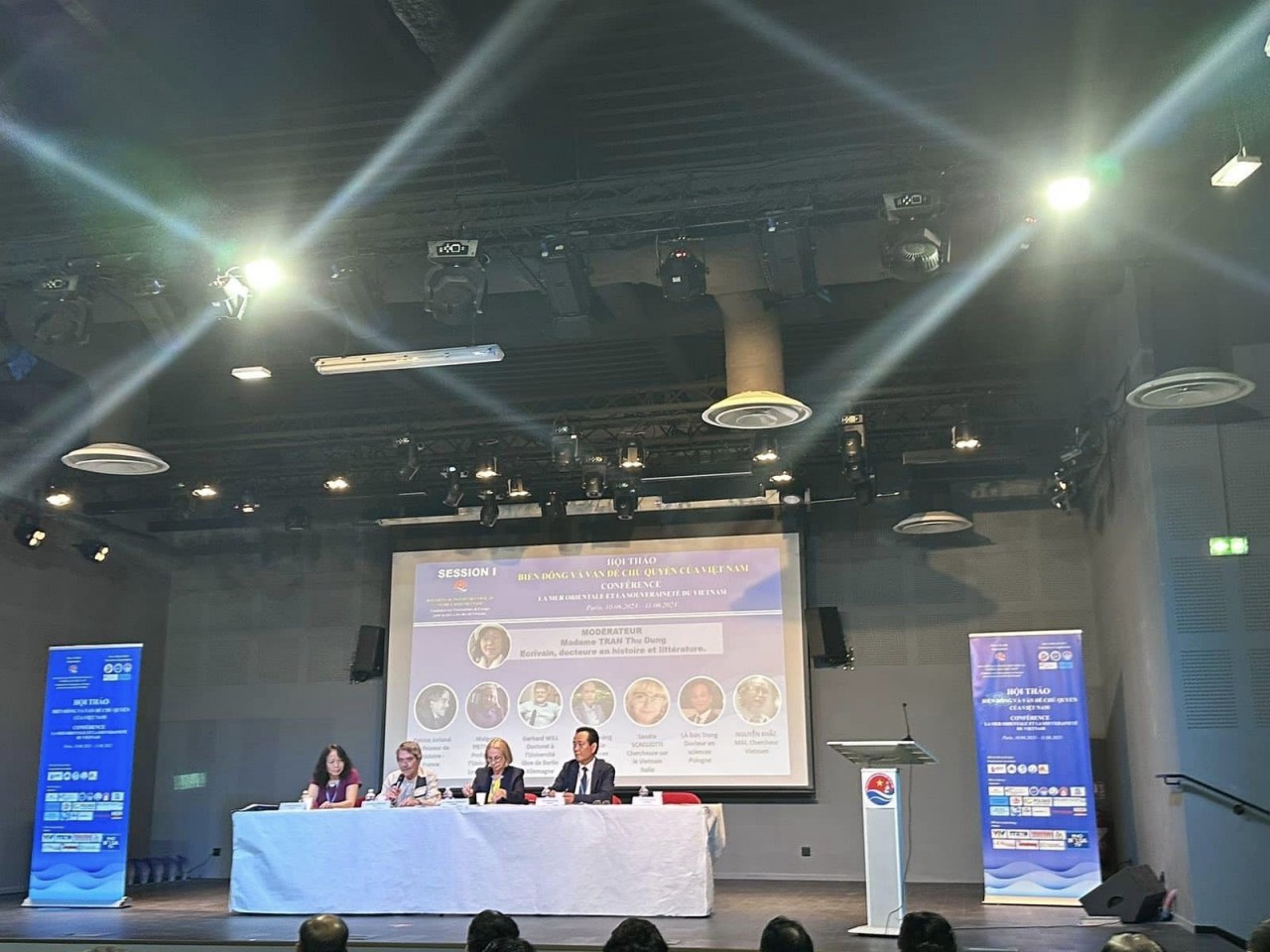 Speakers present speeches at the conference. Photo: Thu Ha
A conference themed "East Sea and the Sovereignty of Vietnam" was held in Paris last weekend, attracting the participation of many Vietnamese and foreign scholars, reported VNA.
Vietnamese Ambassador to France Dinh Toan Thang said this event is of great significance for overseas Vietnamese, especially those living in Europe, showing their affection and attachment to their homeland and their concern with major national issues.
Organized under the initiative of the Liaison Board of Overseas Vietnamese in Europe, the conference received 14 speeches from scholars, professors, doctors, and researchers on Asia and the East Sea, as well as economists and educators from European countries such as Poland, Germany, France, Italy, the Czech Republic and Ukraine, and Canada, and Vietnam.
The presentations mentioned many points of view on the East Sea and Vietnam's sovereignty over sea and islands, from historical, cultural, political, and legal perspectives. The situation in the East Sea, solutions to handle disputes and options for marine economic development were also discussed at the event.
History Professor Patrice Jorland, former president of the France-Vietnam Friendship Association, told Vietnam News Agency correspondents in Paris that Vietnam has sovereignty in the East Sea, and historical evidence shows that the country has asserted sovereignty over Truong Sa (Spratly) and Hoang Sa (Paracel) archipelagos since the end of the 18th century, under the Nguyen Dynasty.
The French professor also stressed that the parties concerned need to respect international law and that ASEAN, of which Vietnam is an active member, should strengthen solidarity, promote diplomatic efforts and negotiations, and avoid using force to settle disputes.
Malgorzata Pietrasiak, a professor at the University of Lodz in Poland and an expert on Vietnam, appreciated Vietnam's method of handling issues at sea, which she called the term "Hedgingowa" (roughly translated as "risk prevention").
According to her, this is a wise, flexible, and peaceful strategy, without tension, but also without concession. She said this method has affirmed the effectiveness of Vietnam's diplomacy in international politics.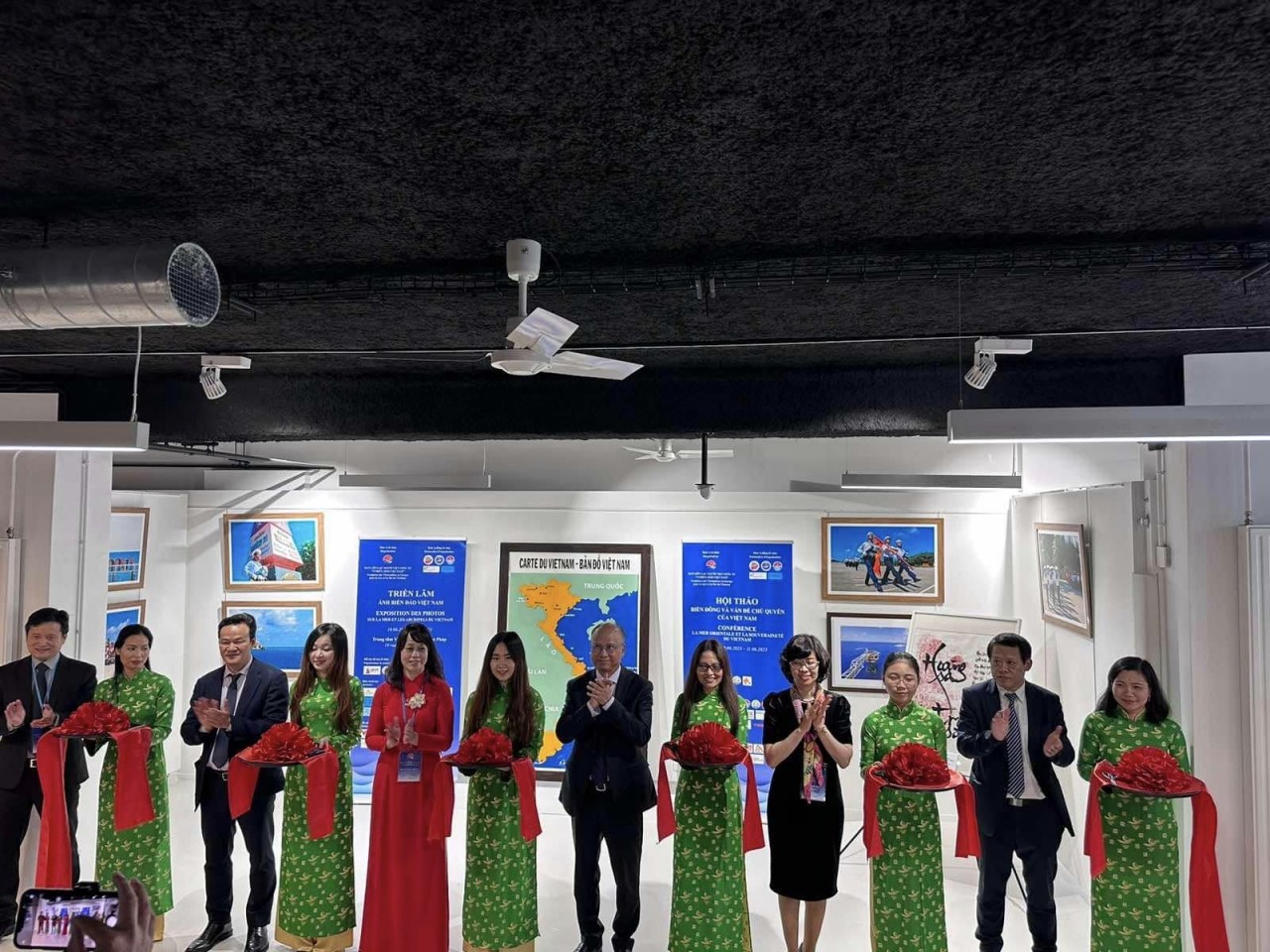 A meeting between expatriates who had visited Truong Sa (Spratly) was held together with an exhibition of photos and artifacts about the archipelago. Photo: Thu Ha
Currently present in Paris, disabled writer Tran Thi Tra My, despite having difficulty walking and speaking, also tried to attend. "The reason for attending the conference is because I am Vietnamese, I watch the news a lot and often learn about Hoang Sa and Truong Sa. Attending the forum, I got to know more opinions from guests about the situation in Vietnam, and listened to many good sharing articles by foreign scholars," she said.
According to Bui Thi Thu Minh, president of Truong Sa Club in Germany, the idea of organizing such a conference is great because the older generation like her usually only organize events to raise funds, but the young people had a good idea to host a conference so that they could connecting with Truong Sa.
"Therefore, activities like this will help connect, unite, and create strength. That's great and everyone should support so that every year we can hold forums like this in many other places, to spread the issue more widely to international friends," she emphasized.
Sea and sovereignty over sea and islands are always a matter of concern not only for Vietnam but also for all countries with maritime borders. With 14 presentations, the conference contributed to bringing to the public perspectives and initiatives to build and develop together on the basis of respecting each other's sovereignty and territory.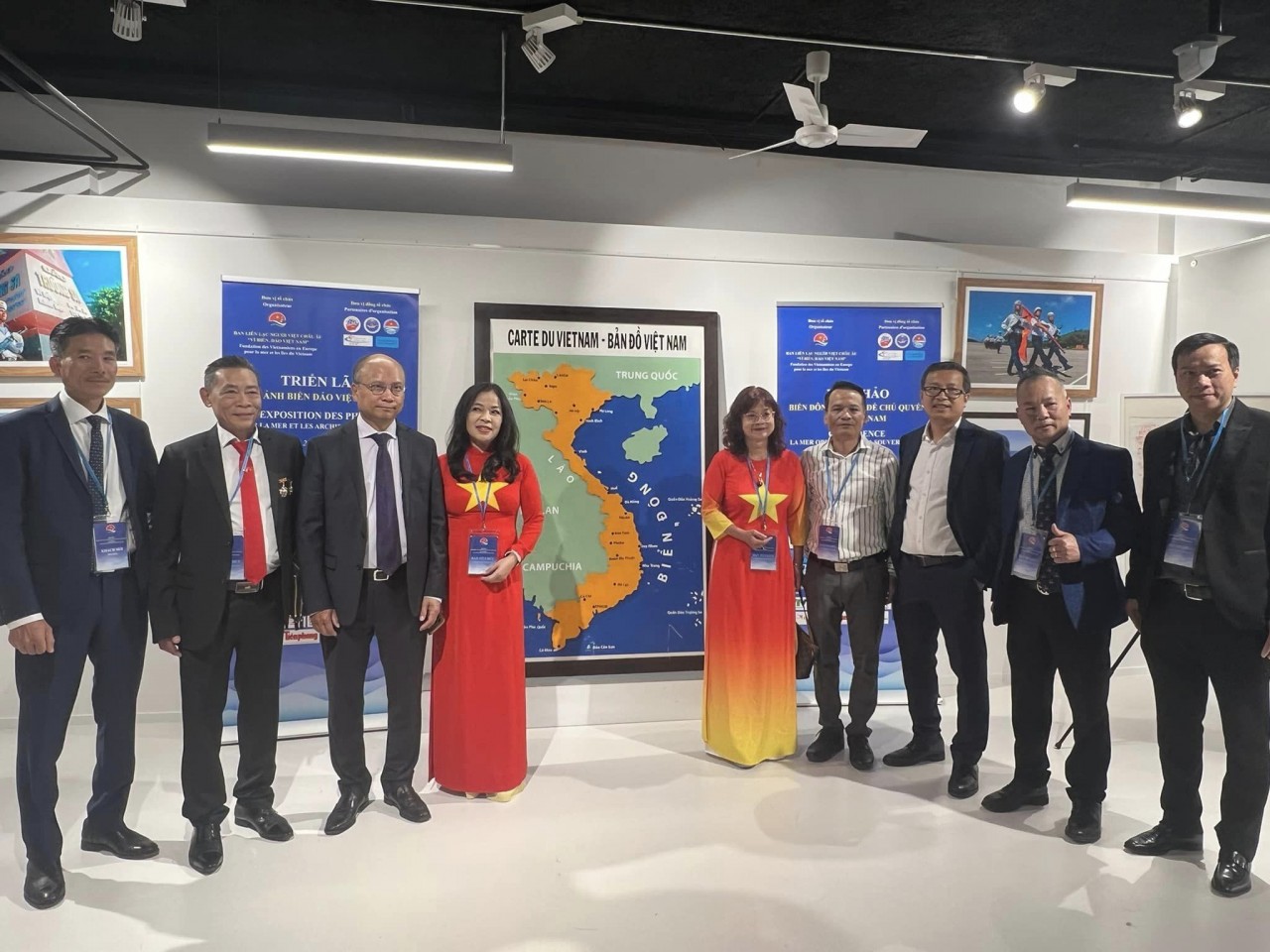 Vietnamese Ambassador to France Dinh Toan Thang and participants. Photo: Thu Ha
Last month, a workshop, organized by the France-based Institute for Applied Geopolitical Studies (EGA), was held at the headquarters of the French Senate in Paris to discuss the East Sea as a multidimensional space in the face of global challenges.
At the event, speakers called on France, the EU, and the world to bring into play their roles in settling differences and disputes in the region on the basis of international law and the 1982 UNCLOS and expanding cooperation frameworks in all fields for this region.