Ho Chi Minh City Department of Industry and Trade proposed spending VND188 billion to install solar panels for 157 public buildings in the city, with a total nominal power of approximately 9,400 kWp.
This proposal is a part of the Department's statement on Expanding pilot projects on installing solar energy systems on the roof of administrative headquarters in Ho Chi Minh city, which was submitted to the Ho Chi Minh City People's Committee.
The 157 public buildings listed by the Department include 107 administrative headquarters, 15 public hospitals, and 35 public schools. The proposal's implementation period is planned for four years, from 2021 to 2025.
According to the Department's calculation, the current solar panel investment costs range from VND 15- 25 million/kWp, with a payback period of five to nine years. For instance, an administrative unit with a total area of 200m2 can install solar panels with a peak power of 25 kWp and a total budget of VND 500 million ($22,000). The annual electricity produced is projected at 36,500 kWh, or VND 69 million. Considering that the electricity price for public administrative units is currently at VND1,920/kWh, the unit's payback period will be seven years.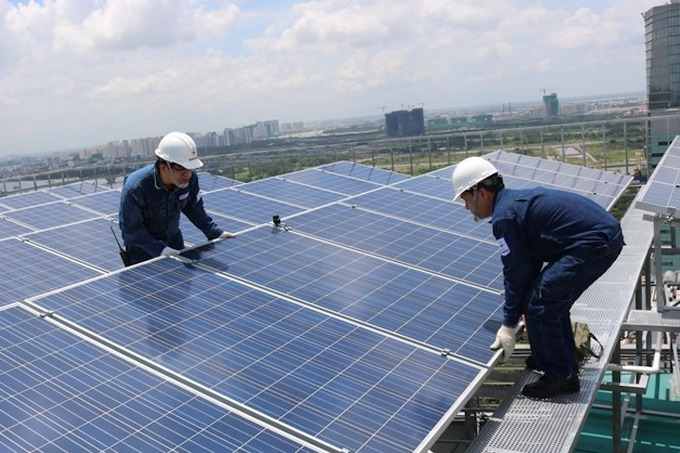 Photo: Installing solar panels / Ho Chi Minh City Power Corporation
The department said electrical consumption in Ho Chi Minh City accounted for 15% of the total electrical consumption in Vietnam and increased 7% on average in the period 2013 – 2019. Investing in solar energy will help to reduce the burdens on electrical sources and reduce greenhouse effects and Co2 emissions.
Ho Chi Minh city has been carrying out pilot projects on installing solar panels in various headquarters of the People's Committees at the district level. These projects have been proved to be cost-effective and environmentally friendly.
In 2017, Phu Nhuan District constructed a new headquarter for its People's Committee to replace the old, degraded building. A portion of the project's total budget of VND 137 billion (approximately $6 million) was spent on installing solar panels on the rooftop of the new building. The solar energy system has so far achieved a capacity of 90 kWp, creating on average 350-370 kWh of energy per day, or 11,000 kWh per month.
Completed in 2018 with a total budget of approximately VND1 billion ($43,000), the solar panel system of District 4's administrative center consists of 138 panels with a total area of 350m2. The system has a peak power of over 34 kWp, meeting 10% of the center's daily energy demand.
The People's Committee of District 12 installed 80 solar panels with a nominal power of 20 kWp. In 2019, the committee continued to install 188 solar panels with a peak power of 60 kWp. Altogether, these two systems can produce over 100,000 kWh of energy per year. As electricity costs over VND1,900/kWh, the committee can save over VND 192 million (approximately $8,300) annually on their power bill.
Photo: Solar panels installed at the People's Committee of District 12 / VN Express
Similarly, District 10 People's Committee's solar energy systems, one with a peak power of 10 kWp (funded by Ho Chi Minh City Department of Science and Technology) and the other with a capacity of 25.6 kWp (budgeted at VND700 million), have helped the committee to save VND4 million per month, accounting for 7.5% of the committee's power bill.
According to Ho Chi Minh City Power Corporation, solar panels have become increasingly popular since 2013. By 2020, the city had approximately 14,300 solar energy projects with a total capacity of more than 365 kWh. To install solar panels in all public agency offices, public hospitals, and public schools in the city, Ho Chi Minh city will need approximately VND 3,000 billion, or $130 million.