Binh Dinh Province, Japan Deepen Bilateral Relations
Joining hands to take care of social security and bringing Japanese culture to Binh Dinh province are practical actions, contribute to fostering diplomatic relations between the two countries.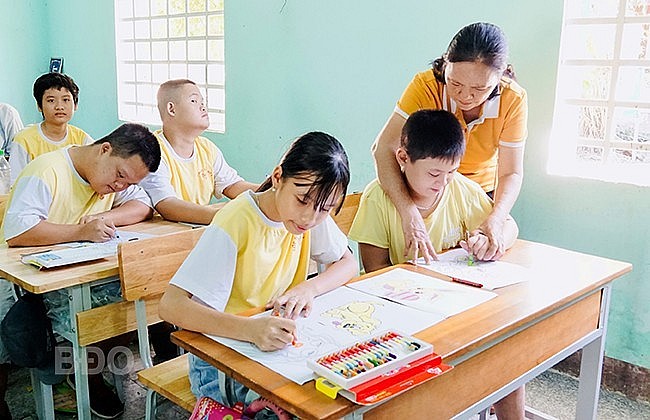 Students of Dream 1 class at Cat Trinh 2 Primary School (Phu Cat) paint pictures with their teacher during the Sunday class, on August 13, 2023. Photo: K.Anh
Light up your "dreams"
The Dream Classroom is part of a project to develop communication skills, social behavior and a sense of autonomy of disabled children exposed to Agent Orange organized by Professor Michio Umegaki (Keio University, Japan) in collaboration with the Red Cross of Binh Dinh province and Phu Cat district since September 2012. Even though it's only once a week, the Dream class sparked a lot of hope and smiles.
Currently, there are about 90 disabled people (the youngest is 7 years old, the oldest is 40 years old) suspected of being exposed to Agent Orange who is participating in the Dream class at 4 primary schools in Cat Trinh, Cat Thanh, Cat Minh and Cat Hanh communes (Phu Cat district).
Huynh Van Phung, who connected Professor Michio Umegaki with the Dream 1 class (the project's first class), said, "The project was initially only implemented for 2 years. However, with the noble heart of Professor Michio Umegaki, it continued and was expanded. The classroom is like a loving hug that pulls the children closer to normal life."
Ho Thi Hong Hanh, the mother of a 12-year-old daughter, said: "Since the day my daughter joined this class, she has been happy and her mood has softened.
She knows how to distinguish colors, choose colors to paint, and always count the days until she can go to class on the weekend. My family is happy about this."
Ha Van Cat, head of the Provincial Red Cross Society, assessed that the progress in communication and behavior of children with disabilities showed the positive effect of the Dream classes.
Professor Michio Umegaki committed to continue supporting the implementation of the program's phase 4 with the support of VND320 million (US$13,301), starting from September 2023 to August 2025.
Building bridges
The Center for Japanese Language and Culture (Quy Nhon University) was established in 2018. Due to the impact of the Covid-19 pandemic, from the end of 2022 until now, the center organized more activities for students.
They built and reorganized Japanese language learning, and contacted a number of consulting companies for interns, international students, and workers to restart the affiliate program and bring Vietnamese students to Japan.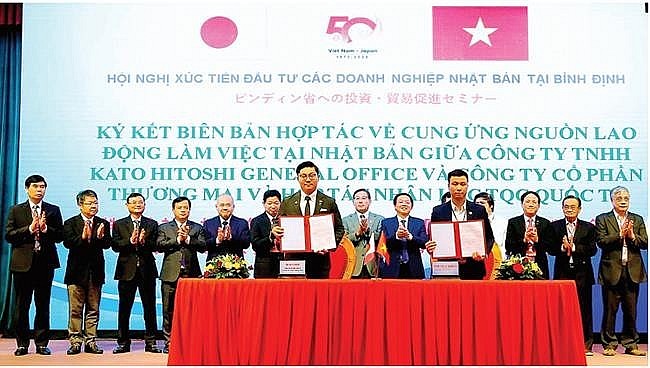 Within the framework of the Binh Dinh-Japan event in 2023, PISICO HR Company Limited signed a labor supply contract under the technical program with TMJ KyouDou Kumiai Union. Photo: Tien Sy
Dr. Vo Minh Hai, head of the center, spoke highly of the project.
"We are advising the school and related units to deploy programs and activities to make the center become an intermediary unit connecting with Japanese enterprises, and supporting researchers. Vietnam approaches Japanese researchers, projects, and support funds to cooperate in researching aspects related to culture and language in the relationship between the two countries, especially the exchanges between Japan and Binh Dinh province."
Connecting Binh Dinh - Izumisano
In October 2019, the People's Committee of Binh Dinh Province and the government of Izumisano City (Osaka, Japan) signed an agreement to establish friendly and cooperative relations.
In early June 2023, the provincial working group led by the Head of the Provincial People's Committee Pham Anh Tuan visited and worked in Izumisano City, aiming for comprehensive cooperation in many fields.
After that, a group of 16 teachers, students, and a group of 4 athletes from Izumisano city went to Binh Dinh to exchange from July 31 to August 4, 2023.