Binh Dinh Signed MoU on Cooperation with VKBIA
On November 3, in Gangnam (South Korea), Binh Dinh People's Committee and Vietnam - Korea Businessmen and Investment Association (VKBIA) in coordination with the Vietnamese Embassy in South Korea organized a conference on investment promotion and local cooperation in South Korea.
The conference attracted more than 100 delegates.
The conference attracted more than 100 delegates who are leaders of big investment funds, corporations, and enterprises in many fields such as finance and banking, green energy, green industry, construction and development smart cities, industry 4.0, science and technology, high-tech agriculture, and manufacturing of South Korea.
Chairman of Binh Dinh People's Council Ho Quoc Dung said that the province has an important strategic position in regional connectivity and international exchanges. The province is located at the midpoint of the North-South road and railway traffic axis, and is also the closest and most convenient gateway to the South China Sea of the Central Highlands, connecting with Southern Laos, Northeast Thailand, and Cambodia.
In particular, Binh Dinh is one of the most important transit for goods, seaports, and logistics services in the country. The province has a coastline stretching up to 134 km with many beautiful landscapes and has a rich history and culture. Quy Nhon, a growth pole of the region, is a center of logistics, trade, tourism, entertainment, education and training, finance, banking and specialized healthcare, meeting all needs according to international standards.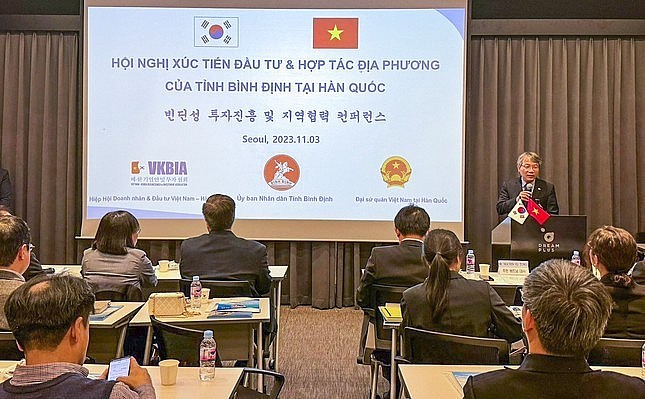 Vietnamese Ambassador to South Korea Nguyen Vu Tung.
In addition, Binh Dinh has been focusing on planning, construction, expansion, and investment in technical infrastructure of industrial zones and clusters, ready to attract investment. In particular, Binh Dinh has abundant human resources, highly skilled and technical, especially human resources in science and technology. The locality also always strives to improve preferential policies, attract investment, and meet the requirements of foreign investors.
At the Conference, Vietnamese Ambassador to South Korea Nguyen Vu Tung affirmed that cooperation between Korea and Vietnam in general and Vietnamese localities in particular is developing positively. The two countries' leaders officially signed and upgraded the bilateral relationship to a Comprehensive Strategic Partnership at the end of 2022. This is a historical milestone, opening a new, stronger and more substantive period of development for the two countries' relations. Vietnam and South Korea have become each other's most important partners in many fields. In particular, cooperation in economics, trade and investment is both the pillar and the driving force to promote cooperation between the two countries.
Ambassador Nguyen Vu Tung also expressed his belief that with the support of VKBIA and the companionship of the Embassy, in the coming time, South Korean businesses and investors will come to Binh Dinh to survey, research the investment and business environment, to see a province in the central coast of Vietnam has been having stronger aspirations and prospects for development.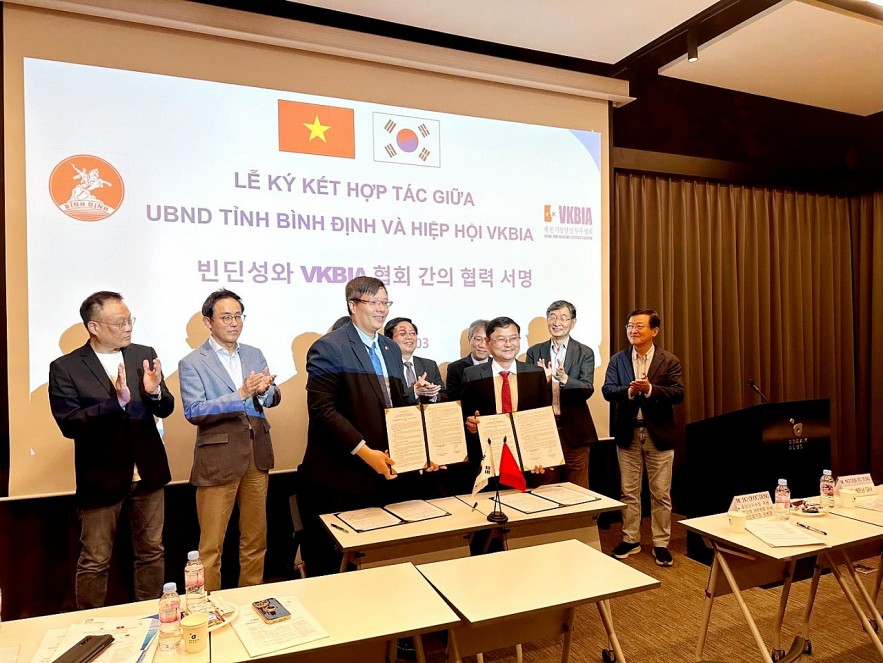 Two sides signed an MoU on cooperation.
At the conference, the People's Committee of Binh Dinh signed a memorandum of understanding (MoU) on cooperation with VKBIA. The MoU is to support investment funds, corporations, businesses, and Korean organizations to survey and seek opportunities for investment and business cooperation in Binh Dinh province. At the same time, Binh Dinh will coordinate and support South Korean businesses as well as businesses in Binh Dinh with export and import needs to access each side's markets.
The two sides agreed to support the business community to take advantage of the Vietnam - Korea Free Trade Agreement (VKFTA), to promote the implementation of VKFTA's commitments. To create conditions for cooperation and connection in investment and trade, the two sides will actively coordinate to organize many conferences, seminars, and discussions between investment funds, corporations, businesses, and organizations; cooperate in conducting surveys, data collection, and in-depth analysis of market needs of Binh Dinh province and South Korean localities.
At the Conference, 7 Korean businesses gave 7 discourses on many fields that Binh Dinh wants to attract investment. At the same time, an open discussion between the entire conference and Binh Dinh was held. Investment funds, banking and financial corporations, and businesses in South Korea expressed their desire to continue promoting cooperation with Vietnam in general and Binh Dinh in particular, affirming that the continued companionship of VKBIA in this process is extremely important and useful, going into practical effectiveness.
VKBIA Chairman Tran Hai Linh affirmed that he will continue to accompany and maintain information exchange and close coordination between both sides so that cooperation between Binh Dinh and South Korean localities, agencies, organizations, corporations, and businesses will continue to be strengthened more strongly shortly, bringing into practical effectiveness.