South Korean businesses express deresire to be loosened quarantine as moving to Vietnam for work
Enterprises proposed the Government to apply a flexible policy of isolation for Korean experts and businessmen to Vietnam.
This proposal was given at the first dialogue held between the Public Administrative Reform Advisory Council of the Prime Minister and Korean businesses on the afternoon of July 17.
Mr. Park Noh Wan - South Korean Ambassador to Vietnam said that recently 4,300 Korean experts and businessmen were allowed to enter Vietnam, complying with the regulations on quarantine isolation and this number would increase in the near future. Mr. Park suggested that the Government of Vietnam consider a more flexible isolation time with Korean experts and businesses.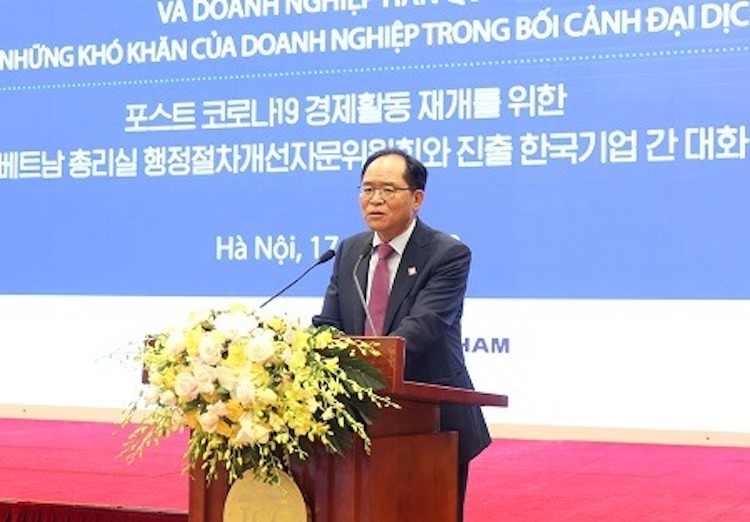 South Korean Ambassador to Vietnam - Mr. Park Noh Wan. Photo: VGP
The representative of the South Korean Business Association in Vietnam (Korcham) said that currently, entrepreneurs had spent a significant amount of money and time for isolation. They would already take a total of one month of isolation (2 weeks in South Korea, 2 weeks in Vietnam), which restricts the working exchange. While running a project, experts are indispensable for businesses.
South Korea is taking measures allowing foreigners to enter without requiring mandatory isolation time if being issued the self-isolation document from the Consulate. Therefore, Korcham recommends that Vietnam adjust the quarantine period, noting some special cases of isolation exemption with Korean experts and businessmen.
According to Korcham, non-quarantine cases include short-term tasks (for example, working within 15 days), entry for important jobs such as business investment and contracting, those who are tested negative after the initial entry.
"Flexible isolation measures will trigger South Korean experts to support smoothly projects and businesses in Vietnam," said Korcham representative.
Proving this, Mr. Park Noh Wan called out relevant ministries and agencies of Vietnam and the Korean Embassy to establish a working group with a view to provoking the normalization of peoples' exchange.
Also at the meeting, Samsung Vietnam General Director Choi Joo Ho proposed the airline brands, including Vietnam Airlines, to boost cargo handling throughout the pandemic.
According to Choi Joo Ho, logistics and aviation industries suffered significant losses from international commercial flight suspension because of the Covid-19 outbreak. During this time, VietnamAirlines and other airlines may transfer some passenger aircraft to temporary cargo. This, according to Mr. Choi, will help offset the revenue gap during the pandemic, overcoming difficulties not only for aviation but also for logistics.
In fact, taking advantage of passenger aircraft to transport cargo during the season has been carried out by airlines since March. Particularly, Vietnam Airlines has opened many pure cargo flights, without passengers and flight attendants from Hanoi, Ho Chi Minh City to some countries such as Japan, South Korea, Singapore, Malaysia ...
But according to Choi Joo Ho, the airline should broaden cargo flight routes to Europe, especially when commercial routes to this continent cannot be exploited again.
In addition, the South Korean Ambassador to Vietnam asked the Government of Vietnam to support their businesses in administrative procedures, affecting the expansion of South Korean investment in Vietnam.
Under the recommendations of Korean businesses, the Minister and Chairman of the Government Office Mai Tien Dung said that Vietnam committed to cooperate with other countries, international and regional organizations to address common challenges, for example coordinating to overcome Covid-19.
Mr. Mai Tien Dung said that the Government has taken many measures to support Vietnamese enterprises and foreign enterprises operating in Vietnam facing difficulties due to Covid-19.
For instance, 239 business conditions were reduced by the Vietnamese Government in the first half of the year, in order to ease struggles for businesses; reduction of 6,776 lists of goods subject to specialized inspection and 1/4 of administrative procedures related to specialized inspection. At the same time, it reformed specialized inspection based on the customs is the focal point at the border or the specialized management post-inspection.
South Korea is currently the fifth largest investor in the first half of 2020 in Vietnam with a total capital of nearly 545 million USD. Currently, Korean businesses own more than 8,000 investment projects in Vietnam, contributing 30% of total export value and more than 700,000 jobs in many localities.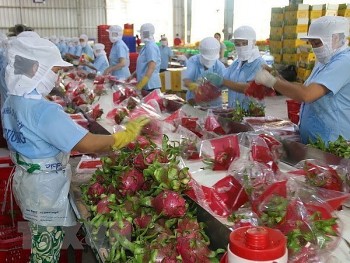 Make in Vietnam
Denmark and Vietnam strengthen cooperation in production, certification and management of organic products