Blooming Rosy Trumpet Trees Beautify HCM City Streets
Rosy trumpet trees bloomed early this year along several streets in Ho Chi Minh City (HCMC), brightening the streets with their beautiful pink blossoms. Travelers who visit Ho Chi Minh City these days can see the pink tint of the rosy trumpets on the sidewalks.
Every year, between March and April, when the weather starts to get hotter, the rosy trumpet trees begin to bloom. Rosy trumpet trees are an indispensable part of people's life in HCMC in summer. When walking on the streets, and seeing rosy trumpets blooming, people know that summer has come.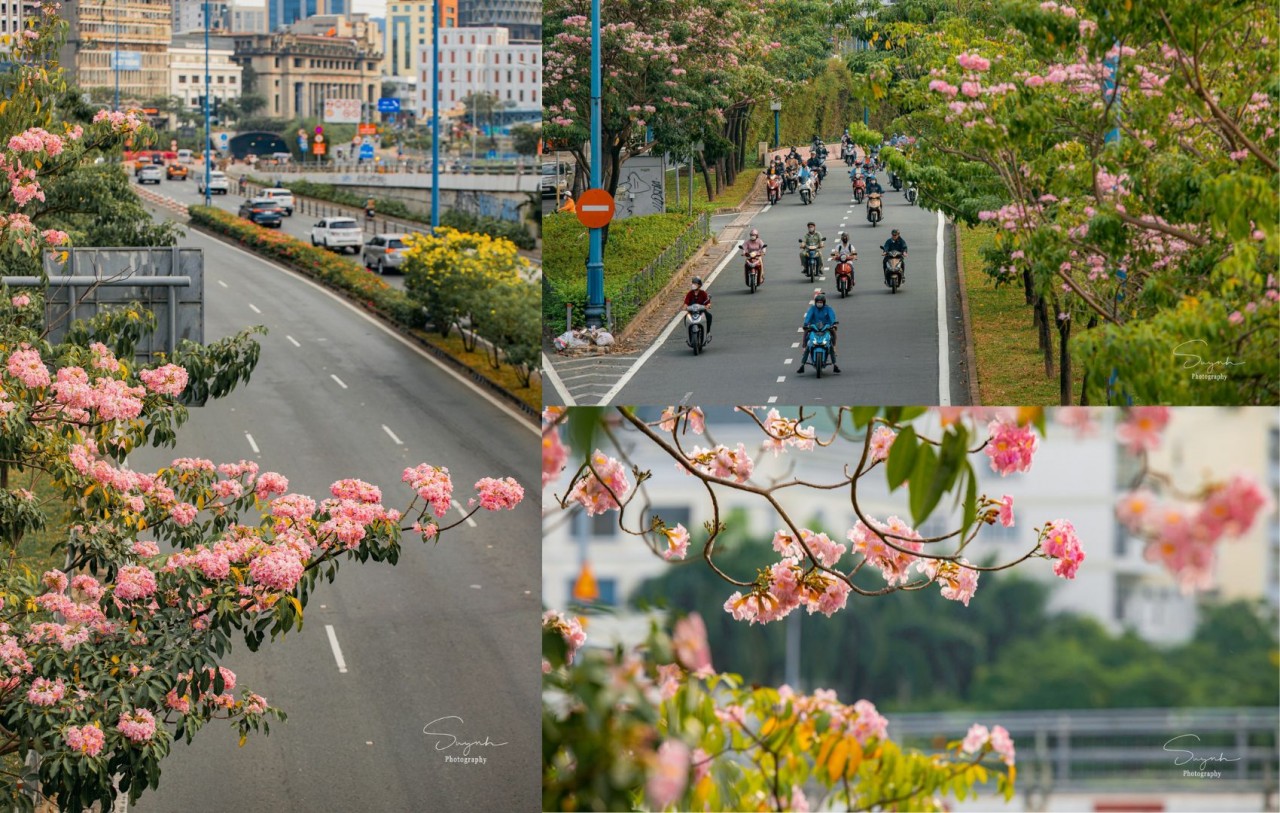 Photo: Huynh Phuoc Sang/ Facebook
This year, the rosy trumpet bloomed earlier than in previous years. Since the end of January, the pink color of Saigon's trumpet flowers has covered all the streets. That pink color is as beautiful as the cherry-like apricot blossoms in Da Lat.
Romantic roads
Originating in America, rosy trumpet flowers often bloom in groups of five to ten. The blooming period lasts from early April through June. The flowers will be a light purple-pink color when they first bloom.
When the plant is flowering, most leaves fall from its branches, leaving just clusters of pink, trumpet-shaped flowers.
The flowers will turn a soft pink color just before they wither. Therefore, the plant is compared to the Vietnamese version of cherry blossoms.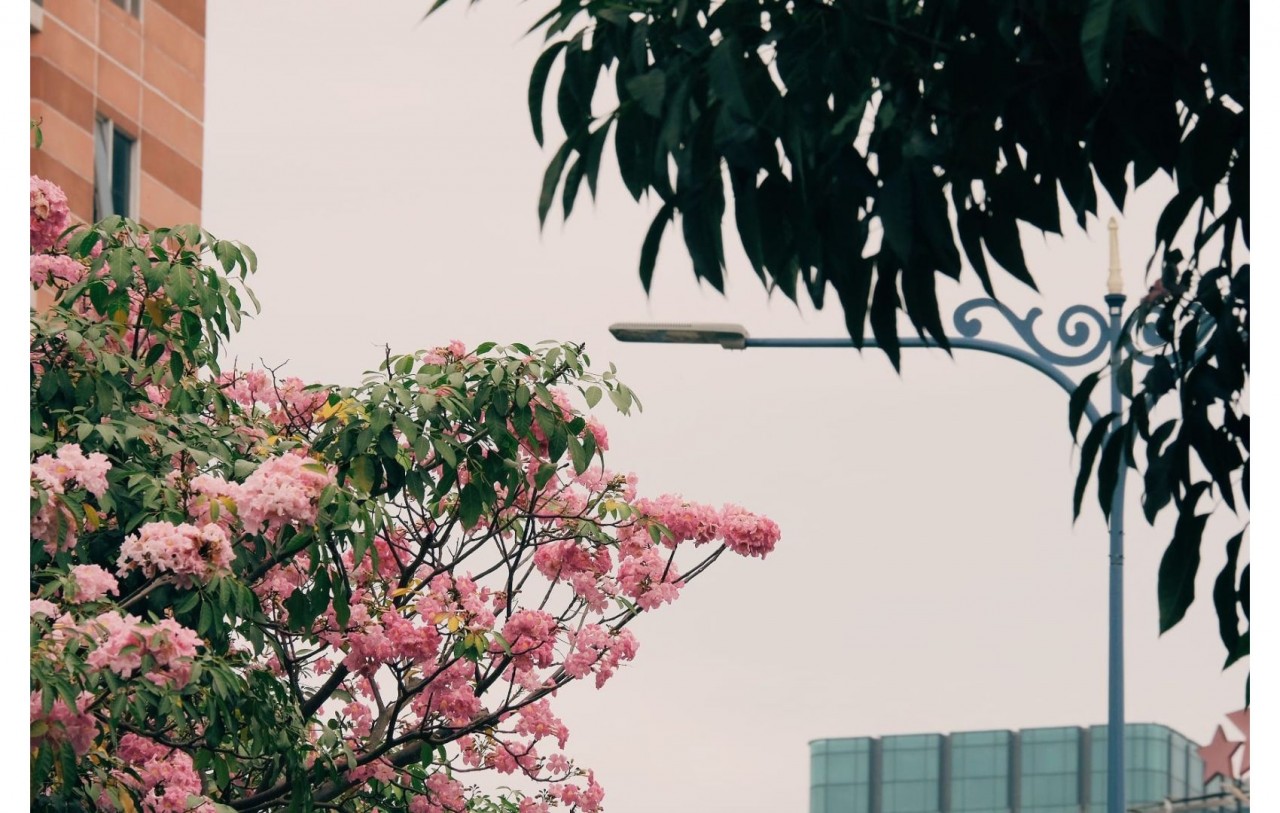 Photo: Thanh Dat Phan/ Facebook
Rosy trumpet trees can grow in the region's hot weather and dry soil, so they were imported into and planted in HCMC in 2009 as part of a beautification effort.
The rosy trumpet blossoms add a distinct poetic beauty to the city's streets, transforming ordinary streets into romantic ones.
Photo: My Linh, Bui QuynhAnh/ Facebook
Admiring flowers and taking photos in HCMC
In HCMC, the blooming trees can be easily spotted on such streets as Dien Bien Phu in Binh Thanh District, Vo Thi Sau in District 3, Vo Van Kiet in District 1, Ham Nghi in District 1, etc. The pinkish flowers of the rosy trumpet trees are set against the blue background of the sky in Ho Chi Minh City, creating a mesmerizing scene.
The best time to photograph rosy trumpet flowers is in the morning when the sun is still soft and the flowers are at their brightest.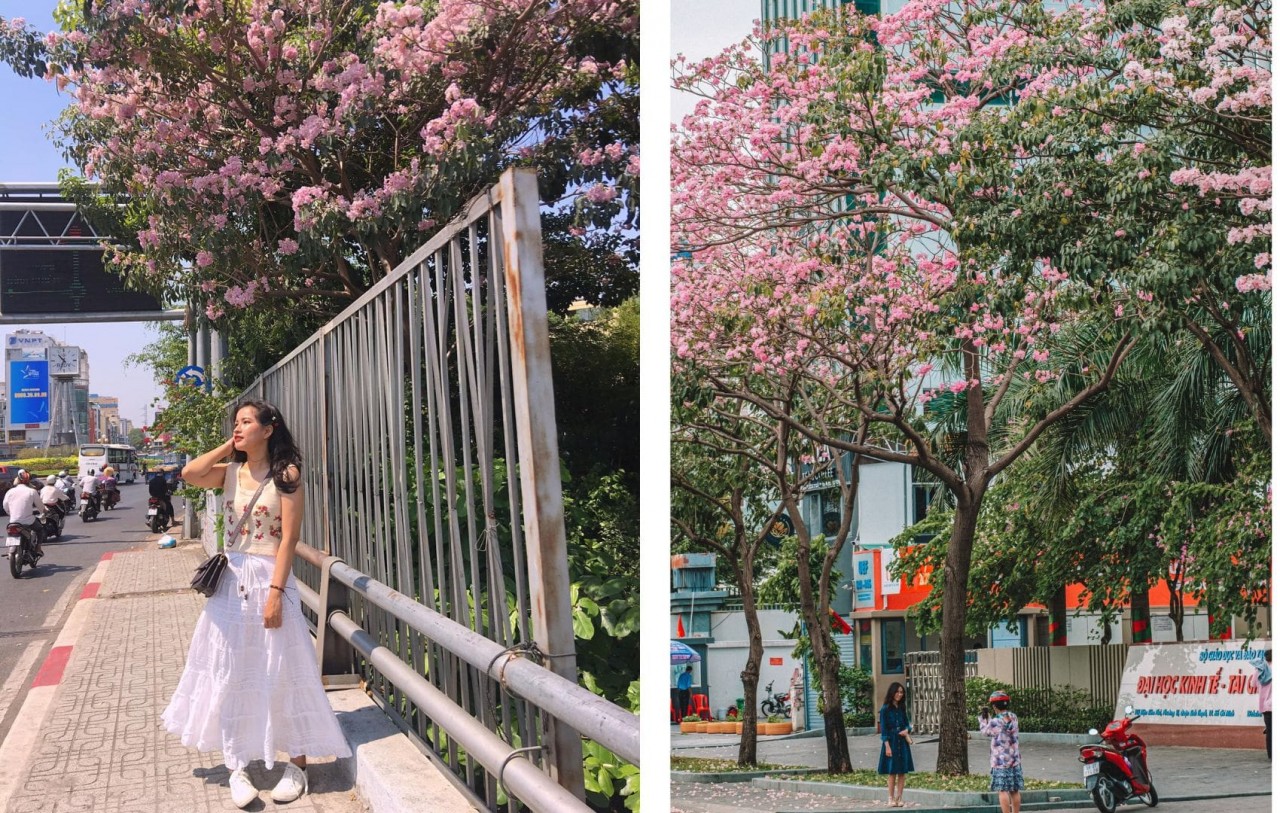 Photo: Nguyen May, Dang Le Thien Kim/ Facebook
People can feel happier and more at ease in their hearts by standing in a corner in the early morning or late afternoon and admiring the flower's sway beneath the sun's rays.
Rose trumpet trees have become one of the symbols of HCMC in the minds of locals.
A Hanoian Autumn Appears in HCMC Park

The rows of deciduous trees at the Truong Sa embankment (District 3, Ho Chi Minh City) are attracting attention on social media. The intertwined colors ...
Tourist Share Impressions of Vietnam

An increasing number of foreign MICE (Meeting, Incentive Travel, Conferences and Exhibitions) tourists is coming to Vietnam over the past year. This special group of ...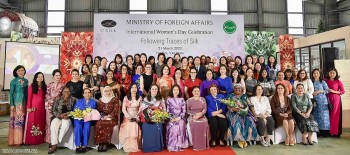 Friendship
Female ambassadors, representatives from diplomatic corps and international organizations, along with spouses of diplomats in Vietnam gathered together to find about more about silk weaving and silk products in Vietnam.