Blue Origin Launch: Jeff Bezos and Crew Complete Successful Space Flight
Billionaire Amazon founder Jeff Bezos and his Blue Origin rocket crew made history on July 20 after blasting off from the West Texas desert, reaching space and returning to Earth in a smooth parachute landing minutes later.
Jeff Bezos leaves the capsule of the New Shepard craft after its flight on July 20. Photo: Blue Origin/AFP/Getty
The world's richest man has fulfilled a boyhood dream and ending a long series of delays for his private space company.
He and three others were propelled to a height of 107km, 7km above the internationally recognised boundary of space, in a 60ft rocket built by Blue Origin, Financial Times said.
They experienced about three minutes of weightlessness and views of the Earth through giant portholes the company had called the "largest windows in space" before their capsule drifted back to the desert for a soft landing under three parachutes.
Bezos, who has faced criticism for spending billions of dollars on his personal jaunt into space, dismissed claims that he was turning his back on more serious issues. Blue Origin was set up to "build a road to space" that would take pressure off terrestrial development, he said after the flight. "We need to do that to solve the problems here on Earth. This is not about escaping Earth."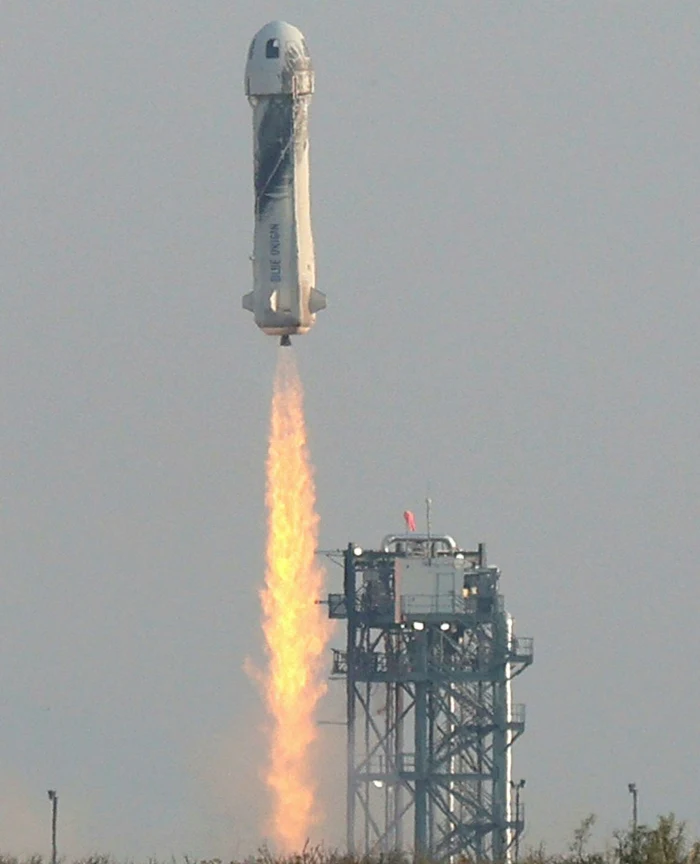 The New Shepard lifts off from a site near Van Horn, Texas. Photo: Joe Raedle/Getty
He also thanked "every Amazon employee, and every Amazon customer, because you guys paid for all this".
Bezos has said that development in space will eventually ease the burdens on the planet, claiming: "All polluting industry will move off Earth, and Earth will end up zoned residential."
The 10-minute excursion marked the launch of Blue Origin's suborbital space tourism business and the biggest step yet in Bezos's plan to turn humanity into a space-borne civilisation.
The trip follows years of slow progress that have consumed billions of dollars of his personal fortune, and comes two weeks after the 57-year-old stepped aside as chief executive of Amazon to free himself for personal interests. Bezos said he planned to split his time in future between Blue Origin and his philanthropic foundation, bringing more focus to his space venture — though he suggested other new interests might also draw his attention.
Lucrative business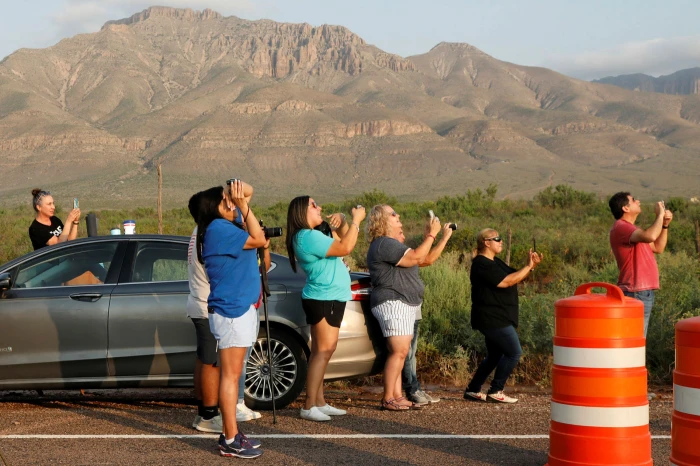 Spectators film the launch on their phones. Photo: Reuters
USA Today said July 20's flight marked the 52nd anniversary of the Apollo 11 moon landing. Bezos launched a much quicker trip to space in what the world's richest man hopes will be a lucrative business. Blue Origin employs thousands across several states and campuses. Competitor Richard Branson's Virgin Galactic has more than 800 employees. A ticket to space can cost $200,000 or more.
Bezos said Blue Origin plans two more flights this year, and sales of private seats on his flights are approaching $100 million.
Branson and his crew hurtled historically to the edge of space last week. Bezos and his team said they breached it.
It's the 16th flight for New Shepard but the first to include people. Bezos and Blue Origin have been somewhat dismissive of Branson's flight nine days ago, saying Virgin Galactic's top altitude of 53.5 miles came up short of reaching true space.
Space travel more accessible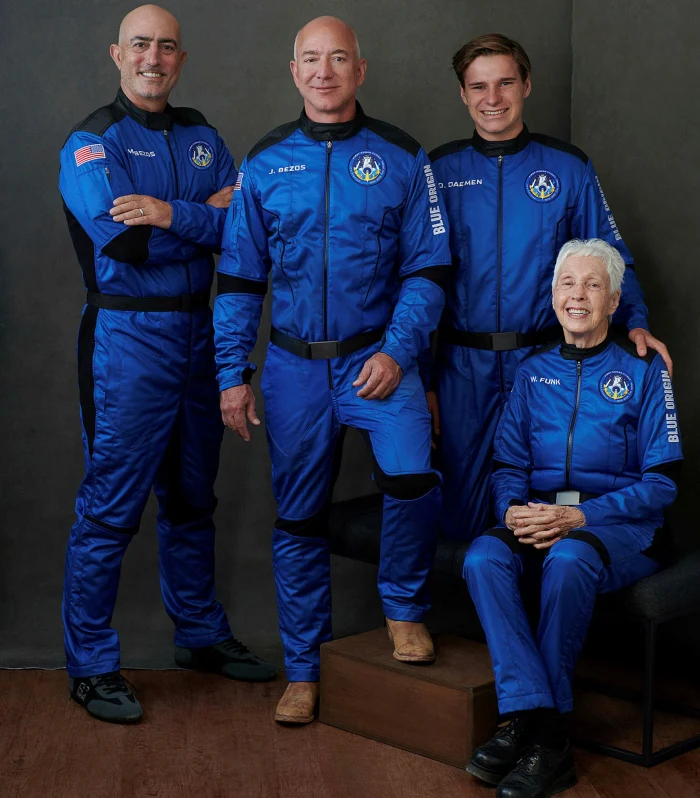 From left: Mark Bezos, Jeff Bezos, Oliver Daemen and Wally Funk before their flight. Photo: BLUE ORIGIN/AFP via Getty Images
Former NASA astronaut Leland Melvin said that he thinks Blue Origin spaceflight can help inspire more civilians to go to space.
"I think if more people can see the type of technology that's been applied to this, autonomous rockets that are taking off and landing, we have a whole spectrum of people that are going to be thinking 'hey, one day I may start my own company and build my own rocket.' And maybe that's a kid from a ZIP code that doesn't usually get a chance to do some of these things. And so seeing this access and opportunity and belief that anything is possible for all kids," Melvin said to CNN's Ana Cabrera.
Melvin said having a capsule and rocket that are reusable is a "game-changer."
"I think this is going to be making space more affordable. The price point will come down for more tourists to be able to go to space," he said.
Launch of a new era or flights of fancy?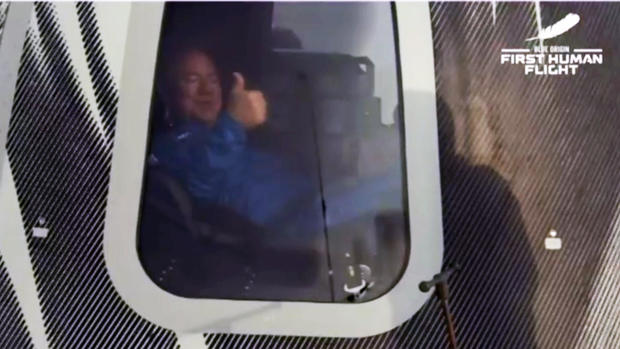 Jeff Bezos gives a thumbs-up inside the crew capsule moments after landing. Photo: BLUE ORIGIN
NASA, the Air Force, the Federal Aviation Administration and some astrophysicists consider the boundary between the atmosphere and space to begin 50 miles up. Thus passengers on Virgin Galactic tourist trips, which can reach a maximum altitude of about 55 miles, will earn astronaut wings.
New Shepard flew about 66 miles up. That's past the so-called Karman line, 62 miles above Earth, recognized by most international aviation and aerospace federations as the threshold of space.
"Only 4% of the world recognizes a lower limit of 80 km or 50 miles as the beginning of space," Blue Origin tweeted before Branson's flight. "New Shepard flies above both boundaries. One of the many benefits of flying with Blue Origin."
Despite the competition, Blue Origin and Bezos posted a congratulatory message on social media after Branson landed. On July 19, Branson followed suit.
"Well done Blue Origin, Jeff Bezos, Mark, Wally, and Oliver. Impressive!," Branson said via Twitter after touchdown. "Very best to all the crew from me and all the team at Virgin Galactic."/.