Book on Vietnam-Thailand Trade, Investment Released in Bangkok
A book featuring the Vietnam-Thailand enhanced strategic partnership was released at a ceremony in Bangkok on January 14.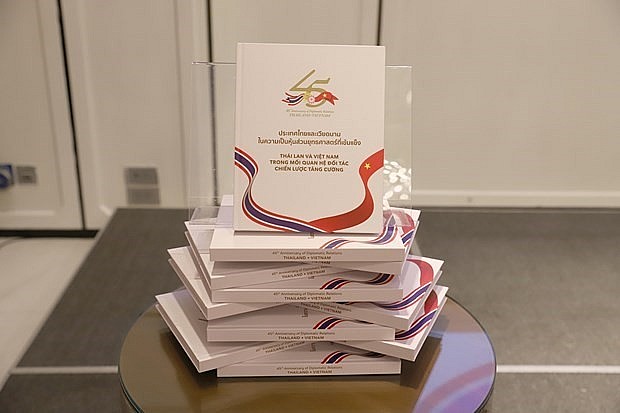 The book on Vietnam-Thailand trade and investment was released in Bangkok. (Photo: VNA)
The book was jointly compiled by the Commercial Affairs Office at the Vietnamese Embassy in Thailand and the Thailand-Vietnam Business Council.
In his remarks at the ceremony, Sanan Angubolkul, Chairman of the Thai Chamber of Commerce, said Thailand has now become Vietnam's biggest partner in the Association of Southeast Asian Nations (ASEAN).
"I am confident that we will not only continue to be productive in our partnership, but we will take our relationship to new heights of progress, development, and the achievement of the goals we have set before us," said Sanan, who is also Chairman of the Thailand – Vietnam Business Council and Chairman of the Thailand – Vietnam Friendship Association.
For his part, the Vietnamese Ambassador to Thailand Phan Chi Thanh said 2021 was an important milestone celebrating the 45th founding anniversary of the diplomatic relations between the two countries.
In the long and comprehensive establishment, the two countries have achieved many successes in three key pillars: political-security, economic, and socio-culture on the firm basis of the enhanced strategic partnership, he said.
In terms of economic cooperation, Vietnam-Thailand is among a few success stories in the region and beyond, celebrating blooming cooperation in the past decades, according to the diplomat.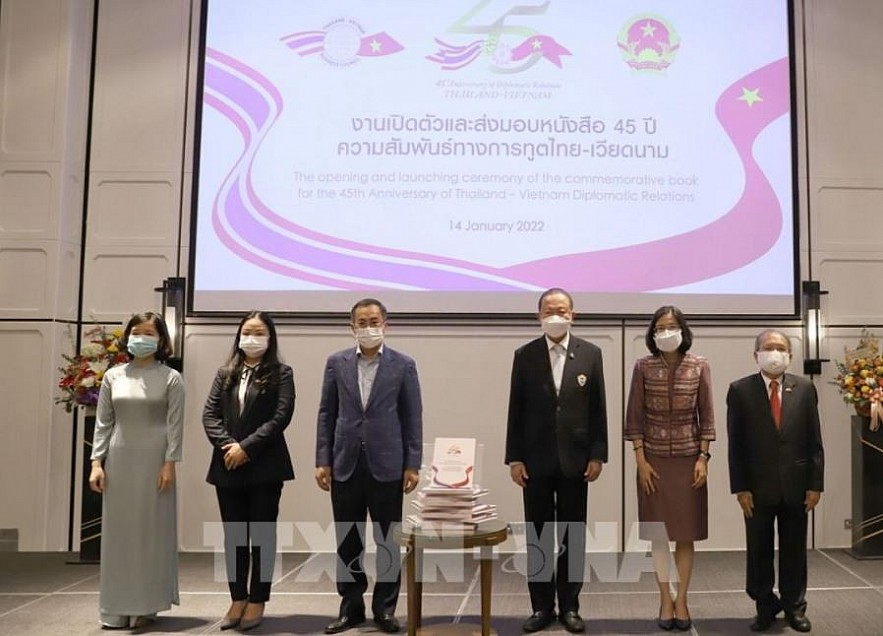 Delegates at the launching ceremony (Photo: VNA)
Thailand is Vietnam's largest trading partner in ASEAN and the ninth-largest FDI investor, while Vietnam is Thailand's fifth-largest trading partner in the world.
The two countries are also members of many international trade agreements such as the Regional Comprehensive Economic Partnership (RCEP), the ASEAN Trade in Goods Agreement (ATIGA), and the ASEAN Free Trade Area (AFTA).
These strong foundations helped pave the way to further strengthen economic cooperation, allowing businesses to explore various trade and investment opportunities.
"I believe that with strong determination and joint efforts, Vietnam and Thailand will complete the target of 25 billion USD in two-way trade in 2025," the ambassador said.
Vietnamese Trade Counsellor in Thailand Tran Thi Thanh My told the Vietnam News Agency (VNA)'s correspondents that the book would serve as a useful reference for businesses and readers who are looking for cooperation opportunities in the two countries.
Vietnam-Thailand: 45 Years of Cooperation

The results of bilateral cooperation between Vietnam and Thailand are thanks to the common background of the two countries, political trust, close economic connectivity and ...
VNA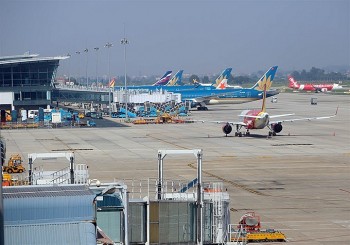 National
Vietnam News Today (May 20): Vietnam eyes 15-day visa exemption from Russia; Vietnam tops medal tally, exceeding gold medal target at SEA Games 31; HCM City, Cuba bolster co-operation in diplomacy, youth and cultural exchanges; Various activities held to mark President Ho Chi Minh's birthday.