Celebrating the 45th Anniversary of Vietnam-Thailand Diplomatic Ties
On the special occasion of Thailand's National Day, here are the highlights Vietnam - Thailand diplomatic ties (1976 - 2021) celebrations.
This year marked the 45th anniversary of Vietnam - Thailand diplomatic relations. The two countries organized special events throughout the year, from a tree planting event to a gala night, taking places in many cities like Hanoi, Ho Chi Minh City (Vietnam) and Nakhon Phanom (Thailand).
The major events took place from Nov. 3 to Nov. 5 to celebrate Thailand's National Day, also known as King Bhumibol Adulyadej's birthday.
A Vietnam - Thai blood ties
The Department of External Affairs of Ho Chi Minh City in collaboration with the municipal Ho Chi Minh Communist Youth Union and the Thai Consulate General in Vietnam on Dec. 4 organized a blood donation event on the occasion of the 45th anniversary of the establishment of Thailand-Vietnam diplomatic relations (1976-2021). It was also a tribute to the late Thai King Bhumibol Adulayadej.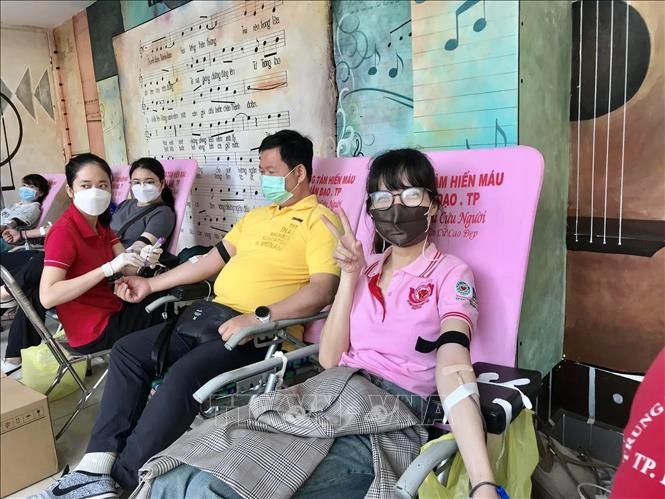 Volunteers at the blood donation event. Photo: VOV
Since May 2019, the Thai Consulate-General in HCM City and partners have organized four blood donation drives with 647 blood units to help Vietnamese patients.
Natthapol Na Songkhla, Thailand's acting consul general in HCM City, said the event wiould contribute to easing the blood shortage in the city, especially when the wave of COVID-19 outbreaks have resulted in a rising demand for blood from medical facilities.
The donation drive would help strengthen not only people-to-people relations but also the strategic partnership between Thailand and Vietnam, he said.
The event attracted 290 participants and approximately 418 units of blood were collected, Vietnamplus reported.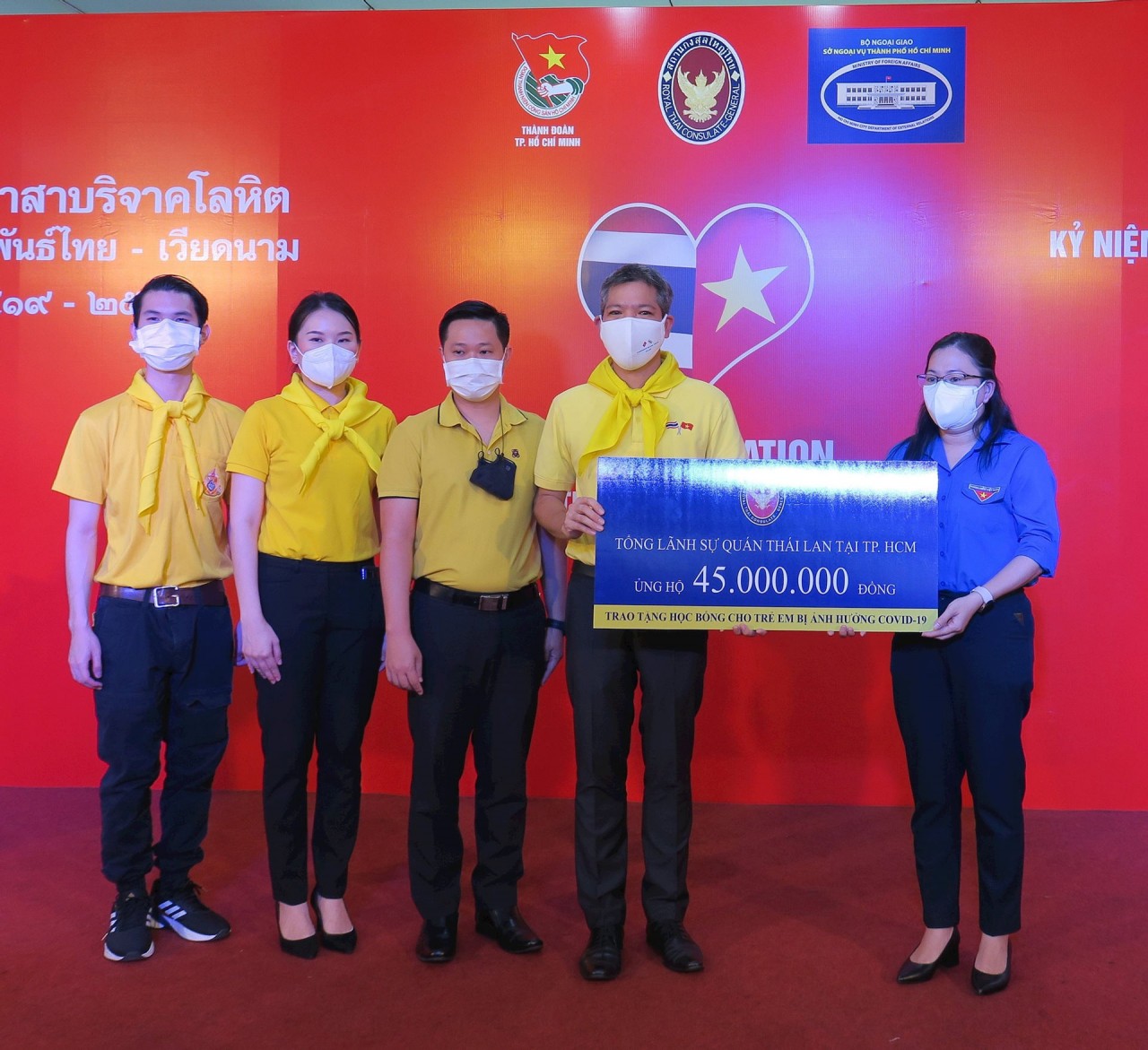 HCM Communist Youth Union committee. representative (right) received donation from the Thai Consulate General. Photo: Congly
On the occasion, the Thai Consulate General donated 45 million VND (nearly USD 2,000) to support the municipal HCM Communist Youth Union committee's project in helping children orphaned by the pandemic.
Reaching a new height in bilateral exchange
On Dec. 3, Vietnam's Ministry of Culture, Sports and Tourism and the Royal Thai Embassy in Hà Nội co-hosted a gala night celebrating 45 years of diplomatic relations between the two countries.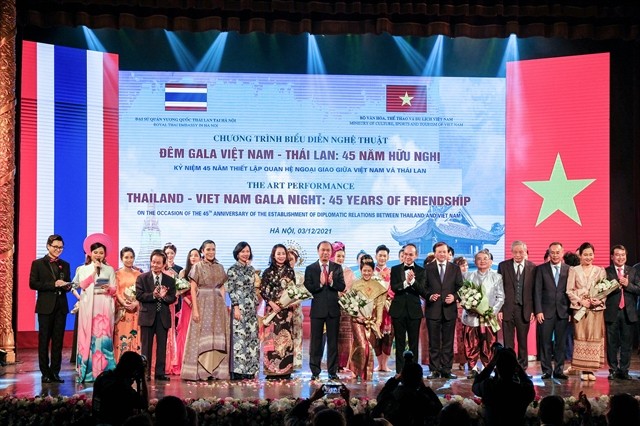 The Thailand - Vietnam Gala night. Photo: Vietnamnews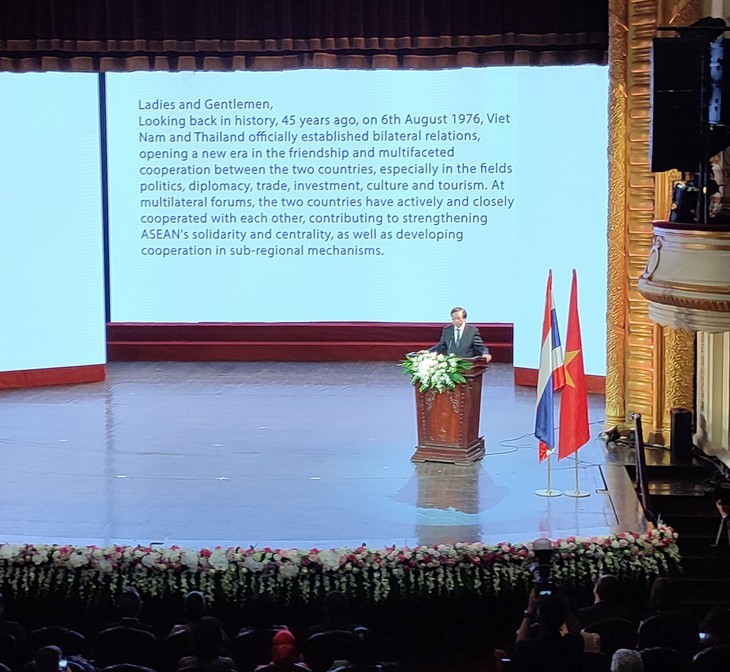 Ta Quang Dong, Việt Nam's Deputy Minister of Culture, Sports and Tourism speech. Photo: VOV
In his opening remarks, Ta Quang Dong, Việt Nam's Deputy Minister of Culture, Sports and Tourism said: "The establishment of Việt Nam – Thailand diplomatic relations turned a new page in the two countries' friendship and multidimensional cooperation, especially in politics, diplomacy, commerce, investment, culture and tourism."
"I believe this event will be the foundation to further promote cooperation and cultural exchange between Thailand and Việt Nam, enhancing the amity between our people, and contributing to the strengthened strategic partnership between the two countries in the future."
Thai Minister of Culture Itthiphol Kunplome addressed the event via a video message and said that the Vietnam-Thailand cooperation would soon reach a new height.
Commemorating the anniversary of Thailand's late King Bhumibol Adulyadej's birthday, Thai artists performed his song Falling Rain as the highlight of the night.
The Gala performance. Photo: Vietnamnews
On Oct. 22, The Consulate General of Vietnam in Khon Kaen (Thailand) in collaboration with the administration of Nakhon Phanom province hosted a tree planting and donation ceremony.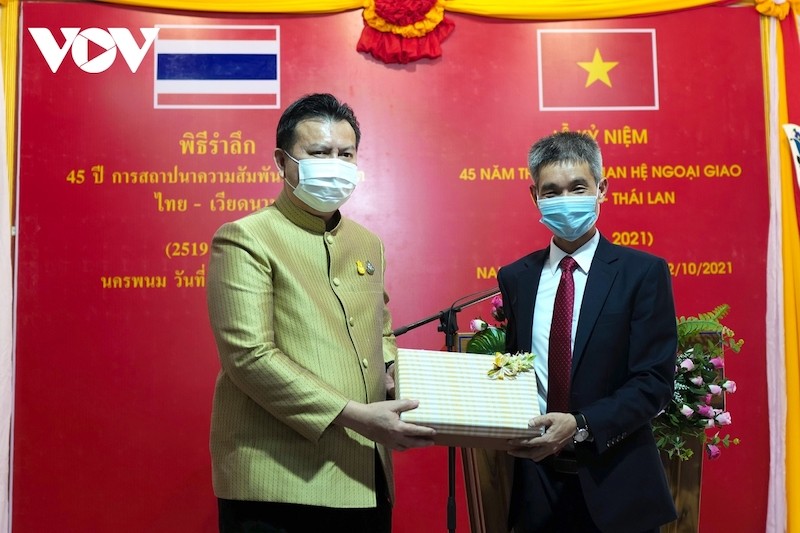 Consul General Chu Duc Dung (right) presents commemorative gifts to provincial governor Nakhon Phanom.Photo: VOV
At the event, Vietnamese Consul General in Khon Kaen Chu Duc Dung affirmed that bilateral relations had developed in various areas since the establishment of diplomatic ties 45 years ago.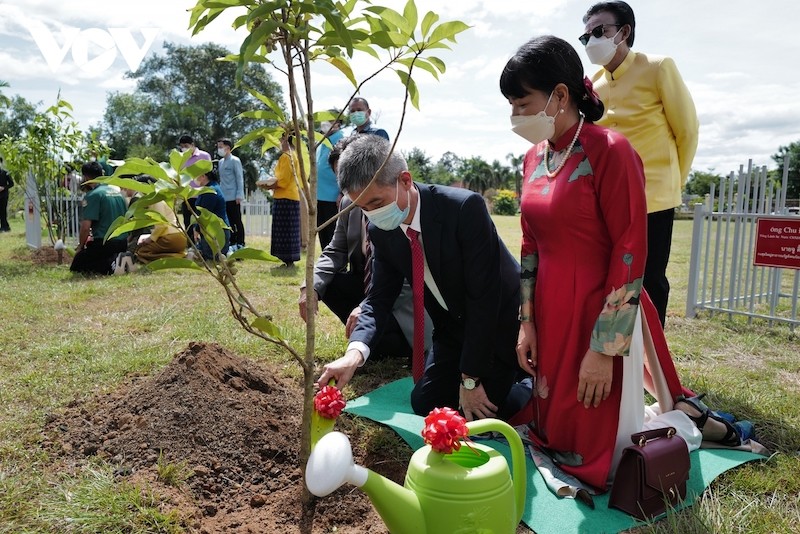 Consul General Chu Duc Dung planted a Friendship tree in the Thai - Vietnamese friendship village.Photo: VOV
Thailand is the largest trading partner of Vietnam in Southeast Asia. It is the ninth largest foreign investor out of 139 countries and territories investing in Vietnam.
It is also Vietnam's fourth largest tourism market in Southeast Asia and the 10th in the world.
Dung recalled the May 2021 phone talks between the two countries' Prime Ministers during which the two sides pledged to raise bilateral trade value to US$25 billion by 2025
"I firmly believe that with high political trust, consensus and efforts from both sides, the Vietnam-Thailand cooperation relationship will enter into a new stage of more effective and substantive development moving forward," said the diplomat.
Chathip Ruchanaseri, governor of Nakhon Phanom province, noted that the ceremony vividly manifested the growing relationship and fruitful cooperation between the governments and peoples.
He expressed his belief that both Thailand and Vietnam would jointly develop their long-standing friendship for future generations.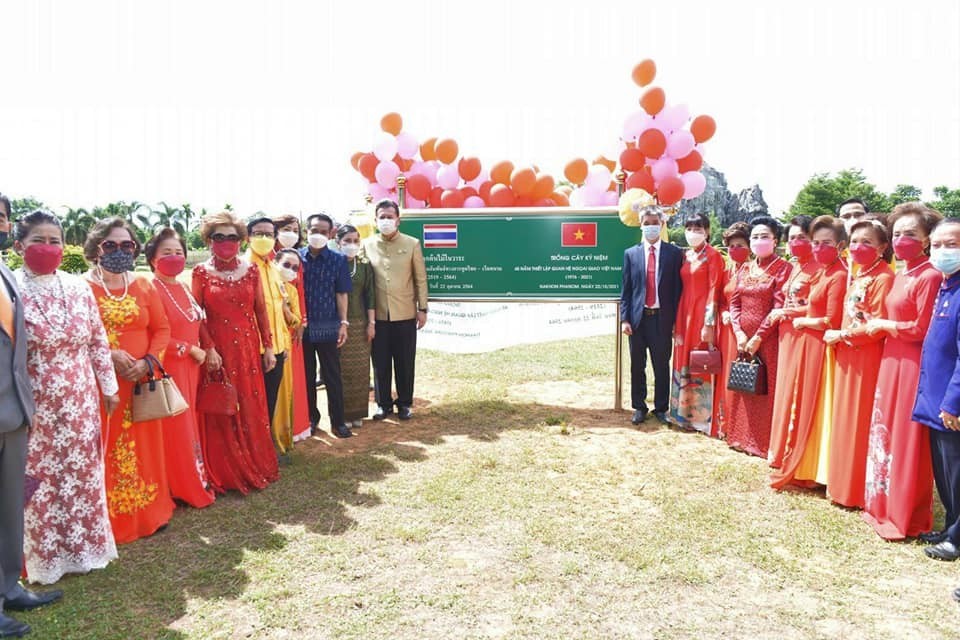 The general association of Vietnamese born Thai people. Photo: Embassy of Vietnam in Thailand
At the ceremony, the general association of Vietnamese born Thai people donated THB250,000 (US$7,500) to renovate Vietnamese President Ho Chi Minh's memorial site in May village, Nakhon Phanom province.
Thailand's Ministry of Culture and Việt Nam's Ministry of Culture, Sports and Tourism of Việt Nam have also recently signed a Memorandum of Understanding on Cultural Exchange, paving the way for cooperation on culture and promoting mutual understanding between the two peoples.
Vietnam, Thailand issue joint statement

Prime Minister Nguyen Xuan Phuc and a high-ranking delegation of Vietnam paid an official visit to Thailand from August 17th-19th at the invitation of Prime ...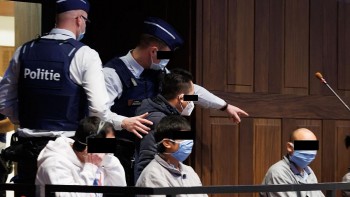 Overseas Vietnamese
Belgian court sentenced smuggler organization over 39 Vietnamese victims found dead in sealed lorry container in Essex.