Brawl Stars esports plans in 2021 unveiled: More regions, more teams
Supercell, the Finnish developer and publisher of Brawl Stars has announced its plan to launch the game esports in 2021, which is expected to expand with more seasons and regions leading up to the Brawl Stars World Finals 2021. Besides, the patch notes of season 4 of Brawl Stars feature a new character - Lou and features bug fixes.
According to Dotesports, there will be eight open regional seasons next year. Each season will have a separate monthly final for each region. The number of regions has been increased to seven. A new region, EECA has been introduced while the SESA/ANZ and East Asia region will replace APAC in the Brawl Stars Championship.
All the regions in the 2021 Championship are:
North America/ North LATAM
Europe/ MENA
South LATAM
EECA
SESA/ ANZ
East Asia
China
From each region, eight teams will qualify for the monthly finals. At the end of the year, the top teams from each region will battle it out at the Brawl Stars World Finals 2021 to crown a world champion. Unlike this year, which featured only eight teams, the 2021 World Finals will have 16 teams.
Supercell hasn't announced the prize pool for the Brawl Stars Championship 2021 yet. Brawl Stars will also be getting an in-game esports section next year. Players will be able to keep track of the championship directly from the game itself. A similar esports section already exists in Supercell's other esports title, Clash Royale, where fans can see results.
The Brawl Stars Championship is the official Esports competition for Brawl Stars, organized by Supercell. The Brawl Stars Championship is separated into four stages each having their own pre-existing rules and systems that must be obliged in order to the enter the next stages. 24 hour in-game challenges are conducted for 8 months starting at January with online qualifiers that happen the following week. Modes played during the Championship consist of Siege, Bounty, Gem Grab, Heist, and Brawl Ball with pre-selected modes and map chosen for matches.
Previous format
Stage 1: In-Game Challenge
 The in-game event only lasts 24 hours, and if one loses 4 times, they are eliminated and unable to continue until the next event.
 You must have 800 trophies or more to play the championship.
 There can not be multiple of the same Brawler in the same team of any Championship game.
 Everyone's stats are upgraded to Power Level 10 for the Championships only. You can use one Star Power of your choice and Gadget during this event even if you do not own them, just like a friendly game. You cannot use Brawlers that you have not unlocked yet.
 There are some offers in the shop for Star Points. They can only appeared and purchased once per challenge.
 Players that complete the challenge while not losing more than four matches are able to compete in the monthly online qualifiers.
Stage 2: Online Qualifiers
 At this stage you will have to find at least 2 other players that have completed the 15-win challenge in under four losses to play with you in a team against other teams.
 Games are played in a single elimination bracket with the top teams able to advance to the monthly finals. Points are gained based on the results of these sets.
 Both teams are able to ban a Brawler for every match. Banning a Brawler bans them from both sides.
Stage 3: Monthly Finals
 The 8 best teams from around the world will be invited to appear in person at the Monthly Finals with cash prizes for all participants - Brawl Stars will pay for the travel and accommodation.
 Both teams ban a Brawler blindly for every match. Banning a Brawler bans them from both sides. If the same Brawler is banned on both teams, only one Brawler is banned for that match.
 Two matches are made in a specific mode and map. If both teams win a match a third match is conducted. These matches are organized into sets of which three sets need to be won in order for a team to move into the next round. Points are gained based on the results of these sets.
Stage 4: World Finals
 Win enough points at the Online Qualifiers and Monthly Finals to qualify for the Brawl Stars World Finals.
 Games are played in a single elimination bracket best-of-5 matches and sets.
 Both teams ban a Brawler blindly for every match. Banning a Brawler bans them from both sides. If the same Brawler is banned on both teams only one Brawler is banned for that match.
 The 8 best teams from their regional ranking tables will move onto the World Finals:
 You can watch the World Finals on Youtube or Twitch.
New brawler Lou and map competitions
The snowy winds of winter will soon land in Brawl Stars with the update preparing the field for season four, which will start in 12 days and will be called Holiday Getaway.
The season is bringing the latest brawler Lou, a snow cone machine that can freeze enemies and transform an area into a skating rink, and will be focused on map creators.
Mapmaking will be brought to another level with more options added and creators will be able to submit their custom maps upon the community's approval. The most popular maps will win a contest and maybe permanently added to the game, but all the details have yet to be revealed.
Here are the complete patch notes introducing season four in Brawl Stars:
New Brawler – Lou
Lou is a jolly snow cone machine who's always cheerful. He's so overly positive it annoys the heck out of Mr. P.
• Main Attack – Fires snow cones that apply Frost. When the target has accumulated enough Frost it will be stunned for one second.
• Super Ability – Throws a snow cone syrup that creates a slippery surface area on the ground.
• Gadget – Lou freezes himself becoming invulnerable and unable to perform any actions for one second.
• Star Power – The Super area applies Frost to enemies.
New skins and character VFX/SFX
• King Lou (Brawl Pass, Tier 70)
• Bellhop Mike (Brawl Pass, Tier one)
• Sally Nani (LINE FRIENDS) | 150 Gems – Late November
• Choco Piper (LINE FRIENDS) | 80 Gems – December
• Cony Max (LINE FRIENDS) | 150 Gems – December
Other skin and character improvements
• 8-BIT facial animations upgrade
• True Silver/Gold skin VFX improvements
• They now have a BLING effect
Brawl Pass
• Brawl Pass season four: "Holiday Getaway"
• Brawl Pass exclusive Brawlers are only available from boxes after reaching tier 30 in the Brawl Pass
• Getting a Chromatic Brawler from a Brawl Box now decreases your drop rate chances like any other Epic Brawler
• Season one rewards will be auto-collected when season four starts.
Game modes/event rotation changes
• New event Tokens per game mode slot reduced from 10 to five
• Added 30 new Tokens to be gained from voting player-made maps in the Test Slot (10 Tokens per vote up to three times per day)
• Mr. P's Snowtel Environment
• Two new slots for Map Maker maps which unlock at 1000 Total Trophies
• Competition Entry Slot
• This slot rotates the maps made and published by players and allows the players to give either up or downvotes after playing the maps through matchmaking.
• Each day will feature a different game mode
• There'll be a new map available in this slot every 10 seconds.
• Players receive a Token reward for voting but no Trophies can be gained from playing in this slot.
• Competition Winner Slot
• This slot features the "winner" map from the previous day that had received the highest amount of upvotes during the testing.
• Players receive normal Token and Trophy rewards from playing this slot.
• Improvements for several Hot Zone maps
Map maker – BETA
The maps you make can now be published so everyone can play!
• There are four different stages for your maps: Draft → Submitted → Greenlit → Published
• In Draft state the player can keep editing the map as much as they want
• After the player is happy with the map they need to "Submit" the map for approval and the map creator needs to invite players into a friendly game room. The players in the room will receive a pop-up for map approval at the end of the game. Map needs to get over 50% approval (out of 10 votes) in order to be eligible for publishing it. If the player decides to edit the map after it's submitted it will return into Draft state and requires new approval through voting in the friendly room.
• After the player publishes a map, it goes to a pool of potential maps to be featured each day in the Test Slot. Editing is no longer possible.
Brawler balance
• Amber
• Movement speed reduced from Very Fast to Normal
• Main Attack damage per second reduced from 2,400 to 2,000
Other
• Summonable pets like Nita's Bear now follow their owner if no enemies are alive on the map.
Bug fixes
• Fixed missing Trixie Colette Main Attack SFX.
• Fixed missing Friendly/Enemy Amber Main Attack SFX.
• Fixed missing Amber fire fluid while Spectating or watching Brawl TV.
• Fixed incorrect Boss Fight game mode banner that displayed the location banner instead of the correct game mode banner.
Among Us - SURGED game in 2020

Among Us is a humorous co-op multiplayer game with an "obnoxious" cartoon-style graphics, requiring interaction between players to find out "the hidden".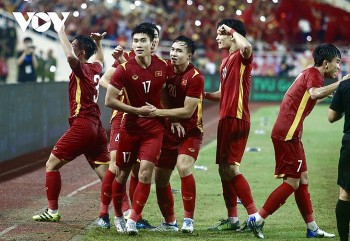 Viet's Home
The Vietnamese football team, both male and female, played their best, devoted themselves, united, and promoted the collective spirit, successfully defending their SEA Games champion title.