Brawl Stars – Exciting Multiplayer Arcade Game
Download the latest version of Brawl Stars and experience a battle royale multiplayer mode where you can earn insane rewards! Enjoy a variety of game modes with plenty of powerful characters.
Supercell has churned out plenty of blockbuster games such as Clash of Clans, Clash Royale and now Brawl Stars. This game is unlike any other featuring a multiplayer battle royale for mobile! Released in June 15, 2017, this is a unique game that features a lot of the same elements across other popular games.

In this game, you're going to select a unique and powerful character each with their own abilities. Here, there are certain abilities that also includes Super which is the ultimate power of the character. There are also a lot of game modes that will satisfy your cravings for something new. There's Gem Grab, Showdown, Brawl Ball, Bounty, and many more! There's never a dull moment when playing this game, unlock plenty of brawlers and upgrade them!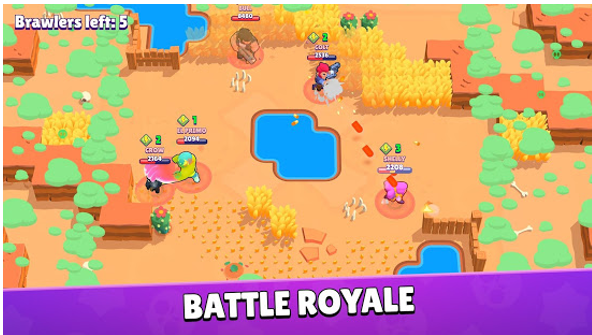 What is Brawl Stars?
There seems to be an influx of battle royale games today that focus on mostly FPS. However, Brawl Stars differs in its approach. Here, you'll be playing unique characters in a fictional world armed with different Super abilities. There are plenty of awesome maps to play in and plenty of characters to unlock.
For starters, this game utilizes a top-down view that gives you a wide perspective on upcoming opponents. However, the map becomes smaller as time progresses in battle royale mode AKA Showdown. Add that to the variety of game modes and you can enjoy a never-ending fun with Brawl Stars! But what makes this game so addictive is that it allows you to play with friends and random opponents worldwide! Create a clan and enjoy playing together to win rewards.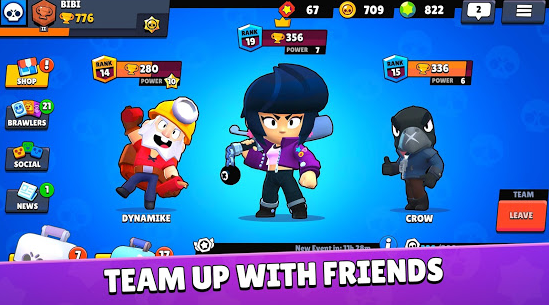 Features of Brawl Stars
Brawl Stars isn't your typical game that involves repetitive gameplay. This one is a massive success featuring 100 million downloads in Google Play Store. Here are its features:
Unique and Entertaining Gameplay – Ever since the release of Clash of Clans, Supercell has been making plenty of hit games every now and then. This time, they released a unique one in the form of Brawl Stars. This battle royale game is unlike your typical game that involves heavy shooting and military uniforms. Here, you'll play with well-designed characters each with their own powers! Conquer others by hitting them and playing by yourself or with a team. In here, you will defeat opponents in a variety of game modes. There's plenty of fun waiting for you when you play in this game. Create different strategies and enjoy exciting fights!
A Variety of Characters and Upgrades – The fun lies in the cast of characters in this game. As of the moment, there are 27 unlockable characters you can play in this game. Each of them has their own powers and Super abilities. And, there's also a rarity tiers in here to help you choose powerful characters. There are characters in each category: Common, Rare, Super Rare, Epic, Mythic and Legendary Brawlers. Aside from that, you can upgrade each brawer to increase their stats such as power, speed and Super abilities. All of these adds up to a custom experience that allows you to have fun. Of course, the rarer the brawler, the more powerful it will be. But, it's important to note that you can have a lot of fun with common ones as well.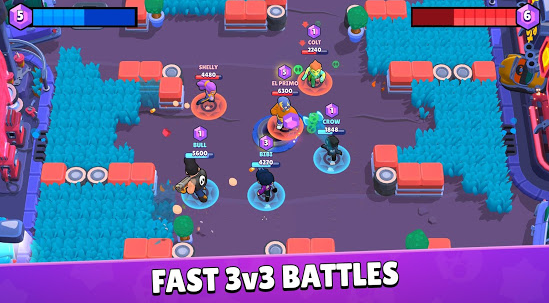 Game Modes – Another exciting aspect of Brawl Stars is the variety of game modes. First is the Gem Grab in which you play as a team of 3 against the same. The goal of the game is to capture 10 gems and to hold them as the time expires. The team with the most gems at the end wins! Then, there's the Showdown Mode that features solo and duo modes. This is the classic battle royale mode where you will fight against everyone you see. The last one standing becomes the winner and will receive the most rewards.
Next is the Brawl Ball where you can play a soccer mode while fighting! Then, there's also Bounty, Heist and other special events! There are plenty of game modes to keep you occupied in here.
Events – Speaking of events, there will be a lot of these every so often. These events are updated daily and you can enjoy them as they are released. Usually, these don't affect your rankings.
Clubs – Another fun aspect of this game is the ability to create or join a club! You can create one to invite your friends and enjoy fun games together to win rewards!
Global Rankings – In this game, you can climb the local as well as the global leaderboards. Prove your skills as the top gamer in here by gaining a lot of XPs.
Challenging Maps – Another challenging and fun game in here are the variety of maps. There are plenty of maps in here where you'll fight. Of course, each one is unique and features different obstacles.

Tips for Playing Brawl Stars
Brawl Stars is a fun and challenging game. But for beginners, it can get overwhelming. Here are some tips:
Choose the right brawler – In this game, your brawler choice is as important as the gameplay itself. You can't get far if you just hack and slash the game with any character you use. The key is in choosing the right brawler for the occasion.
Understand the game mode and map – Another thing to take note of in Brawl Stars are the game modes and map. You need to have a thorough understanding of these if you want to win. Most pro players memorize the maps so they can easily navigate through them. Also, you don't need to kill a lot of enemies in all game modes to win.
Download and Brawl Stars Price
• For Android ($0.00) - https://play.google.com/store/apps/details?id=com.supercell.brawlstars&hl=en
• For iOS ($0.00) - https://apps.apple.com/ca/app/brawl-stars/id1229016807
Conlcusion
Brawl Stars is a fun game that you can play with friends and family. It features a unique gameplay with colorful graphics and characters. But if you want to play competitively, this one is perfect for you! It has everything you need if you want a unique battle game.
VNT