Bridging Digital Gender Divide for Disadvantaged Youths
A closing workshop for the "Fit for Future" project, bridging the gender gap in the Information & Communication Technologies industry for disadvantaged youths was held in Hanoi.
Plan International Vietnam and the two implementing partners FPT Polytechnic and REACH, on September 23 hosted the closing workshop for the project "Fit for Future" with over 50 delegates from ADECCO Vietnam, representatives from the Directorate of Vocational Education and Training, Ministry of Labour, Invalids and Social Affairs, partnering enterprises, and Information & Communication Technologies (ICT) students from the project.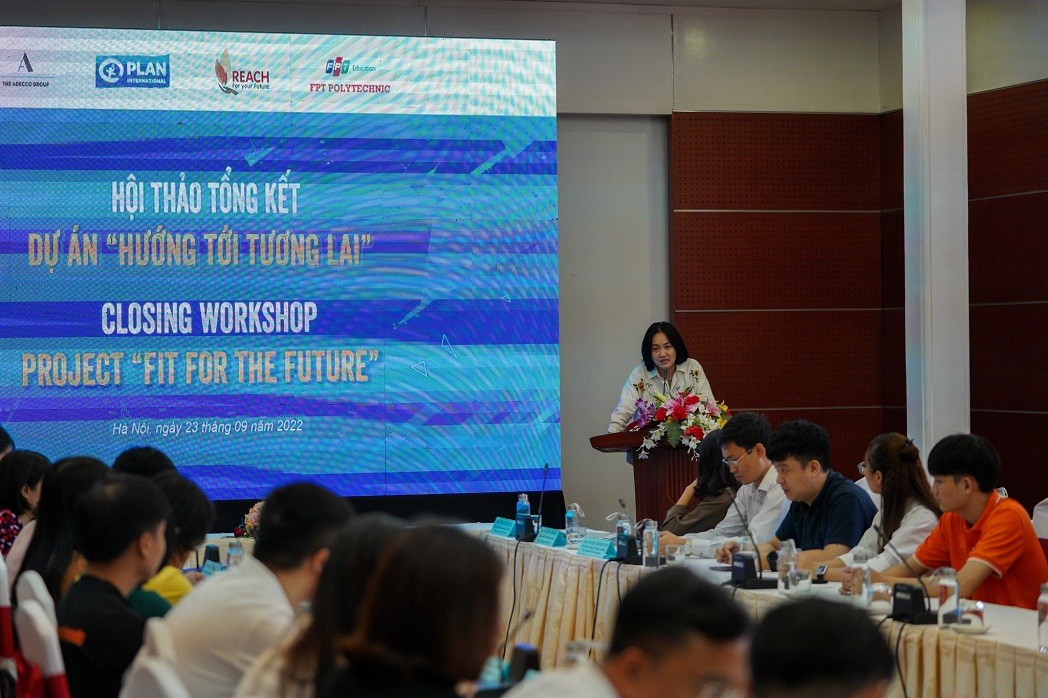 At the workshop. Photo: Plan Vietnam
With ADECCO's sponsorship, the "Fit for Future" project ran from September 2018 to 2022, pushing for female representation in the ICT industry and closing the gender gap in the tech field.
After four years of implementation, the project supported 800 youths from a disadvantaged background, with girls taking up 44%, to graduate from training courses and help with career orientation after their graduation. Over 85% of graduates found a job, this number increases to 90% for female students, and all are highly regarded by recruiters for their technical prowess and professional work ethics.
For such achievements, REACH and FPT Polytechnic has intimately supported students, their parents, and partnering enterprises throughout their journey: from their recruitment to training, internship, and real work experiences. The project closely aligns itself to the market trends, and further provides students with crucial soft skills such as teamwork, communication, and effective time management.
Speaking at the event, Pham Thu Ba, Acting Country Director of Plan International Vietnam said: "We are here together to look at the results we have achieved in the past four years, but more importantly, is to share the points we have been successful together, and also exchange the lessons learned so as not to simply close a project but to add experiences and ideas for the next projects in the future, a new journey for the success of the partners and students benefiting from this project as well as Vietnamese youth, especially young women, young people in vulnerable groups, young people from the rural population. ethnic minorities in remote areas, helping them confidently overcome barriers and gender stereotypes, have a stable career and a satisfactory income for a more stable and bright future."
According to the representative of FPT Polytechnic College, the school is honored to contribute a part of its efforts to this very meaningful project. Equipping professional knowledge and skills is also equipping young people with independence and competitiveness. From here, the students have more opportunities to develop, he said.
Meanwhile, Pham Thi Thanh Tam, REACH Director shared that through the project, REACH has organized many awareness-raising activities in the community, approached young women with difficult circumstances, and provided counseling. career guidance, motivation for you to love IT, and to participate in REACH courses. More than 80% of IT trainees have a job after graduating within 6 months, especially the female employment rate is over 90%, showing the commitment of REACH, the efforts of the students, especially girls, in joining the field of information technology, breaking gender stereotypes in career choice.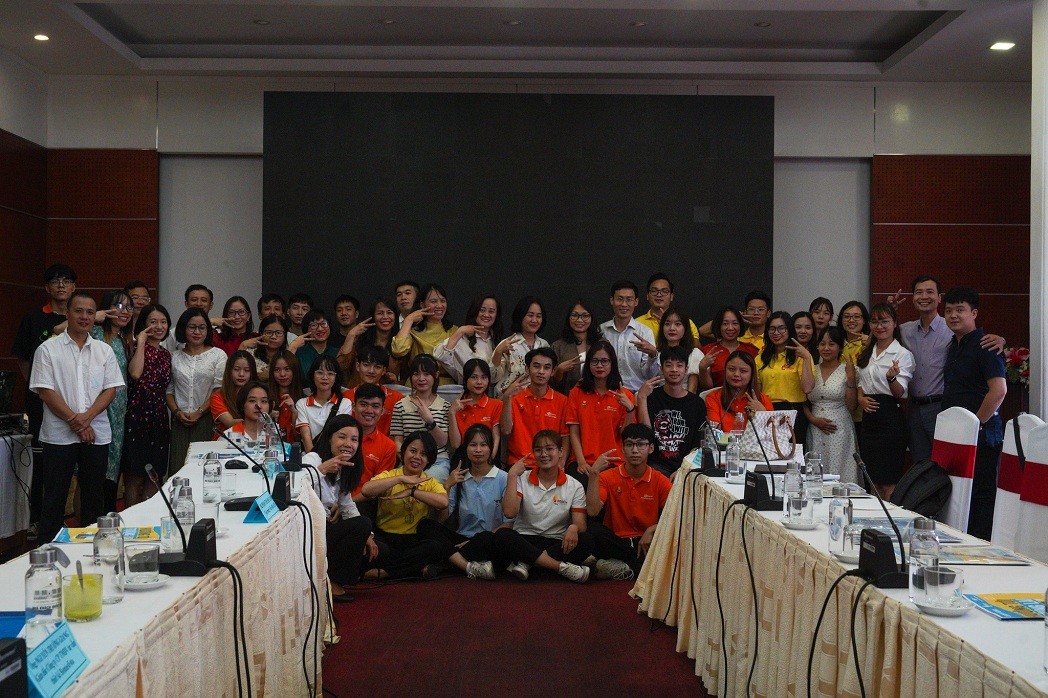 The project supports 800 youths from disadvantaged backgrounds, with girls taking up 44%, to graduate from training courses and helped with career orientation after their graduation. Photo: Plan Vietnam
"Realizing that removing gender barriers in a career choice is a persistent work, requiring the cooperation of many parties. We believe that the solutions implemented by the project will continue to be replicated towards a better future for disadvantaged youth, especially women and girls," Tam added.
Thuong, a student from the project, reflected on her journey, "I used to be pessimistic about my own ability and my family's background. But thanks to the project, I'm now the primary income earner for my family, leading my graphic design team. I also had the wonderful opportunity to be a youth speaker in an event with the US Embassy on "Girls in ICT Day", to inspire other girls like me, to take up the challenge and promote for gender equality."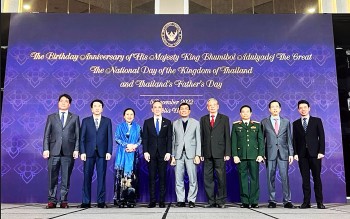 Friendship
The Royal Thai Embassy organises the reception on the occasion of celebration of the Birthday Anniversary of His Majesty King Bhumibol Adulyadej the Great, the National Day of the Kingdom of Thailand and Thailand's Father's Day on 2nd December 2022 in Hanoi.