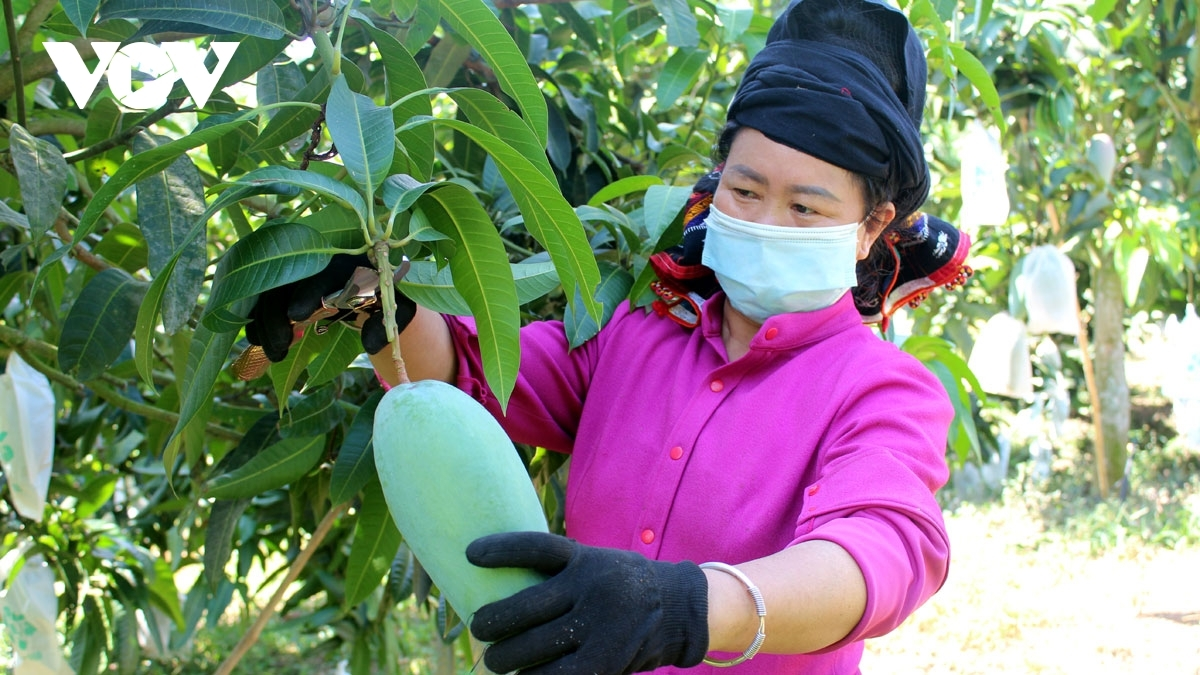 Vietnam is the 13th largest supplier of mangoes of all kinds to the United States and the 9th largest provider of fresh mangoes to this market. Photo: VOV
Businesses raked in US$1.77 billion worth of fruit and vegetable exports in five months, up 18.0% against the same period from last year. In May alone, such exports brought home US$400 million, representing an annual increase of 48.3%, VOV reported.
Despite these positives, the current fourth wave of the Covid-19 pandemic to hit the country, coupled with the oversupply source in the Chinese market, is anticipated to hinder local fruit and vegetable exports in the coming months.
In contrast, there remain many positive signs for the export of major Vietnamese fruits, especially lychee, to key markets such as the United States, Japan, Russia, and Australia.
According to industry experts, Vietnamese lychee exports are expected to enjoy additional advantages in the Japanese market following the first successful consignments of the product to this demanding market.
At present, Vietnam's Trade Office in Japan has coordinated with relevant authorities, supermarkets, and distribution chains in Japan to promote lychee consumption in the near future. Roughly 1,100 tonnes of lychees are set to be shipped to Japan this year.
Meanwhile, Vietnam's Trade Office in Australia has also requested that Australian agencies facilitate customs clearance procedures when batches of lychees arrive there.
Approximately 100 tonnes of Vietnamese lychees are due to be exported to South Australia and Western Australia this year, according to the trade office.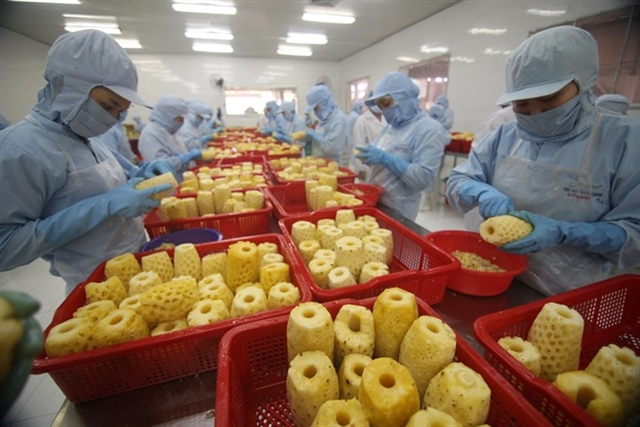 A fruit processing line at An Giang Fruits-Vegetables and Foodstuff Joint Stock Company. Photo: VNA/VNS
The United States mainly imported fresh mangoes during the first quarter of the year, accounting for 74.6% of their total mango imports.
Vietnam represents the 13th largest supplier of mangoes of all kinds to the United States and the ninth largest provider of fresh mangoes to the demanding market.
The amount of fresh mangoes imported from the Vietnamese market accounted for 0.1% of the US's total imports.
Most notably, the United States increased imports of dried mangoes and mango juice from Vietnam during the reviewed period.
Of the figure, the United States purchased 97 tonnes of mango juice worth US$102,600, representing an annual rise of 340% in volume and 160.5% in value as dried mango imports reached 68 tonnes worth US$83,000.
Local fruit, vegetable businesses seek to meet global demands
The local fruit and vegetable processing sector must strive to improve quality in an effort to meet stringent requirements set by various import markets worldwide in order to achieve the export target of US$10 billion by 2030, according to industry insiders.
Despite the Covid-19 impact, Vietnamese fruit and vegetable exports increased by 6.1% in the first three months of the year compared to a year ago, reaching US$944 million.
The boost was largely attributed to Vietnam's successful containment efforts of the Covid-19 pandemic, according to the Ministry of Industry and Trade (MoIT).
The country mainly exported the items to China, its largest trade partner, during the initial two months of the year, raking in US$352.83 million, up 17.5% against the same period from last year. China was followed by such markets as the United States, Thailand, Japan, and the Republic of Korea.
Similarly, Vietnamese fruit and vegetable exports to Taiwan (China), Australia, and Malaysia have all skyrocketed, surging by 43.1%, 30.6%, and 32.5%, respectively, compared to last year's corresponding period.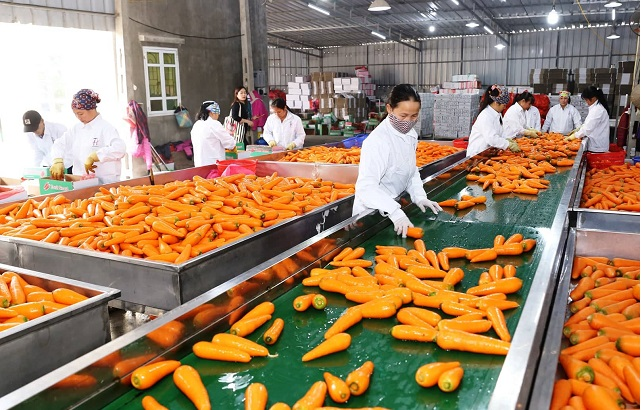 Processing carrots at Tan Huong Agricultural Products and Foodstuffs Processing at Cam Giang district. Photo: Hanoitimes
Economic experts reveal Vietnamese fruit and vegetable businesses have also boosted their exports to many other large markets with great potential, including Egypt, Kuwait, Ukraine, and Senegal since the beginning of the year.
This is a positive signal for the local fruit and vegetable processing sector to boost export value over the course of this year and subsequent years, they say.
Dang Phuc Nguyen, general secretary of the Vietnam Fruit and Vegetable Association, underlines the importance of taking full advantage of the new generation free trade agreements (FTAs) in ramping up exports. The FTAs include the EU-Vietnam Free Trade Agreement (EVFTA), the Comprehensive and Progressive Agreement for Trans-Pacific Partnership (CPTPP), and the Regional Comprehensive Economic Partnership (RCEP), all of which will serve to help local firms boost export turnover this year.
The Vietnam-UK Free Trade Agreement (UKFTA) in particular is anticipated to give fresh impetus to economic and trade co-operation between the two countries in the near future.
Once the trade pact takes effect, more than 94% out of a total of 547 tax lines for fruits and vegetables will be slashed to 0%. Fruits such as litchi, longan, rambutan, dragon fruit, pineapple, and melons are expected to enjoy advantages to expand into new markets compared to rivals such as Brazil, Thailand, and Malaysia as they have yet to sign an FTA with the UK.
Malie Nguyen