British Embassy's Fundraising Initiative Launched to Raise Money for Mangrove Afforestation
The British Embassy in Vietnam is running a fundraising initiative to plant thousands of mangroves in Soc Trang province to which you can donate today
From May 5 to June 5, on the occasion of the Platinum Jubilee of Queen Elizabeth II, the British Embassy in Hanoi in collaboration with Mainstream Renewable Power Company and the Green Happiness Program launched a fundraising initiative to jointly plant mangroves on 10 hectares of alluvial grounds in the Mekong Delta province of Soc Trang.
Green Happiness is an action programme of the Sống Foundation that contributes to mitigating the impacts of climate change and promoting a harmonious and connected lifestyle with nature. The Sống Foundation is a community fund, acting on climate change, for a sustainable future for all.
With VND 112,000 (USD 4,88), you can plant an additional tree for mangrove forests to protect more than 7,000 people in Soc Trang's Vinh Chau township and contribute to a sustainable future for the Mekong Delta, which is still facing increasingly fierce landslides.
The "Mangrove Afforestation 2022" campaign is expected to cover 10 hectares of alluvial grounds with 44,000 mangrove trees (approximately 4,400 trees/ha) in Vinh Chau.
This campaign is a part of the "Forest Symphony Soc Trang" project to plant 50 hectares of mangroves between 2020 and 2025 with the participation of People's Committee of Soc Trang province and Forest Protection Department.
Green Happiness has signed for the commitment of sustaining and maintaining responsibility with the Provincial People's Committee and the Forest Protection Department.
All of your donations will be calculated by the Green Happiness Program and Mainstream Renewable Power will have an additional contribution to plant more mangroves in Soc Trang.
This initiative is in support of the Queen's Green Canopy created by Queen Elizabeth II to encourage people in the UK and across the world to plant more trees, which will benefit future generations and contribute to the achievement of sustainable development goals.
Located south of the Hau River, the southern-most tributary of the Mekong River, Soc Trang has faced the impacts of climate change, including coastal erosion.
Human activities like overexploitation of aquatic resources in mangrove forests have caused the degradation of those forests which act as shields preventing erosion of coasts.
Mangroves can absorb up to four times more carbon than a traditional rainforest on land. They are more cost effective than man-made infrastructure in protecting coastal communities from storm surges.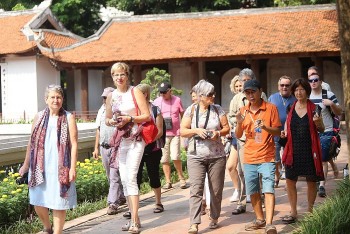 National
Vietnam News Today (May 24): Covid-19: Vietnam records 1,179 new cases, 3,862 recoveries on May 23; Foreign arrivals soar two months after border reopening; Vietnam, Cambodia boost defense ties; Heavy rain floods parts of northern Vietnam.