Vietnam's Attractiveness for UK Investors Will Increase: UK Trade Envoy
The UK Prime Minister's Trade Envoy to Vietnam, Cambodia and Laos visited Vietnam to celebrate the deepening the bilateral trade relationship.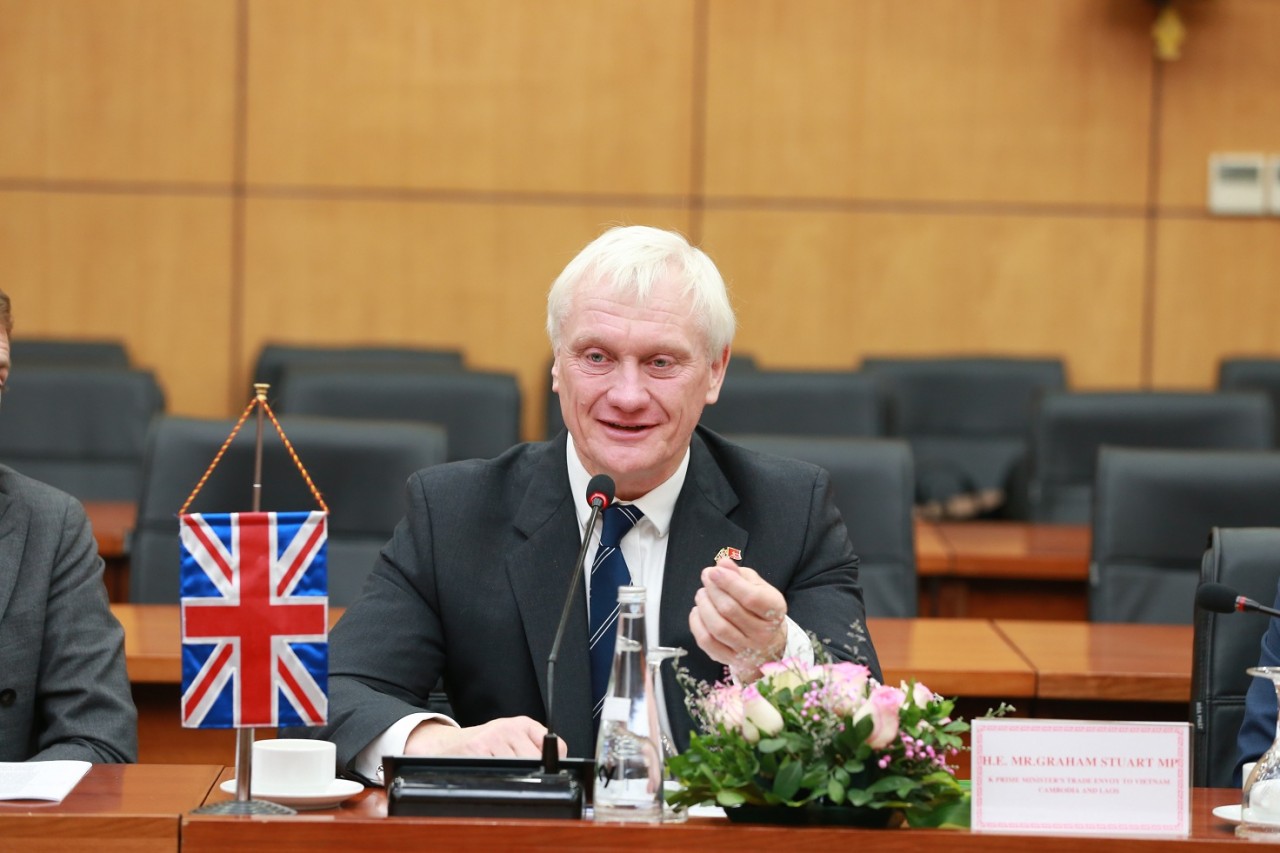 Graham Stuart, UK Prime Minister's Trade Envoy to Vietnam, Cambodia and Laos. Source: UK embassy
"Vietnam is committed to improving the business environment and its international ratings, so I expect Vietnam's profile and attractiveness for UK investors will only increase. International trade will benefit both countries and I look forward to supporting both countries in working closely together," said Graham Stuart, UK Prime Minister's Trade Envoy to Vietnam, Cambodia and Laos during the Vietnam's visit.
Stuart, from April 4-8, visited Vietnam for the first time to celebrate deepening trade collaboration between the UK and Vietnam across key sectors from education and renewable energy to green infrastructure, finance, and technology.
He on April has been received by Politburo member and head of the Party Central Committee's Economic Commission Tran Tuan Anh.
At the reception, Anh affirmed Vietnam supports the UK in strengthening its economic and trade cooperation with the region and is willing to share information and experience in joining the Comprehensive and Progressive Agreement for Trans-Pacific Partnership (CPTPP).
Informing that G7 countries have agreed to adopt a fair energy transition platform for Vietnam, Stuart agreed to make efforts to promote more effective and substantive economic, trade and investment cooperation between the two countries in line with their wishes and interests.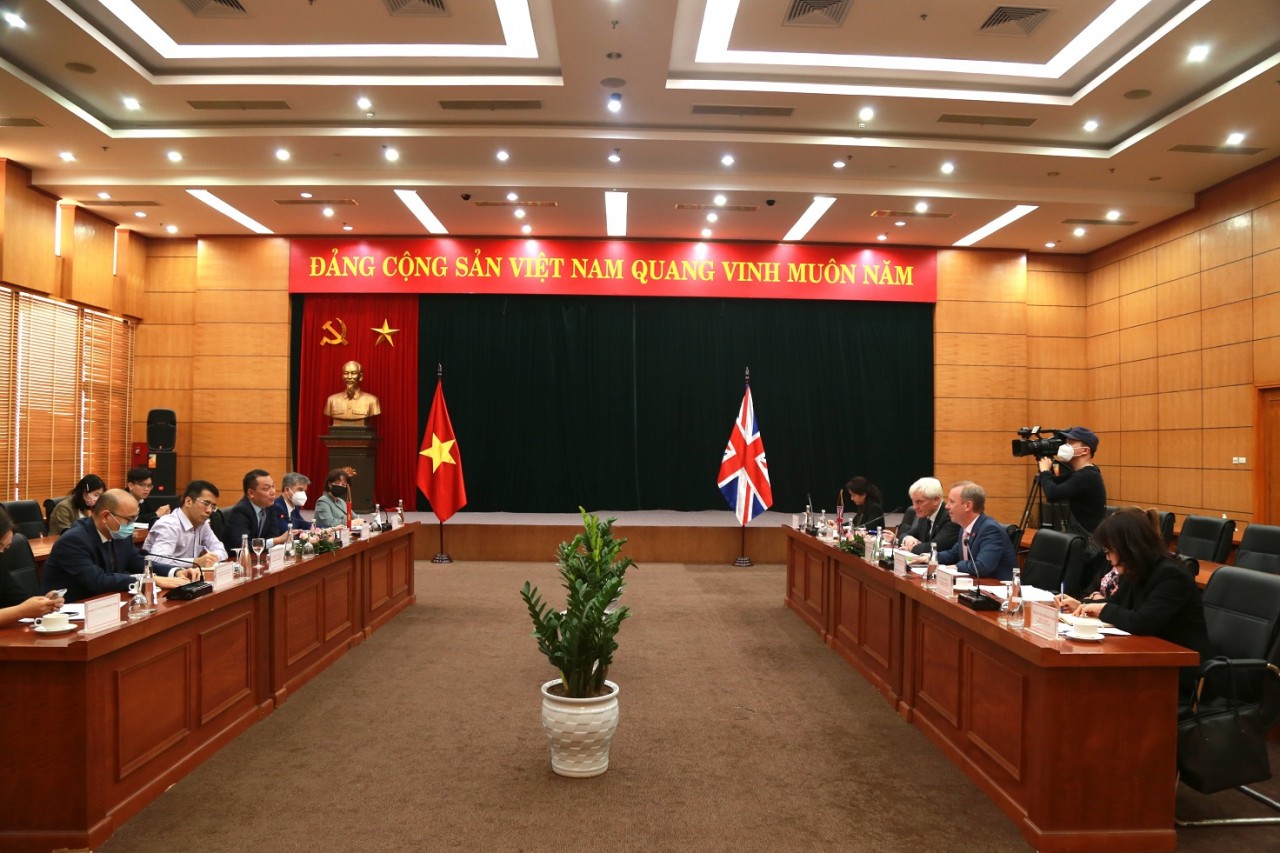 During a meeting between Deputy Minister of Industry and Trade Dang Hoang An Graham Stuart, UK Prime Minister's Trade Envoy to Vietnam, Cambodia and Laos, and the UK Ambassador to Vietnam in Hanoi on April 5. Source: UK embassy
The UK Prime Minister's Trade Envoy on April 5 had a courtesy meeting with Vice Minister of Industry and Trade (MOIT), Dang Hoang An, focusing on the increased collaboration between the two countries through the implementation of the UK-Vietnam Free Trade Agreement (UKVFTA) and upcoming Joint Economic and Trade Committee (JETCO).
During his meeting with Vice Minister An, Stuart welcomed the significant impact of the UKVFTA, since ratification, with total bilateral trade in goods and services three times higher in 2021 than in 2010.
Statistics from the General Department of Vietnam Customs show trade revenue between Vietnam and the UK reached USD 6.6 billion in 2021, up 17.2% year on year, with Vietnam's exports of nearly USD 5.8 billion. Particularly, the export revenue of steel products surged over 1,404%, according to VNA.
Sharing the UK's experience in developing renewable energy to reduce dependence on coal-fueled energy, Stuart encouraged Vietnam to set more ambitious goals in boosting green growth in the Power Planning VIII, with more plans and mechanisms to encourage investment in renewable energy, given the country's great potential in expanding renewable energy thanks to its favourable natural conditions.
The two sides discussed a plan to organise the 12th meeting of the JETCO in May in London.
Stuart mentioned the co-organisation of a roundtable on renewable energy on the sidelines of the JETCO, and invited a MoIT delegation to make a field trip to a wind farm in the UK.
He said that the UK is interested in exporting pork and poultry meat to Vietnam, suggesting that this issue be added to the agenda at the JETCO12.
An agreed to assign relevant agencies to work with the Ministry of Agriculture and Rural Development on this matter. Concluding the meeting, both sides concurred to coordinate closely for stronger cooperation, especially in preparing for the JETCO12.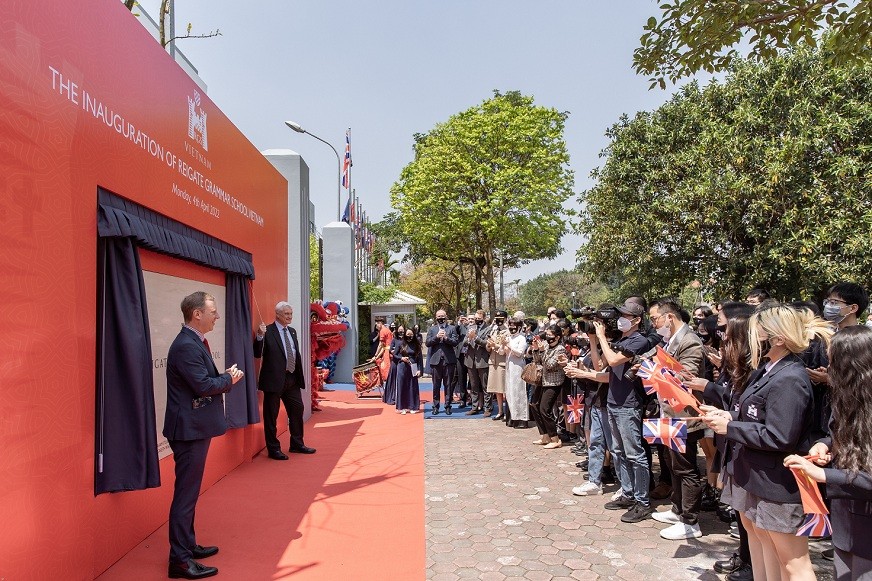 At the inauguration ceremony of Reigate Grammar School Vietnam. Source: UK embassy
Stuart on April 4 attended the inauguration ceremony of Reigate Grammar School Vietnam - the first branded UK independent school in Vietnam.
During the visit, he highlighted the UK's expertise, global reputation in education and shared that education remains a core priority, and a central pillar of the UK-Vietnam Strategic Partnership, first signed in 2010.
And on April 5, Stuart joined Minister of Labour, Invalids and Social Affairs, Dao Ngoc Dung to witness the signing of a UK-Vietnam Memorandum of Understanding (MoU), strengthening bilateral cooperation in the development of vocational skills and training.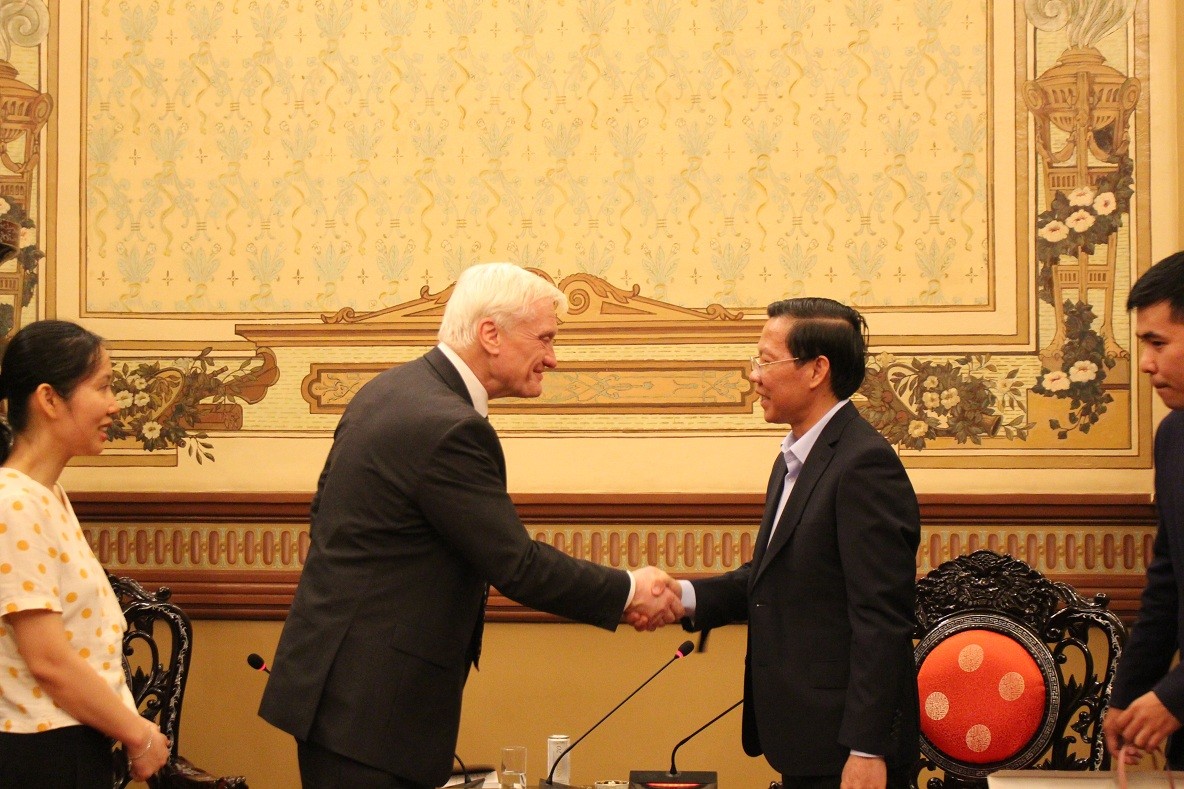 Graham Stuart, UK Prime Minister's Trade Envoy to Vietnam, Cambodia and Laos, meets with Chairman of HCMC People's Committee, Phan Van Mai. Source: UK embassy
Meeting with Chairman of Ho Chi Minh City People's Committee Phan Van Mai, Stuart re-affirmed the importance of the city as the trade and investment hub of Vietnam and a key destination for UK businesses, signalling UK readiness to support its future development aspirations.
Stuart met with a variety of UK companies in HCM City, working in critical sectors including infrastructure, construction, and technology, where he reiterated the UK's readiness to provide support to Vietnam on the decarbonisation of the built environment, through higher construction standards and energy-efficient technologies.
He also emphasised the significant potential for more UK-Vietnam co-operation in digital transformation, to enable Vietnam's aspirations in capital market development, digital health, smart cities, green finance, and renewable energy.
Throughout his visit, Stuart witnessed several MoU signing ceremonies between the UK and Vietnamese partners in education, infrastructure and technology, signalling the growing strength and depth of thebilateral relationship.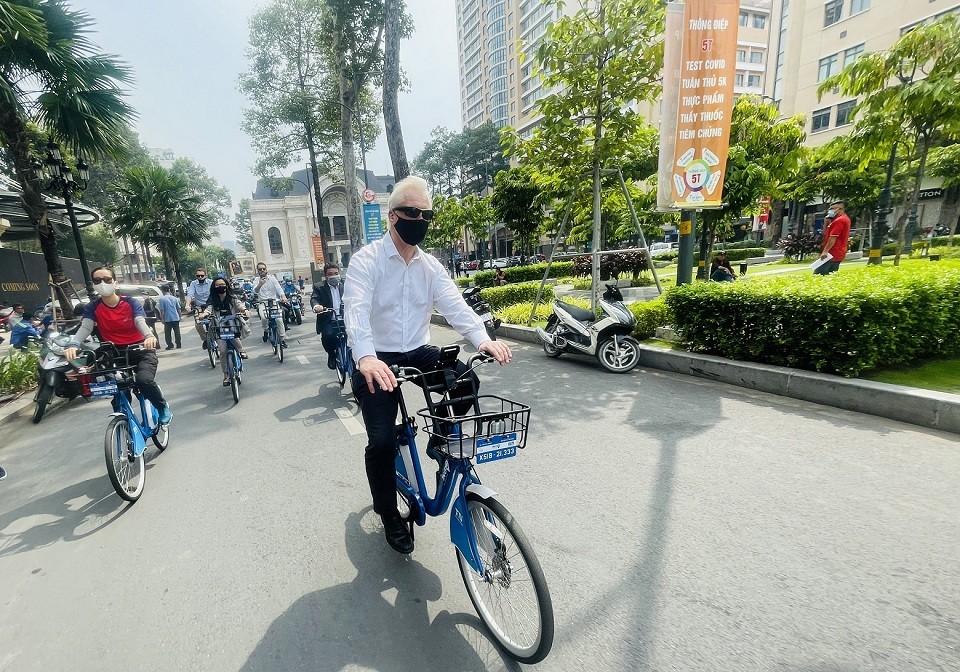 The UK Prime Minister's Trade Envoy to Vietnam experienced green transport in Ho Chi Minh City. Source: UK embassy
Stuart also welcomed ongoing efforts to introduce green infrastructure in HCM City, and experienced first-hand the new bicycle scheme and electric VinBus.
To conclude his visit to Vietnam, on April 8, Stuart visited Ba Ria – Vung Tau - a major economic centre in southern Vietnam.
During his formal meeting with the Vice Chairman of Provincial People's Committee, Tran Van Tuan, Stuart discussed growing areas of potential UK-Vietnam collaboration.
Tuan shared his hopes that the province will have more opportunities to work and receive support from the UK government, partners, and investors, especially in the province's plans to develop local tourism and tourism infrastructure.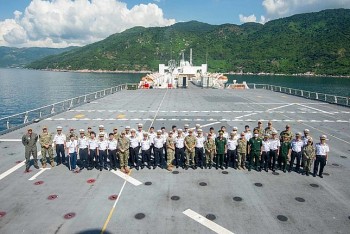 Friendship
The Pacific Partnership 2022 (PP22) concluded on July 3 on USNS Mercy, a hospital ship of the US Military Sealift Command anchored at Vung Ro Port in Dong Hoa town, the central province of Phu Yen.