Ca Mau: Beautiful natural land of islands and forests
Ca Mau is known as the end of the country and is always a Western tourist destination that must come once in life, and is the only province that has 3 sides bordering the sea, which exudes a poetic and lyrical beauty, peaceful and rustic, captivating the hearts of people.
This 300-year-old land is the ending point of the S-shaped Vietnam. Ca Mau Cape, 180 kilometers from Ca Mau City, is the only place in Vietnam where people can see both ocean sunrise and sunset in one day. A place where humans and nature co-exist in harmony, Ca Mau is dotted with bird parks, swamplands, channels and forests.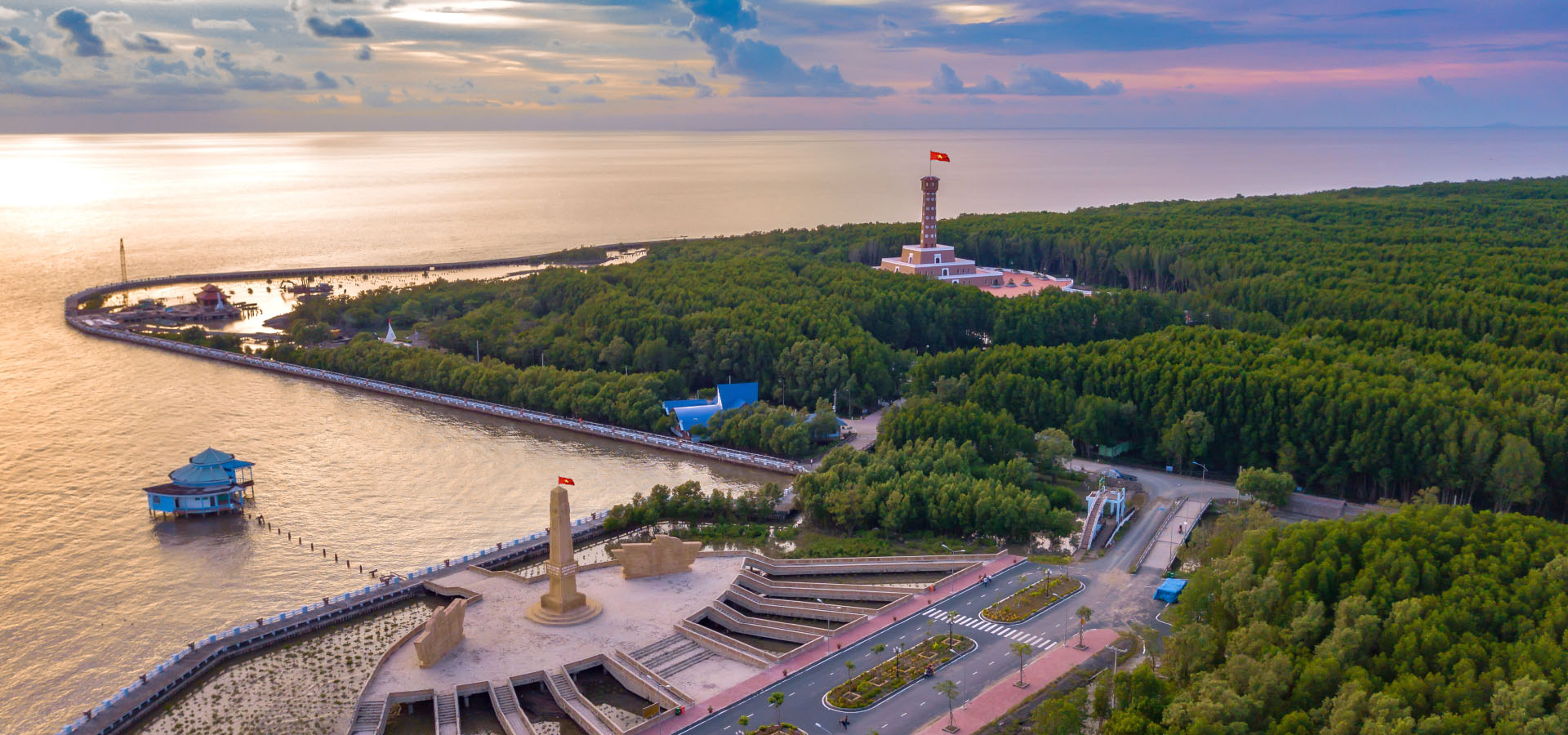 Photo: Camaufestival
With its dense rivers and canals system, Ca Mau is home to well-known forests: U Minh forest and Nam Can forest. Its interlacing rivers and canals have generated tangled flows in the province. Some offshore islands are Hon Da Bac, Hon Khoai and Hon Chuoi. There are two types of forest in Ca Mau province: salt marsh and cajuput. The cajuput forest has the highest biological value among other types of natural forest, with high economic value and environmental protection.
Ca Mau has great potential in developing ecological tourism thanks to the salt-marsh ecological system and diversified flora and fauna system. Ca Mau is well-known for U Minh cajuput forest and Nam Can mangrove forest. Besides, there is also a historical vestige, Khoai Island, which is closely related to the insurrection led by hero Phan Ngoc Hien. Ca Mau is also well known for its bird sanctuaries: Cai Nuoc, Dam Doi, Ngoc Hien and others. Most of all, the Ngoc Hien bird sanctuary attracts more and more visitors.
Visiting Ca Mau, the southernmost of Vietnam, tourists will meet friendly southerners and join in the peaceful living atmosphere there.
Ca Mau Floating Market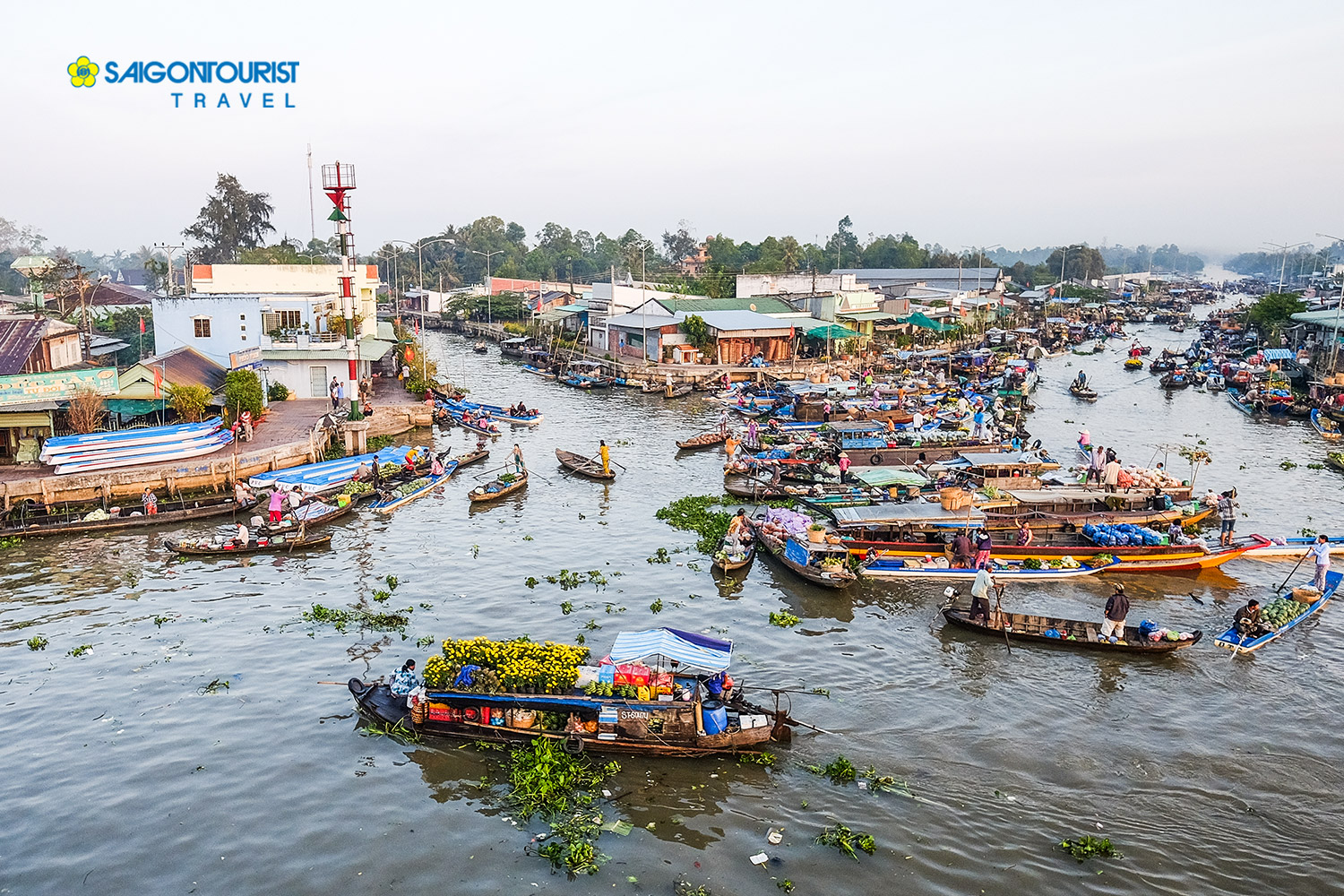 Photo: Saigontourist
Ca Mau floating market is located in the Ganh Hao River, Ward 8, Cau Mau city. No one knows when the market was established but many years ago, purchases in the market became a very popular activity and an integral part of the southern residents' life.
Unlike other markets whose boats gather in an area according to similar products, Ca Mau Floating Market is extremely crowded with hundreds of boats trading a wide range of commodities.
At first glance, as buyers, you will surely be dizzy by the goods diversity. Don't worry, what you need to do is see goods hung on the pole at each boat prow.
Ca Mau floating market is also famous for its uniqueness. It trades all kinds of typical fresh vegetables of the southwestern region like gourds, watermelons, papayas, green cabbages, Chinese squashes, potatoes, carrots and so on.
Da Bac Island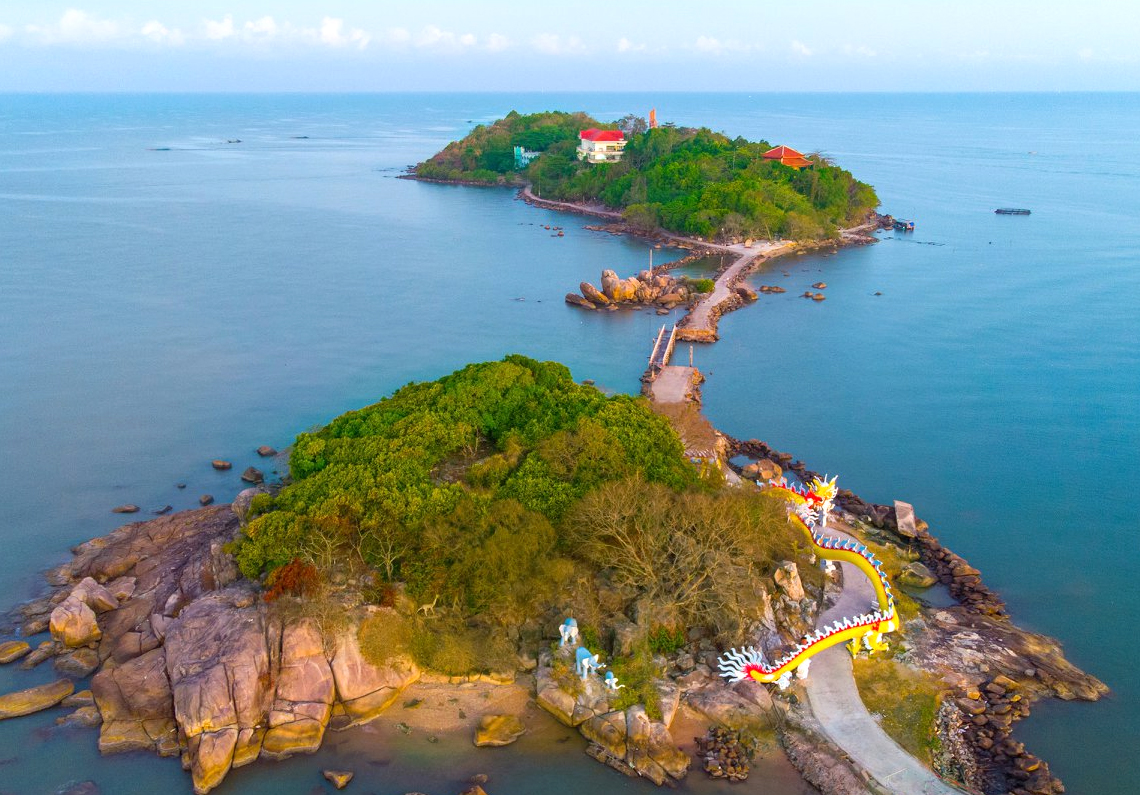 Photo: Du lich mien Tay
Da Bac Island is close to the western coast, located in Kinh Hon village, Khanh Binh Tay commune, Tran Van Thoi district, Ca Mau province. It is about 50 km from Ca Mau City by the waterway and 42 km by the road.
In order to reach Da Bac Island, visitors can go by waterway or by road. If traveling by waterway, from the city of Ca Mau, visitors go down Tac Thu canal, keep going to Hoi Dong Thanh canal to the west, going over 40 km to Da Bac Island.
In addition, this area also is a significant historical site. During the resistance war against American troops, army and people in Khanh Binh Tay attacked and encircled the platoon of 105 mm cannon artillery that the enemy used to control the revolutionary base areas Khanh Binh Tay and west coast areas of Ca Mau. This is also the place where happened the case of CM12 – dismantled the Illegal immigration of Le Quoc Tuy and Mai Van Hanh to overthrow Socialist regime in the early 80's.
This is a beautiful and fascinating island group with many wild features.
Da Bac Island with an area of about 6.43 ha, is a beautiful island group consists of three big and small islands lying close together: Ong Ngo Island, Da Le Island and Da Bac Island. In the cluster of 3 these island, the highest island is high up 50 m above the sea level. According to the documents recorded, Da Bac Island dating from 180 million years (mid of Jurassic – Mesozoic).
Coming to Da Bac Island, the first thing that visitors see, besides the scenery still remain unspoiled and interesting shapes of the cluster of three islands, this area also has countless granite stones stacked and thanks to the Creator hand molded into shapes that very nicely as: the fairy yard, the fairy wells, the fairy foot, the fairy hand …
More particularly, this place still keep a lot of spiritual values of coastal people such as: Ong Nam Hai temple – which displays a skeleton of giant whale and the mysterious stories about the whale rescuing people in the sea.
Besides, in Da Bac Island also has a forest ecosystem which is extremely rich and diverse with the jungle, primeval and rare vegetation. This is the magic beauty that the nature has endowed for Ca Mau province.
Apart from attractive natural landscapes, Da Bac Island also is attracted tourists by rich seafood resources. Tourists come here, they can do fishing with brown fishes, squid, shrimp, diving into the ocean with the fishermen to catch the oysters clinging to the rocks under water … and then you will enjoy delicious and rare taste of the west beach land.
Excepting for the little Troi Island which is in between of Ong Ngo Island and Da Bac Island only rocks and rocks, the rest of two islands are covered with lush leafy forest with overgrown trees. With umbrage of tropical almond trees and Bodhi tree covering the ground, Da Bac Island always whisper the wind from the distant sea.
June 2009, Da Bac Island was recognized as the national historic sites by the Ministry of Culture, Sports and Tourism in Vietnam.
U Minh Ha National Park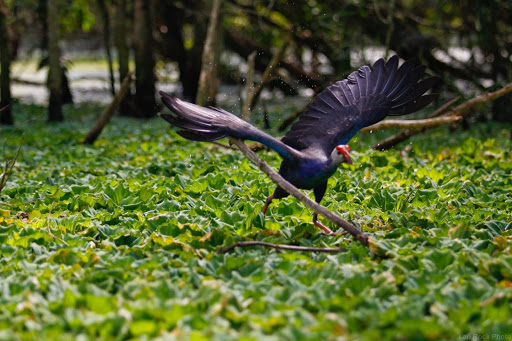 Photo: SLTravelBook
U Minh Ha National Park brings typical features of Southern mangrove forest, trees in U Minh are mainly mangrove melaleuca, pimply lasia (a type of water grass), eleocharis, reed and vines… with varied fauna such as: freshwater fish, pangolin, wild boar, deer, monkey, squirrel, lizard, python, snake, turtle ... Many rare species listed in Vietnam Red Book should be preserved.
U Minh generally is still wild, fresh and cool air with one green color cover which is endless, headline off to the horizon. U Minh Ha today becomes an ideal eco-tourism destination attracting many tourists everywhere to visit and relax.
U Minh Ha national park is one of three core zones of the Mui Ca Mau (Ca Mau Cape) World Biosphere Reserve. During the war against the US imperialists, the melaleuca forest was used to protect the revolutionary base, significantly contributing to the national struggle for freedom and independence.
With these specific characteristics, Ca Mau provincial authorities have paid more attention to the conservation and promotion of the value of the U Minh Ha forest, particularly building roads and enhancing forest fire prevention and control systems.
In U Minh Ha, visitors can rent a boat to go along interlacing canals or walk through the forest. The national park is also home to various wildlife species, including deer, wild boars, monkeys, weasels, snakes, turtles and pangolins, many of which were listed in the Red Book.
There are also around 60 kinds of freshwater and brackish water fish. Visitors can fish by themselves or ask local people to help spread the net to catch fish. After the forest travel, visitors together process and enjoy delicious rustic dishes such as grilled freshwater fish, fried field mouse, grilled snake with water lily and premature lotus leaves.
Coming to this land, visitors have a chance to listen to anecdotes and legends of uncle Ba Phi who was famous around the southern province for his cheerful, free-spoken and brave character, and especially his story-telling. Skilled hunters and forest workers here are always ready to tell mysterious and sensational stories.
Popular dishes in Ca Mau
Voles fried with chili - An amazing dish
Before you shout out "No way", it is one common dish that you can find in most of the Mekong Delta is voles or hamster. I am sure that it is an amazing dish that you will never forget when you eat. Among recipes to make the cuisine, fried voles with hot chili are one of the best options.
If you still consider, remember that the voles will be cleaned and seasoned by the professionals, and then they will be fried in the big fire while the chef will not stop stirring until the voles are yellow. Do not be worry, just try it, it will be awesome.
Ba Khia - A traditional food in Ca Mau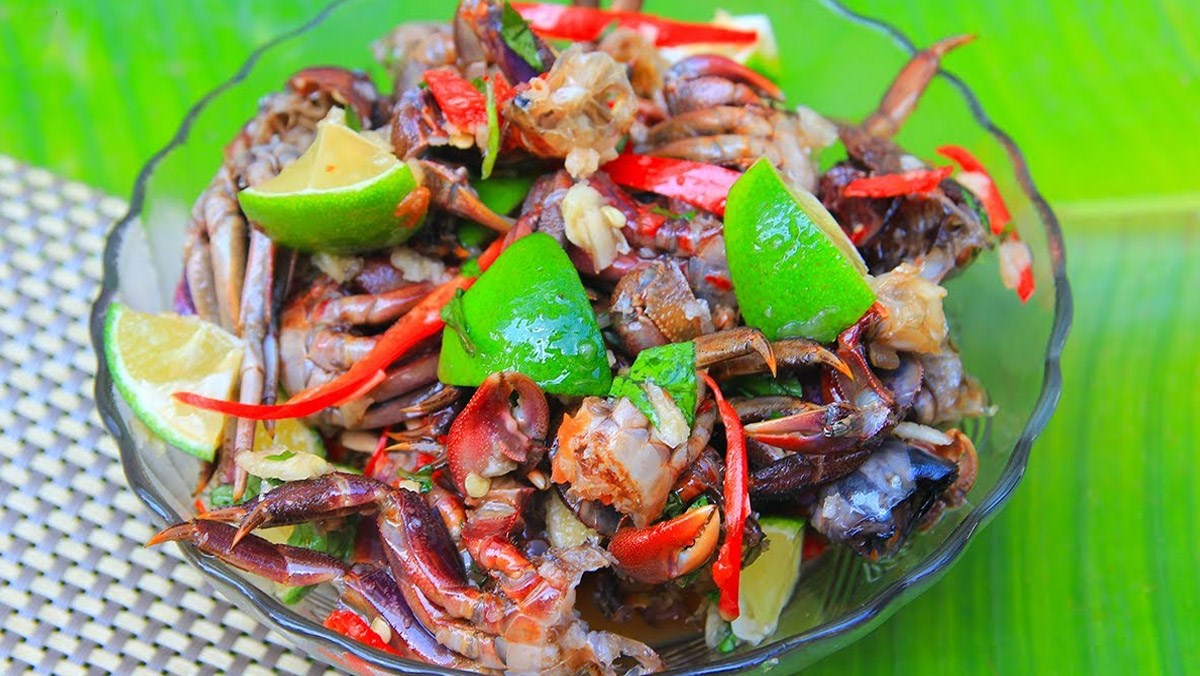 Photo: Internet
Ba Khia is one more a traditional food in Ca Mau. Not only the local people but also the visitors love this food much. Ba Khia's shape is almost the same as the crab but the texture and texture of the meat is very different, suppose is more delicious. These are often eaten by salt or boiled with lemongrass.
If you want to eat Ba Khia, come to Rach Goc in July, August on the lunar year. One of the best seafood restaurant is Quat Mo Seafood Restaurant in No. 14 Bui Thi Truong Street, Ca Mau.
Discover Ca Mau through unique lens

Photo contest "Renewal Ca Mau" organized by CIT Company has introduced a lively and modern photo set of Ca Mau with attractive stories about the ...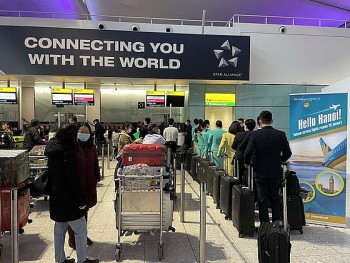 Economy
The first two commercial flights from Europe operated by national flag carrier Vietnam Airlines landed at Hanoi's Noi Bai International Airport on January 26 after a gap of almost two years due to the Covid-19 pandemic.