Canada-Vietnam Friendship Society Celebrates Vietnamese Independence
The Canada-Vietnam Friendship Society recently held a virtual conference to commemorate the 76th anniversary of the August Revolution (19/8/1945-19/8/2021) and the Independence Day of the Socialist Republic of Vietnam (2/9/1945-2/9/2021)
At the conference, Ambassador of Vietnam to Canada Pham Cao Phong highlighted the significance at the global level and the historical importance of the birth of a government of workers and peasants in Vietnam – one of the most glorious milestones in the history of Vietnam.
In the past two decades, Vietnam has been amongst the economies with the fastest growth rates in the world. Despite the Covid-19 pandemic, Vietnam achieved a GDP growth rate of 5.64% in the first half of 2021, showing that the country is an attractive destination for economic and investment activities.
As Vietnam has been affected by Covid, Ambassador Phong expressed his hope that international friends would support Vietnam in accessing vaccines and helping the people of Vietnam overcome current challenges.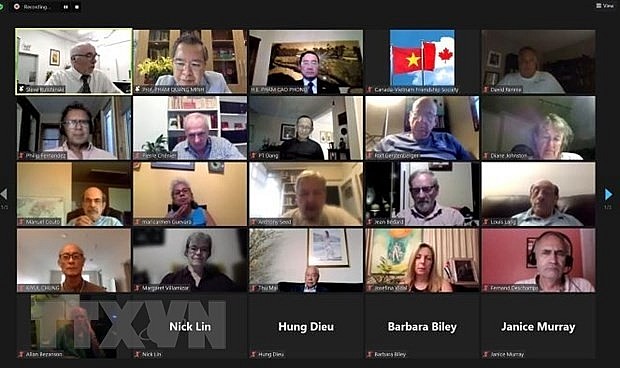 Participants at the conference. Photo: Vietnam News Agency
Steve Rutchinski, representative of the Canada- Vietnam Friendship Society (CVFS), congratulated Vietnam for successfully holding the elections of the 15th National Assembly election and the People's Councils at all levels in the period 2021 – 2026.
At the conference, CVFS Vice-President Prof. Dr. Pham Quang Minh from the Vietnam University of Social Sciences and Humanities presented his report "Nobody left behind: Socialism in the Fight Against Covid-19." The report provided an overview of Vietnam's achievements in liberating and unifying and in developing and protecting the country, particularly against the Covid-19 pandemic.
Minh said, "the spirit of the August Revolution is carried on in the process of developing socialism in Vietnam today, especially in fighting against Covid."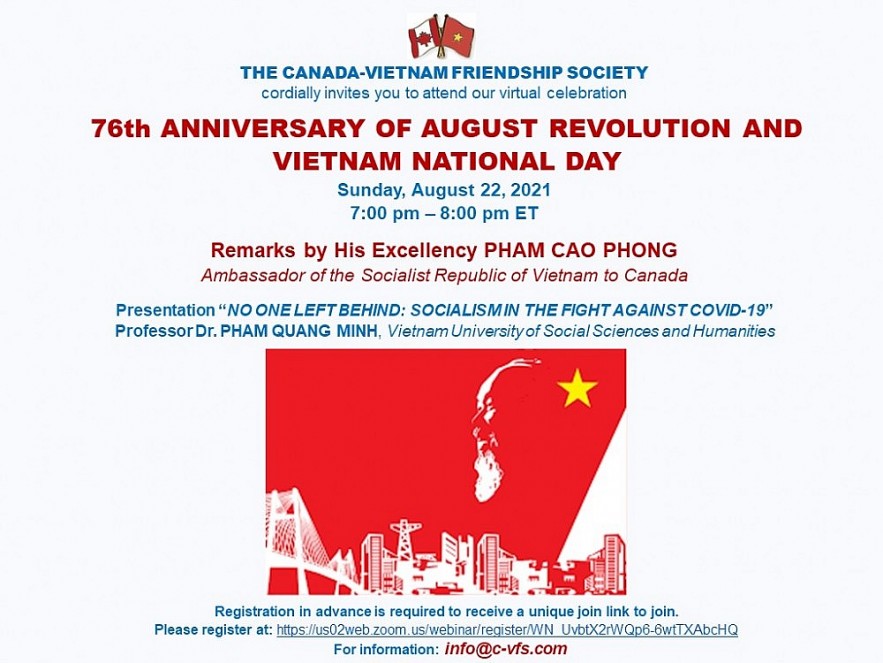 The Canada - Vietnam Friendship Societies held a virtual conference to celebrate Vietnam's August Revolution and Independence Day. Photo: The Canada - Vietnam Friendship Society
Likewise, the people of Vietnam have fought foreign invaders, poverty, illiteracy and now the Covid-19 pandemic. It inspired Vietnam to fight against the French colonists and American invaders to protect its independence.
The conference ended with a special performance by Canadian Vietnamese youths.
Previously, CVFS held a ceremony in Toronto, Canada, to commemorate the 75th anniversary of the August Revolution and Independence Day of Vietnam. At the ceremony, Ambassador of Vietnam to Canada Pham Cao Phong expressed his belief that Vietnam could win against Covid under the guidance of the government of Vietnam and support from the public. Ambassador Phong hoped that the relationship between Vietnam and Canada would continue to prosper in defense, security, trade, investment and other sectors.
The Vietnamese community in Canada, along with their Canadian friends, visited an online museum that showcased paintings, poems and songs about President Ho Chi Minh. The museum would be open to the public on September 2.