Cao Bang's Delectable Street Food
Currently, Kim Dong pedestrian street in Cao Bang city has gradually become a highlight for the city's tourism, a place for people to have fun and relax on weekends. This is also the intersection of many different culinary cultures with unique flavors, from Vietnamese dishes to foreign dishes.
Grilled food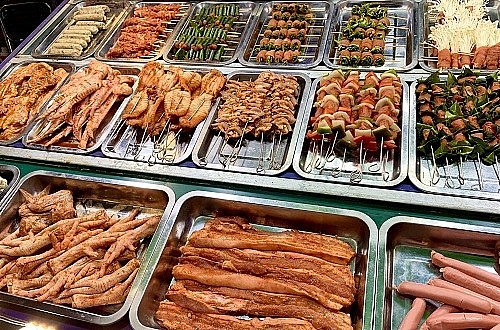 Photo: Cao Bang News
Grilled food stalls are present along the pedestrian street, giving off a fragrant smoke that "suffocates" the nose, causing many diners to "sniff," that flavor has become a distinctive feature of pedestrian street food. From familiar and available ingredients, people have created grilled dishes with new and bold flavors.
Meat rolls with cabbage or grilled mushrooms, grilled chicken legs, and sausages are all delicious and familiar dishes. Bitter, aromatic vegetables wrapped in a piece of fragrant, sweet, and spicy meat make you feel bitter on the tip of your tongue but the sweetness stays in your throat. Crispy, honey-scented chicken feet are marinated to create a flavor that can't be found anywhere else.
Pan-fried banh mi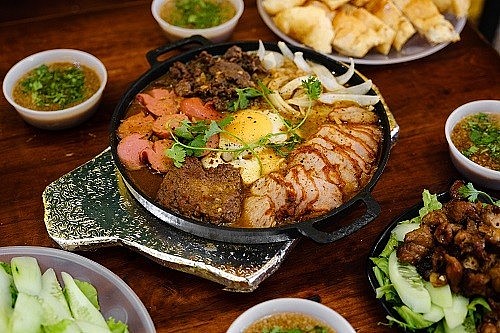 Photo: Vietnam Times
Pan-fried banh mi is a familiar dish for foodies. It is a variation of the traditional sandwich, but with a completely different way of preparation. There are also side dishes such as omelets, sausages, rolls, pate, and ham, all of which will be heated in a small pan. Additionally, this dish is often served with raw vegetables such as tomatoes, sliced cucumbers, and sliced onions.
Grill girdle pie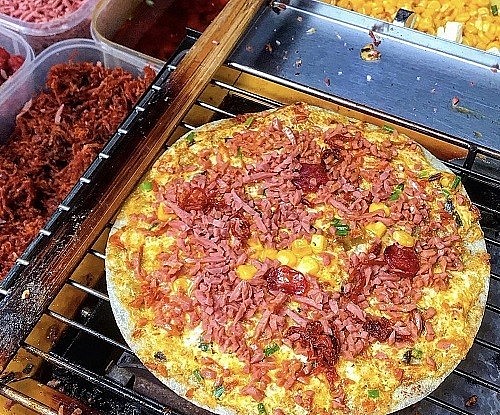 Photo: Vietnam Times
Grilled girdle pie has long been a favorite snack of many generations of students. The reason for the name "Vietnamese pizza" is because of its form which resembles a pizza pie but is made with Vietnamese ingredients. It is thin, made out of thinned-out rice, which is often used to wrap fried spring rolls. The filling is relatively simple despite the variety of ingredients and flavors.
A delicious grilled girdle pie consists of a crispy crust, inside is stuffed with eggs, scallions, fried onions, sausages, a little beef jerky, chili sauce, and sauce. The chef has to use one hand to fan the coals, hold the crust on one hand, and rotate for about a minute until the eggs are cooked, then it is time to add the other ingredients, all creating a delicious taste.
Singapore ice cream sandwich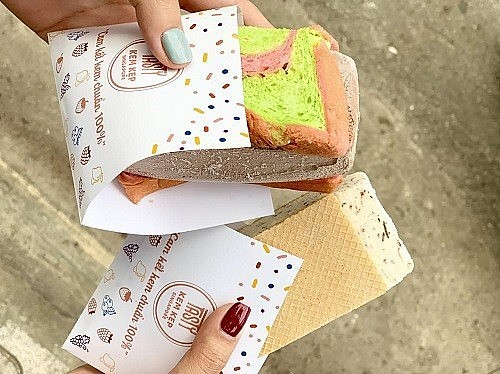 Photo: Vietnam Times
Recently, this famous sandwich has just appeared on pedestrian street. With a fancy shape and special taste, this snack has attracted the attention of many foodies here. In addition to the sandwich version, young people can also enjoy the crepe version of this dish. Ice cream sandwiches are one of Singapore's famous street foods. This snack is made from soft sandwiches and whipped cream.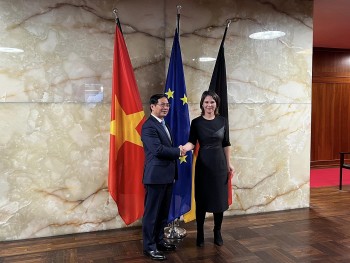 Overseas Vietnamese
At the invitation of Minister of Foreign Affairs of Federal Republic of Germany Annalena Baerbock, Minister of Foreign Affairs Bui Thanh Son paid official visits to the Federal Republic of Germany from September 26 to 27.