Cao Bang's Green Rice is a Taste of Autumn Bliss
When the autumn wind blows, it is also the time when the Tay and Nung ethnic people in the northern province of Cao Bang make cốm (young sticky rice).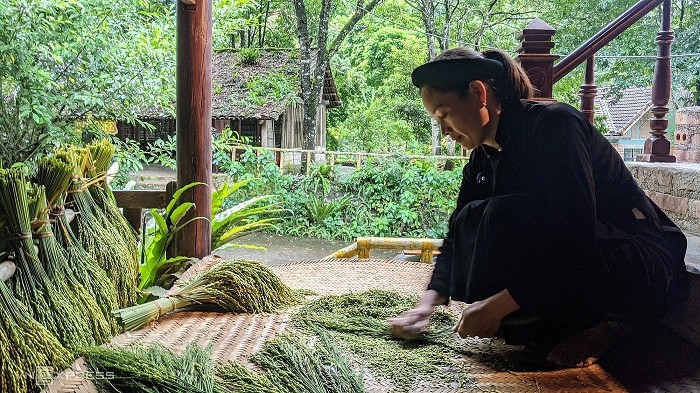 The grains are plucked off manually so that the grains are not broken.
A local travel blogger just made a video introducing cốm (young sticky rice) that are made of glutinous rice grown in the northern province of Cao Bang.
Beaten green rice or young sticky rice flakes, locally known as cốm, are a seasonal dish made from immature rice kernels that is much sought after in the fall. It is naturally green and subtly sweet because it is harvested at a specific time when the grain is neither too young nor too old.
Hanoi's Me Tri ward and Vong village are famous for their tradition of producing "cốm". However, any travelers or guests visiting Cao Bang Province shouldn't forget the local cốm, because it has its own aromatic flavour and taste. According to locals, the deliciousness of the rice is due to the cool climate all year round in the region.
Blogger Ha Cuong and his friends recently went to a house on stilts in the Thang Hen lake eco-tourism area to shoot a video of "Huong Com" (roughly translated as Fragrance of green rice flakes), an event organized by the eco-zone to promote tourism and cuisine in the northern mountainous province.
According to Cuong, cốm is a popular yet elegant and luxurious gift. Delicious green rice flakes are pounded thinly but still retain their eye-catching greenish hue. The grains do not stick together and when lightly held, it feel soft in the hand. We want to invite visitors to Cao Bang, his hometown, in autumn to try the green rice flakes.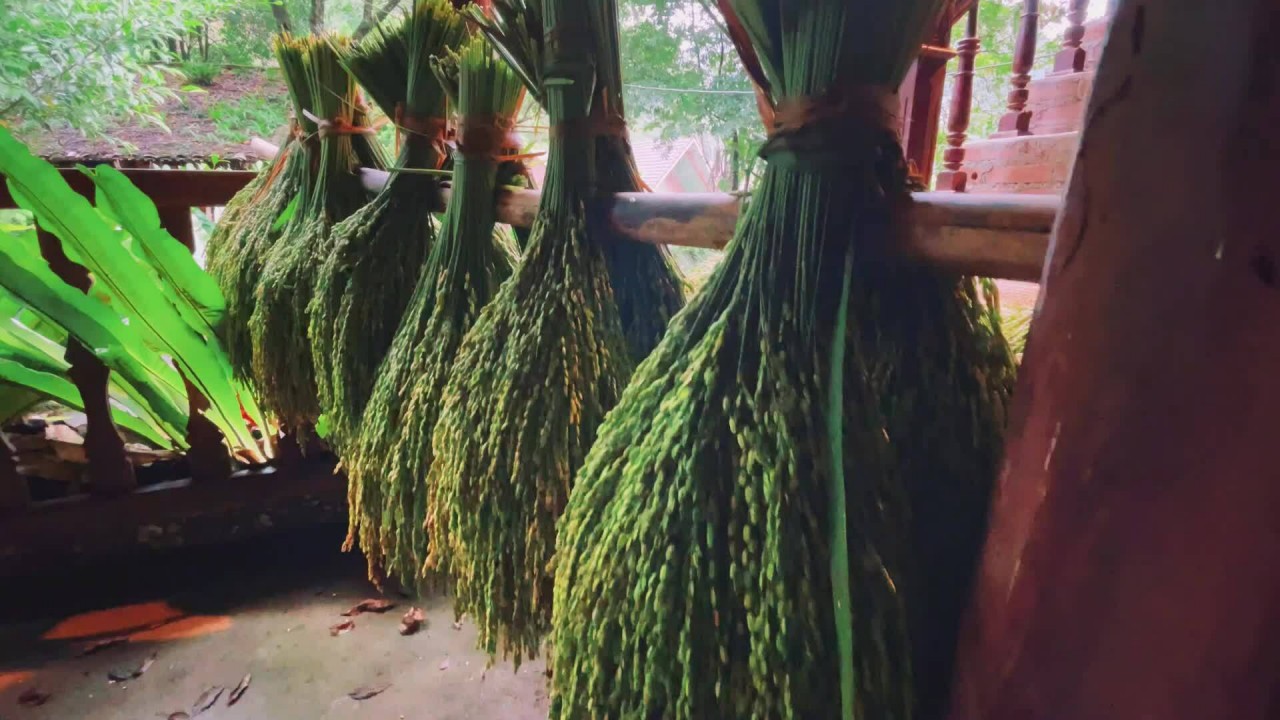 Green rice flakes is usually made from young sticky rice. When pressing on the grain of rice with fingernal, the milk layer of rice come out. That is the time for young sticky rice.
Thang Hen Lake is located in Quoc Toan Commune, Tra Linh District, 30km north of Cao Bang. The lake consists of 36 large and small lakes on high peaks, thousands of meters above sea level. The main lake is lozenge, 300 meters wide and 1,000 meters long. The lake's surface sometimes hides beneath a layer of mist, while the shore is carpeted in smooth green grass and colorful flowers.
Tran Thi Thom, owner of Thang Hen lake resort, is a good chef and guide for groups of guests who want to explore Cao Bang on their own without following the available tour program. She shared that Cao Bang green rice flakes are not only a popular food but have become a product that brings a significant source of income for the local people.
"During a business trip to Bao Lam District, I bought some fragrant sticky rice and brought it home to sow in a corner of the field. The rice plants live well, bloom and give large seeds which was kept as seeds for the next crops. When it is cooked, the glutinous rice has a special soft and fragrant taste. When it is processed into cốm, it tastes sweet and pleasant and has a green color. The products become so popular that every year it's just for giving and not enough for sale", Thom said about the origin of fragrant sticky rice planted in Thang Hen lake area.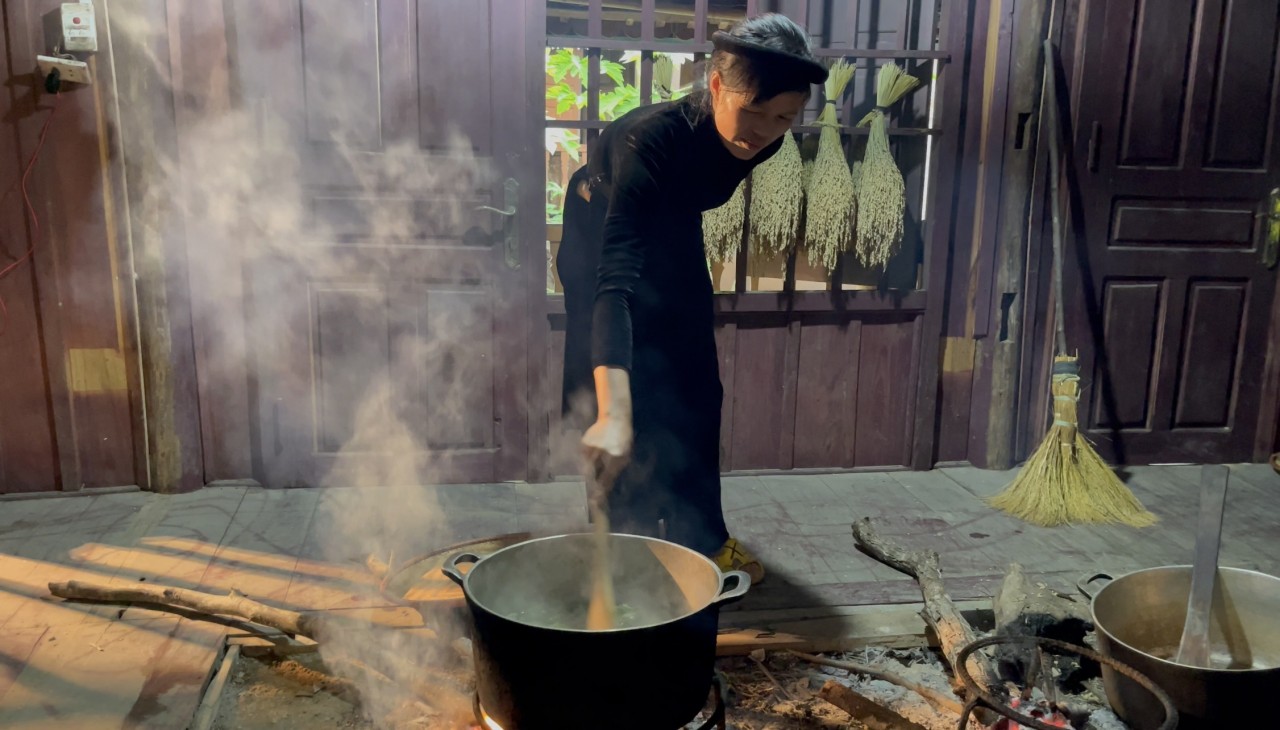 Rice is boiled over a low-heat fire and stirred constantly.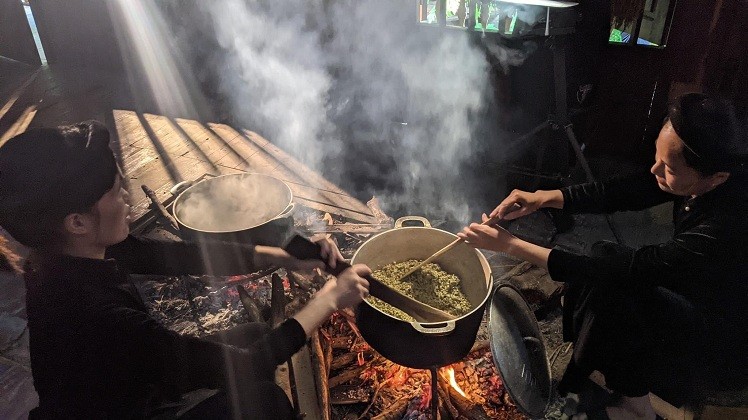 The glutinous rice is dried in a pot over a soft fire to make cốm.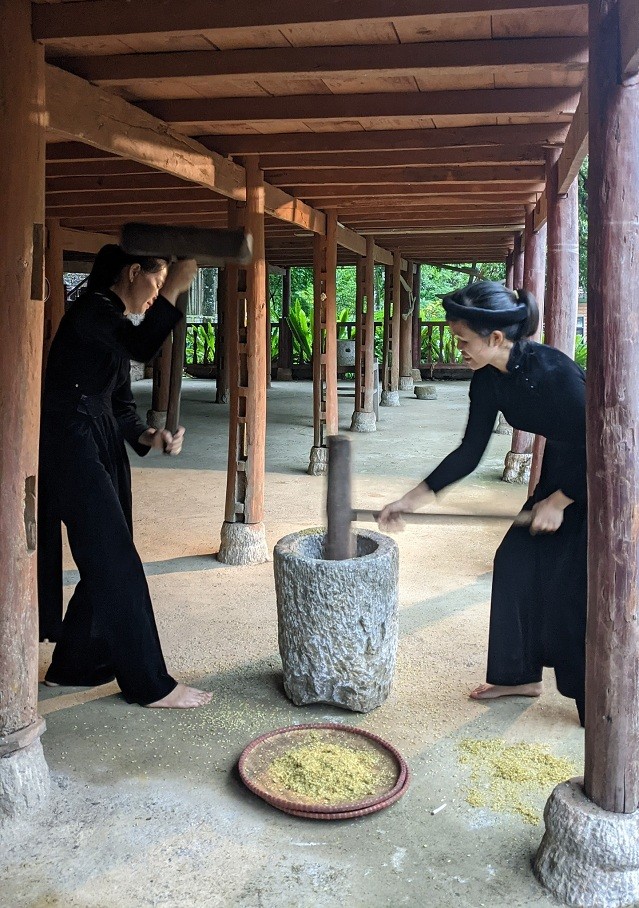 One stage in making cốm is pounding them in the stone mortar to soften the grains.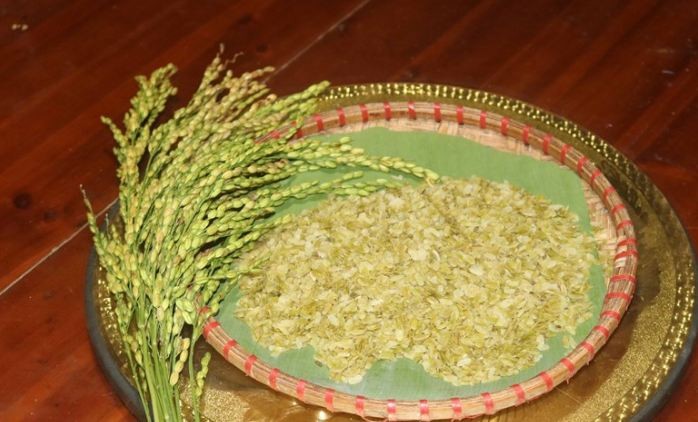 According to locals, the deliciousness of the rice is due to the cool climate all year round in the region. Photo: VNA
In the video, the Tay women wore traditional costumes while making cốm. A basic production process of green rice flakes includes these four following stages: harvesting and sifting rice; roasting green rice grains; milling and pounding green rice flakes and packaging.
The process begins by harvesting only the newly ripe rice. When pressing on the grain of rice with fingernail, the milk layer of rice come out. That is the time for young sticky rice. They are washed, drained and plucked by hand then roasted in pans over a small fire. The rice is stirred constantly to maintain a steady heat. Roasting is the most important and longest stage of the green rice flakes production process and also the most difficult stage for the workers. The green rice flakes become soft and delicious or not is dependent on this stage.
Next the roasted grains are then placed in a stone mortar and pounded to soften the grains, which also demands typical technique and experience. Then the evenly-pounded flakes is sieved to get rid of the husks until only the soft green rice flakes are remained. From the fragrant flakes, the Tay people make many different dishes such as sticky rice, cakes and sausages.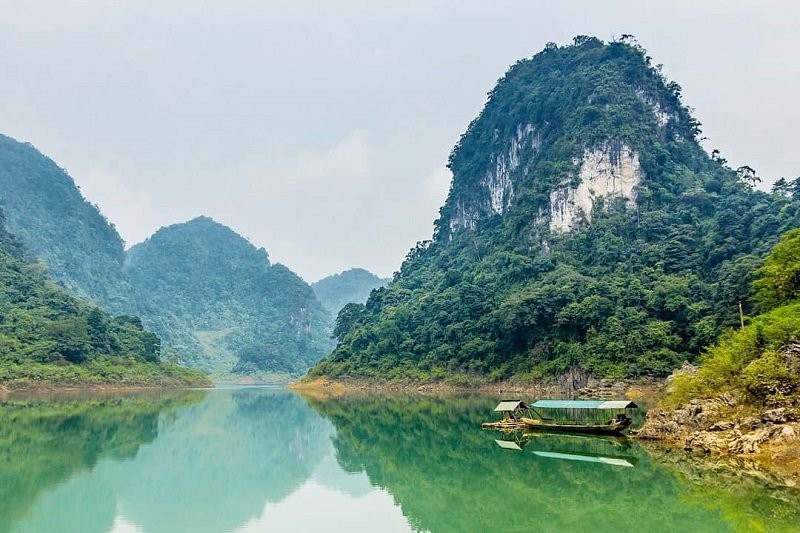 Thang Hen Lake, a famous destination in Cao Bang.
Thang Hen is located in Tra Linh District, about 25km far from Cao Bang town with 3000m in length and 1000m in width. The lake consists of 36 stunning lakes on the mountain.
This place is blessed with charming landscape of green trees, blue water, and the bending lozenge shape around the valley. When autumn begins between September and October, water levels in the lake can drop within just three hours, leaving it almost dry.
Many rare hundred-year-old wood trees and beautiful orchids ring the shore, together with wild animal species.
Legend has it that there was a young man named Sung, who was very clever. He passed exams to become a mandarin and was awarded seven days holiday to return home and thank his ancestors for the academic achievement.
At home he married a beautiful girl and forgot to return to work. He was in such a hurry to return to work at the court; he ran through the forest at night. He managed 36 steps before falling against the mountain. He died immediately.
His 36 footsteps are now the 36 lakes. Where he died is now Thang Hen Lake.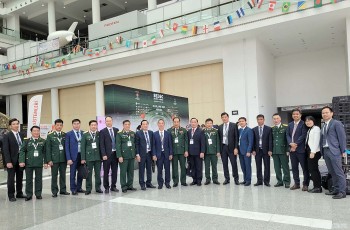 Friendship
Vietnam's presence at the security and defence exhibition SEDEC 2022 in Ankara has been seen as important initial steps to promote the Vietnam-Turkey cooperation.