Checking in with Vietnamese Expats in Czech Republic
Although the Vietnamese community in the Czech Republic has been away from home for many years to make a living, they still look to their roots with pride and gratitude.
The career path of the first generation of Vietnamese in the Czech Republic
According to Prague Radio, with nearly 31,500 members, the Vietnamese community is currently the third largest minority group in the Czech Republic, after the Slovaks and Ukrainians. With the desire to create a good life for their families, Vietnamese immigrants to the Czech Republic worked hard 15 hours a day, from early morning until late at night.
Vu Nhi Linh (23 years old), studying journalism at Charles University in Prague, said she could feel the hardships of her parents through the austere lines on their faces. "Our parents want to give us the best education, they are trying to give us a better future, better opportunities, and a better life than what they had," Linh said.
Linh was born and raised in the Czech Republic. In addition to her Vietnamese name, she has a Czech name, Hana. Her parents came to the Czech Republic in the late 80s of the twentieth century. Linh's father's first job was working on a cow farm, then he moved to work in the Skoda factory in Pilsen because in Vietnam he studied for a Master of Technology. Linh's mother came here later, they met and got married in the Czech Republic. At first, she worked as a seamstress, and a few years later turned to sales.
"My mother went to the Czech Republic with a group of about 20 people. She doesn't talk a lot about those days, but I think she was very lonely because she didn't know the language and the Vietnamese community was not as big as it is now," Linh said.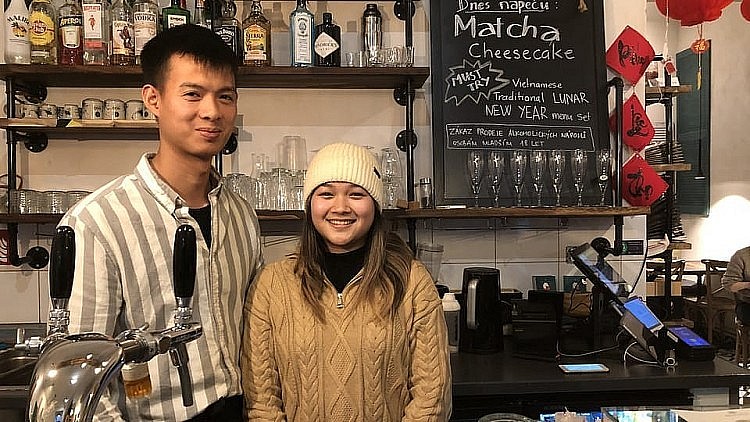 Ngo Van Hung and Vu Nhi Linh, Ngo restaurant managers in Prague, Czech Republic. Photo: Vietnamtimes
Like Linh, Ngo Van Hung's parents (27 years old) also went to the Czech Republic in the form of labor cooperation between the two governments in the late 80s when Hung was only three years old. Hung and his brother was in Vietnam with their grandparents. At the age of 13, Hung's parents brought him to open a restaurant. Up to now, Hung has lived in the Czech Republic for nearly 15 years.
Hung's mother often told him that: In the early days of coming to the Czech Republic, Vietnamese had no choice but to work in factories or trade along the German-Austrian border. At that time, Hung's mother and her companions did not know German. To sell goods, they only learn the numbers to do business. When they go to the doctor, they also use body language and use their hands to show the doctor where they hurt. After that, Hung's mother started to learn Czech, life got easier from then on and she was able to help her countrymen understand more about the Czech culture.
The pride and gratitude that Czech expatriates have for Vietnam
With demanding jobs, some Vietnamese parents cannot stay at home with their children and have to hire nannies to look after them. Many children can only see and play with their parents on weekends. Unwittingly, nannies play an important role in connecting Vietnamese children with the local culture by teaching them about the Czech language, cuisine, and traditions.
Linh's parents also let a Czech woman look after her. But over time, she followed her mother to sell goods. Linh said that some people liken the second generation of Vietnamese in the Czech Republic to a banana: the outside is yellow but the inside is white. Linh does not completely agree with such a view.
"I agree that I have yellow skin on the outside, but inside I am not completely white but also partly Vietnamese."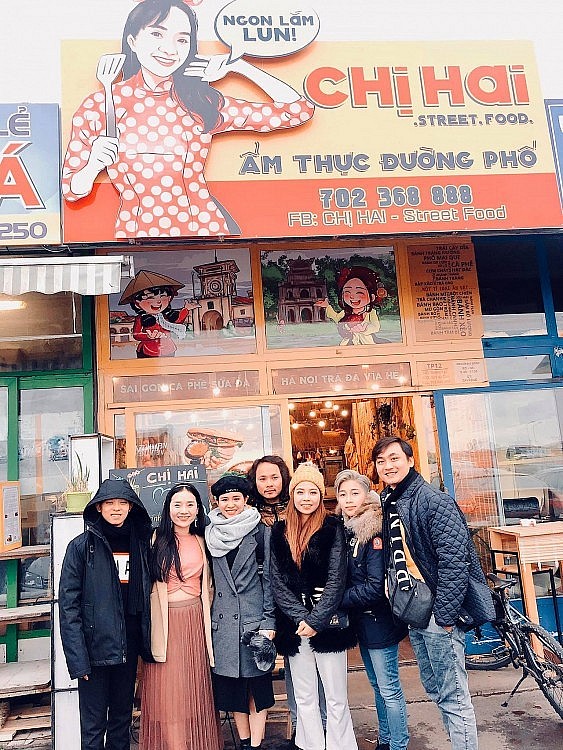 In Prague, the Czech capital, there are many restaurants imbued with Vietnamese cultural identity. Photo: Vietnamtimes
Linh is proud of her dual identity. "I have the opportunity to interact with two cultures, Czech culture, and Vietnamese culture. I think that I am richer than my friends who only have one culture.
As for Hung, he feels that he is Vietnamese with a little bit of Czech culture. Talking about the future of Vietnamese in the Czech Republic, both Hung and Linh are very optimistic as more and more young Vietnamese succeed in the Czech Republic and still remember themselves as Vietnamese.